Landscape Photography Image Critique
Alex Strohl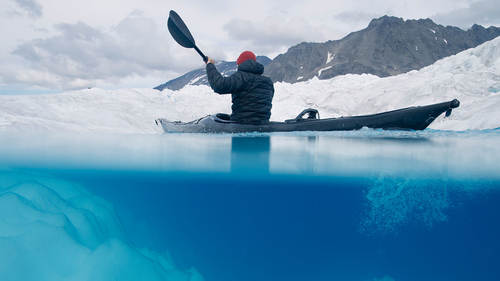 Landscape Photography Image Critique
Alex Strohl
Lesson Info
4. Landscape Photography Image Critique
Lesson Info
Landscape Photography Image Critique
Next category, landscapes. This from Leanne Silvernail. I like when we can integrate structures and landscapes. They just give more life to a landscape. This is almost a bit Wes Anderson. I can see a bit of Wes Anderson's creation here maybe with these pastel colors, this big building and this landscape behind, I like that. Could be like California or something. In terms of, and the first thing, the light's really nice. Like, the sun is hitting the buildings, highlight. I feel like the building kinda blocks your eye to go see beyond, behind the building. There's a road there, but it's just a little messy behind. So we have these nice rolling hills. So I feel like this image is almost like two places. It's like two images in one where we have this hill and then this building. So I understand why Leanne wanted to place the building flat like this, 'cause all the windows are cool, there's a lot of symmetry to it, but I think that in the composition blocks the background, so for this purpo...
se I'd probably move to the right to get the building 3/4, so we can lead a little better to the landscape. And what's making me say this, if there was no road here and no road here, I think it would've worked just as it is, but the fact that there's this thing distracting me, it's not stable any more, so if you were to go back there I would probably try to shoot 3/4 with the building and maybe just leave a little more sky. I don't know why we have all this foreground, which is cool, but I think the sky's really nice, it works well. We could probably just crop this. If we're going for this Wes Anderson feel, we could go 100% and try to center it really well. Almost too much, there you go. And I like to have naturally the roofs of my building in the thirds here. I think like it really makes it sit really well. Probably work on straightening this, straightening this thing. I feel like that works a little better. I probably wanna clean up here and then remove this road. If I was ever gonna go back there, I'd probably clean up the road here and then clean up to the side. Otherwise, it's a beautiful place. Next up, Anthony. So speaking of vignette and edit, the first thing I look at is all these blacks here that kinda almost, they don't add much. What if Anthony had walked into the field just a few feet and had been just surrounded by this grass? It would've been, I think, way nicer, 'cause this curvy thing, this curvy line here is a bit distracting. So if you wanted to go for this, 'cause it seems like there isn't much going on in this image, it's just a gray sky, so the light is interesting. It's workable, but I would have just stood inside the field, so I just had just yellow grass and then just the sky above. So just a composition matter of playing with where you are, interacting with it, like walking forward, backwards, to the side. I feel like he could have just done that and had something more solid. In terms of colors, it's really saturated, but I think it works. It looks, yeah, it looks really nostalgic. Reminds me of Belgium or something like that. But otherwise, yeah, just maybe walk in the field next time. Bea, nice, Iceland. This place has been photographed many times. It's written Hofn but it's pronounced hep, that's how the locals say it, but we've all seen this place on the internets long times and I know why, it's so beautiful. When I see this image, it's really nice. Right time of day, feels almost like an equalizer, like a music equalizer, but I feel like the best part of the image is here to the right, but it's been cut. And I know that this mountain continues here, so I don't know what happened for Bea to decide to cut it, but I just, she probably maybe wanted to get this peak here, I don't. I just feel like I wanna see more to the right of this image. I don't know about you guys, but that's the first thing, I'm like, ah, I wish I could see more to the right. It just feels unbalanced. Otherwise, I like the soft edit. She went for, I'm gonna straight, yeah, she had the horizon in the middle, which is not always the best. It's kinda boring, like we're talking before. But for reflections I think it works well. It is a go-to classic, have each proportion, the bottom and the top and this horizon in the middle. So it works well for here, it's been done a million times, so how can we do it again and change it and improve it? But I'd say, Bea, beyond that is, the composition here, I wanna see more of this, so just turn to the right a bit more. Tara. I mean, I see nice morning light. I wish the sun was hitting the barn a little more, 'cause I feel like this is really bright, this foreground is really bright and then this kind of falls into the shadows here. So the first thing is where's the sun compared to you? Like could she have moved to a different place where the sun could've worked better for her? 'Cause I feel like this foreground is really interesting, but very distracting at the same time. And she could have used it in a way that it leads to the barn by getting less sky into her image and just tilting the camera a bit more. So if you wanna go with this foreground, which is great, maybe put less sky in it and aim your camera down and then it could be more interesting. Let's just see what a crop does. I like this leading line from the mountain to the barn. So it only shows the crop before. Okay, I wish this barn was to the left. So she could have just moved again. So for me, it seems like it always comes to moving more when you're there. So I feel like most of us when we get somewhere we just wanna get the photos and we get excited and get them and we don't think about how we can just improve by moving a little bit. So here I feel like she could have just walked 20 feet that way and had the barn here. So this line of the mountain leads like to the back of the barn. I would've done that 100%. And yeah, probably get more of this, either more or none of this foreground. This won't go up. Anyways. But otherwise, nice time of day. So if you were to go back I'd probably try to move more and maybe come a little bit earlier, 'cause the sun is getting pretty harsh on this snow. In the summer it's fine, 'cause the grass doesn't shine as much, but in the winter you'd really get strong and the snow really reflects all of it. And it's also good, because in the winter the sunrise is so late, like eight or nine o'clock, so why don't you just make the most of it. Sarit. I just feel this image is elegant, it's really, I could see it in airport or hotel lobby framed behind and very relaxing. I like these rocks here. He went for a long exposure of the water just to get this like more dreamy feel in the water, so that's a personal decision. I don't do a bunch of them. I feel like this third here could be closer to the cliffs, give them a little more importance maybe. When it comes to spacing I feel like there is, if we go back to the original crop, I feel like there is an equal distance between here and here, between the bottom of the rock, the bottom of the image, and then here and here, the cliffs, that I feel like this is almost to equal. You'd take a ruler here and they'd be exactly the same, which is not as interesting to the eye I think. If it was a little lower and he would have gotten these rocks closer to the cliffs I think that's, at least, I understand why we want it to be aligned and centered sometimes, but I feel like you could have excited the eye a little more by going a little lower and having these rocks closer to the cliffs. That'd be like, I mean, it's a beautiful image, I'm just picking here on these little things that I would've done differently, but it's a nice exercise in style, the sky's interesting and dark. There's this lighthouse here that's well positioned. So really well that he put the rocks in. I would have just done that a little differently with the positioning of the rocks. Edmonds. This could be in Seattle. So wow, a really nice time of day, the sun is really setting. He really got the last second in, huh. The sun is just about to go behind the mountain and it's nicely positioned with this boat. I'd like to see where this boat stands here. I'm not too sure of the boat positioning to the image. I'm not sure of the framing, I feel like this image almost begs to be centered, because, I mean, it works well like this, because this mountain's here going on and I could tell you this today and then in a week I could tell you something different about this image. The taste is always ever-changing, right? And we all have our own reasons for framing things a certain way, but I feel like, I don't understand what this part of the image is doing. Maybe we could solve this with just a little flip. That feels better to me. I think we, because we read left to right this feels more pleasing to my eye, because my reading begins kind of here, and then here it's kind of, my eye fades away into this kind of comfortable darkness. So just a mirroring really. Yeah, I like it 100% better the other way. And I mirror a lot of my images just to please, I just try to look out sometimes and look back at it, kind of surprise the image and then see what feels more comfortable instinctively. It's a lot of instincts and sometimes you spend half an hour on in image and then you're like, well, I liked it better before. So there is no one way to do something, there's a million of them. And this is just the way I would've done it, this flipping it. Otherwise, when we continue, there's a lot of vignette again. Seems we got a ton of vignette here, which I don't think is necessary. Like we already have this very bright zone, we don't need more vignette. So see if we can save something with like a Gradient filter. It's gonna be difficult. Yeah, see it's pulling out some noise. But see then, we remove some of the darkness and then I feel like our eye doesn't rest as much here anymore. So we can always go back. So it's always about a happy medium. Should probably be a little more gentle, 'cause nice, it's fading into the darkness here on the right. Probably a little better. Otherwise, like nice timing, I'll tell you that. It's really intriguing. It kind of forces you to start seeing shapes in the wood. Like is it a mouse or something or an animal or an anteater. But it's a bit confusing to me. I don't know what's going on. And if there was no background behind this image, if there was just like a nice solid gray rock or like a sky that's gray, works great, I understand what Leanne is trying to do. But here, Leanna, I like that you're looking at little things like that, it's beautiful. A lot of people miss these kind of things. You can walk through here and never see it. So really good that you're looking at that. If you have used, you could have shot this with maybe like more aperture, like at 1.4 maybe. Yeah, 'cause she shot this at f/4, we have some of this. Like you could have shot this at 1. and blurred the trees way more in the back, so at least this thing stands out a bit more. And maybe move a little more to the left, so this trunk here doesn't clash with this green part here, so we would've this green here sitting in this white zone. So it's just always about little adjustments. It's really teeny, but makes a big difference. So I'd say, yeah, a bit more aperture here. But I would seek these things, maybe on the beach, like in La Push there's a lot of this like weird trunks, 'cause we're in Seattle. We're saying that, but this could be anywhere. But there's like coastal zones where we can find these trunks with nothing in the back, just the ocean, and I think that that's way more interesting than here in this forest. But I think it's great. Continue looking for these little things. Dave. There's a bit of color, yeah, it's like a sand dune, yeah. Very little color, I like it. It's a decision here to desaturate the whole thing and it doesn't look like a day where you need any color. This could be black and white. See, it doesn't do much. The color is not adding much. There's just like some warm here. We can see if we just switch quickly between the two, some warmth here and then some coolness here. I like this balance. If I were to crop this image I would almost wanna leave out this whole zone. Let's see it. And we're experimenting, doesn't mean we're gonna stay here. He shot this with a long lens I'm guessing. There's a lot of compression, so I mean, I wish we have had a close up of this or anything. I mean, it's a solid image, like really cool. I'm just wondering of what is this really adding here. It's also this really dark zone is kind of interesting, but it's really dark. There's a lot of things going on in this image, so I would probably try to just ease the process for the viewer just by cropping in and just making a portrait of this. Like this maybe. Or let's attempt to crop, let's do it. Because this is our brightest zone here, right? So I'd probably wanna have my thirds meet somewhere in the brightest zone. We don't wanna cut this ray. May wanna meet the top of my image here, the top of the mountain here at third. I'm always trying to hit my thirds in a way or another. Maybe a little too much darkness in the bottom. Then there's too much room between this and the top of the image, so it's really finicky. And we can spend too much time on it, but I would just say if you were, yeah, if you were to shoot this image again, if this were to happen ever again, which it be pretty tricky to be back here on this occasion, really lucky, I would've probably shot it wide too, but I would have probably submitted a more cropped in, because I think it would have been a more interesting image. Rakesh. Nice use of colors for sure. So you see, I like to put things against white quickly, so I can see where, you see it a little better here, but you see, we don't really see the top of the image. We don't see where it ends in the white, 'cause it's like he kind of burned, he overexposed it a little too much. So we could probably save this really quick. We're gonna find out where the end of the image is really quickly. There you go, there it is. So it's a good way to find where you've messed up your exposure is to put your Lightroom in white like this. So I like to have the nice separation here. I don't wanna have my images melt into the white of the screen, 'cause it means I've messed up something. So I would say like the first thing is the exposure I would have fixed. A bit of motion blur, there's a bit of something, it doesn't feel sharp 100%. Maybe it's because he took all the clarity down on the edit. It's gonna be quite tricky to bring it back, but oh. With these kind of images, we can play with this one, because it has a lot of, it's very bright, so you know. Let's just go with it, let's see what we can do. I would probably wanna darken a bit this path. And we can't really get into the colors too much I feel like, 'cause it takes too long, but we can darken this path. And go to our old, the Radial filter, invert it, (mumbling). And we're just, the goal with this filter is to go where the light was. I'm not gonna try to make something shine that wasn't shining, 'cause that's gonna be obvious. Like the photo of the bull fighting photo. Something was really shiny weirdly, so somebody had made it. So you can tell quickly. And then when somebody can tell that you've done something it's a bad sign. So I always try to, you don't wanna be able, yeah, you don't want people to tell, like you did a filter there, right? And that is failed, I failed. So it's really about being a little subtle, but I wanna enhance what happened there. And also, the sneaky one I like to do is with my Radial filters I like to add a bit of Sharpness, never more than 35. Just to lead. And I never give you very precise numbers. I'm not like a guy that's gonna type numbers in the keyboard. I know a lot of people do like very small increments, but it's more like cooking for me. So oh, this feels good, I'm just moving my sliders, go back and look at it again. So there's no exact recipe, but for this I have rules of thumb, like not go over 35 with my Sharpness with these filters. So here we've made this like beautiful autumn, fall light on the trees and we've made our path a little darker. Let's see where we stand. So just really quickly what this filter does is like here at first glance we're kind of looking at this here first, and then we're going here. This saves all the hesitation. Like boom, that's what I'm looking at. So that's what I've done. Colette. Wow. It's nice. Is this Colorado? Wow, it's very nice. I really like this image. It's right time of day, the sky's got enough interesting things going on there behind that, almost like brushstrokes. There's this haze in the back that I really love. So again, this is all thanks to conditions. So maybe Colette stayed there a couple days and came back a few times for this to happen. You can't just show up at these places and have it be like this, so there's a lot of coming back I feel. I like the composition. I feel like this is really close to the third right here, see. Yeah, that's why it feels right. I don't even wanna crop it. It's great. If I were to improve it I would probably, I mean, we're being picky, but it's a solid image. I feel like maybe this grass doesn't add much. I know it's another layer and it's cool to have sand and mountains and grass, but maybe this would make it a little more (mumbling). It's kind of hard to do that as a crop, but I feel like this is just more graphical, we're playing more with what happened with the graphical of it. It's almost like designing. And then this, yeah, I think I like it cropped better. Like this doesn't add much. Or maybe we can just darken it with a filter. Hm, it's too much. Probably crop. And when you crop, yeah, I wanna bring it back. Yeah, I think I like it better without the grass at the bottom. It just feels more, I like these lines meeting this, like this is where I'm looking at a lot, this part. I don't know why, but there's beautiful light hitting this little peak and these lines all lead to it. So a lot of lines. Great image. Liyat, Liyat. It's very nostalgic. I feel like that this is shot from a car. Like we can see the grass is moving there, somebody was in a car and it was just like a happy accident. There happened to be cows and a little pool there, a little drinking hole. I really like the colors. Almost reminds me of the Microsoft photo, the green and the blue, the screensaver. It just feels like a happy accident. There isn't, I mean, I wanna see more of this water obviously, but for what it is, when you're in a car it's kind of difficult to do anything, so I would've probably stopped and taken the photo more precisely. But still, I mean, I like the action of it. I think it's great. I don't know why there's all this sky, 'cause there isn't that much happening in it. I probably would've wanna see more of, 'cause you can see, she did a 16 by nine crop, so she decided to give it a lot of sky somehow to let things breathe. And it's cool, but I don't think that the sky's really interesting. So I would've probably wanna see more of all the stuff down here. Like almost a road and the poles, 'cause she's almost trying to hide the fact that she was in a car, like just a little bit of it. She's not really assuming the choice I think. Yeah, next time do that. Jimmy. Epic conditions, wow. I mean, this is, wow. There's a lot of things going on. It's a really surreal image. He's in his own thing and I think the edit is a bit aggressive for my taste. The long exposure maybe isn't long enough to add the effect we want, so it adds even more chaos to this edit. So personally I would've just wanted, see this wave here is really nice, it's breaking off, maybe wanna have this sharp and just not worry about doing a long exposure. Also, I feel like this rock is a little too close to the edge of the image. I would probably, again, move to the left. He's using a tripod obviously, so just move it more to the left, so then this rock is almost more aligned. Like you see this line here, could have almost matched it to this line here. I like to connect foregrounds and backgrounds through lines, like graphically, and this is a place where you could have done that. Imagine if this rock were just right here and you would have seen more of this epic light here that seems like it doesn't end, it continues, but we don't see it. So framing and edit. Matt. More tracks. I like tracks. This. I like the depth of field here. It's, this image just wanna makes me adventure, I wanna follow this track, I wanna be in whatever buggy he's using or ATV. So it's a really inviting image. I'm wondering what happens if we do what we did earlier. Hm, let's do it again. I gotta do these things a bunch of times. Yeah, it works well. Both directions work well. I'd probably mirror it though. But it's hard, 'cause the light's coming from the left, so that's where our eyes is looking first. So I think we oughta keep it like this. I don't why it's really dark here, if it's the edit or not. So I feel like there's this really weird dark zone here that everything's dark. So I'm wondering why, that's my first thing. And again, we can save it pretty quickly with our good old Gradient filter. I know that he's maybe wanting to echo this darkness here from the vignette of the lens and here, but it just feels unnatural. I almost wanna fix this one too. This feels a little more refined, more natural. Otherwise, nice edit, the sand is beautiful, nice framing, I like how the lines, this one leaves from the edge of the image and this one leaves as well. So it's not easy, two of these lines, so good job, Matt. Yellowstone. I think it's called Reflecting Pool, something like that, in Yellowstone, beautiful. He's also right on with the timing, huh. It's like last minute. Almost a little too late I feel. So see, like the main thread we're seeing here is the composition is like people are not sure where to put their elements in their photos. Like why is this thing right here on the right. I feel like this one image right here was a portrait right here, see? I feel like this is, it's really cool, there's a geothermal, so there's smoke coming out, but these are tricky, 'cause you can't walk outside of this path, so everybody ends up getting the same shot if the path's straight. So he tried to do something different, but I feel like he would have stood, he could have stood right here and just get, I mean, he could have just twisted this image a bit more to the right. I feel like I wanna see more of what's happening here, there's all the lights there, but he wanted to get the smoke. So I feel like Adam was, I'm not trying to read into his head, but I feel like he was undecided on what he was wanting to capture. So he just showed up here and was like, whoa, the sun's setting, the smoke's here, clunk. But he didn't really stop and be like, well, hang on, if I do this this is gonna be out of balance, like this is not balanced. So I'd say a lot of these things can be get there, get that photo like this, and then start looking at the screen and fix it after. Like okay now let's fix this photo, like shoot more here. And as you get better and better you don't even have to shoot the photo, you're just like walking, do the photo in your head and be like okay, this is what's happening. So I think Adam just needs to shoot more photos. Muhammad. Reflection, like we talked before. Horizon in the middle, yep. The clouds are interesting, it's a nice sky. So I feel like there's ice still here, yeah. That's cool, that's a cool little feature. I wish we could see more of this ice actually. See, like it's the end of, it's the beginning of spring and it's kind of melting. When I see this stuff I just wanna get on a boat and get close to the ice, so we can have different, crack the ice and play with it. If you don't have a boat I guess you shoot it from shore, but can get a little kayak. So whenever I get to scenes like this what I wanna do is add value and add production value to them, 'cause everyone can stand and take this photo. So my first thing would just be to try to interact with it, jump in the water, have somebody jump in the water. If we're doing adventure photography this is landscape, so I would just put, if this is only a landscape I would probably shoot it a different time of the day again. This light is really harsh and the blues are a bit purple. If I were to edit this I would just, this is a little too purple in there. I like my blues to be a little more teal. Let's go with this little edit. This one has nice range to edit. So just darken down here a little bit more, because this feels more natural, like the water's always darker than your sky, so I just emphasize that in terrain. I just go in the direction that nature goes and try to reinforce that. I would shoot this at a better time of day. Imagine these clouds just on fire with like sunrise or sunset. Mike. I love it. Almost feels like a film photograph, because of the contrast and the colors. I think it's really well done. If it's not a film, it's a nice edit. It maybe this monitor, but again, the shadows are a little crazy here, like too crazy. Almost like there's no information in them. We can see our curves. You notice like the blacks are almost out of it. So I would just, yeah. So this, all this blue stuff is like underexposed, so it's kind of hard to save it on a JPEG, but I would just be more careful with these blacks. Instead of doing it like this, you'd probably have to do each of them with Radial filters. So a Radial filter here, another one here, and maybe another one here. And then that's all I would do, because. You can also use (mumbling), by the way, to bring the darks. Shortcut J. Yeah, otherwise great photo. Really nice composition. I like the storms going on here. This is probably like Bryce Canyon or something like that if it's in the US. Very nice rain storms, nice composition. There's nice dialogue almost between these rocks and these rocks. They're kind of looking at each other. Very nice. Kalos, Mister Kalos. Well, we don't have a reflection here, so that's good. Somebody switched it up a bit and he went on a windy day and it's different. I like it too. I love a good reflection, but I like when some things can be different. I feel like I wanna see more of this cabin. Looks like a little refuge. What if he was standing here on the shores here and then we could've had this cabin a little closer and these mountains look way bigger behind here, like these were bigger than these. Like there isn't much going on here with the mountains. Just looks like there's a little peak behind. So if you had've just walked down this shore and then gotten the cabin and big mountain behind maybe we'd have a more interesting shot. Whoa. Ronen. Whoa, man. Really crazy conditions. It's gonna be hard to criticize this photo, 'cause you went all the way here already, that's, congratulations for that. Like he's out there. It feels cold and windy down here, we can see all the wind. So at this point you're trying to survive I think. Really nice clouds. If I were to say something I love how this mountain's really cool, but should it be in the image like as it is, or should we just. Like I feel like she's. I feel like this stands a little better. But obviously, 'cause Ronen had this crazy clouds, he wanted to get as much of them as possible. Oh, this is with the long lens already. Okay, with a long lens, yeah, you can see he's trying to get the clouds 100%, which I understand. I just feel like this, the only thing I would change is not having this mountain here. Maybe by zooming a bit more. This would have been a nice portrait of this mountain too, just portrait format. And then a nice crop, we would just crop down here. But again we don't wanna lose this beautiful foreground, so I feel like you gotta do this when you're shooting the photo. There's so much a crop can do. But this foreground is really interesting, 'cause of the wind. So I'm not gonna venture and crop your photo, 'cause it's great. But on camera you could've probably, if you could, just got in some without this mountain. Michelle. Really abstract. I don't know what's in focus and what's not. I don't know if I'd, yeah, this almost like a painting. It's not my field. It's, I think it works. I'm just wondering what this, yeah, if this is what you're going for, this is the vibe, try to put this horizon line almost at the third and then crop this brown. See like there was this brown sand here, it's just adding one more color to the image that is not needed, this stuff. I feel like this is where it lives, so I would just go ahead and just crop it out. And centering my light here, this break in the clouds I'd probably wanna center. 'Cause it's all very symmetrical and stable, I would just keep it like this. Serena. Beautiful conditions, wow. Obviously the depth with the trees is really great. I almost wanna make an image right here. I mean, the whole scene is great. For me, this is where it's at though. Yeah, again, it comes to the decisions when you're trying to get to your photos, like when you see scenes like this it's easy to wanna fit everything in. Like I wanna get all of it. But if you have, seems it's 105, so she probably has 30 to 100 at least, so I would just wanna see a photo of this section as a portrait. Or a wide that's more cropped in. 'Cause it's all this sky up here that I don't find too useful, so I just wanna go a little closer in this image and that's when you capture it and you gotta think about that. I feel like that's how we improve it is on when you're capturing it, deciding what you wanna get in it before you even do the photo. Sherie, black and white. It works well as a black and white. Like it feels like the light's pretty harsh on these mountains, but it works well. There isn't much going on for me. I'm just, I know that is where I'm supposed to look at, but. And this probably comes from the fact that maybe she wasn't low enough to make these mountains look big. Like she could've been closer to them and have them be a little bigger if that's what she wanted. Yeah, there isn't much going on for me here. If I were to improve it I would probably get closer to the mountains. Like I see they have beautiful cracks, but it's a very difficult place to compose this, all this here. I feel like the image is kind of here. But still. I think that you gotta go back and get closer. Takeya. Really cool. I like it. I'm wondering if this row serves any purpose, the first row, I don't know. Probably does. And this is nice use of patterns. It's a tricky one to improve, 'cause this is what you have. So you almost wish you were in a helicopter to get this from really high up or something, you know, and it's not always easy to get. Nice image. Works well, I just don't know what I'm supposed to think of it. What is this? I'm just missing all of context to it. I wish I could see maybe a little more up there, what's going on here, I don't, yeah. This feels like almost like you took this with like a little microscope and I don't know, yeah, I don't know what's going on exactly. But really graphical. Shelley. So this is one of the times where somebody decides not to have the horizon in the middle and then have more up there, but we see what's happening here, again, is like we don't know where the image kind of ends. And that's because the sky, there it is. Yeah, I'm just, I wish we would see more of the reflection on this one, see. I feel like I'm being deprived of the part that I wanna see more. And obviously, beautiful conditions with the trees and the fog, et cetera, but I'd probably wanna see more of the bottom this time. And also, I don't know if she had a zoom lens, but I would wanna see close ups of all this. Almost like tree islands in the fog, just like peeking out. So this just feels like zoom lens territory too. So get some wides and then get some zoom lenses. I like to do that in places, like bring different lenses and get different views of the same place. Just when you build a story, like you have the light, and then you have the crop of the trees, and then you have the texture of the ground. So I feel like this if it's gonna be just a standalone image, standalone image, just show more of the bottom underneath. Otherwise, the light is a little blah, it's not much. Maxime. Nice conditions. I don't know what I'm supposed to look at. Maybe it's somebody's swimming pool or. So yeah, I don't know what to think of it. It's uh. Yeah, I don't know what the subject is exactly. I wanna know, I'm intrigued, but if it's a pool maybe I wanna see a bit more of the pool or yeah, I just don't know what's going on, but really nice conditions. Looks like it was shot with a phone, something like that. But yeah, I would just, don't know exactly what's going on, but really beautiful sky. And I think that is our last image. Finished on this one. Yeah, well thanks guys. We've covered a lot of images. And it's, again, it's all my opinion and we all have different ones and hopefully the goal of this is to inspire you guys to do what you want for your images, but to make better decisions when you're shooting them, instead of trying to fix it with the edits, like we're trying to do here. So it just comes with making good decisions on location. But I hope this encouraged you to keep shooting more. I think repetition makes perfect.
Ratings and Reviews
Alex's class is spot on for learning proper technique and process. Alex is a fantastic story teller with his images. How cool is it he shares his insight with us and our images! So glad I came across this offering from CreativeLive and Alex Strohl.
Wonderful class! Thank you for your critique on my photo!
Student Work