Pre-Lighting and Test Shoots
John Keatley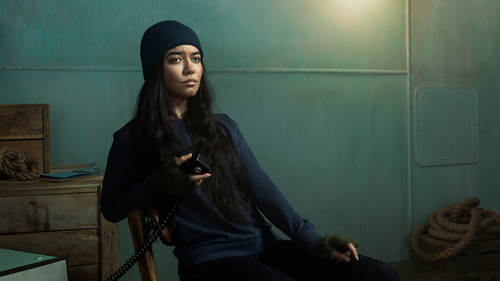 Pre-Lighting and Test Shoots
John Keatley
Lesson Info
26. Pre-Lighting and Test Shoots
Lesson Info
Pre-Lighting and Test Shoots
So this is actually set number two. We're not gonna start with this one. But we have basically, here we have what's meant to look like a ship wall. This is not the right wall either but we started with this one. And then we have wood flooring, we've got, you know, just some props, and they're just basically thrown in there. And we just wanna see what we have, like, what does this look like. Sometimes there might be a set that was built in a very specific way and that's how it's meant to be. With this, it's definitely an exploration. We have some pieces and we want to try to see how we can make them fit together. I want you to kind of see as much of that, and you'll see a little bit more of it today, but if we did all this in a class, you wouldn't see any shooting. So, we'd be just messing with stuff the whole time. But what we learned here was, the wood-grained floor felt like it needs to go the other way, maybe for no particular reason other than it just feels like it should be going ...
parallel with the wall, it felt a little weird, going against the grain that way. We also realized that, at least at first, it seemed like this is an eight-foot wall, I kind of wish it was 12, it's like, oh shoot, I think this is gonna be a little too short. So we were really messing with angle quite a bit and trying to figure out where the angle was gonna be. It felt like the person was either too far away from camera or way too close. And then again, as we started kind of like roughing in, we moved boxes and crates around and things like that a lot. We liked the idea of the radio, but at times, the radio felt too big. You can also see down here, we have a little chair. But the chair was feeling like it wasn't, it felt a little weird, maybe out of place, like it's maybe to dainty or something like that. Here, and up until this point, we're not thinking about light at all, we just threw some light up there and we're just, more or less, looking at the set. Then we kind of started thinking a little bit about, kind of, how is the set gonna look with light? Because again, as we saw yesterday, light can completely change the space. It's not just what's on-camera, it's also how the light's gonna affect that. So we started roughing in some lights. This, to me, felt like he was way too close. I wanted to see more environment, I wanted it to feel like he was more a part of the environment. Then we started pumping in some fog and haze. This isn't from my perspective but this just kind of shows you, like, how the room transformed a little bit and added a lot of atmosphere. So then you can see, there's a little bit of haze in this shot. This was when it was starting to feel like, oh, this might actually work. Up until this point, for like two hours, I was really thinking, like, I've made a huge mistake, this is not, this is not gonna work. But this is when we started feeling like, okay, we might be able to do something here. And then we added in a light just off-camera here, because we wanted to kinda add some depth and add a little bit of flare. So to do that, we needed a light. We also needed haze or atmosphere for that light to interact with. We also started feeling like, and you can see now, we've moved the real wall in so, before, we had just a plain and simple wall. But we moved the actual wall in, to try to get a better sense, and you can see, John's got these welds here and this hatch that's been welded on. And even still, I liked what was happening, but it felt like it needed a little something. So we tested putting a light on the wall. So this little black tape was to give ourselves a marker. We moved it around a bunch of times, like where do we want to put this, this light in there. And we don't have a, you'll see the light. We actually did fix a light fixture to the wall, once we got it set. So, preparing for limited shoot time, you've gotta do this kind of stuff. In this case, particular, I think we have an hour and a half maybe for the first shoot and maybe an hour and a half for the next shoot, which sounds like a lot of time, but when you're working with this many moving parts, it's not a lot of time at all. You always want to prepare and practice and run through as much as possible. Again, you don't always have that opportunity, but whenever you can, you want to do that. When you're, again, it depends on who you're photographing. If you're photographing a celebrity and it's like a commercial shoot or something, you definitely want to have them walk in and be ready to shoot. Sometimes, if you hire a model, you may need them there to sit in while you're practicing. And that's fine too, because that's something that's been, you know, arranged in advance. But you've definitely got to think through how you're gonna use your time, when the times comes. If you have 10 minutes and you need two different setups, I would encourage you to have two different setups ready to go when the person gets there, so you can have them sit here, walk over and sit here. If you do one, and then you have to move all the lights and stuff, they're probably gonna have to leave by the time you get ready for the next one anyway. So you've really gotta prepare and think through and have everything lined up and ready to go.
Class Materials
Keatley Keynote Presentation
Casting for Nautical Shoot Video
Ratings and Reviews
What an amazing show. I'm so happy that I could be a part of it. It was so great to see John at work and in his element. I learned so much from watching his process from beginning to ending. So many questions have been answered. I feel more confident, to get myself out there and create and make work that comes out from my imagination. I will definitely be keeping a journal/notebook with me at all times. I would also like to suggest that we have another course for John Cornicello, home studio. I'm curious to see what John is working on in his studio.
It's amazing to watch and understand how this great creative professional work. There's a lot to learn about with his production process. For me, that lives in Brazil, is a major opportunity to enjoy this class.
Wow! There's just so much great information in this class. If you've ever wondered what it takes to produce an environmental portrait, this is the class for you! John did a superb job of taking us step-by-step through his process. From model casting to set building, lighting setups to culling; it's all here. He even wraps up the class with next steps and how to put it all together. He gives the knowledge so you can take it to a place you can create your own magic!
Student Work