Shoot: Row Boat in Fog Set Tour
John Keatley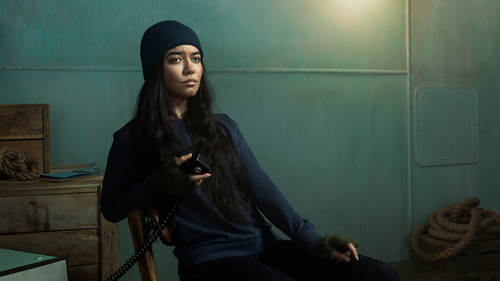 Shoot: Row Boat in Fog Set Tour
John Keatley
Lesson Info
35. Shoot: Row Boat in Fog Set Tour
Lesson Info
Shoot: Row Boat in Fog Set Tour
So today we are continuing on in our female renegade sailors in an unknown time period roughly 40 or 50 years ago. So we have incredible row boat and what I want to create is a scene of one of our subjects rowing through this mysterious kind of swamp or bay really early in the morning. And so how do we do that in a studio when we don't have water and we don't have anything really that we would see in an actual swamp or bay. So what we did was we started by finding this row boat that we rented from a boat facility that rents out boats and you can take a boat out on the lake and everything. So we arranged that with them and we got this here and basically it's just propped up on some sand bags or concrete bags so that it doesn't tip over when our model is in there. And then we also have just some potted grasses that we got from I think probably Home Depot. And there's a few up front here really close to the camera that will be blurry in the foreground to kind of give a sense of depth. And...
then we've scattered them around also throughout the boat we'll probably have to move them as we get going. And then if you can see it, it's kinda hard to see in here we have a seamless behind the boat and it's a regular nine foot seamless but that wasn't quite wide enough for this scene. So we ended up cutting it and we had to Hollywood it in or I'm sorry we had to basically, that just means we're doing something in a very creative MacGyver sort of way. So we taped up one width of the seamless and then the other side was still on the roll and then there's obviously a seam here but because of our final element which I will get to hopefully that you won't see the seam. But that's how you create a 16 foot seamless. And then we also have two fog machines and I think one or two hazers. The hazer is what gives us this smoky room look. It's just it creates atmosphere and so we're gonna have a hazer here to create atmosphere and then we're gonna have a fog machine which tends to clump and be more defined and it stays lower. And so the fog machine is going to be what hides the ground and the edges of the seam not even the edges of the seam it's all the seamless and it's gonna blend in. So hopefully what we have in the end will be this boat that looks like it's just kinda going right through early morning fog on water and the grass will help kinda give you that idea. And ultimately we're not gonna see any water at all. And if we do it right your eye and your brain won't tell you something's wrong. Even though you don't see water you should feel like everything is exactly where it should be. So this is going to be a lot of probably plates with smoke and fog and haze and all that kinda stuff. It's really hard to like direct it exactly where you want it, tends to just go where it goes and so we're gonna be shooting on tripod today so that the main elements the subject and the boat will be in the same place and then we can just cut plates in post. It's more post work than I'd like to do but it's probably the best approach that I can think of at least on how to do something like this. So we're gonna just shoot a whole bunch of stuff and have to experiment and move lights around and probably move grass around and things like that. And we're still not totally set like we've been working on this one for quite awhile and we have a little more work to do. So hopefully that will be interesting to see us struggle with all that.
Class Materials
Keatley Keynote Presentation
Casting for Nautical Shoot Video
Ratings and Reviews
What an amazing show. I'm so happy that I could be a part of it. It was so great to see John at work and in his element. I learned so much from watching his process from beginning to ending. So many questions have been answered. I feel more confident, to get myself out there and create and make work that comes out from my imagination. I will definitely be keeping a journal/notebook with me at all times. I would also like to suggest that we have another course for John Cornicello, home studio. I'm curious to see what John is working on in his studio.
It's amazing to watch and understand how this great creative professional work. There's a lot to learn about with his production process. For me, that lives in Brazil, is a major opportunity to enjoy this class.
Wow! There's just so much great information in this class. If you've ever wondered what it takes to produce an environmental portrait, this is the class for you! John did a superb job of taking us step-by-step through his process. From model casting to set building, lighting setups to culling; it's all here. He even wraps up the class with next steps and how to put it all together. He gives the knowledge so you can take it to a place you can create your own magic!
Student Work