Publishing for Creatives
Publishing Your Book: What Comes Next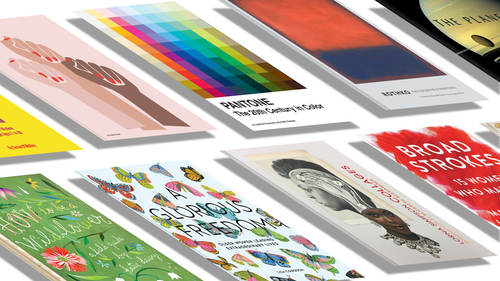 Publishing for Creatives
Publishing Your Book: What Comes Next
Lesson Info
Publishing Your Book: What Comes Next
You have put together your book proposal. You have figured out who to send it to. You have sent it in. And then you're sitting there, either you've hit send on the email, or you've put the thing in the mailbox, or whatever it is. And what happens now? You're just waiting. What's gonna happen? So, if an editor is interested in your idea... Oh, here's a moment to clarify, if a publisher does, in fact, accept unsolicited submissions, they look at them. You can feel confident that somebody has looked at everything that's come in. You wouldn't accept unsolicited submissions if you weren't willing to put in the person hours to review them. Sometimes it takes a while, as I mentioned. And sometimes the reviewing has to happen relatively quickly. Like I can sometimes look at things, and just know. Yeah, we did a book on that exact subject, and it bombed. So, not this one. Not for us. Sorry. But there are definitely eyeballs on it. So if someone sees what you are doing, is interested in it. They...
will be in touch with you. Of course, of course, of course, put your contact information all over the thing. I have one or twice had people whose contact information was only on the return address of an envelope that I threw away. And I sort of liked their idea and sort of wanted to reach out to them, but I had no way of contacting them. This has only happened once or twice, but obviously. They'll be in touch. They will walk you through the next steps of their acquisition process. For example, my acquisition process is once I've decided I want to move forward with something, which might be after some back and forth with the author, I take it, and this is pretty similar in most places, I take it to an acquisitions board, which is a meeting made up of decision makers where I do a whole big song and dance about how wonderful this project is, and why we should acquire it. And why we should spend money on it. And hopefully they green light it and say, Yes. Go make it happen. And them I'm empowered to go make a deal. Occasionally they say no. Actually you think that's a good idea but no one else does. So then I have to go back to my author and say, It didn't pass. I don't get to make you an offer. So I am also doing pitching the same way an author is pitching me, I'm then pitching the publisher on the author's behalf. An editor at this point would walk you through, Oh, I gotta take it to my board meeting. That's in two weeks. You know, whatever. Give you kind of a timeframe of what's going on. And as I say, the decision to acquire is not only up to the editor. It's a company decision. They get the projects past their board, and then they make you an offer and go from there. A word or two about declines. Obviously this is like the sad face subject. But I think it's important to cover. So when you can assume a decline, especially if a publisher says, we only contact you if we are interested. And the time limit that they put on their submission guidelines has passed, I would maybe give it an extra week or two just 'cause you know, life and entropy and whatever things happen. But if you... Say they say you'll hear within two months, and it's two and a half months, three months you haven't heard don't make yourself miserable sitting around wondering if maybe they'll still come out of the woodwork. Just assume that's a decline and move on with your life. I'm putting a pin in something I'm gonna come back to that in just a second. I'm gonna keep going on this though first. Decline letters or emails. Usually it's gonna be the form you sent it in. So if you sent it in physically, you would get a letter back. If you sent it in electronically, you'd get an email back. Will basically say this isn't right for us. It might just say that. This isn't right for us. Sorry. Or it might go into detail about why that is. Don't reply to a decline to further make your case for why they should actually publish it. This is probably the number one pet peeve of editors. I just said no and then you wrote me back to be like, No, but actually. It's just like take no for an answer. It's poor form. Also, this is hard. I know this is hard from an emotional place, but try really hard not to take rejection personally because it is not personal. It is a business decision. You've got a business person looking at numbers and trying to make a business decision. And if they think they can sell your book, they will acquire it. And if they think they can't, they won't. And honestly they wouldn't be doing you any favors if they acquired it thinking they couldn't sell it. So it's really not something to get heartbroken about if you can help it. Obviously you're gonna be disappointed, but, yes. Given that declines are probably common in this industry, should you be pitching to multiple publishers at once. That's what I was putting a pin in. Good call. Okay. It is fine to send your proposal out to multiple publishers at the same time. As long as you make that clear in your cover letter. You would say, This is a multiple submission. I am submitting this proposal to multiple publishers. It's an FYI. Basically you're just being transparent. You're not doing anything sneaky or weird. You're open about the fact that, Hey I'm sending this to everybody that I wanna work with, and whoever gets back to me first, I'm gonna work with them. If you have a sort of priority list in your mind. If you have like a first choice publisher and a second choice publisher and a third choice publisher. If you've ranked them like that, and you want to send first... This is I feel really common with writers, and especially in the short story world where you're sending to magazines and things. Where I think multiple submissions are kind of frowned on. They just keep a spreadsheet. And they just keep them going. Like that one came back from so and so, now it goes out to so and so. And then it came back from them and it's going to the next one. And rejection and decline becomes part of the process. And eventually something hits and sticks. But there's a certain amount of iteration that happens. So both methods are totally acceptable. You just want to be really clear up front about which one you're doing. So people who are getting the submission know what's going on. I actually, this is gonna sound really annoying, and I'm aware of it, but I do actually think that declines can be very positive in the same way that not getting a job can be a positive thing. In that if it really wasn't a fit, it would have just been two years of misery. Like really you don't want to get in somewhere where it wasn't going to be a good experience. It wasn't gonna be a fit. So if someone's telling you it's not a fit, they're probably kind of helping you out in some ways. Because now you have the opportunity to go figure out where would be a better fit. I think Jim, you said you had a question. Yep. I have it right here. OK. It's about when you start working with an illustrator or an artist or a photographer as an author or vice versa, do you recommend putting together some sort of a contract with them before hand. Yep. In terms of what happens next, this class is really about coming up with ideas and pitching ideas. I'm not gonna go in great detail into the publishing process once you're making a book. How that all works. But this is the next step in the process is, I'm just gonna do this first person because it's so much easier. I take something to my board. I say this is amazing. These are the comps. This is the author. This is why it's great. Let's do it. They say to me, Yes. We agree with you. Let's do it. At that point I make an offer, which is like a business letter where I write to the author or the agent and say, Here's what we can offer. Here's the money. Here's the schedule. Here's what you have to deliver and by when. And here's what we can pay. And all the details. At that point there's some negotiation, probably. So we come to an agreement and have a deal. I then send that deal to my contracts department. So the contracts are done in house. They take all the deal information because I am not a lawyer. I do not write contracts. I don't know legalese. They take all that information and put it into a proper boilerplate contract. Which then goes back to the author or agent, and there's often a little bit more you know, negotiation. Some authors that don't work with agents will hire a lawyer to look at that contract and review it for them. Please, please, please if you do that, hire a lawyer who knows book publishing. Because I've worked with lawyers who weren't familiar with book publishing and were very, very confused by a publishing contract because it's a bit of its own weird animal. So then the contract is negotiated some more. And when it's all done, the publisher signs it. The author signs it. And away we go. Somewhat similarly on the freelance side, if someone is going freelance illustration or writing, sometimes the contract will go through me if I'm hiring somebody. Or sometimes it will go through our design department. And they'll generate a contract. So we're always putting together an agreement once we have reached terms. Perfect. Thank You. Yes. I don't know if you're gonna get to this, but could you talk a little bit about money in terms of the advance and how you determine. Does every project have a different advance rate? Or is there kind of a standard? How is that figured out? I can tell you how I do it. I don't mind being open about that, but I'm not sure that's how everybody does it at other publishing houses. And I don't wanna speak for more than myself. But basically my understanding is the advance is roughly, this is very rough, but around the amount that is the royalties that the author would earn on the first printing of the book. So the way book publishing, book printing works is we print a certain number up front. And that number is based on what we anticipate the demand is gonna be. Based on our experience with previous titles that are similar. So we have an initial print run. And we say we're gonna print X number of copies. And give or take, that advance should be, OK. If that first print run sold, and nothing else sold, which is sort of like, it's not necessarily the breakeven point, although it's hopefully is around the breakeven point for us. Because we're obviously going out on a limb on this thing as well. But it's around the point where we're saying, At this point when it sells through the first print run it is neither a success nor a failure. Like it's fine. We sold the first print run. We're good. We hope, of course that what happens is there continues to be demand and we reprint. And some books that, whatever you are to be a good run is something like in its 25th printing or something like that. You hope that you keep printing more and more and more. And ideally that first printing sells through, that's about when the author should have earned back their advance in royalties. And then subsequent printings, they would start seeing royalty payouts. As I say, this is very approximate. But it's something around that. Yes. Follow up question. What is a ballpark of royalty as a percentage of-- You know. It's tricky because you'll hear people bandy about percentages and say, Oh, this is industry standard. But it's tricky because it really varies depending on the type of book and the type of upfront costs that are gonna go into making the book. So if, just right off the bat, the fact that I'm mostly working on illustrated books so I'm mostly working with four-color printing. Like all of my books are printed C-M-Y-K. We were talking about C-M-Y-K, which is the four colors of ink that printers use to make color images on a page of any color. And that is more expensive to produce than black words on a white page, which is printing one color. Which is way cheaper. So typically royalties for a reading book, which is what I call it because I can't think of what else to call it. But a book with just, a fiction and non-fiction book with words in it. Those royalty percentages tend to be somewhat higher than you see for illustrated publishing. Because we basically are spending more money on the production so we have less money to throw around. We make a little bit less profit. And pay a smaller percentage to the author. So there's a lot of factors that are gonna go in. That's the big one, but there are other factors that are gonna go into what the publisher can afford to pay, basically. Which means it's a long-winded way of saying there isn't really an industry standard as much as people sort of think there is. Because it really depends on the type of book. Can you give a range? And then it's complicated more by the fact that there's a couple different royalty structures. So there are royalties that are paid on the retail price of the book. So my book here that has a price on it of $12.95, it would just be a percentage of $12. regardless of what the publisher sold it for. And then there are royalties that are based on the net receipts for the publisher. So if I'm selling this to booksellers, I'm obviously not selling it to a retailer for $12. I'm selling it at a discount so that they make money when they sell it. There's a percentage that's based on the net receipts that I got. So those are two completely different royalty structures. Typically you more often see retail royalties on books. And you more often see net royalties on formats and gift product which have high production costs as well. I would say the range, it's so hard. Five to 15%, maybe. And that's a big range, obviously. And for illustrated publishing, it's gonna be on the lower end, probably. The higher end is more black and white kind of thing. I feel like you hear numbers, both royalty numbers and advance numbers bandied about in pop culture like in the movies and stuff. Like this person got a $1 million advance or whatever. And it's the character being played by Tom Cruise or something. I don't know. I feel like there are sort of numbers that are in pop culture that I don't know how accurate those are. And what's the average in terms of first printing. Is that dependent on looking at the market and how many you guys think will sell? Yes. Yeah. That I really can't give a range because it is all over the place. From small fine art books that are maybe a couple thousand copies. All the way up into a lot of copies. You guys probably have heard news stories recently about some current even non-fiction books that have come out that sold close to a million copies in the first weekend. That kind of thing. And they had to physically have those books to sell. So gives you an idea of how wide a range of print runs there can be. As you guys have done that research, and are in the publishing industry, what is the negotiation process like? Is there a lot of room? Because it seems like a lot of the information has already been determined and based on historical research and projections. I don't have a lot of room to just completely break the rules and be like, I offered X and you're asking for five times that. And I'm gonna be like, Sure. No problem. But if someone is explaining to me why the advance is particularly important to them or the royalties are particularly important to them. Or maybe it's neither of those things. There's a lot of other deal points in a deal. The schedule. The publication season. Something called sub rights that I'm not even gonna get into 'cause it's complicated. If someone can call out for me what the most important things are, I have little bit of wiggle room to try and figure out how to make a deal that's gonna work for them. It's not just like, Here's your offer. My way or the highway. No more conversation. There's gonna be some back and forth.
Class Description
Are you an artist, illustrator, or designer with a great book idea but no idea where to start in publishing? The publishing world can seem opaque, confusing, or daunting from the outside, and many creatives can feel tempted to give up before they even start. But, you can do it! Bridget Watson Payne is going to give you all the information you need to create a book proposal and get your work seen by publishers. Bridget, a published author and artist herself, has more than 15 years' experience inside the publishing industry and is currently Executive Editor of Art Publishing with Chronicle Books. Learn from the best!
This class will cover:
How to brainstorm book ideas and choose the best one
How to put together a great book proposal
How to reach out to publishers
How connecting with your audience supports your publishing dreams
And more!
Reviews
Bridget knows her stuff! And she's a whole lot of fun to listen to. She is engaging, smart, and very personable. Thank you so much for such a fun and informative class.
Bridget has a great perspective of the publishing industry from a creative standpoint, and it was so easy to follow. I got both inspired to come up with ideas to pitch, and terrified that they might actually be picked up! This class is a must-see for anyone interested in dipping their toes in the creative art publishing world, but with no idea of where to start.
Amazing class!! Magnificent instructor with experience and know-how and she's also very encouraging. To quote her "It may be hard but we can do hard things"