Dancer Session Q&A
Lee Varis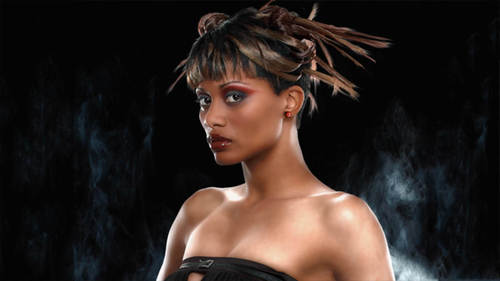 Dancer Session Q&A
Lee Varis
Lesson Info
34. Dancer Session Q&A
Lesson Info
Dancer Session Q&A
When you're when you're approaching this shoot from the perspective of skin you know maybe a normal flow she would be like oh that's a beautiful looking face or that's a beautiful motion of her body how are you looking at these photos with the lighting and the set up and what your thoughts about her skin or the reflection of light on her skin what your thoughts your thoughts on that well uh I'm I have set up the lighting so the most important lights and this set up are these rim lights which are kind of skimming the surface and that gives me a little more shape of some more dimension so also very interesting that he she turns it's like turn one way or the other okay see right there the light falls across their chests and it's it's helping I you know uh work the cleavage a little bit you know makes those nice shapes it also plays across her cheek and her face very nicely so while she's dancing she's always kind of moving in this position where the light rakes across and really makes the...
muscles and and you know like the forms the bumps and all that will those shapes and the arms really come out um the front light is sort of like a beauty like it's right over the camera and is very very soft it's so big that I don't really need to put like a nose light tow keep the shadows from getting too dark so way having very, very pretty light on her and she has a wonderful skin um so it's it's kind of what I'm looking for is just giving a sort of a glow get that sort of glow on the skin and whenever I'm shooting figures thiss rim lighting thing is is like a keith thing on having it on both sides means I've got highlights along the edge of the body on both sides so very important just beautiful really beautiful looking at that so because of the way that we're tethering well could we again ask you for your settings yes internet ally studies right now because I changed I went to aa lower eyes so so we didn't really change the power in the lights so my camera right now is set on f nine about like eight and third and one twenty fifth at I also won sixty thank you and I'm using these ah dina lights wait for the action stopping we had the variations turned down do we can we can we get a picture of the pack actually so so right here is a power vary ater and I can turn it down or up so as I rotated down it's like minus one we were way down at minus two the way that works to reduce thie the power of the flash is it shortens the duration with each click so in order to get maximum shortening for maximum action stopping I had this turned way way down so right now we're turned to back up uh it's still um it's still a fairly short duration but I'm not I don't really need the maximum action stopping so I'm now going for lower I esso and therefore higher quality cool and again are you using the one thirty five still no, I switched to the twenty four to seventy because that way you can kind of zoom in and out and I wasn't shooting so much tight portraiture although right now I moved in I was tuned about seventy millimeter for these close shots um the full length figure uh you're good at fifty or so I was actually shooting mostly between thirty five and fifty for those leaps and then kind of slowly zoomed in until we finally got to about seventy okay more questions, more questions, more questions we have more questions are very interested in what you're looking for when you look through the lens, what is your vision? And david soto said through the viewfinder, are you looking to find it more torque to her body for artistic look is that what you're when you click the shutter is that which are well thinking good wave putting it on a more torque I yeah um you're looking for a bold something bolder you know, to be frank, I'm never one hundred percent positive what I'm looking for, I'm just kind of like instinctively when I see something pretty, you know, that's, I got my got this witch in my fingers like, pretty meter, you know? And so when it gets close to something pretty just starts twitching like that and thank you, yeah, kind of I'm sorry, I can't really I don't have a formula. I don't I can't really articulate that and in a really structured way, um, but, you know, I kind of get a, you know, it's almost like butterflies when you get you start getting in the zone and you start seeing something really beautiful, you know, it's, like, uh, it's like feeding off of it, like my energy is when when she's doing something great, I get, I get pumped up, so, you know, I'm having a great time, I think, that describes how most of us feel we're shooting so right, I would answer that the same way exactly it doesn't matter what the subject matter is, you know, whether it's like flowers blowing in the wind way really it's, another feeling that you get cool, thank you could see a question from a fashion tv from singapore if you wanted to do these images in loki, what would you change in the current lighting setup and obviously we don't need to do that, but what thoughts way didn't my okay, so for low key I would the first thing I would do is use much smaller main source so I'd use a smaller embera umbrella and uh you know, maybe position at higher or do rembrandt off to the side so I'm really looking to throw more shadow for a very, very low key I might dispense with phil light all together with this sort of set up I'd have rims on the on either side and let it go silhouette in the middle the big thing that contributes to loki is having a dark background right now we're shooting kind of on on the wall it's a light gray it's going to be very hard to get a real loki effect out of that, but if we put a black seamless up there and I turned down, I could turn this way way down eliminated altogether ago with a very small, more directional kind of light source and I would get a more low key kind of look out of it, okay, another technical question this has come up several times in the chat room and I don't know if you answered this already, so I'll ask it again nick ray is asking, do you prefer to use eso settings and multiples of one sixty as opposed to using the lowest I so of one hundred on a lot of people have talked about your one sixty yeah, this is ah it's kind of new information. That's that's come out that people there are a lot smarter than me. Uh, who were really concerned with I was shooting video on the cannon five d determined that the native aya so is actually one sixty um, this is not information that cannon publishes, you know, and nor do they really admit that that's the case, but, uh, cinematographers air just really anal about testing and knowing the equipment. So when I talk about calibrating, believe me, dps are much worse. They're just crazy about calibrating equipment, so they did determine that the native, I suppose one sixty. So if you shoot at less officiate at one hundred it's, like taking one sixty and then just using a gain control of lower the volume on it, so you're not actually getting better dynamic range or or any special benefit by shooting at a low rise so that one sixty on then the concept is to shoot at multiples of one sixties, going to give you the best I esso performance tradeoff, so, you know, rather than shoot at sixteen hundred try to shoot twelve fifty or if you can't do that shooter twenty, four hundred you know it's it's uh um tradeoffs are really more it's better to shoot those even esos there even multiples of one sixty and so is that both for for video and for stills it's sort of both I mean, you know that there is a native I so whether rar shooting j pegs you know, in in the end it's not a huge difference so I wouldn't lose sleep over it if you need to shoot at you know, five hundred instead of six forty then you know, shooting five hundred but um it seemed to be an issue for shooting video mohr because they're get they're not getting a raw file to play with they're getting the finished you know, it has to look perfect the way it comes out of the camera, so they're looking for every little tiny tradeoff trying to maximize quality on all of those and are we talking about cannon specifically? Yeah native I so I mean that that was a thing that came out because kanan was sort of the first kid on the block for that high def video I don't know what the thing is with nikon because I'm not a nikon shooter, so you know, I can't speak intelligently about that there's a place for that yeah, there's. An answer for that. I'm sure there is, and probably in the chat room, there's somebody with an answer. So so another question from raymond is, can you tell us a little bit about the makeup today? Is there something that was done at all? I don't know. She did her own makeup on anything specific for the tattoos. You just left the hmas way. Have the mic now, that's user, uh, to make him look really shiny, just put regular lotion on him, which I actually didn't do today. A my make up, I just it's, just eyeliner and mascara. Uh, nothing special, let's. Thank you. I would say that the autumn is very she's, blessed with really good skin, so, um, yeah, a little baby oil, maybe help with touches, but way will. We will do a little tattoo enhancing and post, too, so
Class Materials
Lee Varis - Skin Day 1 Keynote Slides.pdf
Lee Varis - Skin Day 2 Keynote Slides.pdf
Lee Varis - Skin Day 3 Keynote Slides.pdf
Ratings and Reviews
Skin tones correction and portraits editing are new to me. This course provides a set of tools for me to improve my portraiture work. Lee doesn't just show you how things are done, but also the reasons for the corrections. The delivery is a bit dry because the topic is quite technical. You can have a break between lessons, if it becomes too overbearing for you. I highly recommend to take this course, if you are planning to do portraits, head shots, or even senior pictures.
Student Work