Student Shoot: Colleen
Lee Varis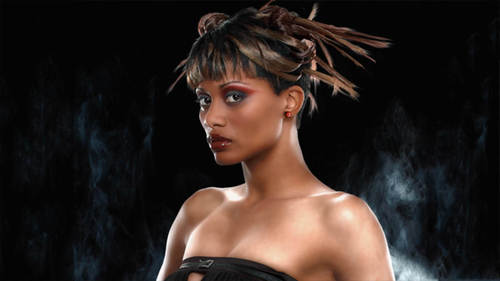 Student Shoot: Colleen
Lee Varis
Lesson Info
5. Student Shoot: Colleen
Lesson Info
Student Shoot: Colleen
You ready to go first okay come on over here so set your you can't shoot yet okay what do you what do you need to do? Well, I actually was first I want to check the light with leaders fret well, you can't check it with your in camera meter well, I do actually need to be you need to set your camera to the settings of the meter. Brett nelson okay, so I'll tell you what the settings are ok okay, so you're gonna be at eleven and a third so that's eleven's like move it when we were thirteen okay and your shutter speed ok that's fine eyes one twenty five oh, yeah uh should be u s o should be one sixty so move it one more okay? All right. Okay, okay. And I have my twenty four to one or five okay back there so put yourself at at one o five you do you have a a len shade? Um not with me you know uh ok, maybe to see if this spit this from my seven nine twenty four to seventy it's ok, who knew? Okay, yeah always always, always use a len shade always okay uh and and I will I will share my one of my...
little kind of pet things um I don't like the clear lens caps that they sell as you know filters to protect the front element so I just take my I only use it like a lens cap uh so I never shoot through these things that's two more glass surfaces to go through and just really kind of unnecessary so I I'm gonna move this over here so I'm not stealing it from you in this car right there okay now you got your camera set yeah and you're ready to go ok you're you're now shooting the picture go ahead okay hi how are you? Good perfect. I was one of the point this out many people the first thing you start doing shooting you actually you didn't fall for the into the trap which is very good you started talking t model that's what? You have to establish communication before you take any pictures so a little bit of banter is essential I know this is kind of a classroom you know set up here but you actually get it a little star goodbye joe at this point I'm probably equaling nervous as they are helps me teo yeah excellent excellent gets okay so take it away well now I'm not I don't think in the pocket was a swell like john see that's really my fault but as a photographer I always have a fall guy I go on and I'm never going to shoot that an assistant so I'm just gonna first go to go john you forgot to put the pocket was testing her very good. You two stars. Okay, here we go on writing. All right, you're all set, ok, so what I'm gonna do is actually do some busy, straightforward instead of smiling, I just kind of want have you bring your chin down a little bit and mouth slightly close. Not so tight. Ok, see how everything looks ok, now, where are you relative to this lens? Right here. Yeah, but ok, so now tilt your your your lens up, but right above her head is that light source? If you see that you can't shoot, I don't say head where can I still thought? Yeah, it's right there you see the light so I could see it and you should not be able to see that. Where do you need to be relative to this, shane? You got to step back or we move this forward if you want to get that close, that that's fine. So make sure that I'm not cutting the top of her head off with this. And I'm coming. It's it's covering the back, the hairline. So get where you want to be and then tilt up and make sure that this is covering the hairline yeah, is there covering it perfect, okay, good already. All right, so do a couple more like that just relax, smile straight at the camera now turn it into the right a little bit ago and left off there you go right and then straight at me down a little bit but you go ok, take a break yes if you if you shoot like this for extended period of time you're going to kill your back so if you're going to if you need to get a low angle try toe chris you wearing a skirt not going to be easy to try to spread it out spread your spread your legs and bend your knees so you're not like leaning way forward because you know on our that you're toast, right? So speaker yeah yeah, you can if you if you don't want to be mobile so yeah, I mean, we're just here for this class I'm trying to keep furniture out of the way I would sit on an apple box actually myself, so but but I just noticed you were like, oh, I just knew this is this is a recipe for disaster lower back at least at our age. All right, here are a few more shots and then I want to change something um just a couple of the smiling all right and actually want to bring up the hand, so, um what I'm gonna do is take a few and actually just kind of moving here. Not too much. Just kind of there you go. All right. A couple smile that that is perfect. And then smile, they go. Awesome. That's great. Okay, uh, phenomenon is I'm going to do a little change, and I would I would like you to put on the darker, darker top and let's, uh, let's get that black chair. So we're gonna we're going to change this the situation a little bit here. Okay, so there was a question about went, you know what angle it was eye level with the with the subject in this case, in that situation I was now I'm going to be shooting down, so I want the model of settling lower and she's going to be leaning against the back of the chair, which is kind of a classic, um, sort of hollywood glamour oppose and, uh otherwise yeah, so in this case, I can I can be almost standing straight up and shooting down. Um, so I'm gonna all shoot first. You can actually stay tended this way. So are we're actually what will probably do a switch to another student? Yeah, thank you. Um so my pocket was thank you. Well done. Thank you do want a quick question? Well, yeah, switch out okay, watch holder six eight seven eight says hello apart from using len shade go bows and avoiding filters any other tips to avoid flair to some lenses react better than others to flare? And how can you find these, um and his flair? The only reason that you're just using a lens hood? Yes, uh, I'm trying to eliminate flare just to get the cleanest, highest quality of image out of the camera. Um the more elements in the lens, the more it's going to be sensitive to flare, so zoom lenses typically have mohr elements in them and they're going toe have they're going to react more to stray light entering the lens so they they're more prone to flare then, uh what we call hard optics or prime lenses so we're using a one thirty five uh it's not a zoom it's a simpler lens, one of slightly fewer elements and it will be a little more ah, a little better of higher contrast. Uh, which is the look that I'm going for? Um so yeah, that would be and really it's just really about trying to avoid getting light to come right into the lens unless you want that I mean we can for a special effect I could put the light source in the shot and get player and you know, do that deliberately but in this case I want a nice clean crisp on so I don't want flair softening the contrast in the shot okay and actually let's let's take a meter reading because I she's lower so in my car away from the light eleven six eleven six okay all right so now I'm a little I'm shooting slightly down and um yeah actually can we let's lose this entirely okay go for maximum um lose the we're gonna lose the phil light there you go so put put both hands on the on the chair back yeah uh yeah yeah like that like that that's good. So I'm still clear with my my uh gobo with my go ball I'm trying to get a little more of her shoulders here my display dark I guess that feel like they're really was doing a lot so now I've gotten very dark so I'm gonna open up good way need something we can hold it in there just let's just hold it there for or put it on an apple box or something apple box might be gives an apple box saree so I'm gonna grab this apple box it's just a little too dark and you know moody looking ok so this should help so I moved the now we're going to see the difference between this last shot and and the next one, uh, moved that that light into place, and I'm gonna back up just a little bit more. A little better. It can raise it up, even just another another leanna third. So what? I'm trying to find just the right level for that, phil, I don't want it to be black, but I wanted to be nice and dark. And r r c stand was a little too high now that we've got her down on the chair. Um, okay, that's. Better. All right. So let's, uh, let's play with this. See if you can change up the hands, do something different. Keep them up, though I want to see them on the top of the chair somehow. Or yeah, yeah, like that and kind of trying to lean in to me. Yeah, good can try. Try going with your elbows up on the chair or, you know, like this? Yeah. There you go. Excellent. Excellent. Okay. Yeah, very nice. Very nice.
Class Materials
Lee Varis - Skin Day 1 Keynote Slides.pdf
Lee Varis - Skin Day 2 Keynote Slides.pdf
Lee Varis - Skin Day 3 Keynote Slides.pdf
Ratings and Reviews
Skin tones correction and portraits editing are new to me. This course provides a set of tools for me to improve my portraiture work. Lee doesn't just show you how things are done, but also the reasons for the corrections. The delivery is a bit dry because the topic is quite technical. You can have a break between lessons, if it becomes too overbearing for you. I highly recommend to take this course, if you are planning to do portraits, head shots, or even senior pictures.
Student Work