Student Shoot: Michael
Lee Varis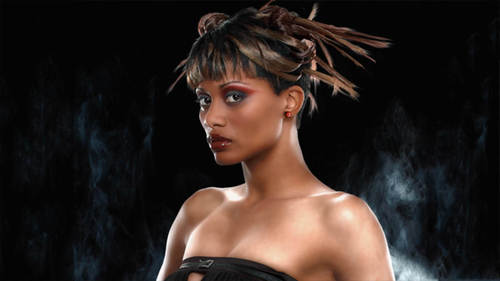 Student Shoot: Michael
Lee Varis
Lesson Info
16. Student Shoot: Michael
Lesson Info
Student Shoot: Michael
Okay, you ready? S I was liking what you're doing earlier with lead, but I'm instead moving your whole body just kind of play with facial expressions could be silly. Whatever you want. Serious? Um, and we'll just go from a so run this cable over your shoulder. This is just it's. Just what I'm used to doing tries to keep the cable behind you. So you don't step on it. Wait, wait. Don't shoot too fast. You know, like it's. Ok for you as the photographer to go? Yes, yes. Good. You know, make me believe it. Do you know anything tio? Kind of help him stay, which he doesn't need anyhow. So things are looking great, but yeah, just just keep chad, keep the chatter. You seem like the silent type. So it helps your talent to kind of get into the groove if you if you were constantly talking. Okay, but it would be possible way. Set him down. I don't know what the lighting will be sitting on the apple box and, uh, kind of shoot a little from above. You can bring down this late. Spring at the time a l...
ittle bit but that's gonna take a sort of fairytale okay, we're seeing we're seeing light stands and all kinds of stuff in the shots but that's cool uh he's a little lower now from this light so you may want to compensate exposure wise so these are things you have to stay conscious of well, if you're moving quickly like this which is just a very cool strategy when he's gets further away from the light it's gonna affect your exposure so just kind of cheated a little bit you don't have to take me away oh hee hee hee hee hee so uh sometimes ah good strategy is to listen to your assistant who is was looking he's not looking at the models usually they're looking at the lights and their job is to make sure that that they see that all the strobes go off eso always good to work with an assistant on set uh I've certainly done plenty of photo shoots all by myself and it's much harder to stay conscious of all the technical issues. So good job, john keep it up keep shooting that's great let's talk talk keep the talk going chatter right. Good. Um raise the eyebrows on if you can do it um studio eyes but can you roll your eyes back? Yeah, sure, the white house right there I'm suspicious that there might be flare in this shot and you have been kind of ignoring all of that because you're using short lens and moving in close which is it's okay just be sort of consciously maybe picking up some flair way you know right now it's not worry about it but these are things that you have to be conscious of uh in this case the flare may actually help fill some of the shadow so we're not getting a cz darker shadow but yeah I think the next the next zombie movie right there and after somebody else yeah anyone else want to jump in here I want to make sure we all get a chance and some people are too shy way have questions from the way we do have some questions if you want to switch it up no no no rations yeah sure okay blast concussions way have questions so folks back when we're dancing and such folks we're asking about what's the best way to focus without having the subject get blurry uh yeah when which is a very good point if you're trying to keep focused on a moving subject you wanna have a smaller f stop for better depth of field so I was shooting at sixteen uh and that's going to give me in enough of an opportunity if I catch focused anywhere on the figure that his whole the whole depth of his body should be pretty much in focus and occasionally if they're wrapped moving rapidly, they can still move out of focus. So uh so they have stopped more so than the shutter speed folks were asking shutter speed has no, uh, impact here on on the shoot because we're using flash, so the flash duration even even in ordinary flash duration is going to be somewhere between a five hundred thousand eight hundred of a second and that's going to be the longest flash duration usually have to worry about that's usually enough to stop most action really rapidly moving action you you can do little tricks, which we're gonna be exploring tomorrow too short in the flash duration as much as possible so that the main trick would be to power down the flash units and not use them at full power and that tends to shorten the class duration, especially if you have a rheostat type of flash like power vary eight or sometimes called where you can continuously lower the power of the strobe units at the shortest at the lowest setting that actually shortens the flash duration the most. So we'll be counting on that tomorrow he's not moving fast enough to really have to worry about it, and we also are kind of not worried about the ambient lighting here, which is all set for the video because I'm using f sixteen and a shutter speed of one twenty fifth on my camera got it just be careful that you don't use too fast to show to speed that you're not catching you're not synchronizing properly with strobe and every camera's going to be a little bit different in that regard so um but at the shutter speed and have stuff that I'm using I'm really not picking much up of this ambient light at all so okay yeah in this situation what would be your help stop range uh I know you mentioned f sixteen right now used for focusing mean yeah, so if you had a choice between the high and the low which will be or high and their love oh um well, you know, for the moving subject and when I want to have focus everywhere you know I have a plane background I don't I'm not worried about using depth of field to separate my subject from the background because it's just a plain black background, right? Um so I can I can use a smaller f stop the smaller f stop is going to just guarantee that I'm not gonna have focus issues if he moves a little bit in around after the camera locks on the focus right? So uh have sixteen two f twenty two would be you know, on a small you know, small side um it's not going to hurt me I usually try to avoid going all the way to the minimum aperture of the lens because the lens will be a little bit actually, the best performance for the lens is going to be around half eight sort of in the middle in terms of its actual sharpness. But these lenses these days, modern lenses are pretty great throughout the whole range. So it's more about depth of field issue so f sixteen good depth of field, we're not gonna have any focus issues. Um, if I wanted, I had, like, a busy background, we're on location outside the city streets, and I want to throw the background out of focus. Well, then I need a bigger half stop, so I'd be looking at trying to get to eight or two or something like that tow throw the background out of focus, but that means that my focus on the subject is also going to be more critical, and I'm going to be trying to concentrate on hitting the focus on the eyes, you know? So you gotta be if he puts his hand out in front to handle, go out of focus and you've got to be careful, you're not focusing on the hand, not the eyes, so, you know, so, uh, f sixteen, I'm not gonna have too many problems with focus.
Class Materials
Lee Varis - Skin Day 1 Keynote Slides.pdf
Lee Varis - Skin Day 2 Keynote Slides.pdf
Lee Varis - Skin Day 3 Keynote Slides.pdf
Ratings and Reviews
Skin tones correction and portraits editing are new to me. This course provides a set of tools for me to improve my portraiture work. Lee doesn't just show you how things are done, but also the reasons for the corrections. The delivery is a bit dry because the topic is quite technical. You can have a break between lessons, if it becomes too overbearing for you. I highly recommend to take this course, if you are planning to do portraits, head shots, or even senior pictures.
Student Work