Intro to Color in Illustrator
Jason Hoppe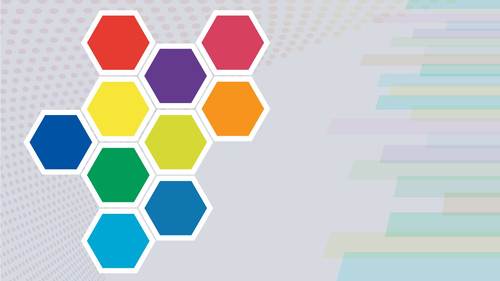 Intro to Color in Illustrator
Jason Hoppe
Lesson Info
2. Intro to Color in Illustrator
Overview of RGB and CMYK color modes. File setup and color mode options, converting color modes, RGB, CMYK, HSB, Hex colors.
Lesson Info
Intro to Color in Illustrator
to start off with color. We need to understand the color modes or color spaces that we're going to be working in. Typically RGB or C N y que. Depending on if we're doing something for Web or video or for doing something for print. The RGB color space is something you determine when you create a new document or you choose C N y que color space. Let's go to the file menu and choose new document. Up comes our documents, and we have different presets here. Mobile and Web are going to be our RGB color space because they're gonna be displayed on a light emanating device so you can see here to the color modus rgb. Same with film and video, because it, too, is going to be captured and displayed using light art and illustration. We have RGB as well because a lot of times that is going to be distributed on the light emanating device. When it comes to print, you'll notice the color mode changes to see em like why? Because C. M. Y. K is not light based, its pigment based. And so when you start up ...
a document here, make sure that you choose what your end result is going to be in terms of Web or mobile or print in order to get the right color space. You can change the color space later, but let's just tell you what these color space is actually are RGB Color stays stands for red, green and blue, and this is how light is captured, and this is how light is displayed. This is called an additive color space, because when you add all the colors together in equal amounts, you are going to get bore light and then you're gonna get white light. It's gonna be very bright. Interestingly enough, if you take red and green light and put it together in equal amounts, you get yellow, green and blue light together in equal amounts. You get scion blue and red light together in equal amounts, and you get magenta. When you put red, green and blue together in their full strength of equal amounts, you get white light. Now the exact opposite is there for C. M Y K C N Y. K is for print. You have a color printer. You'll notice that you have four color cartridges. Cyan, magenta, yellow and then black black. The K actually stands for key, and key is the color that they go ahead. And the That's a very specific term for black. Most people just think. Okay, Black for black? Absolutely. Now, what's interestingly enough? Where do they come up with Cyan, magenta and yellow? Well, you see here that when you combine these colors together, you get scion. Combine these, you get magenta and combine these. You get yellow. So that's why we have cyan, magenta, yellow and then black. And this is called subtract of color because when you put it all together, you're actually taking light away and you get black as a color. So when you start off a new document and illustrator, you need to go in and shoes Do I want to have this be an RGB color space? And is this going to end up on a light emanating device? Or is my creation going to be used for print? And therefore I'm going to spec this out in C m. Y que color space so that what I'm looking at and seeing on screen and the colors I'm creating and using are going to be correct for print. Now I'm going to go over to the toolbar and I'm gonna double click on my color picker here. Just just talk about a couple other color spaces which are gonna be relevant to what we're doing now we have our RGB color space is right here and are RGB color spaces are going to be red, green, blue. Okay, Click on the red or the green or the blue and you can see the entire spectrum of color. There is also another way to go in and pick color using H S B, which is hue, saturation and brightness. This is a same as red, green, blue, the visible spectrum of light. But it's actually mapped out in a different way. So we do have our visible spectrum of color that's either determined in hue, saturation and brightness or red, green and blue. And you can click on these radio buttons and you can put in values here. Interestingly enough, if you want white and you put in red. The maximum amount of red is 2. 55 maximum of green is 2 55 and a maximum of blue is 2 55 which will get you pure white. If you put in a red value of zero, a green value of zero and a blue value of zero, it will get you solid black. Quite interesting. Now you can go in and you can make print based colors cm week here by going in and entering values in and with those values, you can put in the values and then just simply hit Return, and it's going to go on is going to show you in terms of this visible spectrum where these colors actually show up. Now there's one drawback. With using C n y que colors. We cannot reproduce the entire visible spectrum. So a lot of the colors that we have here that we see that are very bright and vibrant. We cannot create in terms of CME like we can get close, but we can't actually accurately represent them. The principal spectrum of color is much more limited than the visible spectrum of color. Now, how do I know that the color that I'm choosing here by using using RGB or C N y Que is a color that will reproduce if my end result is going to be printed well Here's what happens if I choose a color and I like this green, and I want to know that this could be accurately represented if I were to print in C N Y. King. Over here, I get some warning signs. This warning sign says it's out of gamut. And what does that mean? Out of gamut means that the color that I have chosen here is going to be fine in the visible spectrum for on screen or on video or on a light emanating device. However, I cannot create that in terms of my C m y que color space. If I click on that, you'll notice that my color may change a little bit, but it may change a lot, and what that does is it breaks it down into the appropriate values of C N y que so that it will be able to be reproduced. So if I do something like this and I see this bright blue and I click on this, you'll notice that the color will shift ever so slightly, okay, and this all depends on the colors that you choose. You may choose a color that's a very bright green. You click on this, and it's now going to give you a C M wake, a value that is going to be accurately represented in C M week. If I were to go in here and just enter in the CME value, it's going to give me the colors just with the values that I choose. We also have this what's called the hex colors or the hex Medicinal colors. Ex decimal colors are colors that are used for the Web, and it's a way that we define colors for the Web. Exa decimals basically mean that there are numbers, zero through nine and then another six letters A, B, C, D, E and F. So you may have seen colors that are six EFS here and F f f f is going to be white. I clicked okay here. And if I go 000000 that is going to be black. And if I were to type in any combination of zero through nine and then a through F, I may do 11 cc f f, and that's going to give me a very particular color code, so you may see that on the Web. This is not something with that we use for print. This is Onley for RGB and light emanating devices. We do have this button that says on Lee Webb colors, but what does Onley Web colors mean? Well, Web colors means that has a Web safe color. Many years ago, 10, 15 years ago, 20 years ago, we would limit colors that we were going to be creating for the Web to 216 colors. Because back in those days 10, 15, 20 years ago, the quality of the monitors and the quality of the technology displaying these colors weren't very good. And years ago, we didn't have cell phones that had beautiful screens here. So this Web safe colors narrow down our RGB colors to 216 colors that could be fairly accurately represented on a light emanating device, and basically what it would do is to break it down into two digits that were the same. Another two characters or digits and then another two and 216 colors was basically the Web safe palette. When it says on Lee Webb colors, they mean web safe. In today's world, you could go in, and you can pick basically any color. Because most monitors and devices have thousands of colors, hundreds of thousands, if not millions of colors. So Web safe is no longer a huge concern to be really careful off. So you get these weird numbers and letter combinations here. That's your hex colors, and you will never see any letters over F. You will see one through. You'll see the zero through nine and then a B C D E f. That's the only range that you're going to get out of hex colors right there. So when we were working with this and we were choosing colors going through, and we're seeing some of these colors that would give us a warning where these would be out of our print range here, the out of gamut that just says that these were not reproducible in print. You'll also notice that we have this little three sided cube, and basically what this would dio is if you click on this, this would go in and make it a Web safe color, and it doesn't mean that it's going to be better for the Web. It just conforms to the standards where 216 colors were set out when they started creating websites 2030 years ago, and monitors were very limited in what they could display. So just a quick recap. Here we have our RGB color mode. If we're gonna do anything that is going to be on a light emitting device Web video, you name it. HSB is just another way of indicating RGB hue, saturation and brightness is just a colored another color model specifically set to show how the colors could be reproduced in the visible spectrum of light. Now you'll notice as I go through and I click all these radio buttons, the one that's going to give us the fullest visible spectrum all at once is going in and clicking on the brightness radio button on hue, saturation and brightness. A lot of times people will get into color pickers, and they're like, You know, isn't there some mode where I can see the entire range? Yes, there is. And that is the brightness right there. So that's just a very quick overview of understanding color modes, RGB, color, space, color space And when you create a new document, an illustrator. Make sure you choose the correct color space when you start off. If you don't choose the correct color space and you'd like to change it while you're in here, not a problem. Go on to the file menu. Go down to the document color mode, and you can switch the color mode here between C. N Y. K and R G B. And then when you create colors in your swatch panel, which we can talk about shortly, all of your colors that you create will be in the color mode that you choose.
Ratings and Reviews
Well taught and super useful. Will be looking at his other classes.
Student Work