Basics of Adobe® CC: Photoshop®, Illustrator® & InDesign®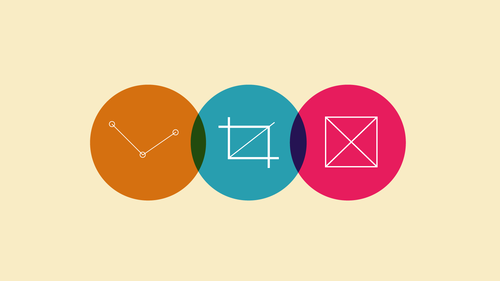 Basics of Adobe® CC: Photoshop®, Illustrator® & InDesign®
Lesson Info
Illustrator® File setup
Adobe Illustrator, we've talked about what it's used for, creating graphics, manipulating type, doing infographics, shapes, fills, logos, illustrations, that's what it does. I'm gonna run through really quick, show you some examples of stuff that I've created. By now, this spread should look very familiar to you. These three infographics that we have, not only as part of this class but also on my blog as well. But some other infographics that I've created over time. All done in Illustrator, shapes, graphics, data visualization, this fantastic recipe here: this is how you make chicken pot pie without using any letters or numbers, it's all graphics, all created in Illustrator. That was a fun one too. Very simple doughnut, we're actually going to create this in class today. And this bakery logo as well. All these things that we've created in Illustrator. So, we launch Illustrator, we need to get started. So, we need to create a new file. So we're going to go into the file menu, and we're ...
going to choose 'New', and it comes up with a new document, you can name it if you want, and choose your intent: I'm going to use this for print. But we can also have for web or devices, based on whatever your end result is going to be used for. We can set that profile that we want. And, I'm going to go in and set the number of art boards. This tells you what Illustrator is used for. Illustrator doesn't have pages, folks, it's not used for print publishing. Okay? So, multi-page documents it's not called pages, it's called art boards; creative illustration, artistic, not for page layout, they don't even call it pages. So don't say you have three pages in your Illustrator file. You don't, they're called art boards. And so, when we create it, it looks dangerously like a page, it isn't, okay, it's an art board. So when you set up a file here, this is our art board, ready to work with this, and we can create multiple art boards, and we can change the size of these art boards as well. Simple editing of the art board in our toolbar here, right above the hand, we have our art board tool. You click on your art board tool, allows you to go in and change the size of your art board, and your control bar up at the top of illustrator, will allow you to set the size, and width of height of your art board too, horizontal, or vertical. However you'd like. You can also create new art boards by clicking on the new art board button, resizing those. You can have as many art boards as you want, every one can be a different size, you can place them wherever you want to. Because they're not pages, you can do whatever you want to with 'em. I'm gonna go back to my selection tool. And you're gonna use the selection tool all the time. So I clicked back on my selection tool. Number one rule in Illustrator, if you wanna be able to do something, you gotta have it selected. There's your selection tool. If you're new to any of these tools, one of the best things to do, take your cursor, hover over these tools. When you hover over any one of the tools, it's gonna tell ya the name of the tool, and in parenthesis, it gives you the shortcut for that tool. The selection tool, just simply the letter V. You type V on your keyboard, you get the selection tool. The selection tool is like a fork, if you're gonna eat, you're gonna need a fork, okay? So with Illustrator, if you wanna do something, you're gonna need to select it. You wanna move it? Gotta select it. You wanna rotate it? Gotta select it. You wanna delete it? Ya gotta select it. You'll never guess what tool we use for that. You got it, the selection tool. Okay? There's a lot of tools in illustrator. As we go through, we have our main selection tools, and then we have all of our drawing and type tools down here as well, our transform, and our editing tools, gradient and color selection, as well as some fun stuff, charts, graphs, symbol sprayer, art board tool, hand tool, and a zoom tool. Illustrator has a lot of nested tools as well. When you see this little arrow in the corner here, when you click and hold, these are all of the tools that are nested together. Spend some time going through these tools, understanding where they are. To this day, I still forget where certain tools are because they should be in one place, and they're someplace else. That's my fault, not yours. But one of the things that makes Illustrator very nice, is that because we have all these nested tools together, you can click on any one of these nested tools, and use a unique illustrator feature called the tear off. Which I click and hold, move my cursor over to the far right-hand side, and I get a little floating panel of all these tools for the tools that I use the most. Very nice and easy, great to go ahead and have it right there. So, Illustrator's main function, creating graphics, shapes, fills, manipulating type. And that's exactly what we're going to do.
Class Description
The Adobe® Creative Cloud is a robust set of tools that can answer any number of design needs. It can, however, seem confusing to the new user in terms of when to use what program for which project. Jason Hoppe, an Adobe® Certified Expert and trusted CreativeLive instructor, is ready to clarify the process and help you dive into each of the Creative Cloud design tools.

He will teach you how to integrate Adobe® Photoshop®, Illustrator® and InDesign® into a more streamlined and easy to follow workflow, as well as:


When and why to use Photoshop®, Illustrator®, and InDesign® 




How to create shapes and lines in Illustrator®




Manipulating images and basic color correction in Photoshop®




Build multiple pages and layouts in Indesign®



The class also comes with 13 in-depth Quick Reference Guide Bonus Materials and downloadable assets so you can follow right along with Jason step-by-step.
Learn how Adobe® Creative Cloud can empower your design sensibility, work more efficiently, and save you time.