Capture and Edit Photos of People in Adobe Lightroom and Photoshop
Photoshop: Liquify Tool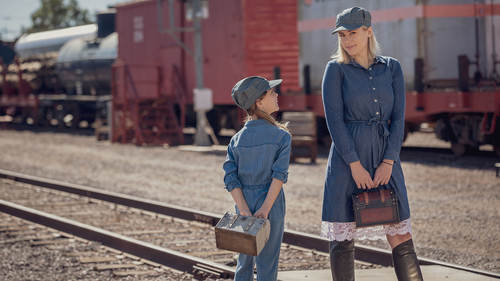 Capture and Edit Photos of People in Adobe Lightroom and Photoshop
Photoshop: Liquify Tool
Lesson Info
Photoshop: Liquify Tool
Now we're gonna turn our attention over to the dress. We're gonna go up to the filter menu and in the filter menu, you're gonna go to liquefy. Liquefy is an incredible tool. So once we're in the liquefy dialogue box, we can zoom in again to that area. I'm just gonna zoom in. There, that's good enough. And we're gonna use several different tools inside of the liquefy. We have to prepare to warp this cloth downward. So what we're gonna do is we're gonna freeze it. So you go to the freeze mask tool right here and we're going to freeze all of this stuff. So we don't want to move any of this. From here all the way to here. We don't want to move the box itself. And you don't have to be super accurate but you do want to be pretty accurate about it. So just try your best but you don't have to zoom in too far to do this. And I'm just gonna follow the edge of that slip like that. I don't want to move any of that stuff so I'm holding it. Everything that's red is frozen. It can't move. This backgr...
ound here won't matter if it's moving or not because it's so blurry. So now I'm gonna go up to the warping tool, so the very top, and I'm just gonna start moving it down. But remember, I need it to fairly big so that it's moving big pieces of cloth instead of small pieces of cloth. And I'm just going to grab it and I'm just gonna drag it down. Look what I'm doing. I'm just extending that dress down. And the great thing is is that as soon as it hits that frozen area, it's gonna be stuck. Hold on. And we can always use the Z, command Z, to go back 'cause I went a little too far. There we go. Keep going. Got it. Now I can make this brush smaller as I get down to the nitty gritty. I can just start dragging down this part here, this part. There. Alright? I like the way that looks. I'm gonna hit OK. And now you can see that if we zoom back out, now it's just lace and a little white line which is perfect for us. So it looks a lot better than seeing that little triangle of white down there.
Class Description
AFTER THIS CLASS YOU'LL BE ABLE TO:
Understand how to use your camera and adjust settings in manual mode
Direct your subjects to capture natural poses
Import your photos into Lightroom CC and streamline the selection process
Make easy adjustments and touch-ups in Lightroom CC and Photoshop to take your photos from good to great
ABOUT JARED'S CLASS:
Creating professional portraits isn't a mysterious science; in fact, with the right camera settings and simple photo editing, it is even easy.
Join Jared, a professional photographer, and college educator, in a series of practical lessons that take you through the basics of manual mode on your camera, showing you how it's done in real time in the field. Jared takes you through an actual shoot, explaining camera setting adjustments, modeling how to direct your subjects, and orienting you in Lightroom and Photoshop; he shares not only post-production tips, but also how to navigate the two platforms in an efficient manner.
In Capture and Edit Photos of People in Adobe Lightroom and Photoshop, learn the fundamentals of manual mode and photo editing to make your portraits stand out above the rest.
WHO THIS CLASS IS FOR:
This class is for beginner photographers in need of basic orientation in Adobe Photoshop and Adobe Lightroom, photography enthusiasts, and anyone who wants to take better pictures of their families and friends.
SOFTWARE USED:
Adobe Photoshop CC 2019, Adobe Lightroom CC 2019
ABOUT YOUR INSTRUCTOR:
Jared Platt is a professional wedding and lifestyle photographer from Phoenix, Arizona. Jared holds a Masters of Fine Arts in the Photographic Studies and a Bachelors of Fine Arts in Photography from Arizona State University and has been a professional photographer and college educator for the past 12 years. His attention to detail and craft make him a demanding photography instructor. Jared has lectured at major trade shows and photo conferences as well as at universities around the world on the subjects of photography and workflow. Currently, Jared is traveling the United States and Canada teaching and lecturing on photography and post-production workflow. Join him online for monthly "Office Hours" at www.jaredplattworkshops.com.
Reviews
I enjoyed this quick tutorial. A very good introduction to how to use lightroom.