Different Types of Drones
Colin Smith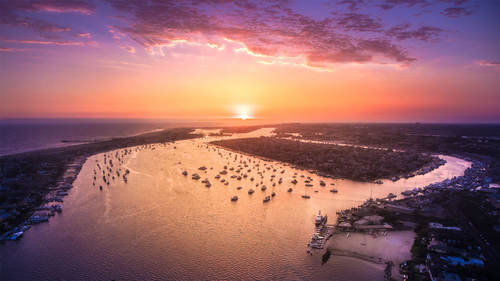 Different Types of Drones
Colin Smith
Lesson Info
3. Different Types of Drones
Lesson Info
Different Types of Drones
let's talk a little bit about the different types of drones. Because, as you can see, I have Children up here. These are my babies. Um, in the hip names. This is actually not really mine. But I have this executor and at home, I just didn't want to bring it. So we rented this one. But my one is called Casper, and this is the inspire one pro. This one here is the latest DJ I want. This is the DJ Phantom four pro, and there's also a Phantom four advanced. I'll talk about those in the second and the one everybody loves. Right now. Let's meet my little friend here. This is the DJ I Maverick Pro. This is the one that you can't even get because they're so back ordered. Um, so this is like the newest. Um Well, this is the newest bet this is. Then you was technology. I'll talk about that in the six, but let's talk about the magic. The magic is great because it's a very portable drum. This folds out and I'll show you there. So you get the legs here and you just pop it out like that. Like that li...
ke that net. You don't have to take the propellers off. It's nice and portable. You saw it on the video, and this is cool. This has a camera in here. This little tiny weensy little camera here can shoot four K video, and it can also shoot 12 megapixel images in raw. So some of the pictures are gonna be showing today from the Maverick. In fact, when you saw that shot of the Phantom going down that was shot on this So this is a great little drone about 1000 bucks right now. Um and this is the one that everybody loves. Now, this one here is what really started all was the Phantom, the DJ I Phantom originally that camera with the first fan which was actually supposed to be a trainer copter, because at that time, deejay were doing stuff for people that built it. They built components and things like that. You it was a deer. I kind of industry at that time, and you would buy all the boards and different things motors and stuff, and d j have made parts. So they decided they were gonna build a training which was the original Phantom, which was smaller than this lighter than this ahead about a seven minute flight time. And on a good day, sometimes about four minutes and ah, and then they put a gimbal on there and some different things like that. Now progressing forward. This is the Phantom Four. So this is obviously the four for condition, but it's not. They did the Phantom. Then I did The Phantom to just a basic Phantom two, which was a phantom that was upgraded, had the battery here. We just have a little door that would open the little door and we shove the battery and we'd shovel the cables everything in and slammed the door. Everybody had footage of the battery dangling in front media when it toward pop open, that was fun. But this one here is, you know, Then I did the Phantom two. They did the Phantom two vision. They did the Phantom two vision. Plus, I have videos and all these on YouTube. In fact, I had the first video on the vision and I have, like, half a 1,000,000 views on that. It was the, you know, back then it was really exciting because no one had seen this stuff before. Then they had The Phantom Three came out in certain, you know, it was a penalty standard. There was the advanced. It was a pro. And then the Phantom four came out. So this is this is the ah, you know, when people think about like, small drones, I think about the Phantom. So what's great about the Phantom Four? But this is the Phantom full probe, and the Phantom Four Pro has the best camera best built in camera that DJs ever put on a drone. In fact, this is the best built in cameras being on a drum. This is a Sony Rx 100 Sansa. The low light on this thing is sick, so you can shoot like low light without getting a ton of noise on it, which is really epic, cause that was, like, always the Achilles heel of drones. We could never get really good, no light stuff in me. I only fly sunrise and sunset. I don't fly in the middle of the days. And if it was boring, so that's the time. The damn flying. That's when I like it. So it's got a one inch sensor on here. Mechanical shudder. It's a 20 megapixel stills that shooting really sharp. Really nice is no distortion. Does four k video 60 frames per 2nd 100 megabits per second for your video person that will get you. Except if you're not just sounds like numbers. It just means really good video. And, ah, 64 seconds mean you can do, Ah, slow motion and 60 frames. Four k that 100. That's kind of like the Holy Grail, you know, level. And somebody like you, buddy, I guess. No. That. All right, So here's the thing. So, this what is this little wobbly thing? Why is it wobble around when you turn it on, Which, you know, for obvious reasons, I'm gonna be able to fly in this room right now? Um, and and for your safety. So that wasn't even the obvious reason. I just didn't e like that, right? And a footnote. Your safety. Um, So anyway, this gimbal, what is its a three axis gimbal, right? And so that they actually have one to and in three side to side. So what it does is it keeps that cameras stable. So whenever I moved this drone around. See that the camera is always going to stay pointing forward. It's always gonna stay stable. Even when this is bumping around, that camera will hold things nice and still. Now, these use satellites. The earlier ones just used the GPS system. I think back then we were getting five or six, maybe seven SATs. Now we're flying, you know, 15 2022 sets that we're locking onto to hold its positioning. Now, they don't just use GPS, which is the American system now, so use GLONASS, which is a global satellite system, which is the Russian system. Now they're not hacking your drum, just using it for positioning. So about using this, that means you're always gonna find a satellite or your was gonna find a bunch of satellites. So when you start this up, you want to make sure that you go good satellite luck? Why do you want satellite look? Well, apart from effect, this is gonna hold it in the air and one of the demos I didn't It's on my videos. Mother videos is like, I will grab the drone and I will physically pull it over here and let go, and it will fly back into that position so the GPS will help it stay stable. Stable enough to do? Um, So I've got, like, 10 15 2nd exposures I've been up to do with this. You can do time less of these hyper lapses. Great. But anyway, so that's the important thing is it will hold it in position. The other thing that's right. Really? Like mega important isn't knows where home is. So that means if you don't know where it is, which should never happen. But sometimes it happens and you are flying like where's my drone? You can push the return to home button, which all the controllers have them right here. That button, you push that return to home and it comes home because it knows where home is based on the positioning on the satellite. So it takes. So you actually wait for it to warmup in these little tuna and green and will get BBB, make a certain noise and you know it said the home point. Yes. Does that mean that you were able to shoot that video with two drones at once yourself? That would technically be possible. But you didn't. I am neither going to confirm nor deny that eso anyway. So with this with this, with the satellite positioning, it also records your home point. Now, I've flown off yachts before sailboats or get a friend of mine. It has a big sailboat and suss elite up in San Francisco area and remember going out there and I might have clip later on that. Also, I I think it might be on there, and we're flying off the sale. But so what? You can actually do this. Another thing that's called a dynamic home point. So you can actually change a home point, a dynamic come point, which means that it constantly updates because if you're on a boat and then you hit return to home and you were there like half an hour ago, it's landing in the ocean. That's not know pretty on. The other thing about the home position is like DJ, I and, you know, go pro and, um, unique. You know, the three biggest drug manufacturers are very, very, um, big on safety and redundancy. DJs kind of crushing everybody in the redundancy right now. I mean, they're like, I don't work for D. J, but they really are just crushing Everyone with the technology ran as just so far ahead. Um and so they working in redundancy. This has this is a couple of things, like so that when the satellite goes off and you're not using the satellite, it uses an I am you, which isn't a motion unit. And so that consists of a compass, and it consists of ah, gyroscope and also an accelerometer. So when you go into attitude mode, you're using those sensors for flying on. What does that do? It keeps it from flipping over, keeps it nice and stable, keeps it sunny side up. And, uh, you know, and that kind some. Sometimes you doing video shots will kick in two attitude mode because I don't want to said, like pulling it and running my shot because gusts of wind, you know, come back, little correct. But sometimes you want to just float with that to get us move shot. So what? I am used compasses and all that kind of stuff. These have two of them built into them, so they have redundancy. So if one fails, what they do is they constantly ever check with each other. So they're looking at it and it's like if something just like suddenly way off, what's the other one saying? That makes more sense and it'll switch to that one. So that's a good redundancy thing. The other thing that have built in for redundancy is battery. They have a point of no return. When you go out and you fly this, it knows when you got enough juice to get back and we'll start beeping at you. Morning. Hey, you know, let's bring home, you know, because otherwise, you know, you might not make it and, you know, you could ignore it and keep flying, but it's best to obey and let it come home. So that's kind of like the first kind of warning. Hey, you know, But but But, you know, you're going a little far. You get in here. I think we should go to home. If you don't cancel that automatically, start returning to home. Then you see your battery at a 30% by default. 30% is warning. You know, if you get once it has 30% is gonna want hate time. Come back once again, you can override it. You can push It looked a little bit, but then when it goes to 10% diesel configurable, by the way, in the app that deejay go up they go for which controls all of these. And, um, you can configure these 30 and 10% session, but a 10% it's like you don't have an option at 10%. It's like were critically low. And I am now landing with you. Like it or not, because they're not gonna let it fall out of this guy. It's not a good idea. So at that point, you can still guide that you can still bring it back where you want. But it's coming home, and there's nothing you can do about it when you get to Tim Process. And so you know, that's that's a really good redundancy. So these that these were good safety features and all. So they're nice for you because you're not gonna leave your drum. Hopefully, hopefully. All right, so that's the phantom. Um oh, let's talk about some of the other features on the Phantom. Um, because right now these two of the two biggest drones these air like the ones everybody's getting and you at home probably have one of these two or thinking about or an earlier version of The Phantom. So the other thing I added on here was just more recent as she came with the inspire one, which I talk about in a second is these sensors here? So these air is a census for flying indoors, and these sensors they have, they do sonar. And then I also do image pattern recognition. And so you could technically fly this inside and it's going to see the ground without satellites. Um, but using these sensors, the other thing they put the forward facing sensors are on all the deejay drones. Right now, this one has forward sensors and don't want sensors. It's pretty much a standard now, and I don't think anybody else, um unique has sensors. The new GoPro Dome does not have any senses just putting it out there. Eso So that's like one of the reasons that these guys are crushing is that technology is just very repressed to the forward senses. They do a couple of things. There's intelligent modes. You've heard of things like tap blind, all that kind of stuff you can use that and you can tap on your screen and it will fly there because it can see it. The other thing you can do is a contract objects. Now you can chase a car. You can check yourself. You can chase a boat. You can do different things with these forward station senses. They recognize objects. And if you want to do that, here's a little tip for people that want to do that when you're mapping your object or locking it and you just draw on your screen for little thing. And, um and and and unfortunately, I can't show you the app. But I just I have a message just mentioned one thing. I have videos on photo shop cafe dot com. Very comprehensive videos that I show how to fly all these different cups and stuff, and I'll show you how to do that on there. I just But I can't talk you through it here. You basically what you want to do is fly around the object a little bit, and this is something I kind of learned later on. It's one of the more, you know, cool tips is say, for example, I wanted to follow you. I would see you on the screen and I would click and drag to be a little square box would appear around you. And when you move, that little box will go with you. But if you turn, it's gonna have trouble recognizing you. So what you want to do is you want to go to your object that you're gonna be tracking, fly it and then fly around a little bit so it can seethe side and go around the other side a little bit so I can see the other side and basically let it get a good three dimensional image of what it's gonna be tracking because it actually uses object recognition. It knows it's a person. It doesn't think it's chasing a fence post. It knows it's a person or a car. So when you do that, then you can use this and this will actually follow that object. And then when that object goes, this will go after it and follow it and film it and track it and you turn This will tune with you and the other good thing about what these do, which is really good when you're in autonomous mode is that they also recognise obstacles. So it sees a wall. It sees a tree. It sees these obstacles. And so, while it's tracking, you is gonna try to avoid self. It sees a tree. It's not just gonna fly into the tree, it's gonna fly around the tree or is going to stop depending on the settings. So you can change the settings in the app of whether you want it to stop back up all these things air programmable for good reasons. Because for safety, this certain scenarios wanted to be able to do certain things and certain scenarios you don't. But then, when The Phantom Four Pro came out, this one here quite recently, they did something that no one had ever done on a drum before. And that was to put obstacle avoidance and census on the back because, wow, you know, people might actually want to fly backwards as well. And you know the shape. It's a little backwards, right? I mean, you can fly any direction is not a fixed wing aircraft, and they just said to put side since his own as well. So you know you're flying one of the shots I love to do is an orbit shot. Take something in the middle, fly around it sideways, you know, is a goalpost. Bam! These do not survive crashes. Adult. This touches something was going down. So these kind of help set of good the 360 degrees obstacle avoidance they also like booted up to speed on these 35 miles an hour is regularly making up the light for I think they said 47 on sport May. But I have been up to 55 miles an hour, and when you see this traveling 50 it doesn't seem like a first speed. But when you got this thing, it seems like a rocket at 55 miles. Now it comes and you just you have a hit. It's it's fun. The kicking into sport mode for that. Now here's the thing. You're not going to be doing this as an F PV racer. So the sport murder, you're not gonna be put strapping on goggles and going out and doing the drone World Grand Prix with one of these. They have got special Race is designed for that which go much faster, much more nimble. So here's the thing about sport mode. This is what I do with sport mode. I shoot sunsets. I shoot a lot of sunsets. Like when I'm home almost every damn at the beach, shooting a sunset, and I live in California. The sun goes down fast. It might seem like, Yeah, the closer you are to the equator, the mass of the sun goes down. If you don't believe me, go to Norway or somewhere you know Iceland, where it's or Alaska where you know, the sunset last for months. So the further away the close to get equated the fastest Sundays that I get like half an hour Really good shooting like an hour shooting time, maybe 1/2 an hour when it's really good. And so when I'm out there doing that, I want to get toe where I'm going quick, so I'm gonna fly quickly to my location and don't shoot video And people are through the props because it's going like this. Of course you do. Sport mode is not designed for shooting is designed to get somewhere. Then once you get that, you kick it into GPS mode, then start shooting right. Then you do your photos and you, do you? But he hasn't. You're not going to get the props in there. So So that's one of the things I love about that. Um, so that's That's the Phantom. The Phantom for pro, Possibly my favorite term right now, when the medics not my favorite down. I know it's so confusing. It's so hard. Okay, so here's the thing. I did a video recently. Where did a comparison? In fact, I think the video I showed it was a little clip of it because after that showed comparisons of the videos and said, I don't want to bore you guys with that here that But essentially, what? What they do is this shoots good. This year's about is good. Maybe a little better than the Phantom three. Kind of on part of Final Four, the Final Four Pro shoots better. This is better sensor. She's better video, bigger photos. But this is good. It's not bad. It's good, but this is good. So it really comes down to gives people ask me, which one should I get? This is the biggest question. Do I get the maverick? Do I get Everyone is mad because it's sexy. I mean, face it. I mean, it looks like a crab or something. That's really looking like that person, you know? You know, you look at it, you know, it's you know Hey, what's up, guys? I'm 25. I mean, it's cute. It's cute. Right? Um, this one here. So what are you doing? Like I went to why I took breath of these with me. Um, I went to the East Coast. Actually, I was there all week. I just literally got back. I'm still on East Coast time. That's why I'm not sleeping right now. Normally, I wake up at about noon. Even though I'm here and talking, it doesn't mean I'm awake. Um, so anyway, so I took this back east with me because this takes up the size of a lands. That's not important. Just cover. Okay, So you think You know, like I told you, you can sit this thing out. Boom, boom, boom. A few seconds like that, it wraps up, it goes into camera back, and I literally does in my camera bag, pull out of lands and pop this in. You know, this is actually smaller than my l Canon wins. It goes in a lin slot. I can't do that with this, right? So it depends. What do you want to do? What do you gonna use it for? Your gonna be traveling a lot. You want something that's convenient. You So how quickly I set that up? Boom, boom, boom and control of for it. Really nice little control. It's almost like a little, uh, like a video game just unfolded like that. Get the intent is up. You take your phone out, plug the phone and here you like. We played that and course I'm gonna make something so simple. It's so difficult because I'm on camera and usually it happens. Really? This is that. Plus, So the question is, honestly, can you put a plus? And yes, you can, because I'm 71 on the Iraq now, and basically, it just goes in there like that. You put your phone on there, you turn it on. You got some telemetry on here. But then this is when you launch the deejay. I go up. So any of these the DJ I ones that you're flying, um, and other manufacturers gonna have their own APS but the D j a happ you get it from the android store. So it works on Android, where you get it from the app store you download. The app is free, obviously, because what you going to use it for? If you don't have a drunk and in that shows on here, you can see your screen. I use my IPad a lot. Actually, when I'm flying, you can actually attach it to here, too. And so you attach that and then you can see on the screen you can see what the drone so you can see through the camera. You can also see you've got all the settings or your drone sittings of their the settings for like, how you want the gimbal toe work tuning for how you wanted to fly all of those settings or in the camera settings There near you want to shoot time lapse hdr you want to do, um you know, all those different cities, different profiles, all that stuff, you know. And here you can actually focus the camera like it's all on there. And then you see all of that on the app while you're flying and then you just control this? We'll talk about flying in just a second. Now this one here, you have to attach the props. Now here's the thing about propellers on all of these DJ A copters. It's all the same. The props work in two different ways. You take the white props with silver props and you turn them clockwise, toe lock them see like that they work diagonally. The black props you see is a little black ring over there. And if you look in, there's a little black mark on all of them in the same way. Even the Maddox. You can actually take the purpose of kind of clockwise. It's simple. So, you know, which done at few 1,000, times it's really used it. Put the props on. Now, be careful that even though these are locking props to this because I've seen the props come off the phantom force before, namely mine. And so you want to make sure there's props around because this does not fly without props, right? Take the perhaps off you get shark fin soup. No, look it. All right, So you've got these. And so what happens is two of them flight clockwise and two of them spend counterclockwise and by varying the speed that these rotate, that's how it holds itself stable. It's how to just and net how it gets motion going backwards and forwards side to side. So that's all controlled by doing that motion. So if you want really good stuff and you're willing to, you know, take it in your bag, I do have a good bag. Here, let me show you. Um I have a couple of bags I like. People always ask me about bags. This is really is really is an important thing. Apparently my first case I got when I got my first drone A I was like, What? You know, I just got off Amazon. No, but actually to know it was made by this manufacturer, which is GPC, which have now become the leaders in hard drone cases. In fact, every hard case you see just about is gonna be a GPC case, and I have a, like a part of religious friends. So I mean, friends of Rick, the guy who makes these apparently was in San Diego. I had no idea who knows, and I met a meditation like I got your boxes. You're the guy that makes him He's like, Yeah, I'm in San Diego, like, wow, neighbors. So turns out, super nice guy. But these are the cases. This is the one for the spy one. This is really big, and they make all different sizes down to the little maverick. And so I used these. When I'm in my car and I'm going to the beach, I'm gonna go out shooting or I'm going to the race track or something like that. I use these hard shell cases and, you know, putting on planes and stuff. They great, in fact, a little trick that we used to do back in the day. On early days, Romeo gave his old NASA stickers. And so, um, we put NASA stickers on our at cases. It was amazing because TSA were like some nice to us. I remember once I was going to have my NASA sticker, and the guy was, you know, he wanted them to you know, that I wanted to ask was like of course, you know I don't work for NASA. Well, you do now, but the TSA personal just you could see even dying to ask and, you know, putting the NASA thing three years kind of, you know, some boxes, like looks like some space equipment, you know, and is going through and in and finally go down is like So what? What did you think of the movie Gravity? Do you think that was realistic? You know, so, yeah, totally realistic. That's exactly how it isn't space. Okay, so anyway, so how showcases a great for that? But then when you go hiking and I don't like to hold us, I don't. I love these cases for transportation, but if I got to go hiking, I'm in Hawaii. I prefer to take these. There's a backpack. No, these guys make a backpack for the inspire one, which I didn't bring with me. Obviously, I didn't bring cases, so that's available, which is actually a huge backpack. It was funny because I'm rooms at the beach once and I was wearing that backpack was like humongous, right? It's like this big and I'm at the beach and someone walks up sticks ahead of the Hey, man, welcome to the United States. I'm like, Thanks. So anyway, so this one here is another guys that make great camera bags problem. Millions is think tank. And so they make. This is the Helly pack having your one. This is the older one. But if you look in here, it's good space to put your drone in here and all that kind of accessories. So this is a good one. Gonna get hiking. I put my drone, and now he is a tip from Eric Chang. Maybe you guys have heard of Eric or not. Eric Chang used to wait for deejays with Facebook. Now he works in the VR department, I think. And so you have to take the props off. But, you know, you put this in here, but the tip that Eric Head was flip it upside down and by flipping it upside down, you don't damage the during so much. It's all right anyway. So that's drones. This the bags moving on
Ratings and Reviews
I love this class. I have learned so much, and have already started using some of the techniques to shoot better photos. I just need more practice flying. I'm looking for the FB 360 template. Was it supposed to be in downloads and don't see it.? It's almost sunset so I'm headed out to fly and shoot! Thanks for the class!!
Really enjoyed this class. After using Photoshop professionally for over 25 years, if I learn a new trick or technique from a class, then I know it's money well spent, so Thank you Colin, I did learn a new technique. Really looking forward to putting more of these ideas into practice.
Student Work