Panoramic HDR Drone Photography
Colin Smith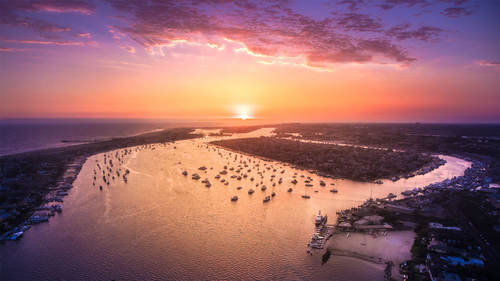 Panoramic HDR Drone Photography
Colin Smith
Lesson Info
12. Panoramic HDR Drone Photography
Lesson Info
Panoramic HDR Drone Photography
when we really want to go down the rabbit hole and add oldest together. One of the things I love to do is what I call hdr. Panorama are what everybody else calls hdr panorama. I didn't invent the term. I did not invent the process so other people have done it. But I definitely was one of the first people to do it for drone. I know that. So this shot here is 115 photographs HDR panorama near where I am. Um, Now the thing is, when you're shooting like these things, the magic section shoots really fast. I'm really impressed with that. The final four ships a lot fuss in the federal three. They inspire one suits superfast. If you get the inspired one of the royal has an SSD onboard that shoots superfast. But sometimes you gotta wait. You click, click, click, click, and you'll see this little spinning wheel. You're gonna wait for that to finish processing images because they right to a little micro SD card and it takes time. Fortunately, Lexar came to the rescue and made a 1800 speed card, w...
hich is what I've been using, and I've had people tell me on these firms, Technically, that doesn't make any difference, because some reason, but it does e actually time that and it actually process instead of taking a one starter was doing five shots, and I think I was like Turner members like 9 to 15 seconds was taking me. And when I used the first kind of got it down to, like four or five seconds. So when you were doing like, multi layered, a bracketed five shot bracketed panoramas, those few seconds make a huge, huge difference. So you must. That's one. There's another one. This is the harbor. This is massive ity from Absent printed this out of one of the trade shows, and it was huge, I think was imaging USA, and I took it upon the stage instead of this June's. I wish I could do that, but even people at home couldn't see it. But when you see one of these printed out really big, it's really spectacular. There's so much detail. It's really beautiful shot. You have never you know, it's just great stuff. So this isn't kohner this a little better? This is using the better ones. The Final four um so my early one see that mission Qualities much better. Sharper, better dynamic range. And also, I'm a better photographer. Better doing it every time I do when I hate my old ones because I'm trying to get better trying to improve eso. This is Kono's is just recently, like a month ago work on a maverick training video, which is not finished yet, but I'm working on that now. And it was out there shooting that. Here's another one. Um, this is near where I am and, of course, just to mix it up went out in the desert, showed another one here, this was at maybe we were teaching your drone workshop, and I just loved this scene. I just like I love stuff like this is just storytelling at its best. If you're into that kind of thing, if you're not, you know, you're like that woman so different types of things. So this is another panoramic HDR. This is another one with a massive amount of photographs. This is over 100. I don't remember how many, but when I'm looking at it now, I needed I need to get back working at a rising a little bit. I'm a perfectionist, but it's fun. One thing when you're doing hdr panoramas and you've got moving things like, if you didn't know about hdr movement, is that kind of difficult? And panoramas like people like, how do you line up the ocean? Good question, right? You what I do. I wait for the wave to get to a certain point. I take the picture, I move, I wait for the next wave to get to the same place. Take it just like that. So timing, it's all about timing. And of course, you could go on Instagram I have first up cafe. I upload a picture every single day on Instagram. So you want to see hundreds of my damn pictures? There, There. Now I have a little clip of my playing. This clip. OK, A little short video clip here. I'm gonna play. Um, this is there is a little bit of variety of some of the drone videos I'm doing and way
Ratings and Reviews
I love this class. I have learned so much, and have already started using some of the techniques to shoot better photos. I just need more practice flying. I'm looking for the FB 360 template. Was it supposed to be in downloads and don't see it.? It's almost sunset so I'm headed out to fly and shoot! Thanks for the class!!
Really enjoyed this class. After using Photoshop professionally for over 25 years, if I learn a new trick or technique from a class, then I know it's money well spent, so Thank you Colin, I did learn a new technique. Really looking forward to putting more of these ideas into practice.
Student Work