Using Color in Your Presentation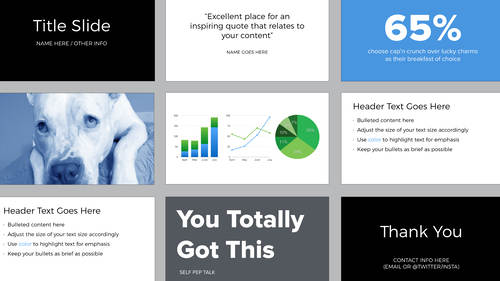 Design Better Presentations
Lesson Info
Using Color in Your Presentation
Color can be really fun. It can also be a disaster. This is the traditional color wheel, there's 12 colors. That's a lot to choose from. You have to remember that color conveys meaning. So it's very powerful. Color can make you feel things. People associate colors with different experiences, different brands. It's all about context. So if you're at a stop sign, red it's going to mean stop, green is going to mean go. When you're using color think about all of these things. If you have a brand color, you can incorporate that. And that actually could potentially make it easier because you don't have to choose a color, it's dictated by your company's brand. Don't overdo it. This of course is a worst case scenario. It almost vibrates, right? But what's happening here is that the color's distracting, it gets in the way of the content. And then it also reminds me sort of of like a kindergarten design because these are primary colors. Choose one color for your presentation as a highlight color...
and then use that same shade across your entire presentation. And if you need more colors, select a restricted palette. Two examples of really good restricted palettes are analogous and monochromatic. So when you think about that color wheel that we were looking at earlier, analagous are the colors next to each other. And then monochromatic all comes from a single color.
Class Description
Everyone is called on to create a presentation, but this can be a daunting task. This class will teach you basic design principles you can apply to your presentation decks. You'll learn how to work with type, color and image and lay out information with confidence. You'll also Identify what type of presenter you are and design your presentation to support this. Instructor Lara McCormick is an accomplished designer and educator who has been designing presentations for almost twenty years for all types of use cases, and she shares with you what she's learned. She'll cover:
Pros and cons of presentation software tools like Keynote, Powerpoint, and Google slides 
Selecting and using typography, installing and managing fonts 
Incorporating photos and illustrations 
Visualizing data with charts and data 
You'll get a simple template to work with that you can then customize to fit your needs. At the end of this class you'll understand basic design principles and how to apply them, and have the ability to create an effective presentation that best highlights your content, is consistent, and well-designed.