Awaken the Inner Artist
Chris Orwig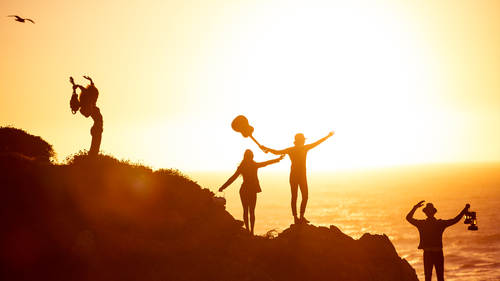 Awaken the Inner Artist
Chris Orwig
Lesson Info
11. Awaken the Inner Artist
Lesson Info
Awaken the Inner Artist
All right, so when I was in college I met this guy named Chris, and I met him, we were at this barbecue and all of a sudden Chris showed up, and he was wearing bright pink socks and it was totally out of place. And so I asked someone hey, what's the deal with the socks? And they said, "Oh, that guy's an artist." And that statement was a really interesting phrase, and it made me realize that artists have this excuse to do or to be whatever they want. And if we can embrace that and become artists ourselves, well it gives us this freedom to do things and to create things in a way that might have been impossible before. I like how the painter, Robert Henri, talks about being an artist, and I'll read just a quick paragraph from one of his books. He says, "When the artist is alive in any person, whatever his or her kind of work may be, he or she becomes inventive, searching, daring, a self-expressing creature. He becomes interesting to other people, disturbs, upsets, enlightens, and opens wa...
ys for a better understanding. Where there are those who are not artists trying to close the book, he opens it, shows that there are always more pages possible." And that was definitely true with Chris. I mean, he was always showing us that there were so many more ways to live life, like the time when he decided to change his hair. He was always doing crazy things to his hair, but this one time it was the best. So he had longer hair, but then he shaved it off so that it was all bald right here, but he left it long on one side, and then he created the combover. He was a guy in college who had this combover. It was one of the funniest things you've ever seen, and I think artists do that. They have fun, they're quirky, they're individuals, they are alive. And when someone else is alive like that, it makes you want to be alive yourself, and that creative spark, well it thrives. There's a lot that can be said about art and people have said different things, like what Robert Henri said. Seth Godin, who many of us know and value his insight, he says, you know, "Art, rather than thinking of it as some big thing, it's anything that's creative, passionate or personal, and great art resonates with the viewer, not only the creator. An artist is someone who uses bravery, insight, creativity, and boldness to challenge the status quo. An artist takes it personally." I love that. Art is personal, right? The trouble is most of us, if someone were to ask you, "Hey, are you an artist?" No, no, I'm not an artist. I'm just a producer, or I'm not an artist, I just create photographs. Or I'm not an artist, I do these other things. Because sometimes we tend to think of art in a very limited way. Maybe we limit it to certain types of things to do, like painting, perhaps then if you're a painter maybe you're an artist or whatever. And so that limits a lot of us from adopting that sense, adopting the ability to wear, I think, pink socks. And so if that's you, I want you to think about this a little bit differently. Rather than saying okay, I'm an artist, if that doesn't feel right, think about the "art of" and try to ask yourself well, what could I do that's more the art of? The art of making a sandwich, right? There is an art of that, and there's so many things. There's an art of being a man, there's an art of cooking, there's an art of photography, an art of film-making, an art of reading books, an art of listening. There's a great art of listening, or an art of learning when you watch this course like this. There is an art to trying to distill and to absorb all the information that you have. And if we can adopt that "art of" perspective, I think it gets us closer to being that artist who is a bit more creative and alive. And so for me that's, or for this particular exercise or this segment, I should say, that's my idea for you, is to come up with two ways today that you can adopt this "art of" kind of concept or philosophical approach, and do something in a specific way. If you are a photographer, say you know, I'm gonna look at the art of portraiture and create a portrait as if I were an artist, kind of impersonate an artist, just try it on for size. Or if you're gonna make a sandwich for lunch, make an art out of it, and make it the most beautiful sandwich that you've ever seen. Exercise that artistic muscle in order to grow in that way. All right, well what about digging deeper into this whole concept of adopting and awakening the inner artist inside? Well, I have a couple of books for you. The first one is The Art Spirit, which is by Robert Henri. It's the book that I read from you here. This is a really interesting treatise and manifesto about what it means to be an artist, and he was a painter who isn't alive anymore, but had some phenomenal things to say about how we approach what we do. And you don't have to be a painter at all to like this book. The next one is an old classic, right? It's The Artist's Way, and The Artist's Way has been around forever, and almost everyone loves and refers to that book. And so what happens with books like that is they become a little bit cliche, and we think well, I don't really need to read it. It isn't for me. But I encourage you to revisit that one, and to look at some of the practices there, like the morning pages or just to go through a few of those exercises and absorb that one in a deeper and a more fresh way. All right, well in closing, the actionable step that you can take is to adopt that "art of" mentality, and to do two things, just two simple things today.
Class Materials
Discovering Your Creative Voice - Bonus Video - HD
Creative Voice Resource Guide
Ratings and Reviews
Excellent. Would recommend this to every creative soul. Inspiring . Thank you very much Chris for this course.
Chris is an evangelist for all creatives. He facilitates expanding our creativity in very simple, practical ways. Really good stuff! Thank you Creative Live for offering this kind of soul food content.
Wow...we need more of Chris Orwig..His wisdom in life mix with photography is extraordinary! What a great gift I got from creativelive..that gift is Chris Orwig. thank you soo much
Student Work