How to Give a Presentation
Justin Kerr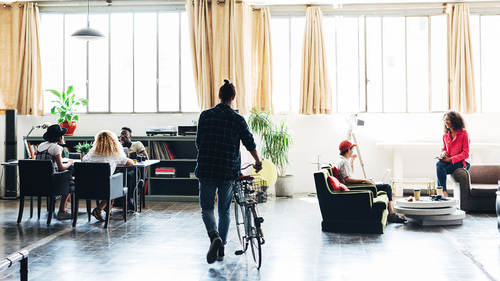 How to Give a Presentation
Justin Kerr
Lesson Info
8. How to Give a Presentation
Lesson Info
How to Give a Presentation
Contrary to popular belief, the world is not split into people who are good presenters and people who are bad presenters. How many people here think they're good presenters? A humble group, okay, there's a few. Alright, the world is not split up into good presenters or bad presenters, the world is split up into people who organize their thoughts, and people who ramble, that's the difference. People who organize their thoughts, people who take responsibility and do the extra work to organize their thoughts, and then people who don't put in the work, and just get up there and just ramble. That's the difference between good and bad presentations, it's as simple as that. So here's a few pointers I wanna give you that are easy to implement on how to give good presentations. Number one, tell people what you're going to tell them. This is not a third grade essay class where you write an introductory sentence, supporting evidence, and my summary. This is not English class. This is about work, ...
we don't have a lot of time, I'm gonna give you my conclusion, I'm gonna tell you what we're here to talk about, and then we can get on with our lives, okay? 'Cause the truth is, if you've built up your credibility by giving accurate information, turning things in early, if I give you the summary statement first, you really should just accept it and we can get onto the next topic. So the point here is tell them what you're going to tell them. This isn't a mystery ride, this isn't about bein' like, hey everyone, I'm here, so happy to spend time together, alright let's jump into it, turning to page one. Okay, so some of the background I wanted to give you. None of you know what we're here to talk about. You have no idea how long this meeting is gonna be, you have no idea what the topic is, you have no idea what's going on. If instead I get up there and go, hey everyone, we're here to talk about book sales. How do we double our sales this weekend on Saturday with Justin's new book? Now you all know okay, now I know what we're here to do, right? So tell people what you're here to do right at the beginning. People don't like surprises. The second thing is, use numbers. So one of the things that happens during presentations is people's minds start to wander, right? They're thinkin' about their own, they're goin' up next to talk, they're thinking about the next meeting, all those things. What you wanna do is make it easy for them to take notes. And so what I like to say is, hey everyone, we're gonna talk about three things. The number three is important. Not hey, we're gonna talk about a few things, or hey, we're gonna talk about sales, marketing, and production. No, no, no, no, no. I can't remember all that. What I'm here to tell you is we're here to talk about three things, and then as I go through the presentation I go, alright, let's talk about the first thing, number one. What I'm basically telling you is, if you've fallen asleep on me, I'm on number one, okay? So here we are. And I talk about it, and then once I finish that, I go, okay everyone, that was number one, I'm reminding you that was number one, so let's move on to number two. If you fell asleep during number one, here we are, we're at number two. The number is reassuring and it's easy to hold onto. You're basically writing their notes for them. The other advantage of the number two is, you're actually giving them a little update about how far along are we? 'Cause one of the things that happens in presentations, I'll get to this in a minute is, people get nervous about, how much longer is he gonna talk? But numbers are easy to hold onto, and it also helps them understand, I can tune out 'cause I'm just waiting for number three. So use numbers. I have three things to talk about. Okay, great, what does three things sound like? I'm organized! I actually know how many things I'm gonna talk about, versus rambling person over here who's just talking. I got three things, I'm organized, I put in the work. Alright, the other thing I like to say about numbers is, it's a great memory device. So if anyone has fears that they forget what they're gonna say, for me I love numbers 'cause I'm like, okay I'm at number two, okay what does that mean? What do I need to do? And onwards and onwards. Number three, repeat yourself. You've probably noticed as we go through this presentation I repeat myself. I say this is where we're at. Hey, I just said that and I'm gonna say it again. That's just in case you fell asleep for a second, it's also to make the point of this is an important point, I said that twice. So if you're in the audience and I've said something twice, you think, oh that must be important, I'll write that down. Repeating yourself is a tool, right? And you watch the great orators, they're always repeating a phrase, and there's actually a rhythm and a sea of repeating. You use the same thing over and over again, okay? The fourth thing here is time checks. It's great to say, hey everyone, we're halfway through the presentation. Hey everyone, there's only five minutes left and then I'll get you out the door, 'cause it's a re engagement tool. 'Cause we all know what happens, you're in a college lecture, you're looking at a professor, you're like how many more pages does he have? How much longer is this talk gonna be? Oh man, I wonder if I'm gonna get lunch with this person, and if they're gonna show up, and I got soccer practice later today. That whole time I was thinking that, I wasn't listening. So if you as the presenter are able to reassure your audience and be like, don't worry, we're already halfway through, they calm down a little bit and they're willing to go on the journey with you. Hey everyone, only five more minutes. It's like okay, I was fallin' asleep, but five minutes? I'm in it. This is a very important tool, people don't think to give the time updates, okay? And just speaking of which, we've got 15 minutes left in this presentation, okay? So let's keep going. The next thing is, no handouts. It's hard to keep everyone's attention. And this is an example, I put this up because there's two cute girls up here, and no one's looking at me. I'm trying to talk to you, I'm trying to get your attention, but there's two cute sisters up here, and then the other thing that's happening here is you're all looking at this going, is that Justin? That doesn't look like Justin. I mean, he's got scruff. That's not me, that's my friend Granger. It's close, but it's not me. And the point I wanna make there is, your handout information needs to match your information of what you're saying. So I can't show you a picture of Granger and stand up here and be like, let's all talk about Justin! It's confusing. And the point of being a good presenter is you need to control people's attention, you need to say when do you pay attention to me? Where are we in the talk, one, two, three, and I'm telling you what to pay attention to. The minute I give you a handout, you're distracted, and now you're jumping to the end, and I don't get to have my rhythm. So avoid handouts as much as possible. If you do them, make sure the pictures match, okay? That's really important. The order of the information, the handout has to match the order of the information. The worst presenters go, okay so I'm here to talk about book sales, they're like, where are you? What page are you on? I see marketing. And then you've wasted time, you've lost your effectiveness. Make sure everything lines up and tells the same story. The last thing I wanna say about presentations is practice makes perfect. By the way, that is me. And here I am holding a baby, everything takes time, and you gotta practice these things. But the point is, practice makes perfect. If you think you're gonna change the world by waiting to give a perfect presentation, you're gonna be sorely disappointed, because presentations don't come along that often. And oftentimes, especially early in your career, you don't get a chance to give presentations, and then all of a sudden, you're thrust into the limelight, you haven't had much practice, and it doesn't go very well. So what I wanna encourage you to do is, especially early on, or if you're not confident as a presenter, practice one time a week. Find anyone in the organization, a coworker, an administrative assistant, and anyone who's up and coming, and say, can I borrow you for five minutes? I'm not asking for 30, I'm not even asking for 10, I'm asking for five minutes a week. All I wanna do is give a presentation, and what you need to do is stand up in front of them, and say something. I don't care what you say. Just the act of standing up in front of another human being and saying words will help give you confidence to be a presenter. Now think about, in a one year period, if at the end of that year I have practiced 52 times, and you only presented six times because you only did it when you actually presented, who's gonna be better at presenting? I'm gonna be better. So if you know that, why wouldn't you do that? You just fast tracked your career. Whoa, Justin's a confident presenter. Well yeah, 'cause I practiced 52 times while you weren't watching. And I know you're really busy, but everyone's got five minutes. So practice makes perfect, okay?
Ratings and Reviews
This class is wonderful! Justin's insights are both digestible and actionable. Very simple tactics that make a huge impact. I didn't know succeeding at your job could be this simple. It helped me realize my own areas of improvement and how I could be a better performer. I'd recommend this to anyone who wants to crush their job!
I found this class by mistake and it turned out to be gold! The class is short, to the point, and very actionable.
Student Work