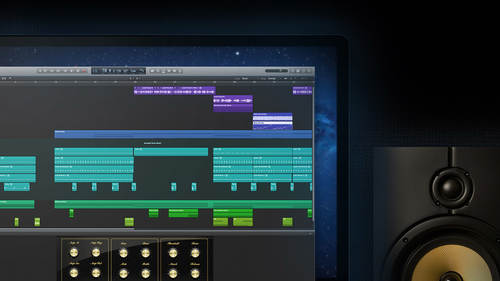 Class Description
There's a reason Apple® Logic® Pro is the go-to recording tool for the music industry's most-respected bands. It's a powerful, easy to use program for creating professional-quality music on your Mac from scratch. Join world-class producer Travis Kasperbauer for the world's first free live exploration of everything Apple Logic Pro has to offer.
This workshop will teach you everything you need to know about recording awesome music in Apple Logic Pro. You'll explore the basics of the workspace and learn tips and shortcuts for navigating the interface. Travis will also teach you how to record with microphones and instruments, use MIDI, arrange and edit music, and mix multitrack projects. By the end of this course, you'll be ready to record a full song with vocals, guitars, and drums.
Whether you're a beginner or a professional, this course will give you an Apple Logic Pro playbook for unlocking your full potential as a producer and artist.
Reviews
Travis Kasperbauer was one of the best teachers in this discipline I have encountered. His style of teaching is easy to follow. I learned more in one day with Travis then i have learned in a year watching video online and learning on my own and from others. Travis knows what he is talking about and what he doesn't know he takes the time to figure it out and walks you through the process of finding the solution to the problem. I find this important because there no one way to do anything when being creative and sometimes understanding the process to figuring something out is just as important on the steps to do something. So many people spend so much time explaining where a button is that they spend little time in truly explaining why you are pressing the button. Travis takes the the time to explain the basic lingo other instructors use but spend little or no time explaining. After Travis explains the basic foundation of logic pro he jumps right into the important thing we all want to know, and that how to make music. I does not matter what genre you are interested in this is the course for you. I watched the course live and after felt it was every bit worth it to own it! Take this course it is worth every dime. I look forward to his advance class in the future. After watching this class i feel confident that what i learned here has given me the tools for his next class but more importantly I can start experimenting and making music today! Thank you creativeLive for this course and Thank You Travis for your gift and knowledge. Thank you for making music attainable to the masses. Ronnie AKA agentdownbeat.com
This is a great course. Travis is an excellent teacher, as well as an interesting and relaxed speaker. I liked the casual classroom environment, which gives the impression of being in the room as well. I learned so many great Logic Pro tips. Highly recommend and enjoyed!
I have wanted to learn how to use a more comprehensive DAW for a long time. Anytime I would watch someone in the studio or a tutorial online I would feel extremely overwhelmed and give up a little bit. I am overjoyed with how confident I feel after watching Travis teach this class on Logic Pro X! The way that he shares information is super easy to follow and understand and he knows the software inside and out. I truly got so much more out this course than I was expecting and can't wait to start writing and recording!!! I plan on dedicating myself to LPX wholeheartedly so I will be ready for Travis to teach the next course!!!!