Work with Light
Julia Kelleher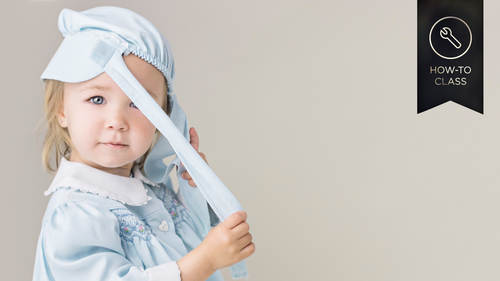 Work with Light
Julia Kelleher
Lesson Info
2. Work with Light
Lesson Info
Work with Light
Let's talk like ok light is light right there's good line there bad light really I mean it still holds true when you have an iphone your hand or a dslr right so good lie especially for children means soft directional light that has quality okay now when we shoot with the sl ours we have so much power and our ability to teo crank up that I so right because nowadays digital cameras there's little noise well the iphone is a little different I'm sure have you all shot in the dark with your iphone it's like kind of a hot mess you know it's just like you know it's a good moment we'll keep it you know it's one of those moments but with the iphone quantity is important okay you need a lot of light the iphone works really well outside and like cloudy gray flat light conditions it works wonderfully there I want to kind of today we're going to be shooting with this big soft box and obviously we're in a studio which is totally different than being outside but this light right here this pro photo c...
ontinuous light which is amazing is going to simulate a window and I'm going to try my best as a studio photographer I don't want to move it around because that's my m o I'm like I want to be able to move it however I want to try a challenge myself to not move my window because I'm technically gonna look at this as if I was inside with my new baby wanting to photograph snapshots and beautiful things I can't move my window right but this acts for those of you who don't have a studio environment and our shooting in your home which I which is really what this course is targeted towards I want you to envision this as a big fat window because that's exactly what it is and we're going to be working with that big window and mama and babies here in the set and then we also have a crib that we're going to change out too and I really wanted it to be his life like a possible so that you could translate this into your own home okay so if this produces a lot of quality light but as you can see if I was shooting this in my home this is close but that that provides that soft quality of light so one of the first things you want to do when you're photographing your family in your home is get the nice and close to a window ok because that's going to produce that quantity in that soft quality of light so like I said it matters on your iphone to have good light it has limitations it's not about megapixels megapixels have nothing to do with the quality of the image coming off your page it has to do with the size big mega pixels means you can print it big that's really about it? What matters is the quality of this sensor in the lens that's why dia solares? You know you can have a thirty six megapixel but if the sensor stinks it's that's not valuable it's not a good quality image that will come off of it if you have an eight megapixel camera with an incredible sense or on it you're gonna get amazing images and eight megabytes is a big file that's a big image you don't need much more so I think this whole concept of mega pixels mohr is better is a sales consumer marketing thing for cameras to be sold and so the consumer thinks that megapixels means better. It doesn't necessarily mean better what you really want is a quality of sensor on your lens and the iphone is improving much more over the years but it still needs a lot of light. It's still needs good quality light to really produce nice, sharp and lovely images okay flash and indoor versus outdoor and I discuss that a little bit when we talked about this stuff bucks but natural light outdoors is gonna be your best bet with an iphone indoors is fine to we just want to make sure we're close to a very big light source the bigger the light source the better and open doorway and open window you're back french doors, a sliding glass door anything like that is going to be a knight indoor light source overhead can sometimes be interesting, but you've got to be careful because usually it's not big enough a skylight coming down it's far away so the light light starts to get more focused and more focused as it gets on top your subject and on a baby or a child, it tends to be a dramatic look you could produce them really need images out of it. I'm not saying don't try it, but just note and feel as you get closer and farther away from a light source. Well, how much a difference that makes in the quality of a light on a face ok flash versus no flash so many beginning photographers, especially those who are just starting out with the iphone, they put the flash on auto and what the camera decide when it needs flush don't do that. As a matter of fact, my flash on my iphone is never on even in dark conditions in the middle of a nightclub, I will not put the flash on, you know what I'll do? I'll grab my husband's iphone, put on the flashlight and put the flashlight over here and take the image over there totally I don't want that light why do I do that? I don't want that flashes flat right on someone's face with red eye and all that nasty stuff that goes along with it. It just washes out and flattens the entire image that truly is for snapshots and you're not going to improve your father photography if you use the flash and dark situations, practice moving that source of light off the camera, so when you use your phone, you have their phone on them by chance and me here, russ had his phone on him, so what I'll do is like, I can take a picture of you guys, I'll put my camera here and then I'll have someone, obviously this light wouldn't be strong enough to light all of you, but I would have someone hold this off to the side, so we have a nice directional light source and then sat image experiment around with that you'd be surprised and it's so fun, like in a restaurant, you take the candle, you know, on the table and try to get your little like it's going on and it's a lot of fun because you can have multiple light sources or put, you know, one light behind somebody with a hair light, you know, like the candle in the front as photographers get really creative and kind of kind of obsessed with creating unique light with whatever we have on hand, so yeah when I was in new york a few years back with the creative live crew, we went out there to do an event and we were all out at the brooklyn bridge and it was at night after the thing had wrapped. And so there was like three people there and then, like four other people with iphones like lighting it to take one picture. But it worked out great, and it really is cool like you use a lot of those same techniques it's so fun. So I always tell people, try to stay away from flash flashes like there for the it's there for the hobbyist it's there for someone who knows nothing about taking pictures it's there because iphone needs to be able to help consumers take pictures and dark situations. So the flashes like the the last results, so stay away from your flash if you can hear images will become a lot better. Okay, so this is my boy he was what was he? Valinda valinda start is my city managers. He started off as my nanny, so she was holding my boy in her arms when he was four, five weeks old, so she's seen him grown up. The image on the left is right by a window on mother's day it says property of mom on his t shirt, I just but isn't that funny that I look at that and I immediately know it was mother's day right before we went out to brunch and the red t shirt on and we put in by the window and granted there's some hot spots there on the bench and stuff this is a snapshot this is not like award winning work, but the light is so much better on his face than in the other image on the right where we threw him down in the garage in a big pot, okay? Because I just thought he'd be cute in a pot with the lights terrible and his t shirt says chick magnet, by the way, and the colors are often it's just kind of it's, not as high quality of a light source on his face when the one on the left, so I encourage you to really look for it in the eyes and this is him cash it's funny because you don't really remember how old they were. I know evelyn is likely can't go held risky in that picture he had to have been like six I'm told there may be seven no, actually he had the bottom teeth, he had to be ten months there because he's just started getting his bottom team, but look for the light in the eyes you can see if you look in this slide here the light source. The catch light is coming from this angle, so it's not no perfect ideal professional light because, like, if that were the case, you'd want the light coming from the upper angle. You know, on all these technical things that have to do a professional professional photography, but you can see in the eyes when the light hit. You'll get the counter, catch light in the other eye, and he's got these gorgeous blue eyes so that counter cuts light just fires immediately because of the ground. It's. Fear of the eye. So when light goes into one side at the right angle, it will come out the other side of the sphere and what's called a counter catch light. And when that happens, naturally, it is so incredibly beautiful and you know you've nailed your light when that happens. So look for that it's kind of a trick to to making your images pop or your children's eyes pop in particular, which is really fun.
Ratings and Reviews
I've just managed to watch this short class while my 18 month old had a nap. I have picked up so many useful tips, particularly on composition but also with how the iPhone camera functions. The suggested apps look fantastic - I would love to find a UK company a bit like booksto.me which will make Instagram pics into books - such an amazing idea. If you can spare an hour and want to pick up some great tips, this course is worth the money. I now feel I have more tools to hand to get the most out of photography on my phone.
I am in love with my DSLR and seldom use my phone camera for artistic shots. I watched this workshop only because it was part of Photoshop week. What a wonderful surprise when I not only picked up some great iPhone tips, but also a better understanding of what I had known vaguely and intuitively about composition power points. Way to go, Julia! Your class is totally worth the price of admission.
Cool, part of PhotoWeek, 2015, just now watching. Cool info, Great introduction to learn more from there.
Student Work