In Focus: Finding Your Photographic Voice
In Focus: David Alan Harvey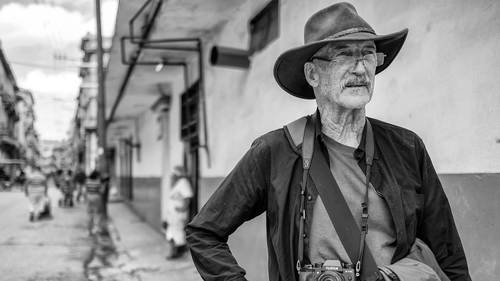 In Focus: Finding Your Photographic Voice
In Focus: David Alan Harvey
Lesson Info
In Focus: David Alan Harvey
It's great to be back in Seattle. It's been probably 20 or 25 years since I've been here. I was here for the better part of a year for an article in National Geographic. So I was in and out for a year. So I got a real sense of the place and the people, and I loved it, I really did. I loved it here and I loved it out in the Sound. I just loved the whole Puget Sound scene. So it's great to be back here and it's good to have, like, I can't relate too much to whoever's out there online, but I can certainly relate to you guys. And the reason that I can relate to you guys, and I just look at the faces right here, right now, because that's what I have to as a photographer. I have to be able to see somebody, make eye contact, and get to know them pretty quick. Because I'm usually not photographing politicians and celebrities, I'm photographing you guys. Well maybe some of you guys are politicians or celebrities, I don't know. I don't recognize you yet, but I might. But I'm basically photograph...
ing everyday life and everyday people. I mean I'm an everyday person. I'm just a photographer. As Chase said, I picked up a camera at an early age, lightning kinda struck me at an early age. I was very very lucky. I didn't have any mentors others than, Life Magazine came into my house, National Geographic came into my house, but that's all I had. There was no internet. And I was in Virginia Beach, Virginia, there were no, I wasn't in New York, I wasn't in Chicago, I wasn't in Seattle, I wasn't in L.A. I was in a small town in Virginia that was mostly a tourist town and a military town, so the only way that I could really know anything about pictures was to actually just look at pictures. I didn't have any blogs to mess up my head like you guys do. And I just had pictures. I had Life Magazine, I had National Geographic. I learned about Henri Cartier-Bresson and Robert Frank early on. And early on as a photographer I realized one very important thing. It's good to have the education that you guys have gotten, I wish to hell I had it, I wish there was a Creative Live when I got into photography, but I didn't. But in a way it was lucky 'cause I had to kinda learn everything all by myself. And I had one incredible realization early on. And it wasn't an intellectual discovery, it was kind of a practical discovery. I looked at all the famous photographers out there, and I wanted to be one really early on, but I looked at all the different choices of kinds of photography, and I saw that Ansel Adams needed Yosemite in order to be able to shoot, right? He wasn't in Indianapolis taking pictures, for example. And Robert Capa needed a war. And the famous sports photographers needed the Olympic Games. And I'm mentioning all photographers who I really really respect. And Avedon and Penn needed a supermodel or a famous person, right? And so most photographers that I saw in all these disciplines needed something besides just this, right? And that's when, for probably practical reasons, I gravitated to Robert Frank and the book The Americans, I gravitated to Henri Cartier-Bresson and his, he was of course influenced by the French impressionists. And so I loved these artists who didn't need anything other than what was in their head, their heart, and then using their eye to capture the image. So that's what I've tried to do. And do I take good pictures every day? Hell no. Do I take pictures every day? Hell yes. Because it's like playing the piano, you know? You can think about it or you can actually practice eight hours a day. I'm gonna show you pictures in a minute. I have just one other thing about that. I had an incredible assignment from National Geographic one time where I was photographing Andres Segovia, a classical guitar player. And so I'm in Madrid and I meet Segovia, there he is. And he's sitting in a chair and he must've been 86 or something at that time, so he wasn't gonna be around too much longer. And I was photographing him and I was talking to him and he told me that he practiced eight hours every day. And I said, sir, you're already the most famous classical guitarist in the world, why in the world would you practice every day? And he said, you know something? I do not have the fingers to be a classical guitarist. He says, my fingers are too short so I need to practice all the time. So I think that, I mean that says something about, Segovia didn't have the right fingers, he practiced all the time, these are things that are gonna come up as I take you through the work. And you'll see that, you know, I don't have, I usually don't photograph anything other than just normal everyday stuff. Now I do live in the Outer Banks of North Carolina. We're in Hurricane Alley, we've got rising sea levels, we've got all kinds of stuff going on down there. But, you know, I've lived in Washington and New York and I've spent a lot of time traveling around in urban areas, but I live in a, it's not rural but it's like rural, it's a beach town. But we do have an erosion problem. But I'm always photographing in my own backyard. That's kinda the point of my whole talk today is photographing in your own backyard. Whenever a young photographer comes to me, and I'll ask him, I say, why do you wanna be a photographer? And they'll say, because I wanna travel. I say wrong answer. If you're gonna be, if you're a great photographer, you will travel, but you won't look at that as your purpose. Traveling is just a way to get to a story. That's the whole point for you guys. Everybody's taking pictures all the time, right? But the thing is, with photography becoming an international language, and it is the only common international language, that doesn't mean that there's less opportunity, it means that there's more opportunity. Everybody in this room probably speaks English, right? But how many of you are poets, how many of you are novelists, how many of you can write a play? Probably not that many. What I'm saying is, is that just because everybody's taking pictures all the time, speaking the same language, there's all, human nature, there's no such thing as a mean level at any other thing. Somebody is gonna rise above the mean level and do something great. And that could be you. Because you only need to let whatever is inside come outside, and go right here. Now I'm gonna explain further, 'cause you're not gonna understand yet exactly what I mean. But I'm telling you. Well, here's my family. There's my oldest son Bryan and my granddaughter Lila. We're just coming off the dune in front of my house, having watched, I think, about an 85 percent eclipse. Just a little moment. This is all part of the Home exhibition that's traveling around the world right now that was sponsored, actually, by Fuji. They put, I think, 15 of us, 15 of us from Magnum, if you don't know Magnum Photos, you should, independent cooperative where the photographers own the agency and everybody believes in one thing which I hope that you will believe in a little bit, and that is authorship. Authorship, authorship, and authorship. That's where you have to be today if you're gonna be an important photographer. Now, not everybody can be that, but everybody needs to know the difference. For example, if I use a music analogy, if I talk to you about music, 'cause you might still not know quite what I'm talking about, well here's what I'm talking about. Let's take music. Some people are cover bands and they play everybody else's songs, right? And some musicians write their own lyrics, come up with their own melody, come up with the whole thing. That's what I'm talking about. And if you wanna be a significant photographer, that's what you've gotta do. Of course not everybody can do that, but at least you need to know the difference. At least expose yourself to it, at least give it a try, and as a matter of fact, even if you don't reach the so-called upper levels of photography, you can at least go further than you were gonna go before by really understanding what I mean about authorship. And all the Magnum photographers, all the women and men in Magnum all have, Susan Meiselas says one thing, Bieke Depoorter says another thing, and Alex Webb says something else. Now the previous pictures I showed you were all from, like, an easy bike ride from my house, all within two or three blocks of my house down in the Outer Banks. Also were part of this Home exhibit that's traveling around the world now, also part of a National Geographic story. By the way, the pictures that I'm showing you today are really coming, I've kind of sequenced it because my next book, Off For a Family Drive, you'll understand why I'm talking about that here in a minute, but I'm basically using the sequence and the flow of this book. I'm going back and forth. Because most photographers, I think, they do a linear thing, they'll do their earliest picture and then their second and they go with it in a linear way. I can't remember my life in a linear way. Probably you don't either, right? You remember, something that happened yesterday will be on your mind, and then you'll jump back 10 years, right? And then you'll come back to the present. We all go back and forth all the time. And so I, because I'm really that way, that's the way I'm doing my book and it's kinda the way I'm doing my slideshow too. I got interested in lots of things because of National Geographic. I mean I went to graduate school, formally, I don't think I learned anything. I must've learned something in my formal education, but where I really learned about, where I really got my education was, in fact, traveling the world for National Geographic, because I got a good worldview. So, after living in Muslim cultures, African cultures, Buddhist cultures, being with the Palestinians, being with the Israelis, being with everybody, sleeping on the ground, meeting presidents, doing everything, when you've had that experience, you got a really open heart, right? 'Cause you don't wanna drop a bomb on anybody. You wanna come up with something, you wanna endorse a philosophy where you can work things out. This is Bahia. Bahia, Brazil, which was the original point where the slaves first came from Dakar and Gambia. So Bahia's a little bit more Africa than Africa actually is at this point. I mean Africa's advanced in certain ways and Bahia's kinda like a test tube case. But anyway, I spent a long time in Bahia. This is from Puerto Rico. You know, I was an art history major. I really wanted to be a painter first, or a sculptor. I mean, Bernini, for example, you see the sculptures in Rome and Bernini's like, you know, nobody can ever beat this guy, right? Because his sculptures are like still photography, like movies, like paintings all rolled into one super-archival piece of marble, right? But I learned a lot about juxtapositions from sculptors and from painters. And, you know, I loved, like, I loved having the layering, for example, like in this image where you've got one, two, three, four, five, six, seven, eight layers in there, right? You know, and I looked at the layering from painters, I mean I learned that from painters. Painters, it was a little easier for painters to do, they could paint somebody in front, somebody in the middle-ground, somebody in the background. For photographers it's a little bit harder. Especially if you're a photographer like me working with one camera, one lens, and I'm not setting up the picture. I'm just moving around. The way you move, a little incremental quarter-of-an-inch one way or an eighth-of-an-inch another way, makes a difference. People take a picture, looks good on the back of your phone, and I take pictures with my phone all the time, and you're kinda satisfied with it, but you didn't really tweak it out. And if you're gonna take that extra, just like a painter's gonna tweak it out, you gotta tweak it out. And if the note is a little bit off in the musical composition, you gotta make it right. It's all got to come together exactly right. If that soccer ball wasn't where it is, if that guy's leg wasn't kicked up the way it was, it wouldn't be the same picture. But the picture goes in National Geographic, not because I made a good composition, that is kinda the way, that's what makes it a photograph, but it's in there, again, because this particular bay is where slavery actually began in the Americas, and so in National Geographic the caption deals with that aspect, not, they don't say, hey, Dave Harvey got a really cool composition. But that's part of your vehicle, that's how you get your message across. Looking down on New Years Eve on the same place, lit by fireworks. You know, I do a lot of artistic stuff. I had a commission from Magnum that I needed, and this sounds completely outrageous, I wanna leave time for questions so I don't wanna take too long, but this was on the rooftop of my apartment in New York where I actually met Chase Jarvis, and I had an assignment from Magnum to do a male nude. I'd never done any nudes, but I had to do a male nude for a Sotheby's art auction, and I did this on the rooftop of my apartment in New York. My assistant Candy, who's sitting there on the horse which just happened to be up there, she's the one that organized the model, et cetera, et cetera. So this is part of a series of collector prints. Not for publication in magazine, not for any journalistic purpose, but just existing as an art object. This actually was part of an ad campaign for Samsung. They had a new product, so this one was semi-setup. Alejandra's sitting right here, she's the woman in the picture. And I was working on a series called Beach Games, which is a very very esoteric thing. I grew up at the beach, I was a lifeguard at the beach, I was a photo boy at the beach. So living around the beach has always been a big part of my life. And so I was doing a whole series, kind of a fictional thing called Beach Games. This from Rio de Janeiro. From Santiago, Chile. But this, this is the heart of the whole thing. And again, when I mentor my students, the first thing I do is I find out about their life. I find out what makes them tick. Because this is the heart of the whole thing. This is my bulletin board. And I told you I started off photographing my family and everything. Well here, in this one bulletin board, you can see Josef Koudelka, you can see two guys down at the bottom that I used in my hip-hop book, you can see my mom and my dad. There's James Nachtwey, there's William Albert Allard. There's Christopher Anderson. There's Michael Nichols, there's Robert Clark. There's my sons. There's my ex. You know, they're all there. So that's where I'm coming from. I mean, I'm a family guy. And families change, of course. But I'm a family guy. In my, with my blood family and in the family that I've created with students and my fellow photographers. Off For a Family Drive, which is gonna be the title of this book. This book I took when I was, I mean this picture I took when I was 13 years old. I hand to hand-letter it. Gift for my grandparents, hand-letter it, and of course there's no delete when you start hand-lettering something, right? You can't just start over again. And I had to go through the whole book. So they were just simple pictures. I only had like one roll of film per year. I had about 36 pictures, but I could only afford one roll of film per year, so I'd have to make one roll last the whole year. So this was like 1958, my brother Gary, Cleaning New Car. Dad Gets Mail, it doesn't get any better than that, does it? Somebody said, well wait a minute, you're imitating Martin Parr here. I said, yeah, I'm imitating Martin Parr, but I was doing it before Martin Parr ever thought about being a photographer. Gary's Happy Birthday. So this is the stuff, this was my earliest book that I handmade for my grandparents. But I don't think I can ever do any better than this from a pure, from a purity standpoint. From a standpoint of purity, I don't think I can ever do any better than this. This was the only, that was my Leica 3F. I shot this in my living room mirror. And the camera, my parents sure as hell weren't gonna buy me a Leica, but I knew that I needed one 'cause I was going, I mean at I thought I was going all the way. And I wanted a Leica, and so I used my newspaper route money, took 10 bucks a week and the guy at the camera store let me pay it off like that. He knew I was a little bit different than the other kids coming into the camera store. Well there weren't any other kids coming into the camera store probably. By the time I was 22 I published a real book. And it was called Tell It Like It Is and it was my sense of civil rights, well I was a hippie kid, civil rights, anti Vietnam War, gay rights. Everybody's rights, right? That's what I was all about. And I couldn't, I really wanted to go and stop the Vietnam War, but I couldn't do that because I also, by this time, had a wife and a young baby. But I thought I could do something with the black people who lived in a different neighborhood than I did. And I felt guilty about that and I wanted to do something about it. So I went and lived with the Liggens family. Now you don't just walk up to, you don't just walk into the hood and walk up to somebody and say I'm gonna live with you for a month. But what you do do is you walk up and you say, my name's David, I'd love to photograph some pictures of the neighborhood, can I take a picture of you? And they say okay, you take a picture. I went back to the darkroom, made a print, came back with prints. And Callie, the mother, she kinda took me and I came back, I told them I was gonna bring back pictures, I did bring back pictures. And so I ended up living with this family for a month. They invited me to come and stay there. I slept on the sofa. The rest of the family, which, two parents and seven kids, nine people were in two rooms, so they must've been all piled in there on top of each other ina variety of ways, I don't know how they did it. But I was all alone in the living room on the sofa. And that's Lois. She's the one, she was the key. Out of seven kids, not all of them are gonna, some of them are gonna be more shy than others, right? But Lois kinda liked having her picture taken. Callie, the mother, took me in, so I was able to get in. Lois is gonna be on my front porch next week or the week after. She was seven years old when I took this picture and she's 57 now, so we're still bonded. The parents are gone, various things have happened to the kids, one of them died. But anyway, I've stayed in touch. And that's not unusual for me. The book is gonna have pictures that, the way this book is gonna be structured is you're not gonna know if I took this picture yesterday or 40 years ago. 'Cause I shoot black and white now, I shoot color now. If it's black and white it's more likely that it's a picture from the past, but not necessarily. This is when I was in college. This is 15 years after that. Actually, Minor White at the Museum of Modern Art in New York picked this picture as part of an exhibition called Celebrations. Magnum just, this has been a very popular print sale lately, 'cause it's just so, the thing is is I worked for a newspaper when I got out of graduate school, and of course you were supposed to explain everything in pictures. And I always found it was much more interesting if things were not over-explained. Just like I like the movie Lost in Translation, you don't know what happened at the end of that movie, right? You don't know. I mean everybody's got a different idea. Kinda mysterious. And that movie was done, I'm very jealous of that movie. Sofia Coppola, she just did a brilliant job with that film. I mean I don't have much of a desire to do films, but if I did I'd wanna kinda copy what she did. You know, I mentioned Cartier-Bresson and Robert Frank, but actually, it was Nan Goldin, Sally Mann, Bruce Davidson, who really influenced me in terms of not going anywhere. You know? Sally stayed in Lexington, Virginia and Bruce Davidson stayed in New York for the most part, came home, I don't know if he came home every night, but you know, he and Emily were a tight married couple and he was home more than most photographers, let's put it that way. His books are mostly, you know, in New York. But I did travel around the world because National Geographic was available to me. I took it. I was part of a, Bill Allard, Sam Abell, Jodi Cobb, we all kinda came into the Geographic at the same time. So it was a great way for me to get my kids through college, and I loved the education I got from National Geographic. This from Nairobi. This I'm also showing 'cause I do use one little camera, one flash, but I do use a flash sometimes. This I had 1500 watt seconds of power off to the left. I did have an assistant. I met a young man who lived in Nairobi, in, I can't remember the name of the neighborhood, Kibera, and he became my assistant. I have him a job and he was really really good at it. So I lit this preacher. And this little girl on her way to school. It was great because we took one of her poems and used it in the magazine. I loved it. It almost makes me cry now thinking about it. It was a story about a zebra that she wrote. And she was just, I mean, you know, so many photographers, I said, they're photographing famous people, supermodels, whatever. What I loved about what I've been able to, the kind of work I've been able to do, is this. Because she was just walking down the street. So she's, whatever random person means, I'm not even sure what that means, everybody's special, but I didn't have any idea who she was and she had no idea who I was. And I was able to photograph her and put her out there to 40 million people, and her poem too. I love that. She wasn't famous, she's not gonna be famous, but she has a place. From a book I did on hip-hop. Also using really strong light from the side. And Oaxaca, Mexico, same thing. Strong light from the side. This one was special to me because I spent weeks. The other thing I wanna talk to you about, I don't know how you guys are working, I don't know what areas of photography you wanna go into, you're gonna ask me some questions, but I find that I get my best single pictures by kind of working on a photo essay. So I spent five weeks with this group of teenagers in Paris. And I only used this picture. And I liked this picture because Judith, she was kinda the leader of the group that I photographed. It had the Eiffel Tower in there, and also it has, it was shot in front of Henri Cartier-Bresson's house. I mean, just a, he was on Rue Rivoli, it was right down on the Seine, right at his front door basically. From a story I did on oil fracking in North Dakota. That was the story, but then I got this image out of it, and this has become an art print. In other words, my work gets commercialized two different ways, one in magazines and another with collector prints. I mean, advertising, I've done a few things, but I've never gone after it, and a few things have fit in for me. But in terms of my economy, working for magazines on stories that I propose and like, I have my own thing going. And in the art world I also have my own thing going. And so people are expecting, you can take a look at the couple of books that I've got here and you can see that, I'm not saying that you should do exactly what I'm doing, but you should do your version of that. I mean it's, people kinda tend to make things too complicated. I mean, if you just take who you are and if you can get that down in words or song or pictures or in a painting or in a movie, that's art. Art is just all about, as I say, the so-called average person getting it out there, getting the story out there. Look at Ernest Hemingway with For Whom the Bell Tolls, which was actually written not too far from here, in Spain, by coincidence. He wrote a story about Roberto and Pilar, a love story, war story. He was also writing, for the Kansas City Star, news accounts of that war. But he captured much more of the smell and the taste and the feel of war just by writing about those two random people who fell in love in the middle of chaos. Rio is part of, for 25 years I've been really interested in Iberia, that is, Spain and Portugal, and the migration into the Americas. That's been a focus of me for like 25 or 30 years. And it manifested itself in a book on Cuba, it manifested itself in a book called Divided Soul, and it manifested itself more recently in Rio. Because I did Cuba as a straight reportage. I did Divided Soul as a more esoteric mixture of things. I'm gonna show you that in a minute. And Rio I did, Rio is Rio. Rio was, you know, obviously part of the Portuguese Empire, but Rio's got it's own thing going and I got totally fascinated by it. Things are really really good, really really bad. In order to do Rio, I had to get in with the SWAT teams, with the police, the anti drug dealer crowd. And the wealthy class. And the middle class or the poorer people. I had to get in with everybody to be able to hang out with them. And I had to tell everybody else that I was hanging out with the other one. I mean, when I'm working, I'm close. You know, I'm really close to people because I don't photograph strangers, I photograph people that I know. I mean, obviously I knew this couple. You don't go up to a couple that's being intimate and say, hey, hi, my name's Dave, right? No, I already knew them so I was able to get in close. I had to tell everybody that I was working with everybody else. In other words, I had to tell the cops, hey, I'm also working with the gangsters, I had to tell the gangsters, hey, I'm working with the cops. 'Cause you can't lie to either one of them and then you can't, then the wealthy class, all of them can have you killed just like that. I mean, if you betray anybody, you're not gonna survive. So the way to do that, the easiest thing, always, is to just be transparent. Even if you're giving somebody bad news, if people are receiving bad news that they don't really like but they think it's honest bad news, not fake news, you know, they're gonna take you in. Because they say, wait a minute, this guy just wants to take pictures. That is all I wanted to do, I didn't wanna hurt anybody, didn't wanna make anybody look bad. And so that's the approach that I took. So I could be with one group one minute, a coke dealer the next, the cops the next, and they all knew exactly what I was doing. And probably because I was a gringo, probably because I was an outsider, I was able to do that. I might not have been able to do that if I'd have been in the culture. In other words, you know. And as I say, I'm easy to kill, easy to rob. But if you present yourself in a particular way, then, you know, you hope you're gonna get through it. My good body Tonico, who was in the wealthy class, kinda took me in with this crowd. Now I go from Rio de Janeiro, and of course I do, you know, on the one hand I tell you that I don't like to travel, and I don't like to travel, but I do if I can just get parachuted into a variety of situations, I do like that. I had a, I spent a lot of time in Central and South America, again, with Divided Soul, et cetera. But I had a Japanese roommate in college so I got into Eastern philosophy, Eastern art. Learned so much from Masaki, my Japanese roommate, about not making anybody lose face, right? Our Western attitude is I win, you lose. That's kinda pretty much an American thing, really. I win, you lose. If I win that means somebody over here loses. Whereas the not making anybody lose face concept in Eastern philosophy is a little bit more, it's softer. You still want to get what you want, but you're really really listening to the other side, you're really putting yourself in their place. And that was, seems kind of obvious. You know, as you grow up you kind of learn that anyway. You know, if you're gonna survive in this cold, cruel world. But luckily I learned it early from my Japanese roommate, so that even though China, Korea, all the other, Vietnam, I've worked in all those places, they're all different, but there's a similarity, there's some similarities in the Eastern philosophy. And that's one of them. Anyway, I spent a month with ladies that were, here I go from bikinis on the beach in Rio de Janeiro, but I fell in love with these ladies, 75 to 85, free-diving for abalone. They'd been doing it since they were teenagers, they were young girls, 14, 15, 16. And the men would go out for two days on a fishing boat way out, but the women needed to be closer to home with the kids, et cetera, you can imagine that, Jeju Island, off the coast, and so they, but they wanted to earn money too. So they started diving for the abalone. And they're free-diving, no oxygen, diving down, staying down two minutes, two-and-a-half minutes, when they were younger three minutes, and getting the abalone off the bottom. This woman is 86 years old. She's just come in from a hard day of making 30 different dives at 40 feet with a wetsuit in very cold water. And I know that 'cause I dived with them, in a very limited way. But there they are, on their boat on their way to work. Just great women. Now, I couldn't communicate with them. I speak, well I don't know how good my Spanish is, but I can get by with Spanish anyway, but I sure don't speak Korean. But, you know, the language of photography is eye contact anyway, right? You get to know somebody just by looking them in the eye and you can kinda tell whether, like, you're trying to gain trust, and the way to gain trust, of course, is to be trustworthy, just like I was talking about in Rio. Anyway, so this is actually, my most recent book is the Jeju Haenyeo. You can't get this book, it was a limited edition art book. I think they're all gone. I'm not an underwater guy. At National Geographic we got David Doubilet and Paul Nicklen, we got some great underwater people. But I bought this little cheap underwater camera, 'cause I had to dive. The contract that I had for this commission, which was commission by the Jeju, the Korea Arts Council, I had it in my contract 'cause my kids said, dad, you can't dive. It's cold, it's rock, it's dangerous. I said, yeah but I've got my certification. He said, dad you had your certification 20 years ago. You can't dive. So anyway, I did have in my contract that I was doing all above water pictures, but here you are going out with these women every day and they're diving, you gotta go, you can't not go. Who in this room wouldn't eventually go? So I didn't go down as far as they did, but I went down 15, 20 feet where they get the octopus. This is a huge score for this woman, 'cause this one octopus is gonna, she'll get enough money for that, yeah, you feel sorry for the octopus, there's a whole lot of issues here, but if you just take it down to the basics of these people on this little island, she can feed her family for a months with that octopus. So I love going from Rio to Jeju Island, for example. The break is amazing. Now I'm gonna come back to my love of the Latin culture, the Spanish culture migrated into the Americas. And Cuba, I did a book just on Cuba, a few National Geographic stories too. Last time I was there I did these little videos, 10 seconds. This was Catherine Brolin. If you go to my Instagram, you gotta go to my Instagram anyway 'cause you can get a free workshop on my Instagram, I promise, but Catherine Brolin, Alejandra and I were with Catherine and Josh Brolin, I think you probably know who he is. You might know who she is too, but she's getting ready to have a baby. She had been with me in Cuba. She's a very avid photographer. And so we, last year at this time, we were in Cuba together. So that's her with one of the ballet dancers from the Cuban Ballet. But anyway, I've got a recent story, there's Catherine again, on her. But check out my Instagram stories. As I say, if you're, you really can get kind of a free workshop on my Instagram stories if you keep watching, 'cause I do book reviews, I interview other photographers, whatever's happening to me. I may interview one of you guys. I'll definitely put you on there. The social media I've gravitated to because, you know, when I was a kid I was always documenting the family. I was the editor of the Harvey Herald, our family newspaper. I was the oldest kid in the family so I took the job as editor. But somehow I lucked into the social media in that it really, my daughter-in-law, Michelle Madden-Smith, who runs my workshops, got me Instagram just so the family could keep track of where I was. I didn't really even understand what it was gonna be. But it's turned out to be an incredible platform for me because, obviously I'm out shooting all the time, I'm doing current assignments, so I don't consider myself a teacher, but I am in a payback/pay forward philosophy. I mean my mom was a teacher. I started teaching when I was 22. When I was a grad student, I was teaching my fellow students. Seriously, and then I started doing workshops. So I've always been a teacher. So I'm always trying to get people to fall in love with something and then photograph it. And again, sometimes pictures work in a journalistic way to show what a place looks like, and sometimes it serves that purpose and then they also become art prints, collectors' prints, like this one for example. Yeah, I never really believed very much in supporting pictures. A lot of editors want pictures that maybe aren't good pictures but tell the reader something about something. I never believed in that. I'd rather just go for the iconic pictures and leave out, let the words or the caption or something else explain whatever you can. If it can't be an interesting picture then I just don't see any sense in publishing it. But not everybody agrees with me on that, but that's just my particular point of view. I don't believe in the bridge pictures, so to speak. All from the Cuba book, a lot of it in National Geographic. And again, a lot of it in exhibitions. And then Divided Soul, which is a combination of all of my subjects. Cuba, very directly about Cuba, Divided Soul about the whole Spanish/Portuguese diaspora in the Americas. Involves Portugal, Spain, West Africa, where they went, obviously, and then into the Americas. So it's complex intellectually, historically, but I take it just down to the basics with the visuals, with the picture part. I don't look at myself as being didactic by nature, but yet I've done all my homework, but I don't present things in an academic way. But I've got it, but I'm a photographer. Actually, Gabriel Garcia Marquez used this on one of his last covers. Whoops. That's okay, we gotta move it. I'm taking you through this kinda fast because I talked too much at the beginning, but I had to get that stuff out 'cause you need to know about that. Now let's just look at these pictures. Divided Soul was, I put on a piece of paper Catholicism, passion, machismo. I write down key words for what I thought the Spanish diaspora was all about. The nuclear weapon of the time was what? The horse, right? The Spanish brought 40 horses to the Americas and conquered thousands of Mayas. 'Cause they had the, the weapon of the time was the horse, from Arabia. But this is in Galicia, Spain. So the confluence of cultures, total immersion, no technical stuff except that what I do know, I know it, I know it, I know it. I know how to shoot black and white and I know how to shoot color, and my color doesn't have much color in it. People will say to me, David, we like your color. I said, there's no color in my pictures. They're all monochromatic. They're all one or the other. Martin Parr has many colors in his pictures. He has all primary colors in all pictures. Not me. Not me, I'm like this. Little girl moment. I was living with a family and she was on her way to school and she just had this moment, I don't know what it was. I got one picture. And then this is kind of an autobiographical picture, I think, in Tegucigalpa, Honduras. And I think now we can play the, yeah, let's play the video and then I'll answer some questions, 'cause I think that's gonna be the most important part. One quick video. It's actually a commercial for the X-Pro II, but I don't talk about the X-Pro II, but it's good. Produced by my son Bryan. Both my sons are filmmakers. It's all out there. Just waiting to be found. Waiting to be experienced. Waiting to be captured. Explore. Engage. Touch. Reflect. My philosophy for making images is my philosophy for living life. There are no barriers. It's all about moving forward, experiencing, connecting, and documenting that moment in time. I find that using photography, as a vehicle for immersing myself in the world, is the most exciting thing there is. My camera is an amazing tool. A little black box between me and the world to translate what I see with my eye and feel in my soul. Can we even capture what we feel in a photograph? I will never stop trying. I'm not sure if I chose photography or if photography chose me. But how do I feel? I feel lucky every day. I don't like to do commercials much, but stuff like that's fine, because I didn't talk about cameras, right? No, and I do use Fuji, and other cameras too. No, it was a great time to work with my son Bryan. We've worked on several different National Geographic television shows. And Michelle Madden-Smith, my daughter-in-law, she runs my workshop program. So yeah, I've got kind of a family affair going on. My kids, Bryan and his brother Aaron, both of them filmmakers. When I was traveling around the world, I took them with me. I've made so many mistakes, you have no idea how many mistakes I've made, and the only mistake I kinda didn't make, I mean I've had a few visions. Early vision about what photography could be, when I was a kid, and then by luck or by something, I had a vision that my kids were gonna only be kids for a very short time. And I saw my colleagues zipping all over the world, drugged by the prestige of being a National Geographic photographer, and they let their family slide. Now my family is just as dysfunctional as all the rest of them, anyway, but at least I took wife and kids around the world with me many times. I didn't take my kids to Disneyland, but I did take them to Malaysia. And other places. So yeah, so we work together. Michelle and Bryan are both busting it right now to have an online class that we're gonna put out there. 'Cause I have my in-person workshops, but they're expensive. I mean, you gotta fly, you gotta join me here, there, and everywhere. But the online classes are inexpensive. They've been working on this thing for a couple of years. But I've looked at most of them and I thought, you know, we were even gonna present it here and I thought, you know, we can push this thing a little bit further, so we're gonna take a few more months so that we can have it by Christmastime. But I just didn't wanna market something that wasn't exactly perfect. Not everything I do is perfect. Most of what I do is not perfect. But my books, my workshops, you know, I take, it's my pride, right? Everybody's got their pride about something. So I, you know, I take pride in my own personal work and I take the same pride with my students. Actually, in this room right now I think we've got one student. Anna, I think you're probably the only former student of mine here. Anna Mia Davidson, she's got a book on Cuba. But you were a student of mine in what year, Anna? '99? Does sound like, yeah. Well, we're here. But I don't get out to the West Coast much. Most of my workshops are in Europe and Italy, usually, or in the Outer Banks of North Carolina, or New York or, could be anywhere. So I don't get to meet this audience very much, but anyway, it's good to be back here, as I said. And I'm happy to answer any questions. Great. So I'm gonna pass the mic to, any questions. I'm happy to answer most questions. If you wanna stand up, please. Thank you for this presentation, it was great. I very much enjoyed it and it was great meeting you. And I have a questions, I'm gonna bring politics into this. You wanna what? Politics. Politics? Aww. Especially with what's going on now, and from my experience, I find now, in general, that people don't change their opinions based on what they read or the facts. They believe what they believe in. That's right. And with pictures, like 25 years ago, 30 years ago, you would look at a picture and you would believe that the picture you see is what was taken. And you're wondering are the pictures that we see today believable? Especially those taken by people like me who have not been trained as editorial photographers, or, you know, pictures on Facebook, Instagram. What's your opinion about that? Well, there's a lot of stuff that goes on that I have no idea about, but I think that, certainly the major and still-respected news organizations are gonna absolutely fire a photographer who manipulates a picture. Now, an art photographer can manipulate a picture all day long. I don't wanna get into the political part, but I'm getting to what will still answer your question. So art photographers can do whatever they want, they can manipulate, but photographers working for major publications like National Geographic or the New York Times or the Chicago Tribune, the Seattle Times, they're gonna get fired. They're gonna get fired by the organization. They're not gonna get fired because somebody wrote a letter to the editor. There was a photographer at the New York Times, I won't mention his name, it is a he, who was, a kid was on the street, gangs were on the street, kid had a gun right here, in his hand. The kid for real had a gun in his hand and for real things were coming down. And the photographer asked the kid, just raise your gun. Little better composition. Fired, career over. National Geographic? One photographer, very respected French photographer, took a picture of ivory from, he was doing a story on the ivory, what do we call those guys that steal ivory? What? Poachers! Right, poachers. It was real, the people really were poaching, the tusk really was real, except for one little detail. The photographer had taken real stolen elephant tusks, but he didn't have one right then and he went to the local police station and got it and gave it to the guy to carry. So they really were poachers, it was really ivory, but he did that one little juxtaposition of getting a hold of it. Fired. Not fired from that job, fired forever. Both of those photographers I just mentioned will never work anywhere again. In no respectable news organization. Are there fake pictures out there? Of course there are. People can photoshop any damn thing. But I'm talking about the photographers that are hired by the major publications. They get fired if they do that. The writers get fired if they do it too, and it happens quite frequently. So they do make mistakes, there are fakes out there, but I'd say the major news operations are gonna fire anybody for that. Again, that has nothing to do with the art world where you can manipulate and change and do whatever you want. So it's two different worlds. You walk into a bookstore, there's fiction and there's nonfiction. And photography's the same. It has to be labeled, fiction or nonfiction. If you check out David Alan Harvey on Instagram, you really will learn something I think. I mean that's what I try to do. I'm always taking my own pictures, I hope you like those, but more often than not I'm featuring other photographers. Burn Magazine too. Burn Magazine is another whole operation. We got a 20,000 dollar grant on Burn, no strings attached. This is all stuff that I'm, you know, I've been really lucky myself, and so my mom always told me payback, pay forward. So I really do put a lot of energy going forward into other photographers. So if you got good work, show it to me, I'll publish it on Burn.
Class Description
What is your photographic perspective and voice? Taking the time to craft your point of view is not only necessary in today's world of photography, it's also extremely important. But how do you begin? It's not easy, but learning from an industry veteran is an important first step.
Join photographer, author, mentor and industry icon David Alan Harvey for this insightful presentation, followed by a Q & A, on what it takes to learn about who you are as a photographer. He believes that it's through your photography that you can begin to express your point of view and what you have to say about the world around you. This means that you need to look in the mirror and out the window simultaneously.
Reviews
I think the course does a very good job of encouraging people to go out there and take pictures and building their own style. However, I'd like to address a question to David and I'll be very grateful if I'd send an answer. I'd like to know, for the photographer kind who takes pictures of known or merely unknown people or even in Dave's case with unknown people (like the picture of that black girl wearing something like a wedding train), do you always take model's consent to use the picture in your portfolio or to publish it in contests or wherever? And do you always have to take the consent? I imagine the case when a photographer walks on a street and sees someone who he'd like to take a picture of but without an intention to tell that person that he/she's had a picture taken of. Would the photographer approach that person after the picture has been taken to ask for a model release consent as a must if the photographer thinks the picture could be used in an exposition or even sold? I'll be glad to hear Dave's opinion and advice. Thank you.
I had a pleasure to meet David Alan Harvey in person around 6 years ago in Jamaica photography workshop. For a newbee photographer which I was back then, it was an honor to work with him and get priceless insights into photography world. Very happy to see him on creative live. This person is true inspiration.
Such an inspiring person. This was my first class on CreativeLive and I loved it. Love Mr.Harvey's work. I highly recommend it to every student! Thank you CreativeLive for posting it!