The Photography Starter Kit for Beginners
The Sensor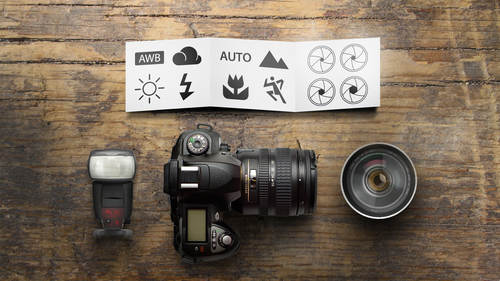 The Photography Starter Kit for Beginners
The Sensor
Lesson Info
The Sensor
next section is dealing with the sensor. So if this class was 20 years ago, would be talking about film. But we're gonna be talking about the image sensor in the cameras. There's a lot going on, and when people go to the camera store, they're not always so sure about what they're getting. So if you were to take your lens off, you don't need to do this. Open up the mirror and get rid of that cheddar unit. Behind that is the image sensor of your camera, and there's a lot of different image sensors out on the market, and the big difference that we want to talk about is the size of the sensor, because there's a lot of different cameras, and just as a side note, it kills me to have a phone up there. But, you know, I gotta put it up because people are using it. But there's a lot of different size sensors in these different cameras, and in general, the bigger the size sensor, the better image quality that you're going to get from the camera now. The largest of these common ones that you're go...
nna find available today is based off of 35 millimeter film. For those of US photographers that shot film and transitioned over into digital, it was very, very convenient to just buy a new digital camera that used all of our old lenses. And they all did exactly what we always expected them to do. And so it was a very, very convenient thing to do. And so this for good or for bad, and a lot of people search the Internet. You'll see people that hate the name full frame cause there's nothing full about it other than the fact it's the full millimeter frame. It's a good reference, though, because it's been such a popular choice. The problem with the large size sensors is that they cost a lot of money. And so, in order to make more affordable cameras, manufacturers started making smaller size sensors so they could make smaller cameras that were more affordable. And they'll have names like a PS and PSC, and that's just the size of the sensor I have mentioned. The 4/3 cameras use a little bit smaller size sensor and then some of the smallest size cameras. The bull point and shoots are using very, very tiny sized sensors in the camera, and we're not gonna worry about those little sensors right now. We're gonna kind of concentrate on the more serious cameras, which is everything from 4/3 up to full frame. So full frame is said to have a crop factor off 1.0, which is another way of saying it's exactly the same. Size is 35 millimeter film. So when you're comparing lenses and angle of view as we're going to get into, it's exactly what you would see with a 35 millimeter camera. Canon Nikon, Sony and LICA are your main manufacturers that make cameras that have a full frame sensor. Probably the most popular on the market is the A. P s sensor, and this has a crop factor of 1.5. And I'm gonna visually explain this here in a moment. But it basically means it's smaller by a factor of 1.5, and this is being used by a large number of manufacturers. AP S C C stands for Canon its Cannons version It's just a little bit smaller than the A. P s. It's a 1.6 crop actor and the 4/3 muralist cameras by Panasonic and Olympus have a two times crop factor. And when we get into lenses, you would multiply lenses by two times to see what they look like in 35 millimeter terms. So let me visually explain what this crop factor means. All right, let's say we have a full frame sensor and we're going to use the entire image area of the sensor to capture an image. Okay, there's our image shot with a nice wide angle lens. Now let's imagine. We took a crop frame camera and shot the picture in the same place with the same lens. What would happen? Well, the sensor is smaller in size, so we don't get that area around the edges. Okay, so we can immediately see that we've lost the area between the blue frame and the red frame and frankly, with kind of ruined the shot. All right, if we switch from a full frame to a crop frame to get this now, this full frame image was captured with a 16 millimeter lands on a full frame camera. If you wanted to capture that exact same image angle of view with a crop trained camera at 1.6 crop camera, you're gonna need a 10 millimeter lens. Now, I know none of you signed up for this class thinking that you were going to be going to math class, but we do need to run through just a little bit of math here. 10 millimeters times. Our crop factor of 1.6 gets us back to the 16 millimeters so that they are equivalent lenses. You're gonna get an equivalent angle of view between these two systems. And so if you're switching from 35 millimeter, all your numbers need to go a little bit whiter in order for them to do the same thing. Now, if you're looking at this and saying I don't like this crop factor, it kind of ruins the wide angle because now I got to go get a special lens for white angle work. I understand that, and that is true. But let's try this one more time. In this case, let's go up to Alaska using our full frame camera, and we're capturing a humpback whale breaching out of the water. And right next to you is somebody shooting with a cropped frame camera in the same lance. What are they getting compared to? What are you getting? Well, now that humpback whale is really filling the frame in their case, and they're not getting all this wasted extra pixels on the outside. In this case, we're trying to zoom in and get as close as possible with this. And this is where crop frame cameras have a distinct advantage. And so, if you're into sports photography or wildlife photography, it's going to be easier to dio reach out and get those shots that you want, filling the frame with your subject with a crop camera than it is a full frame camera. So let's look at the lenses in order to make this happen. So let's say you wanted to get that close up shot with a crop frame camera. You would need a 300 millimeter lands, nine inches in length, £2.5 gonna cost around 1500 bucks. OK, so that's something that I think many serious photographers can can make the budget for and make happen at some point. Now, let's say you're working with crop frame and you're thinking about moving up to full frame because you're thinking well, I heard it's better quality. I'll get better, better quality images. Maybe I should move up. Well, when you move up to full friend, you're gonna need to move up in lenses as well. And so if you want to get the same shot with full frame, we got to do a little math again. We take our 300. We multiply it by our crop factor, and we get the lens that we need for full frame 480. That's pretty close to a 500 millimeter lands. It's twice the length, three times the weight and seven times the price. All right, so when you want to upgrade, there's a lot of things that go with an upgrade. You know, remember you ever moved from a small house to a bigger house? Oh, this is so much better. Now there's a lot more vacuuming. The yard is a lot bigger and takes longer to take care of. It takes a lot more pain to go on the house, and the roof is bigger and the insurance is more. The upkeep is more. That's what you have to be prepared for. You will get better quality images, everything else being equal. But there is a price to be paid in financial and wait and in size. And so while full frame is great and you'll see people raving about it because it is very, very good, it's not necessarily what every photographer needs. I have a full frame camera because I take my photography very seriously and I want to go out and I want to get the highest quality images. I also have cropped trained cameras because I appreciate a smaller, lighter weight traveling camera. I went to Cuba a month ago and I took a crop frame camera my first time in Cuba. He would think I would be taking my photography very seriously. You could do serious photography with any size camera that you have. It's a matter of what fits your needs the best. So let's check in and see what sort of questions we might have either in class or online quickly. Anybody in in class about the sensor sizes? Everyone here know what size sensor is in your camera? Who does not know? Okay, what camera do you have? Hold up a microphone. Um, I just have a Nikon DSLR 3200. Okay, so you have a crop frame sensor. It's a 1.5 crop now. One of things. Have you ever asked somebody the question? Do you own a Ferrari and their answer? Waas? I don't know. I'm really thought about it. Chances are, if you bought a full frame camera, you noticed it when you bought it. Financially, it was kind of a big deal. So if you don't know, there's a good chance that you have a crop frame camp now. Exactly what size crop that might depend. So most of your basic run of the mill sub $1000 cameras are going to be an A P s or any PSC or potentially smaller size sensor. So, like you're a little Nikon, I can see right there that's gonna be a crop frame. Now you have a six D, right? So when you bought that was buying a full frame camera kind of an issue that you have thought about and contemplated? Yeah. For a long time I talked about it with my boss, my company for quite a long time. Yeah. What was that discussion like? It just kind of trying to figure out what kind of photography it was trying to get into and everything that you're talking about, the financial side of it. But for me, I do like more portraiture and product photography. And yeah, So I made this choice for me. Company by the camera. Yeah. Oh, nice. See, now that's the way to get into a full. All right? From online John Mars Romer ass. A clarification question is a crop sensor. Then effectively, just a digital zoom. Meaning if we were to shoot the same picture with a full frame and then crop it later with photo shop, are we getting the same results there is? There is potential pitfalls in that question that I don't want to get too caught up in general. Yes, it is. Very much the same is cropping it off and getting the resulting image. So in general, Yes, for any of the techies out there. Let's just let this pass, okay? You want to take one more? Maybe one more. Quick, quick. So this is kind of similar, but love Dubai said Can you explain how this affects printing your images crop versus full frame, or does it in printing your image. It makes no difference at all other than the fact of the smaller size sensor that you have probably means the less number of pixels that you have and that it's not as good in low light, so you might not be able to print as large of image. But there's a lot of variables when that when that goes into that actual printing process.
Class Description
Learn how to take the kind of photograph you'll want to print and pass on to the next generation. In this photography for beginners class, you'll learn the principles of good beginner and intermediate photography and get the skills necessary to create amazing photos.
Advanced cameras are available at modest price points, but learning how to use them takes an investment. In Photography Starter Kit for Beginners you will learn the the most essential functions of your camera and get ready to confidently put them to work. You'll get the swing of basic photographic terminology and totally feel prepared to move on to more advanced classes.
You will also gain a solid understanding of must-know lighting and composition techniques. John Greengo will guide you through the process of positioning yourself and your subject so you capture the best photo possible with the camera you have – no additional gear needed.
If you want to take more memorable and inspiring photographs of your travels, your friends and family, or the great outdoors, this photography for beginners class is for you. You'll learn how to make average pictures amazing photographs and gain the ground necessary to continue your photography education.
---
Class Outline: What You Will Learn
1. The Camera
John will take you on an introductory tour of all the major features of the camera. Get a beginner's introduction to the anatomy and functions of your DSLR camera.
2. The Shutter
Understand how the shutter works, and learn how you can use different shutter speeds to control the amount of light that comes into the camera. 
3. The Sensor
In digital photography, the sensor is what reads and processes the light that comes in when the shutter is open. Learn how this works and why it is so important. 
4. ISO
In film photography, ISO means film speed. In digital photography, we can change the ISO on the fly and adjust our camera's sensitivity to light. Used correctly, this is a powerful tool in a photographer's arsenal. 
5. The Lens
Arguably more important than the camera itself, the lens that you use will determine how the light enters the camera.
6. Aperture and Depth of Field
The size of the opening of the lens affects how the light is bent as it hits the sensor. Learning how this works will allow you to determine what parts of the image you want in focus. 
7. Focusing
Focusing is very important because we need to have critically sharp images. The most important thing, is to understand focus points on your camera. 
8. Metering
Metering in the camera is about how it reads the light. John will show us how to get the best exposures while taking pictures. 
9. Exposure Modes
The big dial on the top of your camera. This includes both the automatic, and manual settings, but John recommends only using the manual ones, even for beginner photographers. 
10. Settings and Workflow
John will detail his ideal camera settings, including file types, and best practices to save time. 
11. Light
This is a very, very important subject. There are four characteristics of light to consider when evaluating how it will affect your image. 
12. Flash
This is arguably one of the most complicated areas of photography, but John will break it down into a simple, easy to understand way. 
13. Composition
The artistic arrangement of the parts of the picture. Move beyond the technical understanding of your camera, to make the most interesting picture possible. 
14. 5 Steps of Photography
John will now move beyond all the basics in this photography for beginners course, and explain his personal thinking process for when he is going out to shoot pictures.
Reviews
I'm not sure my first review posted. But I LOVE this class! John Greengo is a great, engaging teacher who is really adept at representing the concepts visually and excellent at explaining them verbally. I love how he goes through examples with photographs he has taken. Even though I only have a Nikon Coolpix digital camera, it does have Manual, Shutter priority, and Aperture priority modes. Through his class I've gotten a really good sense of how to balance ISO, aperture, and shutter speed. It's a great overview for me especially since I am new to photography, I can play around with some of these settings, and I have a greater understanding of what I might need in a higher level camera in the future. Money well spend! (For $29, this is an absolute steal). John Greengo is an awesome teacher and I hope to take more of his classes in the future!
John is extremely articulate and is a great teacher with lots of visual aids and metaphors to help understand photography. I have been doing photography for a few years now and this class was a tremendous help in boosting my knowledge and refreshing my memory in multiple aspects of photography. The graphics that John uses are helpful and he even goes through images and asks which settings would be best to use and will go through the why. He makes things easy to understand and is very clear about the information he provides. I am so glad I took this course and I would highly recommend it even to an experienced photographer. Thank you John Greengo!
I am a semi retired hair stylist who is finally following her passion of photography. I have taken a class here and there and stumbled on Creative Live and realized the potential of learning is endless. Love love love the way John Greengo teaches. I am finally beginning to understand and retain so much. Thank you John, your the best. I hope one day I can meet you up close and personal. Thank you!