Leverage Sound
Jeff Emtman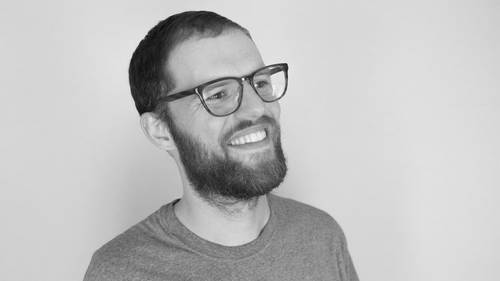 Leverage Sound
Jeff Emtman
Lesson Info
4. Leverage Sound
Lesson Info
Leverage Sound
So our next step after this is we have to talk about sound, right? Because sound is the medium that we use in podcasting and I think of sound as like the fluid that podcasts are suspended in. Right? If it's a solution. It's like the fluid of it. It's the, like visceral counterpart to the intellectualism that is interfuse. And it's something that I think, unfortunately, gets really ignored a lot of the time. Because it is our medium, I think we are obligated to, I think we're obligated to use it to its fullest effect. Now, (pause) like I said, I think that sometimes it gets glossed over. And sound, it's really a way of deepening ideas. But it can be really hard to conceptualize because for most of us, it's not our primary sense. We're so focused on this visual world that we can really forget sometimes that this is the medium we're working in. There is no visual component, at least not inherently. The visual component of podcasts is created by the listener's imagination. So I was thinkin...
g about this recently though because I took like an undergrad class. I think I took two or three undergrad classes in like sound recording and studio engineering and recording bands and whatnot. I got really upset in that class because my lab partner was so good at it. Like he was so good at it and I was not. I was really bad at it. And we would use the same source material, like we would have the same band come in and we would like record them and everything. As my mixes at the end of the day just sounded like garbage, his sounded so good. I just sat down with him one day. I got really frustrated. He's also a year younger than me. And I sat down and I was like, "Zackly. Why does it sound so much "better when you do this stuff than when I do this stuff?" And he said, "Well. The way I've always thought about it "is I've always thought about microphones "as paintbrushes, right, and you know, "you have some paintbrushes that can do wide strokes, "you have some paintbrushes that can do small strokes. "You have some paint brushes that pick up a lot of paint. "You have some paintbrushes that pick up like, "little dainty amounts of paint, "and I just paint a picture with the microphones". It's a little bit, it's a little bit out there, right? But I think he was right about this because he was using his primary sense, which was vision, to do this thing that was not visual. But using the same information that he already knew about painting to do the sound. And I, in the years intervening, have come up with my own model that's different and I think it's better but, (audience laughs) you know, I think about, I think about, my microphones as light sources, right? So there's, sometimes you have a microphone And it's just like a, like one of those Costco brand spotlights that's like, one million candle power, you know, and you're just like blaring down like the whole room with this and I'm wearing like a lapel mic right now and this lapel mic is meant to pick up my voice very crisply and record it. And not pick up you. So it's more like the light on your phone, which is like really bright and focused, but doesn't go very far, right? It drops off really quick and the mic that I like to use when I'm recording, is, I think of it like a candle, right? Because it's really soft and dim. It doesn't flicker. It doesn't (mumbles). It doesn't flicker but it's really soft and dim and you have to be really close to it to like have anything illuminated by it. But the light that you do get from it is just like the most beautiful, calming, soft light. And when I stopped thinking about my microphone as this abstract thing floating around in my hand. When I started thinking about it as this like candle that I was like, "What do people do when they have a candle?" and it's like protecting it from the wind, yeah. You're like, just kind of going around here and seeing the world end up dim lit. Granted, you know, in the pre-production phase, where this becomes really important is when you start conceptualizing your tape. We were talking about dream tape and I think that a lot of times when people do this exercise, they forget sound. So let's see. I think we're going to bring Plato back here. There he is. There's Plato. So don't forget about our buddy Plato in this step along the way as well. We need to repeat this exercise of thinking about our dream tape but also with sound. So again, since this isn't our primary sense, I think we need some sort of visuals to conceptualize like how sound exists. So I've been thinking about this lately in terms of like the six spectrums of sound. Let's try again. There we go. Six dimensions or six spectrums of sound, right? So the first and most obvious is volume like, when you're thinking about the tape that you want to capture, is your sound, is your audio, is it going to be quiet or loud, right. And then, is it going to be feeling like it's right up against you, like really close up against you? Is it going to be in close proximity or is it going to be much more distant, right? Is your sound going to be clear or is it going to be somehow obscured? This is clarity. What about the frequency of the sound? Is it going to be a low frequency sound? Is it going to be a high frequency sound? A mix of both? Is it going to be base, turbo, midst? This is another dimension that we have to work with with sound. We also have stereo. Most of these stuff that we listen to comes in two channels. Is your sound gonna be coming from the sides? Is it going to be coming from the middle? Left? Or right? Or both? And then of course, the most pervasive of the dimensions of sounds, the most (pause) the most, what's it called when something is just there for a moment? What's that word? [Man In The Audience] Transient. Transient. Femoral. Right? We have time. Is your sound going to be (snaps fingers) just there for a second? Or is it going to be like a long drawn out drone? All these things I'm talking about kind of more in abstract terms as far as like, let's get the sound of a bird flying by, or like, let's get the sound of a cow moo-ing, or, I'm on the animal examples for some reason today. I'm sorry but these things also all apply to someone's voice. The difference between, when your imagining your dream tape, the difference between you standing in a warehouse with someone and having like their voice like right up on the microphone and just sounding like they're in the other room. Versus if you choose to mic them from like five feet away, and like listen to the sound of like their, saying like their an artist or something like their warehouse space just like echoing there makes a world of difference in how the listener eventually hears the story. So when you're imagining your dream tape, imagine it also in terms of sound. Because we were talking about sound and how we use a lot of words for sound that aren't sound words, actually I asked for some help from some friends and we generated this list here of 51 non-sound words that can be used to describe sound. Now, for the sake of time and interest, we are not going to go through all 51 of these. But I was curious to know like these are all really funny words, I think. These are all words that either come from the visual world. A lot of them are sensation words, like warm and cold. There's also words from like science, like organic, evolving. And there's just some general, general, (pause) adjectives as well. Is anyone curious about any of these? You can just yell any of them out if you want me to tell you what these words mean to me. [Woman In The Audience] Shimmery. Shimmery. Shimmery. It's like, it's like if you, so shimmery in the visual world, it's like you look like a pond, right? And the sun hits the pond and the light goes kind of, "oooo", like that. It's the same sort of thing. I mean, I just did it there too with the voice. It's like "oooo", you know. It's just like "oooo", you know. It just like spreads out and it feels like, it feels like, it feels like the way we think that a shooting star sounds because of Disney, right? That's what shimmery means to me. (Audience Mumbling) Oh let's do boxy. Boxy is a really hard one for me to do. Oh actually it isn't. [Audience Laughing] So boxy is like, it sounds like a sound is coming from inside a wooden crate, right? So the easiest way is to do this. This is a boxy sound. (Audience Mumbling) Here. It's boxy cause' it sounds like it's inside a box, right? Any others who, (Audience Mumbling) We'll do gritty and crunchy at the same time because they're very similar. Grittty is like, okay so we're in Seattle right, and we're next to Tacoma, gritty city right? Am I right? (Audience Laughing) I used to live here and I'm worried that I've forgotten everything. (audience laughing) Gritty. So like, the idea of grit in sandpaper terms means that it has a texture to it. The word grit in terms of like our everyday life means, means that it has some sort of what would that be? Some sort of like, (audience mumbling) yeah, it has like a kind of (pause) tenacity to it, like a sort of, resistance is the wrong word. (audience mumbling) Yeah exactly. What was the word? I was talking to someone yesterday. The word we used was scrappy, right? A little bit of scrappiness to it. A gritty sound, like you can think of, you can think of Grunge in Seattle, right? Think about that guitar sound that associate with Nirvana or like Pearl Jam or something like that. It's like a little bit of grit. There's a little bit of grit in that sound. And oftentimes, not oftentimes, but sometimes on guitar amps, there would actually be a knob that's labeled, grit, or on pedals. That's not unheard of. And same thing. What was the other word we were talking about? [Woman In The Audience] Crunchy. Crunchy. Crunchy is like kind of that but in the high frequencies, if that makes sense. It's like a very high frequency thing. It's like you stepping on a walnut shell. You know, it's a crunch, but you know, that's the sound, that crunchy sound when you crunch something or if you add those like high frequency distortions into something. What's a crunchy sound? A crunchy sound might be like if you're at the train yard and like they're building a train and it's like the sound of like, like two cars like getting connected together and then like all that, just like metal and wood just running into each other at a low speed and it's like a crunchy sound. I mean it's also kind of a crunch too. Let's do one more. I think. [Man In The Audience] Visceral. Visceral, that's a hard one. Visceral. Visceral is a sound that makes you feel something right? So this one's a little more abstract. It's a sound that makes you feel something. It's viscera right? Isn't viscera is the (mumbling), like the body sense. Right? And so, if you have a visceral sound, you should make one of your organs feel something. Doesn't matter which one, right? Some sounds are like that and that's not something that's universally recognized. For some people, exactly, for some people, the finger on the chalkboard is a very visceral sound. My brother can't stand the sound of styrofoam, right? That's a pretty common one. I know other people that can't stand the sound and this is also pretty common too, of like lips smacking together, right? Or like a dry mouth, you know? (audience laughing) Those can be visceral sounds. You know, you keep thinking about these things. [Woman In The Audience] What about present? Present. Present is a sound with a lot of presence. It's a sound of a lot of high frequencies. Yeah, it's more from the like, you know, like I'm being present here with you sort of thing. I think it's two different origins though. Anyways, this is a fun list. I had some help making this list and I had some people who worked this out. Interestingly, one person who worked this out said that this was a really bad exercise to do because he said that, one time, he worked in video games. He works for like video game design and sound design for video games, and he said that one of his clients once heard the word, (mumbles), and didn't know what it meant and just started using it to describe everything. (audience laughing) And so, what he said is, okay this is actually applicable though, so what he said is that like these words are all fine and dandy but what's really important is that if you need to describe sound and this is good in the terms of like imagining sound, dream tapes, sort of thing. If you need to describe sound, it's not like you need to reference this list and be like, "Wait. Is it dull or is it boxy, right?" That's not the takeaway from this lesson. What it is is to find words that make sense to you and then when you need to describe them, describe them further. So he worked with visual people and he said, to his client, he's just like, "Tell it to me in colors". And the guy goes, "Well it needs to be a blue sound". He's like, "Great. What's a blue sound?" and the guy's like, "Well, it means it has this "sound and this sound and this sound". And he's like, "Great". And so he knew what to do at that point. So it's not to say to say that these are like the 51 words that you need to know in sound. It's just to say like, develop a language for yourself and for others that you can use so people know what you're talking about and you know what you're talking about when you're trying to imagine what kinds of sounds you want to record for your pieces.
Ratings and Reviews
This class has a lot of really interesting insights and ideas. It is definitely focused more on narrative/interview/experimental style podcasts, but I think anyone interested in any aspect of podcasting would enjoy listening to Jeff speak on the subject. He's a really unique person with a really neat perspective on the medium, and sound in general.
Jeff definitely communicates the ideas very well and he is a compelling storyteller. The course offers many useful concepts. However, in my opinion, these little nuggets of insight are strewn about in layers that will have to be discovered as one gains more experience and spends more time honing their craft. I feel, for example, that while I picked up a lot on the techniques, many more aha moments will come about as I keep at it and encounter moments that I will connect back to these lessons. Then I would have peeled away another layer and deepened my understanding. This is a course that will continue to hold value long after you've completed it.
Student Work