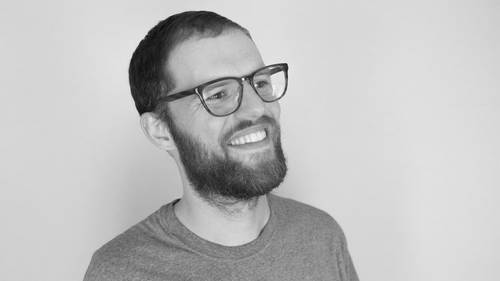 Lesson Info
Q&A
How did you plan and preproduce your first episode? She's assuming that your strategy has changed and evolved into where you are today. Yeah, that's a long time ago. I remember it. So, my first episode. What's it called? It's called Prisoner Cinema, and it's about this phenomenon that happens. It's named after the idea that you've been imprisoned in a dungeon, or like in somewhere without any light, and it's what happens when your brain is deprived from vision for long enough, it'll start making movies for you, it'll start making scenes to play out for a lot of people. I'm not sure if this is universal, but for a lot of people, little scenes will start playing out, and the longer you stay under, the more deprived your visual cortex gets and the more exquisite these will be. And my first episode is about being in this underground bunker for, we were playing hide and seek down there, for I wanna say like an hour or two, and by the end of it, I was starting to see this stuff. I'd recent...
ly had some eye surgery in one of my eyes that was really contributing to this. I was having visual hallucinations that were very much more real feeling because I was in the dark. Now, how did I go about doing that? I spent months on this piece. It's not very long. I would say it's like 12 or 15 minutes long, and I spent months on it. It's not great, you know? I was trying, you know, I hadn't done a lot of this stuff that I'm talking about because I didn't know. And it was really painful, you know? I mean, you're not doing anything if it's not painful. It needs to be something painful, but it just shouldn't have these elements of, like, the dread that seeps into your everyday life sort of thing. I can't remember exactly the process that happened that many years ago, but you know, it's rough when you're starting. It's rough because you have to connect dots that you've never had to connect before. Just knowing that it took you several months, you know, to do that first one is incredibly helpful as well. Questions in the studio, yeah? So, I've seen your podcast, and I listened to it, but now I'm completely signing up. I'm enthralled. Well, thank you. Okay, so that said, and now I'm fascinated. How many episodes do you do? How do you break it up into seasons, how do you plan and record? So basically like, what's the process of you start getting these ideas? Do you have a common theme per season or do you start just playing out? Just throw it at me. Yeah, absolutely. Well, thank you immensely for signing up. Since the show got picked up with KCRW, you know, I've been very lucky in that I've been able to dedicate more time. I brought on a co-producer, someone I worked with in college, actually, and we have been doing 20 episodes a season, which is a year, and in nine month increments. So it's like 20 a year. That's a pretty low output, honestly. I look at these shows that put out five episodes a week. I'm like, wow, like we just hit 100 six years in, you know? We just hit 100 of these. It's something like, I think it's like 35 hours or something like that. That's not that much in six years, you know? But they're really produced, so they take a long time. We don't do topical seasons per se, although I have to say my interests kind of vary. I go in waves between interest in religion, interest in bugs, interest in personal stories, like these sorts of things. I kinda bounce around, but we also take pitches from outside producers, and my co-producer has her own set of interests too, and so we kinda bounce around on that. I feel like there was one other question that you had asked that I have forgotten. Did I cover it? That's pretty much everything for, when you sit down, do you grit out a year? Do you assign like per month to do each topic? Like, how does this roll out? I mean, my editor wishes that we gritted it out, yeah. I'm usually, see, it's funny that I'm talking about this because I do not always practice what I preach. I wish I did. I'd be a better producer if I did. And I don't plan things as much as I should. Yeah, planning is really helpful in a lot of circumstances, not every circumstance. Some things, like that episode I talked about, is better because of the lack of planning. It's really hard, especially when you are the one pulling all the levers, when you have to simultaneously be the creative one and the one who's anal about deadlines. It's like you have to, I mean you shouldn't, but the place I'm at right now is where I've fractioned myself off, where it's like, okay, so I'm gonna spend an hour being anal retentive about deadlines, I'm gonna spend an hour deep off in thought somewhere, I'm gonna spend an hour editing, you know? And really, they should all be the same person, but when you're doing all these jobs, it's really easy to get fractioned like that, and I haven't figured out how to unify that yet, you know? This is six years for me and I still have plenty to learn. Jeff, I'd like to hear a little more about you going into the field. I've had the experience, as a producer, of putting a mic in someone's face and them clamming up, so I'm curious about what the equipment you use is and how do you work with an interviewee to help open them up. That's a real good question, you know? Just going off of something you said at the very beginning of how to get into the field, you know, we're at a stage where I think this is changing now, but still, almost no one in the field studied radio, you know, or studied podcasting. I think that's changing now. I think there's starting to be college courses on it and whatnot, but six years ago, I was still very much in the realm where I was explaining what a podcast was to people, and that doesn't happen very often anymore. So, one thing I wanted to mention on that was like, if you're feeling imposter syndrome because you don't come from the podcasting world, don't worry, almost no one did. I came from photography, actually, and kind of as I graduated college, I realized that I didn't, I wasn't, I don't know, like, this is weird to say at a place that does so much photography. So, I felt like I wasn't very good at it, and it made me miserable, and I started working in radio around the same time that I started having problems with my vision, and when I started having problems with my vision I was like, great, I can't focus a manual focus lens anymore. Like, how am I going to cut it? And so, what I did, though, is I took, and it's not one-to-one, of course, but I took a lot of the knowledge that I gained from photography and I tried to translate it to sound. So, my photography was very much focused on dusk times and dusk worlds, you know, like the things that happen when the sun has just dropped behind the horizon or just about to come above it, right? That was what most of my photography was. And that's really kind of what this show is is just the podcast version of my photography. It's the same sort of thing, except with talking, you know, still photos don't really talk to you in that same way. You'd asked about equipment. I think equipment's a whole other can of worms. What I will say on that just very briefly is that we are very lucky in the time we live in now that really good equipment is really affordable. When I started doing the show, I was using a recorder that's maybe worth like $150, I was mixing on headphones that I already had, I was using a computer I already had. With software, you don't have to spend a ton of money on software, even though some people think you do. The software I was using was $60. You can get started for an exceptionally frugal amount of money. That being said, as I got better at it, I found the shortcomings of my setup and I upgraded it, but still, like today, if you take my computer out of the equation, I think my whole setup is worth less than $1000, you know? I've got it in the hotel room safe right now, but it's like, I'm sure everyone else that presents is, you know, I'm just really glad I don't work in video, you know, where it's like you can't get started in video for less than two grand, really, you know? At least that's my impression of it, 'cause you need such fancy computers and stuff like that. You don't with audio, it's really easy to start. I'm gonna go to online and then head back over to you. You talked earlier about sounds that make you feel as we were kind of going through all the different types of sounds, which I loved. And now you're just talking about being a photographer and the visuals that make you feel. Can you go a little bit more into creating sounds that make you feel? Yeah, I really started thinking about this after I went to a great talk that, the producer, she's a British producer named Eleanor McDowel, and she makes a podcast for the BBC called Shortcuts, and she also has this great project that is part of the reason I found out about (something)'s work, called Radio Atlas, where they take foreign language documentaries and translate them into English, so it's like you watch the subtitles for a foreign language documentary, which is fantastic, and you can experience really different sorts of stuff. I went to a talk that Eleanor gave about body genre podcasts, and she made this really interesting point that we have this negative association with body genre, whether it's like horror, like, things that make you feel disgusted, or aroused, or just unsettled, or like things that don't speak directly to the intellect, right? There's this weird hierarchy that we have. It's like, why is the intellect valued more than the body in documentary? And she gave this great presentation about, like, making the argument that we shouldn't necessarily write off something just because it makes your other organs feel something, not your brain. And I've kind of tried to take that to heart a little bit where it's like, what can I do to sound to make it have a body effect? Because that's deep. That's what I was talking about when I was using that kind of abstract example of sound being the fluid that podcasts are suspended in, which is a weird way to say it, but it's the same thing. You know, how you make sound feel for somebody, it's mostly a question that you have to reflect back on yourself. You have to figure out what makes you feel something. When you note that, it's a good time to write something down and be like, ooh, this thing I heard, it made my fingers tingle, or it made me feel like I was in my hometown, or it made me smell something, or something like that. These things will happen if you listen to them, if you listen to your body for them. And so, it's just a matter of, yeah, it's mostly a question of self-awareness, figuring out what you like, and chances are, I mean, not guaranteed, but chances are, the stuff that you like, other people will like too, and they'll tell their friends who like the same things, and those people will tell their friends who like the same things. And it takes time. It's not like something you can just Facebook ad like, hey, this podcast has a sound that makes you sell strawberries, you know? You can't really target that. I don't really know much about that world, about that. I know about the world of, like, I'm gonna make the work that I like and hopefully other people like that too. I really appreciated the clip that you played for us in the other language, and it kinda sparked two curiosities for me, the first one being, you were particularly using that example as a way that you kind of step away from the dread. But what I did when I listened to it, I'm ashamed to say, is that I closed my eyes, and I went there, and I pictured the person she was talking to, the scenery, all the things, and then, as I knew it was closing 'cause we were getting close to a minute and a half, I opened my eyes and you started to speak again saying she's so good at her craft. And I'm thinking the same thing like, she is so good. I don't even know what she was saying and I was moved. And I instantly went to, I don't think I'll ever be that good. So, instead of fear, I go to comparison, so I'm curious, did you ever do that in the beginning? Do you ever struggle with that now? And then, totally unrelated, I actually listened to your latest episode this morning while I was getting ready, and there was a piece of that where we went to listening to her talk to her mother, I believe, in her language, and so it jerked me down that path as well, and that whole episode, I was thinking to myself, occasionally, is this person walking around this town where her father grew up holding a microphone, or were you or somebody there with her on this journey physically recording all of that? So, sorry for the unrelated questions, but that's where my brain went. So, your first question is about comparison, right? And your second question is about the making of the hundredth episode that we released. I'll start with the first one. The comparison thing, I mean, I wish I had a good answer for you on that. It's going to happen. Like, you're always going to look at the people you admire and be like, there is no way, right? There is no way I'm going to get to that level. What I found really nice about podcasting, and I unfortunately did not find this true in photography, I think partially because photography is very saturated. Like, there were so many people in it, there were so many people who were talented, there were so many people that was better than me. Podcasting might feel that way, but it's still a much less saturated market, and because of that, I've found podcasters to be incredibly kind, and welcoming, and open. I found out about Rike's work because I went to a conference and she was presenting there, talking about how she thinks about sound. And I just walked up to her afterwards, I was like, hi, I got a lot out of this presentation. This is great. And then we just kind of started an email correspondence, and she had no reason to talk to me. I was only two or three years into this show, you know? And she was incredibly generous, you know? And there's just a lot of these really talented people in podcasting who are very open to sharing their processes, and generous with that. And you know, just the more you talk to people, you talk to them about their early work, and most people didn't make good work when they started. Like, there were ideas there, but they just weren't baked long enough, you know? You're gonna always compare yourself to other people. I think one person who has been really open about this, actually, has been Ira Glass, and he's written some really good words on his start in podcasting, or in radio, and just how bad, he like had some of his original scripts, and they are just so bad, and he talks about how bad they are, and he talks about, you know, the main difference between people who succeed in a field and people who don't is just their persistence, you know? No one starts good. You know, I only succeeded in this because I ate lentils for three years, you know? And I dedicated a lot of time to it, and most of the other people who started at the same time with me decided that they wanted to make money, and I decided that I like lentils. (laughing) Just really quick to your second question, she was walking around by herself. Yeah, no, she bought a recorder. She wasn't a radio person, she was a writer. This is an episode that we did where a woman in Denmark, actually, walked around the country kind of trying to figure out her dad's life and why he, this is weirdly parallel, but why he kinda disappeared early in her life. But yeah, she just bought a recorder and recorded that herself, yeah. This one back here. Thank you so much, this is so rich in so many ways. And my question is, I think, you know, once you get popular, and you're six years in, and you have a big sponsor or producer behind you, I can assume your goals change, but I'm curious what was your goal, vision, and intention for when you started? Like, what was success when you first got started and maybe how has that changed now? Yeah, I was actually, I was listening to something. When was this? A couple days ago. Oh, no, it was actually this morning. I just was like, I wonder what the oldest thing on the feed is, you know? I scrolled back. Don't listen to it, please don't listen to it. But the way I was talking, I was so, I mean, people talk about, like, the idealism of youth. I always rolled my eyes at that 'cause I was like, I'm gonna be this way forever, you know? I was like, oh my god, I thought I was going to change everyone's mind about everything and everyone would think the way I thought about everything. This is more personal neurosis than advice I have to offer to you, but in those intervening six years, I've realized that I used to think that everyone secretly thought the way I did and just didn't know it yet, you know? That's like kind of maybe too much information to share with the whole world in a moment like this. But in the intervening six years, I've realized that that's not true, that that's not true and that's good. That's good because I'm wrong about a lot of things, and that's something I use in my work a lot is my wrongness, you know, if that makes sense. Any more questions? This is kind of a personal one, but you talked about having eye issues, and I'm curious, how has that changed your relationship with sound, when your eyesight started to deteriorate? Well, throughout the course of the show, this production, I started the show nine months after I got a diagnosis with a condition that, I mean, in so many words, means that my retinas weren't made right. And at varying times, and it's only my left eye that bugs me, and so, sometimes what I talk about on the show, actually, this is what the first episode is largely about, is how my right eye is pretty much normal bad vision, just like I wear contacts and glasses to help with it, and then my left eye, especially during the first two seasons of the show, was giving me these visuals constantly that sometimes it was just like orange lights flying by, and sometimes it was this impossible color, is what I called it, like this green-black color that would just form these cumulus clouds in my vision that would look like, oh, it looks like a dog today, or oh, it looks like, why am I doing animals? (laughing) It looked like a cow, right? It used to be a lot worse. I've had some really good doctors in the intervening years, and now I have a bionic lens. I'm like a cyborg now. Like, I had them go in there and they took out my old lens 'cause I had a cataract eventually, and they replaced it with this other one. So, how does that affect my work? Like, it's annoying because I can't see as well. Like, as you noticed, I used paper notes today instead of reading off the big screen over there, 'cause I can't reliably read that. I can kind of read it. But it's affected my work in a very practical way, which is like, sometimes I've kept myself leaning into the computer screen and that's not good for my back. On the other hand, like what I used to do, especially in the early days when I was having more vivid hallucinations is I would sometimes walk around with my hand over my good eye and I would just kind of look at the world in this, like, it was weird because it bowed in in the middle, so it was kind of like walking down, it was always like walking down a tunnel, 'cause the middle of the world, and then at the end of it, there was a black hole, right? There was like a dead spot where I couldn't see anything at all. And so, it was kind of like walking it, I don't know, kind of like what people talk about with flying down the tunnel, except instead of a bright light at the end of it, there was like a black, like, fuzzy, staticy spot. And so, I tried to use that in the early days as a reminder that just because I see something doesn't mean it's true, just because I hear something doesn't mean it's true. Like, don't trust yourself, don't trust your senses. Your senses are lying to you at every chance they get. That's how it affected my work. Fascinating question! I think everybody here is like, wow, we could listen to you for days! Could you give us just some final words just on, again, for people who are just starting, and again, final go forth and conquer. Yeah, I mean, one thing, I mentioned this just very briefly, this idea that no one, well, most people didn't come from podcasting, so when you start, it's really easy to imagine, with that imposter syndrome, that people feel that, like, oh, everyone knows this secret that I don't, you know? And it's not true, it just comes from experience. And so, the thing you can do, though, if you want to feel a little better about it, is like, I think everyone's probably pretty good at something, right? Maybe it's not something, like, even in the creative field. Maybe it's like you're a good parent, or like, you're a good driver, or you're a good cook, or writer, or something like that. There are things that you have learned by becoming very good, by dedicating all that time there, that you can kind of supplant. You can say I learned this lesson from here, right? So, for me it's like, I learned this lesson from photography, that's like, my lesson was, like, I like dusk, you know? I like dusk, I like dawn, I like the ideas that come when you're in those moments. For you, it's gonna be something else, but you can take that and you can just pull it over here and be like, okay, so how does this affect how I look at podcasting? How does this affect the way I'm interested in sounds, or words, or ideas? And when you do that, you kind of get a step up. You don't have to start from square one, right? Or square zero, for that matter. You can start with a little edge in there, and that's gonna be your angle. That's gonna be the way that you present yourself. You don't have to reinvent yourself, you just have to figure out more about who you are, and learn how to listen to yourself.
Ratings and Reviews
This class has a lot of really interesting insights and ideas. It is definitely focused more on narrative/interview/experimental style podcasts, but I think anyone interested in any aspect of podcasting would enjoy listening to Jeff speak on the subject. He's a really unique person with a really neat perspective on the medium, and sound in general.
Jeff definitely communicates the ideas very well and he is a compelling storyteller. The course offers many useful concepts. However, in my opinion, these little nuggets of insight are strewn about in layers that will have to be discovered as one gains more experience and spends more time honing their craft. I feel, for example, that while I picked up a lot on the techniques, many more aha moments will come about as I keep at it and encounter moments that I will connect back to these lessons. Then I would have peeled away another layer and deepened my understanding. This is a course that will continue to hold value long after you've completed it.
Student Work