Small Business Finance Basics: QuickBooks & Beyond
Day 2 Pre-Show
Ken Boyd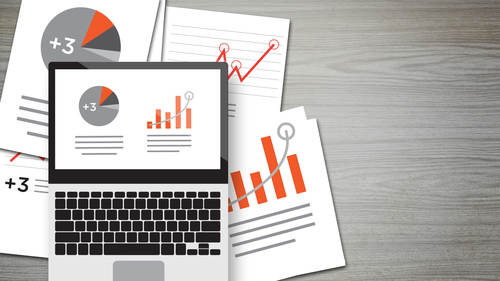 Small Business Finance Basics: QuickBooks & Beyond
Ken Boyd
Lesson Info
12. Day 2 Pre-Show
Lesson Info
Day 2 Pre-Show
welcome today to a small business finance basics QuickBooks and beyond with Ken Boyd right here on creative lives. This is Chris Jennings. This is Evelyn Danford, also known as E V. That's right. We're gonna be your host for the remainder of this course. We came into this yesterday. Kristen myself did with a lot to learn. I'd say, in terms of business, finance, quick books, accounting in general for a business. And I feel way ahead of the game compared to yesterday already. How about you, Chris? Yeah. A lot of the terminology that can win over helped me a lot. There were words I had heard before, but didn't really have a firm grasp on things like Vendor and Invoice and Pio, all of these things that he actually illustrated in the interface step by step in QuickBooks. So that helped me a lot. The clarification. I completely agree. The clarification of words that I kind of thought I knew and then realized Well, actually, if I had to define it probably wouldn't have been able to do it unti...
l yesterday. Now I can be cleared up a lot of it for us. And that was just a one. We still have two more days to go way doing. We're very excited to get started. But we also do have some people here in our studio audience, and you may have seen them yesterday. You may be wondering to yourself, How can I be one of those people who comes to the studio to ask questions in person? It's very simple. We have a way for you to do it. If you are interested, you can go to creativelive dot com slash front row, and that's gonna have all the information you need to become a studio audience member here in San Francisco as well as in Seattle. So you can go check that out if you want to be. One of these lucky people in here is quite the experience to be in here and creative live as a student, and we time and time again, we'll talk to students. It's incredible to be able to participate in the chat room, but even more of an experience to be able to be right. It is wonderful. So for those of you who missed out yesterday, we are going to go through and have everyone here in the studio audience, just reminding everybody who they are and where they're from. And we'll go through from right over here. Hi. I'm Candice Betty from Huntington Beach. I want to make a quick comment. Something I appreciated yesterday was, uh, can mentioned cash versus accrual basis, And I I've always operated on a cash basis. And I really enjoyed the explanation of why he said to do the accrual basis, really matching your expenses with your income. And that really made a lot of sense for me. So thanks again. Great. Thank you. Thank you, Josh, from Francisco. And I'm hoping QuickBooks can help me manage some rental properties. Terrific. Thanks. Thank you. Hi. My name is Jackie O. And I live in San Francisco, and I was hoping to get more comfortable with QuickBooks, and I'm definitely that's happy. Terrific. I am Christine Sugrue and I live in San Francisco, and I'm new to quickbooks and enjoying getting to know anymore. Thank you. Hi. I'm Renee Hopkins. I'm from Sacramento and enjoying the information from can, especially about the operations, a manual, cause I can see the value of having that. Absolutely. I think a lot of our of our audience in the chat rooms as well. Felt. Yeah, we had a lot of people in the chat rooms yesterday. Quick shoutout to some people who are joining us yesterday, the international audience from all over the world. We had percent the movement Ontario, Canada, mark in Boston, Catherine Ivanovich in nearby Oakland, California, and Dick Horner was joining us all the way from Germany. So thanks for everybody joining in yesterday. Some of those same people I see already coming into the chat rooms today, so we look forward to another day of chatting with everyone from around the world. It's really cool that we have a broad audience coming from all over the world. It's very exciting for us creative life and those of us that creativelive we're a little spread out as well. We have some of our creative life. Favorites are in Seattle, and some of us air here in San Francisco today. We're fortunate enough to have one of our Seattle faves right here in San Francisco with us. So we thought we'd bring her up here and introduced the less to You guys have been around creativelive for 3.5 years arm or I believe that's what you come on up here. I didn't want to tell everybody who you are creative life just yet. I thought I would let you introduce yourself and maybe share with everybody who you were before you found creative life. I attended the banker film school in Canada and originally wanted to be a traveling documentarian and came moved to Seattle and started getting involved in documentary deadlock, music videos, a lot of corporate videos for Microsoft and, uh, discovered that traveling documentary wasn't for me traveling Waas The working and travelling thing you've ever done. It is a lot less fun. So I started going into producing, really enjoyed that and started a lot of production managing producing around Seattle and eventually stumbled upon Creativelive. Ah, friend of mine, then went to film school with is Chase, Jarvis's editor. He connected the two of us, and back then it was just a small, little adorable start up in a tiny little room in the back of ah art studio in the Seattle, and it it was love at first sight. It was just such a great group. There was under Levi five or six of them then, Well, Kenan Kenan with their season was there. And, uh and that was just the gratitude that I received from the crew for having a producer. They don't think they really happen before. May was kind of overwhelming, so it it was easy to come back out when you're when your work is appreciated, Producers are important in case anyone way need are producing eso. So you have been a creative life for a while now. I'm sure you've seen a lot of things. You have a lot of stories. You have any particular story that you love to share with everyone. That kind of gives some insight on what it's like to work in this environment. Yes, I've got a lot. Which one? What? I think what really blew me away when I started working with here was the power of the audience, especially when we first started. We didn't have a lot of money for the budget. They were pretty, pretty small, and I was the only producer I couldn't divvy at work and to source props and all that kind of a one man to man show. So when we needed, we had these big photographers coming to a Zacarias with the Adler and, uh uh with Gail Tattersall always great names coming to us, warning these incredible models and all these props and these huge set design ideas, like Do this with nothing and ever Creeks wants in, the founder would say, Let's just talk to our audience. Let's see if they'll bring it to us. So we've got this fantastic habit of sourcing all of our props from our audience. We just get on Twitter or get on Facebook and say, Hey, you know, our producers were looking for vintage luggage or vintage typewriter or this type of couch, and we would have audience members from all over Washington are to Seattle, drive hours to drop off props and just kind of hang out while we used it. And they get to me, the instructor and they left super happy. We've got free props, and it happened all the time that it was just amazing how people it's coming the woodwork to help us. That's incredible. That's incredible. And I think that we still kind of represent that here in a way, maybe represent isn't the right word, but I feel like our audience has so much gratitude towards us, and we have even more gratitude towards them. Were just all the big love last year. Way really wouldn't be anywhere. Way started on Twitter. We didn't have marketing. We didn't have anything. We are the audience. Spread the word about creativelive and that was it. We didn't have a marketing team, so it really waas form from the people on Twitter. And they've they've saved us. The audience has come through for us time and time again. I was telling you guys before the show about a fantastic story about actually tell you different one way our first remote shoot, uh, way went out of the studio, which is a very big deal for us. Uh, we were on location is big, beautiful house, and we're very nervous. I've never done this before, and the Internet crashed within the first 10 minutes of shooting, like the Internet went away, there was no there's no way to broadcast blood were freaking out, of course, and we got on Twitter to Comcast because they weren't answering our calls it out, and there's nothing we can do about it. Way had all of our audience start tweeting Comcast telling them to fix the problem. We had someone from Comcast call us, come out and figure it out. And we were back up within half an hour or so. So you guys big? Thank you. You, all of you. There's a lot of fun that happens both behind the scenes and right in front of the camera here, Creativelive And I know you've been around for I've actually witnessed some really fun home. If you have any any of your favorites that you'd like to share fun moments in front of the camera behind you know your your big way have Oh, gosh, I personally have seen the last swing dance your way I got paired with an instructor and I'm a swing dancer Lindy Hop to be precise And Asahi when he came on, said he was wearing zoot suit the first time I met him and I'm like, Oh, you dance, don't you? And sure enough, it was not just swing dancing with the same type of dancing I did so we would have our meetings here in this area. We had a wooden floor then and I would come out and talk about what we're gonna do in the next segment and the guys here. Amazing. We just play swing dancing music over that breaks. And I love this song. So we're sitting here talking about what we're gonna do next. Waiting indicative a creative life. Employees in general, I feel like everybody is very have a lot of fun during the breaks. A lot of good music speaking. You probably see it over the camera. Oftentimes we'll carry on with our shenanigans and be like, Oh, yeah, the cameras. Well, that was I know we're getting close to where we need to get into the show, but that was a successful moment. A very successful fund moment. I think you have some embarrassing moment. Which, yes, I think probably it was sweet, but a little there saying that he had a posing workshop with the instructor named Bambi Cantrell and they needed a She wanted a woman, a mature woman that maybe didn't have as much definition here. And, you know, I think she wanted ableto show how to pose that a more mature neck line that some women get. And I ask for that in the model. Mom, my Mom was happy to do it. She came on and she's a beautiful woman. So she came on and did it. And then, uh, Craig Swanson live. It's like, Hey, I have an idea. We could get Celeste up there, impose with her mom. And, of course, everyone like, Yeah, yeah, I come up, I have my eye fbn which is how we communicate with the booth. So I have all of my crew in my ear during this saying everything okay? So much fun at me while I'm sitting here posing Micron, Of course, to my mind. E apparently very emotional moment for her. She's here with her daughters work and big, and she leans over. I work in front of everybody. And of course I'm sure the guys had you hating heading with it. I didn't know that story, so that was a pleasure. Thank you so much for coming on and talking. Always great to have you in studio. Thanks a lot. I think now I think we're just about ready to get started. It's very excited that we're here on day to our instructor. Ken Boyd has over 29 years of experience in education, accounting financial services. He's a former c p A. And author of Cost Accounting for Dummies and co author of Accounting All in One for Dummies, both of which are available. If you have interest, they're available on Amazon. He is also the owner of ST Louis test prop and a small business owner himself. He also works professionally, guiding other small business owners, giving them feedback and guidance so that they can reach their own business goals. He is a terrific instructor and a joy to be with here. Creativelive can. Why don't you come up here way? Had a great date yesterday, and I know we've got plenty to do today. Just let you take it away, okay?
Class Description
Accounting can be easy if you know how to use the right tools. In this course, Ken Boyd offers an in-depth introduction to the accounting and QuickBooks skills that are the foundation of every thriving small business.
Learn QuickBooks Online
Ken covers everything you need to know about understanding and managing your business's cash flow to insure that your business stays profitable and that you have the right amount of money at the right time. You'll explore the principles of making sound business decisions that both grow your company and protect your bottom line. Ken will also cover best practices for integrating QuickBooks as an accounting tool, from setting up payment and invoicing systems to generating accounting reports to paying your company's bills, and much more.
Whether you're a first-time entrepreneur ready to learn the basics or a long-time business owner looking to sharpen your skills, this course will give you the tools you need to confidently manage your company's finances -- no stress or guesswork required.
Class Materials
bonus material with purchase
Ken Boyd Keynote.pdf
Ratings and Reviews
Student Work
Related Classes