Story Structure
Jamie Jensen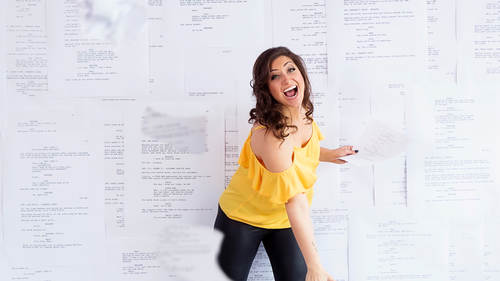 Story Structure
Jamie Jensen
Lesson Info
9. Story Structure
Lesson Info
Story Structure
I want to just go through a basic story structure and model and teach you guys, all right, well, all these story types are great. It's given me a lot of direction on what to use where and different types of stories I can use. But what if I just want to tell a story for a Facebook ad or what if, this lesson is going to give you just a basic framework that you can use when you just want to generate a story and the basic points you want to be hitting on. So, in case you're wondering where do I start with crafting a story for something like a Facebook ad or an opt-in page or what do I need to know? Or if I'm writing an email marketing newsletter or blogging about something and I just want to share a story. Basic story structure, and this is, you know, kindergarten, every story has the basic three, right, a beginning, middle and an end. So you have a set-up, you have a conflict and you have a resolution. And this is also, like, you can setup punchlines, like this. So you can have, and I cle...
arly don't have a great joke example for you. But this also just like, it's the most core, basic, model. So when we're looking at huge narrative structure we're usually looking at, you know the 12 different segments of the year's journey. And that'll also, every single big, every single affection breaks down into this. So no matter how broad you're going and no matter how macro you're going you're still going to have these little three point stories that comprise a bigger story. Now, all stories are two-in-one. I'm mentioning this because what happens is, you have an external story and you have an internal story. Now, in screen writing world, we call this the A Plot and the B Plot. And really what it is, it's kinda the head versus the heart in a lot of cases. There's the external goal and then there's the internal transformation. So, oh, I wanna achieve this thing but usually somewhere around the midpoint something shifts. Something changes. And what we're doing in marketing is, when we are giving people a belief and we are kind of implicating them with our story of like, well this is the belief and this is how I learned this to be true. We're sharing, we're going after a goal and in going after that goal, we had, we grew. We, our goal changed, we had a different realization, we took a different approach, we learned something new, we found a better way to market our business, we found another way to help our clients, we found a better approach, and often times, when we are telling these stories that share this perspective shift, we are also shifting the perspective of our audience and giving them a new way of looking at whatever it is that they are struggling with. And so throughout the course of storytelling, you are going to have a shift. I bring this up because, you know, I'm not gonna go through the whole 12 point thing (laughing) but even breaking something down into, like, a five step process, which is what I did with these stories today, the middle step is always going to be where that twist happens. It's right around the middle when someone goes from this is my goal and I thought I need to do it this way but I actually figured out that I need to do it this way or I figured out that this was the actual goal. So my basic five point story map is going to cover the, it's like the simplest breakdown of how to create a perspective shifting story without having to worry about all of the other fancy nerdy things that I'm not gonna overwhelm you with. So, the basic five-point story map is we cover three points: the desire, the challenge, the twist, the shift, and the takeaway. So, in the desire section, we are always introducing the character and the goal. So, who are they, you know, who is this person, and again, this is the same process that you would be walking people through, you know, when they first meet you and they first land on your website, who are you? What's their goal? Who are you, who are they, what's their goal? Establishing that. So, for example, when I was telling my story earlier, I told you who I am. I'm an artist. I'm obsessed with stories. I'm a big nerd. And all I ever wanted to do was spend my whole life telling stories and making an impact on audiences. And that's like my jam sandwich, right. That's me, that's my goal. I wanna tell stories all the livelong day. So my challenge, you wanna share the biggest obstacle. And your first attempts at overcoming the obstacle. So I'm like, yep, gotta make movies. Going to Hollywood, love Hollywood. Actually hated Hollywood. Didn't want to play the game the way I was playing the game. Decided to make my own movie. More obstacles. More challenges, right. So there were different things that kinda came up, you know. And again you canh, there's multiple story points because I'm sharing multiple challenges and obstacles. You can share a couple, you can share one. It could just be one thing. It could be, I tried this one thing and it wasn't what I expected it to be. And then we hit the twist. What did they discover was wrong with their first attempts and what did they change? And so for me, that was audience connection. I didn't like writing something, you know, creating a story, sharing it with an audience and feeling so disconnected. Having that interaction and that conversation is just as important to me, you know to contribute to help. I also felt really passionate about helping other creators interact with their audience and use digital marketing and content in a powerful way. So I decided to shift my approach and look to put storytelling into digital marketing. So that was the twist. And so the shift is that I decided to apply storytelling to digital marketing. And did I achieve the result or get what I wanted? Now, the takeaway is, it's whatever lesson, advice or action step that you would recommend. And so, for mine, my takeaway, my lesson from all of that whole story experience, is that, regardless of the size of the screen, whether it's a big movie screen or a small mobile screen, you know, or a computer screen, regardless of the screen size, audiences want compelling, emotionally invested content. They want stories. They want to be behind the scenes of someone else's life whether they're watching a reality show or they're following someone they don't know on social media. They want to know what's going on with people they care about, and so that's my ultimate takeaway.
Class Materials
Storytelling for Business Workbook
Ratings and Reviews
Oh gosh, I have been hunting for this clear information for MONTHS. I have taken many storytelling courses to figure this out, but every time, even though I learned a little more, and got closer to the level of precision I wanted, I could feel that there was some pieces of the puzzle I was missing to know how to craft stories in my business from beginning to end in a nice, succinct and clear way. I was missing the core structure of this different types of stories. I think I needed to hear this years ago to be honest, and I finally feel like I have the tools I really been searching for. I feel deeply grateful for all the work has been made in the background to make this course available in the first place. Thank you
I very much enjoyed the structure of this course. Jamie takes us through very clear examples that I was able to apply while I was taking the course. The presentation itself is very clear and enjoyable. Overall - a great way to get a boost to your business storytelling!
Student Work