Class Introduction
Erin Lowry/Broke Millennial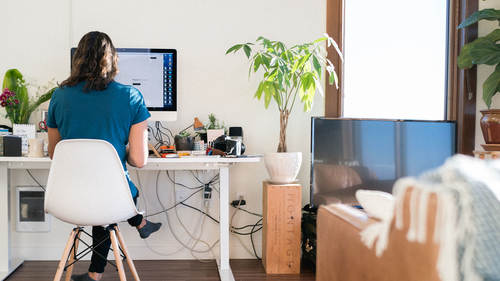 Class Introduction
Erin Lowry/Broke Millennial
Lesson Info
1. Class Introduction
Lesson Info
Class Introduction
Honestly, congratulate yourselves for taking this step to get your financial life together. So, yeah go ahead, clap it up, (clapping) let's do it. Be proud of yourselves. So first, I'm just gonna kick off talking a little bit about what we are going to learn today. And telling you who I am and why I am standing up here in front of you. But first I wanna take a quick question is, how often do you avoid looking at your bank account? Show of hands, come on. Do you do this? I do this from time to time. Or it might be that you had this feeling of you had made some really great progress financially, you had taken some steps, you had paid down debt, you were on your way, and something happened. And it tripped you up, and you one again, are just frustrated about your financial life. Because we like to use these kinds of excuses. Things like, I never learned how to handle money. We might blame our parents, we might blame our education system, but somewhere along the ways, you were never taught ...
how to get a handle of your personal financial situation. Or one of my favorites, if I just made more, I obviously would be better with money. And let me bust this myth for you right now, there are plenty of people who make very big six figure salaries who are terrible at their personal financial situation. So one thing I really want to get at, is that it's not how much you make, it's being able to take back control. And to give you just a little bit of background, my first year living in New York City, I had just graduated from college, and I was making $23,000. If you have ever been to New York City, or if you live in a major area, you know that's not a whole lot of money. But I managed not to get into any credit card debt. I even was able to scrimp and save a little bit of money that year. And it was because I understood how money worked. And that's really going to be the point of this bootcamp today. And my personal favorite excuse, I'm not good at math. I do not like math. Never was my strong suit in school at any point in time. But you all have a calculator on your phone, that's about it, that's almost all you need in order to take control of your person financial situation. We will get into a little bit of formulas today, nothing too heavy, just something for you to know. But for the most part, if you can add and subtract, maybe multiple and divide on your phone, (clicks tongue) you're good to go. So the goal of today's workshop, and tomorrow, this entire bootcamp is to get you empowered to take back control of your financial life. Any we're not just going to do this by going through the technical side of personal finance. We're really going to address your emotional, your psychological relationship to money. Because that's really what's important. We are not rational creatures, especially when it comes to our financial situations. So I really wanna dig deep in the beginning, and think about why we react the way we do to money. And then, start to talk about how to put systems into place in order to protect ourselves from ourselves at times. And by the end of this, and maybe not at the end of these two days, maybe not the end of going through the segments, 'cause it's gonna take some work, you gotta be committed, but you can go from flat broke to financial badass. And if you go through this course, and if you put in the work, I promise you can get there. And there may be slip ups, if you just get back on it, you can definitely do it. So a little bit about me. A Krispy Kreme doughnut changed my life. And this all started for me, in the Summer of 1996. I was living in North Carolina at the time, and my parents were not so big on handing me money. And my sister's actually here in the room with me today, and she knows, if we wanted money, we had to figure out how to earn it. Problem was, in the Summer of '96, I was 7 years old and my earning potentials were very limited. But I knew that my mom was having a yard sale. And I thought, "hey, if people will come at 6 o'clock "in the morning to buy our used things, "then I bet I can get them to buy "some doughnuts from cute little kids." So I pitched the idea to my dad, and I said, "alright, will you go to Krispy Kreme, "and buy me some doughnuts and I'm going to sell them "to the people coming to the yard sale." And he said, "okay." So the next morning, I set up my little Fisher Price picnic table, I strapped on my purple fanny pack, I was good to go. I recruited my little sister who was 4 at the time to help me out, and shill some doughnuts. And at the end of it, we sold out. And I had a pile of about, maybe $20 in quarters. And I was feeling good, I was gonna go to Toys 'R Us, I was gonna get a Nerf Gun Super Soaker, it was going to be an excellent Summer. And then my dad comes over. And he looks down at this pile of quarters, and I beamed up and went, "I have $20." And he goes, "okay, but your sister worked for you "for a little bit, so let's give her $2. "And I bought the doughnuts for you, and that cost me $8." "So your net profit is actually $10." And then he took the money. And I felt very upset and confused at the time, but it was really one of my first memories or my first experiences with money, and understanding how money worked. And then my parents throughout my life and my sister's life, kept setting up these very real life learning opportunities to understand how money worked. Because in my family, we talked about money, we talked about money a lot. Which impacted me significantly about 16 years later. I had gone to college, I had graduated, and I had moved to New York City. And my first year in New York, as I mentioned, not earning a lot of money, I was working 3 jobs. I was a barista at a very well known coffee chain that may or may not have originated in Seattle. Then I also was a page for the Late Show with David Letterman, and I was a babysitter. I was working crazy hours and not making a lot of money. But I was figuring out how to live within my means, and using some really outlandish tactics like hey if they food is expired at work and they're gonna throw it out, let's throw it out into my freezer so I can eat it later. And little kind of scrounging techniques like that that we've all gone through in our broke millennial stages of life. But here I was, I was a year out of paging, I had finally gotten a real job that was paying me a whopping $37,500 I was so excited, there were benefits, it was great. And I was having coffee with a friend of mine. And she, like many people, had moved to New York to be an actress, this was her dream. But at the time, she was working as an executive assistant at a major media company. And hated her job. And didn't have any time to go out on auditions or do anything. And I said to her, "you know, I gotta tell ya, "I don't understand, because you're in this situation "where you live in New York, you're young, "you're not married, you don't have kids, "I know you don't have student loan debt, "you don't have credit card debt. "This feels like the time to go for it." And she looked at me, and she goes, "you know what, money really stresses me out, "I just don't pay attention to it, "and hope I have enough at the end of the month." And this was a light bulb moment for me. And I totally get how naive that sounds. But I grew up in a house where we talked about money, and what you grow up around is normal. And even when I was not making very much, and I was struggling, I still felt like I had control. And that suddenly became my goal. I wanted everyone else to have this feeling, this feeling of being in control of their financial life, even when there wasn't a lot of money. And so I got a crazy idea, well I started a blog. It was 2013, this is what you did back in 2013. And I wanted to create a place where people could come and talk about money. And it didn't look this pretty when I started it, I'll tell you that right now. And I began writing and sharing stories of my own financial life, if you go back to the very first blog post I ever wrote, it's that Krispy Kreme doughnut story. And I was sharing other funny things that my parents did throughout my life, and other techniques that they used. And I started to try to use that in order to tell a story about how finance worked, and I liked to joke, trick people into talking and learning about money. And as things went on, I started to learn a lot more, I started to grow, I started to research. And I started to also talk a lot, and I just kept talking about money. And like it was mentioned in the introduction, I talk at universities, and conferences and on TV because I really wanna debunk this idea that money is taboo. And then eventually, it evolved from being a website and became a book. And the first book was Broke Millennial: Stop Scraping By And Get Your Financial Life Together. Which is really a step by step guide of how to figure everything out. And today, you're gonna get a little bit of a taste of what the book's like. We're going to talk about some of what the chapters are in the book, about the process of getting it together. And then the next book actually's gonna come out in April 2019, Broke Millennial Takes on Investing. Because first you're gonna get it together, and then you're gonna learn how to invest. And we're not gonna get too investing heavy at all in this segment. We're really talking to you about how to get it together, but when we do get to retirement, I am going to tease that we will definitely be talking about investing. So let's take a look at what this workshop and bootcamp is gonna do for you. How are you, at the end of these two days, going to get it together? Well first, were gonna start with what I mentioned in the beginning. You're going to identify your emotional relationship with money. And those who are in the room with me have had a chance to look at the worksheet ahead of time. So hopefully they've got some ideas percolating. And if you're tuning in live right now, I'm just gonna give you a little bit of a teaser. Start thinking about things like, what's my first money memory? How does that make me feel? How did my parents talk about money? Have these ideas kind of siting in the back of your mind, so when we get there in real time, you can be interacting with us too, 'cause I'd love to hear your stories as well. And then we're going to talk about credit scores reports. Everyone always loves this segment, we're going to do a lot of Q and A, taking time to really dig in to how do your credit scores work, how do the reports work, what is credit history, definitely how to improve it, and how to protect it, that's a huge part of this. And, why it's important, why you need to care. Then today, we're going to talk about the "B" word, budgeting. People love to hate a budget, and I get it. And we're going to get into why you might hate it, how to find something that works for you. I'm gonna list out a lot of different options. And also really get into the fact that your budgeting style needs to fit your phase of life. What worked for you when you were 21, 22, id probably not what's gonna work for you when you're 35. And that is okay, it should be evolving with you as your financial life changes. There's gonna be some options for things that are really strict and rigid, 'cause you might need that kind of structure right now. And then some options that are a little bit more fluid, for whatever you might be doing in your life today. We're gonna get into saving. And I especially wanna talk on this idea of how to save even when it feels completely pointless, 'cause we have all been there. Where it might be a dollar that you can save out of a paycheck, and then you think, "what is the point of doing that?" And we're gonna talk about why, even when it feels pointless, it's really important. And some techniques. Then tomorrow, we're gonna get into paying off consumer debt, credit card debt especially we're going to hit really hard during this segment. Techniques that you can use, methods that are really popular strategies. And throughout this, I'm gonna keep tying back to this idea of what is your psychological relationship to money? Because what might work for your best friend, or your sister, or your brother, or your parents, might not be what works for you. And that's totally okay. So I wanna give you a bunch of different options. Then of course the almighty student loan segment. We're going to talk about how to handle them without having a full on panic attack. What are ways to pay them down? What are ways to do it aggressively? And then what are options just to give you some breathing room month to month? As well as debunking some common beliefs and definitely talking about a bit about scams that exist in the student loan marketplace. We're then going to get into one of my absolute favorite segments, which is how do we talk about money? How is it that we get, what I call, financially naked with our partners? How do we talk about money with our parents? With our friends? Especially in that moment when you realize, I cannot split this dinner bill evenly. How do you advocate for yourself in a way that's not really awkward and uncomfortable? Then picking better financial products. I feel very strongly about this segment, because a lot of us just kind of default into whatever bank is near our house, or perhaps, whatever banks our parents used. And we're not actually picking the products that are the absolute best for us. We will comparison shop on everything else in our lives, except banking products and where our money is. So we're going to dig into how to vet a financial product, how to know if it's a good fit for you. We're also gonna talk a little bit about financial planners. Which I know a lot of people right now might be thinking, "okay, I am not at all ready for that." and that is totally fine, but at some point, you might be. And you want to make sure that you don't get taken for a ride when it comes to finding someone. And you find someone who really can work with you, and protects you and your money. And then we are gonna wrap everything up, looking towards the future. And that is, of course, how to plan for retirement. Especially when you don't work a traditional type of job. I'm a self-employed person, I totally get the pain ponts of not having a company 401K. So I'm gonna dig into that a lot for my fellow freelancers and contractors, people with variable income. I wanna make sure that everyone, no matter where you are, knows how to set themselves up for very successful financial future.
Class Materials
Identifying Your Financial Roadblocks
Ratings and Reviews
Erin really helps breakdown how to create SMART realistic goals and provides some amazing handouts to help you know what you don't know! I wasn't even sure what financial health looked like beyond paying down debt or buying a house or car.
Very good material, coverage and presenter. Too bad they are all planted "that is a very good" questions.
Student Work