Identifying Your Emotional Relationship With Money
Erin Lowry/Broke Millennial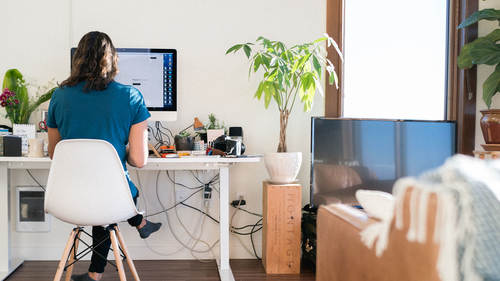 Identifying Your Emotional Relationship With Money
Erin Lowry/Broke Millennial
Lesson Info
3. Identifying Your Emotional Relationship With Money
Lesson Info
Identifying Your Emotional Relationship With Money
So now I wanna start getting into identifying your actual emotional relationship with money. And your relationship to money started forming around the time that you started to realize how people around you are talking about money. And before we dig in here, I wanna say I'm not blaming anybody's parents. Your parents, or whoever raised you, did the best they could with the information that they had at the time. I do genuinely be that. But they might get hit a little bit when we go through this conversation, because a lot of us, that's how we learned about money. It's what our parents were doing. It might not have been what they were telling us, but it was how they were behaving, because you might've experienced scenarios like this. Mom and dad constantly would argue about money. It might've been in front of you, it might've been behind closed doors, but that was the messaging that you were getting is that money is something negative and toxic and it starts fights. And that could result ...
in you just wanting to avoid the topic as much as possible in your own life. So it might mean that you push money away, you just don't wanna deal with it. You maybe just exclusively pay your bills and otherwise don't pay attention. Or you might've gone the exact opposite way and you are super focused on taking that control because you don't wanna repeat the pattern that you grew up with. Another scenario that is incredibly common is you were scolded for asking about money. It's really taboo still to this day. A lot of us will talk about far more intimate things than our debt or our bank accounts. And you might've been told something like, "Hey, mom, dad, how much do you make?" And then you got told, "That's none of your business." or, "That's rude to ask." or, "It's impolite." Or, "We don't talk about that." Now, in your parents' defense, it could also have come down to this idea that if they told you, they were afraid you were gonna go out at recess on the schoolyard and tell your best friend, who was gonna go home and tell their parents, and then it was gonna get around. So I totally understand why your parents might have said to you it's inappropriate to ask. I remember getting told, that's not something that we talk about when I asked how much my parents made. But I do wanna break this idea that talking about money at any point is taboo. So I'm not saying you have to go out and share your salary with everyone in your life, but that is a message you could've gotten that you're trying to shake now. The other thing that was very common, especially for the millennial generation was this idea that everything was okay until it wasn't. And this is often because parents might've been either living paycheck to paycheck or just at their means, but you still might've had a bunch of nice things. You could've lived in a great neighborhood, you had the new car, you had nice school clothes. Everything was feeling awesome. And then someone lost their job, or your parents got divorced, or something else happened that tripped up the family financial dynamic. And because there wasn't a financial safety net, the bottom just kinda fell out. And this is certainly a very, very common experience that millennials had or saw their parents go through, particularly after 2008. And there were a lot of foreclosures and people losing their jobs. And because of these kind of scenarios, again, it can get us to a point where we don't wanna deal with money because it's a very negative emotional experience for us. Which brings me to this exercise that I wanna work through today. Now, I am not going to magically solve all of your money baggage here right now. Really, what I wanna be doing is setting you up to think about why you react to money the way you do, and then hopefully having that information and being able to reflect back on that is going to help you put systems into place to protect yourself from yourself. And I'm gonna get into a little bit about what I mean by these systems as we go through it. But I wanna start by answering some of these questions. And I'll give everyone a moment to think and I'll share one of my first money memories. Now the Krispy Kreme donut story that I shared in the introduction is definitely my very first pivotal money memory, other than candy tax at Halloween where my parents would skim a little off the top when we got home. (audience member chuckles) But one of my big ones is I was in third grade and clogs were a very popular shoe. Don't judge, everyone was wearing clogs. And I remember so desperately wanting a pair of clogs. But I was growing my feet were growing very fast. So my mom was like, "I'm not spending money on that. "If you want them, you have to buy them yourself." So I saved up my money, I went the Payless Shoe store. I had 13.95 and I got myself a pair of clogs. They had a cork bottom, there's a blue velvet top, there was a little pattern around the side. I was feeling great. Went to school the next day wearing my shoes. And then the next week, we went to a Catholic school at the time that had a uniform. And a letter went home to the parents saying clogs were outlawed at school, no one could wear clogs anymore. And I quickly grew out of them. So my first real memory of spending money is something that became very impractical very quickly. And, funnily enough, I still hate shopping to this day. I don't know if it's tied into the Payless Shoe experience, but that's definitely one of my first money memories. So the memory just was a kind of this roller coaster of emotion of I was so excited and so proud I could buy it for myself with money that I made, hocking donuts to people and also babysitting the cat that lived next door when the neighbors went out of town. And then all of a sudden, the memory kind of crashes with me feeling like I spent my money on something very impractical. So does anyone have a first money memory they would be willing to share? I'll share (drowned by distance). All right. Okay, so I have a interesting story. I think it might be different than most. My father's a banker and has been for his whole life. So my first money memory was picking him up from a business trip at SEATAC airport. And it was too Las Vegas, I believe, and he handed me a hundred dollar bill. And I think I was like five or six. Didn't know really what it was, but I knew like this is an important piece of paper right here. And I start thinking about the toys I wanted to buy, stuff like that. And he says "Okay, great, "you're gonna go start a bank account. "So you can have that if you want, don't lost it. "But it's gonna go in the bank tomorrow. "So there you go." That's awesome. And how'd that make you feel? I was definitely frustrated as a kid (audience and presenter laughing) because I had my Hot Wheels picked out in my head, the Pokemon games. And that was like my first understanding of, yeah, this is not a fun game to play. Because he's like, 'Greg, look how excited you are." Then he's like, "Yeah, give me that back. "In essence, more or less it's yours, but don't spend it." So definitely an early start to an interesting financial life so far. Absolutely and the next topic, too, is how did I get money to spend growing up? So it could've been that you were given an allowance. It might've been that you had to do chores in order to get money. Maybe you had to go find a job and there was not money to be had in the house and no one was ever going to be handing you money. And that might've sparked this little entrepreneurial kind of idea for you to go out and start hustling at a young age. And it could've also just been that you were just gifted what you needed when you needed it. There are so many different money scripts that you could've had at that point in your life about how you might've gotten money. Does anyone wanna share that one? So I don't have a first memory of when I got money, but I know I, took, hate shopping. And I know, you just knew we didn't have a lot of money. And (chuckles) mom's shoes had holes in them and dad got new shoes for his birthday every year and that was his one pair that he got. And I knew that we didn't have a lot of money, because we shopped at Goodwill. So I remember going shopping at Goodwill and getting like last year's trend. And then showing up at school and everybody's in like flower power shirts and bellbottom pants. And like, "I have nothing to wear." My mom's like, "We just went shopping. "What are you talking about?" So I know it was not something that was readily available. And you didn't get money for chores, because that was like you're just contributing to the light bill. So my mom worked three jobs at one point. And we would help her. I would go help her clean houses and do landscaping, my sister and I. And we never got paid for it. It was just how you contributed. So in order to get money to spend growing up, I just really would work for people like babysitting or like one woman's like she wouldn't let me use a weed eater and I had to cut it with scissors all the way around on her chain-link fence (laughs) 'cause she wanted it like really, really, low I guess. And that's how I got money to like even go on school trips. Like I was in Rainbow girls. So if you wanted to go on a trip or be able to do something, like I had to earn that money. And it was like a lot of the reasons, though, why I didn't get to like do school sports and stuff, 'cause the cheerleading uniform was like 800 bucks. And my parents were like, "We can't pay for that." So it was just something like you knew didn't have. And shopping was frustrating, 'cause you couldn't shop at places that had clothes that maybe might fit you better because you just didn't have the money to shop there. Well, thank you for sharing. And that does tie into something we'll be talking about later and this idea of how did you feel about your family financial situation compared to those around you. And when you did have money to spend, what did you buy? So it could've been having to contribute to if you wanted to go on a class trip, you were the one that had to go out and earn that money so that you could go and that you really spent your money then on more practical things. You might've been putting money back into the family financial situation. You were a contributor at a very young age. And for other people, it might've been things like clogs. (audience chuckling) So it really does, and it varies so much, and I think part of the reason we should think back on this, too, is it does sort of give you an impression of how comfortable you might've been growing up but as well as what did I value at that age? And I think that's such an interesting thing to go back and think about, because what we spend money on really does reflect our value systems. And obviously how we are today is likely very, very different than how we were at five, six, seven, eight. But right now, how you spend your money is reflective of what you do truly value. I think sometimes we tell ourselves, "Oh, I value this." But if that's not where you're putting your money, well, that might not necessarily actually be true. You just might be telling yourself that, 'cause it might make you feel better. What are my financial concerns today? This is a big one. This is an idea that I really want to be digging into, especially for this entire boot camp, because I want you to be thinking about, "What are my concerns? "Why are they are there "and what can I be doing to address them?" Does anybody wanna share what their financial concerns are? Yes? So as someone who's working to get better with money and as also a freelancer, it's just that I'll never get my systems in place. And even, like you said, as I make more and more money, and every excuse you had on the first thing. I was like, "Dangit, "those are all my excuses." (audience chuckling) As I get more and more money as I progress in my career, I still won't get a handle on it and that I'll never get over these initial emotional blocks that make me not wanna check my bank account or things like that. So that's something that I'm like, "You have got to get it together." Which is why I'm here. (laughs) I love it. You wanna share? Also a freelancer. I think my thing is anytime I have a savings account, eventually I have to use it to like pay rent one month. So it feels, for me, like it's pointless to even have something like a savings account, 'cause I'm just gonna end spending it on something I'm not actually savings for. Though, I guess you're gonna tell me rent is something worth saving for. (audience chuckling) But it's just not like a fun thing. No, it's not. (audience laughing) But it's important. [Woman In Maroon shirt] Though, having a home fun. (audience laughing) Yes. Having a place to stay. And when I talk about systems, I mean, there's so many different ways to be considering this. But I think the important thing is you're identifying what triggers you and what bothers you and there's ways that you can perhaps protect yourself from yourself. I think a great example, with savings specifically, is to out of sight, out of mind, with the savings account. We're gonna dig into this a little bit more in the savings segments as well and a lot of tricks and tips and kinda mind hacks that you can actually use. But one thing that I do is I have the bulk of my savings at a completely separate bank than where my mine checking is, because that means when I log into my checking account, I don't actually see the big money I have saved to the side here, I also know it's gonna take a couple of business days to clear, so I can't easily skim a little bit off the top. Now I have my emergency savings fund at the same place that I have my checking, because if you need it instantly, you need it right there, easy access. But things that I'm saving for for the future, things like thinking about a down payment or thinking about traveling, that's all somewhere else so that if I log in, things are looking a little lean towards the end of the month. And I'm thinking, "Oh, my friends are gonna go do something awesome, "I wanna join." I don't see those funds right there easily accessible. I'm protecting myself from myself. So that's an example of what I mean by a system that you can put into place. We're gonna dig into more of those throughout the entire course of this bootcamp. Now why do I have these concerns? For a lot of us, it has to do with our here and now, why are we currently facing? What kind of salary are we making? Is it a volatile income? I'm self-employed. I completely understand the feeling of you have no idea how much money is coming down the pike in the future. So trying to budget when you have a variable income is incredibly stressful. Some of these concerns could be tied into how we were raised. And it could be making sure that maybe we don't wanna have the same situations our parents faced. Maybe we're being a little future-focused about our concerns and thinking, "I don't know if my parents have enough money "to save for retirement. "That might really be on me. "How am I gonna fit that into my financial plan?" I'm not trying to bum anyone out with thinking these concerns. (audience laughing) But they're important to identify, as we go through this process so that you can start to really make sure that you're personalizing and tailoring things to your actual financial life. How did my parents talk about money when I was a kid? This is really important. This goes back to those scenarios. This is really when you were getting your first messaging. And like I said, not coming for anyone's parents here, not trying to have us blame them for things. I do genuinely believe they did the best they could with the information they had at the time. But they were also sending you messages about money and what it meant to have or not have it and what it meant to try to get it. You know, if your parents just handing you money when you were a kid with an allowance, you didn't even have to put in sweat equity with chores, that could be a really rude awakening when you get out into the real world. And, on the flip side, if you were having to work when you were eight-years-old, that's a lot of stress and pressure to put on a little kid. So you might still have a very negative reaction to working when you grow up. So I think it's very important to reflect on this idea. If anyone wants to share, I'd love to hear it, but I also know this is a very personal, yeah? So Erin and I have the same parents. (audience laughing) This is my sister. (laughs) And it's very interesting to see how that's sort of affected us differently. I remember money lessons, but I was more like annoyed by them and sort of over it, where like I don't have a blog about money. (audience laughing) But I have a very vivid memory of doing back-to-school shopping, and I had an agenda I really wanted, it was super cute. I thought it was like eight bucks because it was in the wrong area. So I put it in the cart and my mom asked me how much it cost, and when they rang it up, it was actually $20. And I remember her sort of looking at me and being really irritated and, she you know, I think I still got it. But I just remember feeling a lot of shame, and embarrassed that that was such an expensive thing. And then later being like, but I know that they can afford it, because we weren't hard, you know, we didn't have a hard financial situation. So I always felt sort of like, "If they can afford it, why am I being shamed "for wanting something that I want." And I feel like that's why I'm not as good with money now, because I just am like, "I want the agenda. "It's gonna be okay eventually." (audience chuckling) Well, and also it comes down with the messages that you were given as a kid. So our parents both come from big families. My dad has five siblings, my mom has eight siblings. Very big families, which meant that they were okay, but it wasn't the most comfortable financial situation. So our parents are very frugal people. And it definitely gets coded and kind of passed down in different ways. And we did react differently. I think that's also a great example of how I am also very future-focused, more frugal-minded. My sister is on a different end of the spectrum, which is okay, you react different ways. And that's kind of what part of the point was with the scenarios. Just because you interpreted it one way doesn't mean your siblings are necessarily feeling the same. Were you ever told that talking about money or asking about money was rude or inappropriate? Even just show of hands. Did anybody get that message at any point? I know I definitely felt that way. And, even now, I talk about money professionally. This is what I do. And especially being a freelancer, I think it's incredibly important to ask other people for similar work, "What are you earning?" Because you don't have that salary transparency that you could on going on like a Glassdoor.com. Might not be the most accurate information for traditionally employed people, but at least it's a metric. And it's really important when you're self-employed to be able to have those conversations with people. And like I said, I talk about money for a living. This is what I do. And I still will feel awkward going up to someone and be like, "How much did you earn for that article?" (woman laughs) "How much are they paying you for this? "How much did you get for that speech?" Because I got told at a point in my life, and not just by my parents, just generally, you even see it on TV. I remember watching an episode of a show recently and a little kid character asked the mom how much the family had. And she goes, (gasps) "We don't ask that." We're telling our kids this in television. It's not just in the house. Now this is a question I mentioned earlier. Did my family's financial situation make me uncomfortable around my peers? And this can work in a variety of ways. It could be that you didn't have as much as the people around you and there was a sense of embarrassment about that in some way. It could be that you had more than the people around you and that still could've been a shame factor as well. I know a lot of times we think that it's not, that if you are one of the haves, that you naturally are going to kind of brag about it and show it off. And that's not necessarily how people code it. Some people might feel really uncomfortable about that. And that is going to definitely play out when they're older. Or maybe you didn't really realize your family's financial situation. Either way, you just might've been delightfully naive. Maybe your parents kinds of hid from you, you had what you needed and everything felt fine and it might not have even been until you were grown and earning your own money that you started to realize, "Oh, I never had that growing up." Or, "This is a little bit different "than what I experienced." And I think that that's a very interesting part of thinking through how your family's financial situation made you feel. Am I taking actual steps to ensure that my fears don't happen? So if you're worried about losing your job, are you putting away money? I swear I didn't know my sister was gonna talk about rent. And that just happens to be the one that's plugged in there. And this is a big one, 'cause I think fear, a lot of times, gives us a sense of inertia. We're not gonna take a step forward, we're toa afraid to do it. We might be feeling not necessarily fear, it might just feel pointless because of the situation that we're in right now. It also could be that because of all of the other information that you have in your background and everything you were taught, there might be some sort of comfort in chaos. If that's what you grew up around, it might be something where you're like, "That's just kind of my baseline. "I'm comfortable here. "So when I get into a comfortable situation, "I'm just gonna blow this up." Probably subconsciously, but that happens for people. So it is very important to be spending the time thinking through this. Like I said, it's not the magic bullet, I'm not solving all the problems here at the end of this part of the segment. But hopefully being reflective on this is going to help you start to think about how can I put important systems into place. Because ultimately how can I be sure that I'm in control of my money? So I'd love to hear from some people up to three aspects about finances that you wanna be working on, either understanding or taking control back over this next, let's say, year. What are three things that you wanna be focused on? Does anyone wanna share? Yes? So mine is kind of the money-time continuum where it's like the cash flow thing, like how long will this money last? Because I always seem to be wrong about that. So that's my main thing. Does anyone else wanna share? Two of my three things I'm hoping to learn more about are kind of automating systems. So, for me, as a freelancer, I would like the magic system of depositing my check, having a percentage go for taxes, savings, everything in one step. So I'm very interested in learning how to optimize how I kinda manage my money and also maybe some strategies for how to forecast and budget for the future with a variable income. Absolutely. Yes? Yeah, I think mine is definitely connected to the variable income and being self-employed, just being able to budget and plan for that. Also, I, when it comes to budgeting and the emergency fund, it's like I don't quite get how to budget. But it's like, oh, my body needs work. Like I can't physically move my arm. I have to go get work done. It's like how does that even play into that whole scenario. Like this is something that was unforeseen and I don't even have enough savings to cover it or something, so just those unexpected things that really are urgent.
Class Materials
Identifying Your Financial Roadblocks
Ratings and Reviews
Erin really helps breakdown how to create SMART realistic goals and provides some amazing handouts to help you know what you don't know! I wasn't even sure what financial health looked like beyond paying down debt or buying a house or car.
Very good material, coverage and presenter. Too bad they are all planted "that is a very good" questions.
Student Work