Toning with Selective Color Photoshop
Lindsay Adler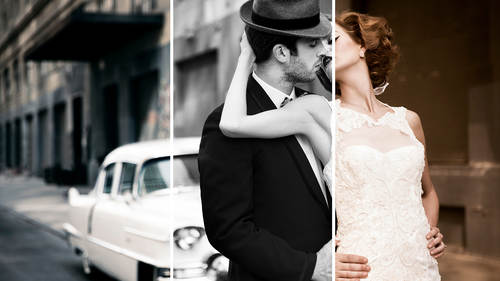 Toning with Selective Color Photoshop
Lindsay Adler
Lesson Info
7. Toning with Selective Color Photoshop
Lesson Info
Toning with Selective Color Photoshop
So this is what for this picture, What it looked like in camera notice that the coloring that I've already added is because of the gel. The Joe makes it a little bit cooler, but I can keep pushing things further and further down the line. I think I'm gonna open up kind of one of each year. When I opened up this one first when I open up files Ah, when I'm working on them and Photoshopped, I'm working with 16 bit rgb tiffs, and I'm working with that. So I was much information to play with. So as I'm shifting around colors and moving information, I've got more. I've got more to work with. So I'm gonna open this one up in photo shop first, I think would open up a couple right now just to make sure I've got them available cause I don't want to keep coming back to late room. What? Open up, That one. Let's open up. I'm gonna pick one of her files that have not color graded. So this was as shot. All right, so let me reset that. I'm gonna bring this in What I would do here in photo shops that p...
robably bring back a little bit more detailed to the shadows. So I have that to work with. All right. I think right there, I So let's open this up and Photoshopped as well. Okay. Alright. So I've got ah, whole bunch of lists of what I like to do to color tone, an image I'm going to start with, the one that I use most often. Okay, So if you only remembered one or if you decided not listen to me anymore, which you should not. But this would be the one that I use most often. Okay, Um, the toy use most often. It's in the bottom right hand corner of your photo shop palette to go to your little half moon cookie. OK, Your adjustment layers in your layer masks. There's a tool there. There's a tool. They're called selective color and selective color. Originally stayed away from because I thought it was like, you know, when you have the red flowers of the bride and then everything else is in black and white like that's That's what I learned. Selective color with is that's not what this is. Okay, so I'm a click. Selective color and what selective color is is I have access to all the different colors RGB, Sam y que highlights shadows on mid tones, and I can pick the balance of the different colors in each of these. So, for example, what I can do is I can go into my neutral tones and I concert shifting things and adding color casts on purpose. So, for example, I'm selected in the neutrals. That's gonna like mid tones and shadows. And as I'm looking at this, I can add Scion or take it away. I can add yellow we're taking away add magenta or take it away and I could start toning things. So we talked about in cinematic like movie making. Toning usually what they dio is that usually dio yellow in the highlights or orangish yellow and teal or blue in the shadows. So that's what I dio all the time in this tool. So what I will do is right now in the shadows in the neutrals I'm gonna add that blew that teal. And so I either add scion or I take away yellow because taking away yellow is eyes. How I'm going to add blue. So watch if I take away some yellow notice How in certain to get a little bit of blue? Okay, were a lot of blue. If I drag it all the way over. If I go into the shadows specifically into blacks, it'll just add that blue to the blacks so you can see in the shadows that's wearing any. So I got a little bit of blue. I'm gonna add a little bit of Scion. There is no number at all that I can tell you because it will depend on every single photo. Someone had a little bit of science, something like that. So already you get you're getting something kind of moody. It's like a cool color caste. But it's not really affecting her skin tone because I just applied it to the blacks. And then what I'm gonna do them with, select the whites and I'm going to add yellows to the whites. So I'm going to an extreme so you can see it. So here's what blue sky into the shadows and yellows to the highlights look like. Now, of course, this is applied to an extreme, and I can always back off my capacity and make it a little bit more subtle, but notice now that the background looks kind of bluish, even though it wasn't actually loose. This is why I like to start with something neutral and then I can shift it. So this is the one that I use most often for toning things. Selective color adjustment layers with their masks. It's the 1st on the bottom. I use this nonstop, and it's good because it's I can kind of say, Oh, you know what? Maybe in the blacks, I wanted to be a little bit more purple, so I can add some magenta and kind of purple. I have a lot of control. The other thing that's really good is if you've got a pop of color and your scene, which I don't in this one. Um, but let's grab Let's grab one of these pictures with the blues in it. Okay? I'm gonna grab, I think just this one. Okay, uh, I'm actually going to reset it, so let's go back to how it was shot on camera. This is what it looks like when I open this up in photo shop. Okay. All right. So in open this one up and I can shift those blues now. So bottom right hand corner, half moon cookie, selective color. And now I can figure out those blues and scions I could make them a different color so I can grab Scion and then I can start shifting and make it teal so I can say, Oh, man, I wish that my gel that I used wasn't blue. It was deal. So it gets lets you really target specific colors and shift them Um so I'm gonna make my blue a little more science as well. Coming, greenish And so this is what this did from kind of bluish purple and it lets me do that. So if you guys have ever seen I shot an editorial called Queen of the Desert And so I did the movie toning. You can search The queen does it, Lindsay, Although you'll find it, um, the sky is not blue. It's teal. This is how he did it. Ah, And so what I did is I made her skin tones really, really orange and really warm, like she's basking in sunlight. But because of what I learned about cinematography and movie making, I didn't want to Blue Sky. I wanted a teal sky. And so this is how I made that blue teal. So if you look at those expensive, it's like the Harper's Bazaar toning if you look at it and that's what the toning is's, they shifted the color of this guy doing something like this. Okay, yeah, I'm wondering how much latitude you have with your clients and making creative decisions about color toning Cool. So the question is basically okay. Well, how much do you have a say over this? First of somebody else depends on the client or what it is for a magazine. I have a lot of control A Zilong, as it fits their mood like Long is, it fits the style of this magazine. So, for example, when I've been in like an Elle magazine, I know that they like that that teal sky whereas maybe it's ah designer and they hired me to shoot something outside. They'll be like, No, that's distracting from the color of the garments. Let's bring it back so it comes down to purpose. And so that's the intent of your color toning. So, yeah, for when the when it's when it's my stuff. I do whatever I want. But the my clients, whatever they pay me to do more. Okay, okay, so that's that's my favorite one. That's when I use most often, so selective color is, in fact, the easiest.
Ratings and Reviews
Fantastic course. Lindsay Adler is a such a photography Rock Star. She can do it all, shooting in and out of study, lighting, posing, teaching and very amazing, Photoshop guru. Thanks for getting Lindsay, in the beginning I never knew that she was so skilled in all these aspects. As you progress in your photography, you learn lighting, skin tones and white balance, then skin retouching, then you learn color grading and analogous colors, complimentary colors, color triads, etc. Color Grading is so key to that final polished and "expensive" look. Lindsay did a terrific job teaching this course. I watched it 3 to 4 times to really pick up how to use these tools. Lindsay is a phenomenal teacher and photographer. Thanks for getting her Creativelive.
This is a great class to learn many options for color grading images. Lindsay gives comprehensive options for use in both LIghtroom and Photoshop. She has a style of teaching that is easy to follow and does an excellent job of summarizing each technique after introducing it to help the process sink in fully before she moves on. I love how she goes over everything she does thoroughly in a way that clearly explains each step without assuming everyone knows what she is doing. There is never a time when I thought "wait, what did she just do there?!:". Just really great information that is well taught.
Awesome class - Lindsay is a wonderful teacher. It might be nice to have a list of the equipment used, I had to go back a couple of times to find all of what Lindsay was using. Excellent and well done!!
Student Work