Big Mike
An Inspirational Story About Vision
Astor Place Hairstylists is a lot like other locally-owned, old-school barber shops in New York City, and yet not. The upright piano in the corner with "Barber Shop Idol" painted on the wall is one clue that things are a little different here these days.
Another is the long walls of modernist paintings—Marilyn Monroe, the rapper Notorious B.I.G., the Empire State Building during a pink-orange sunset, for example—all painted by the barber shop's longtime manager, Michael Saviello, or Big Mike, who's been at Astor Hair for nearly 40 years.
"I only started painting four years ago," Saviello explains. His artistic pursuit began with lunch break painting sessions in a back room of the shop. Curious customers began peeking in to see what Big Mike was up to.
"They'd say, 'Man, that's great, I didn't know you painted!' I'd say, 'I didn't know, either!'" Saviello says with a hearty, ringing laugh. "The word got around."
The word got around, indeed. Nicolas Heller, perhaps better known as @NewYorkNico on Instagram—who has more than 650,000 followers—is a longtime Astor Place regular.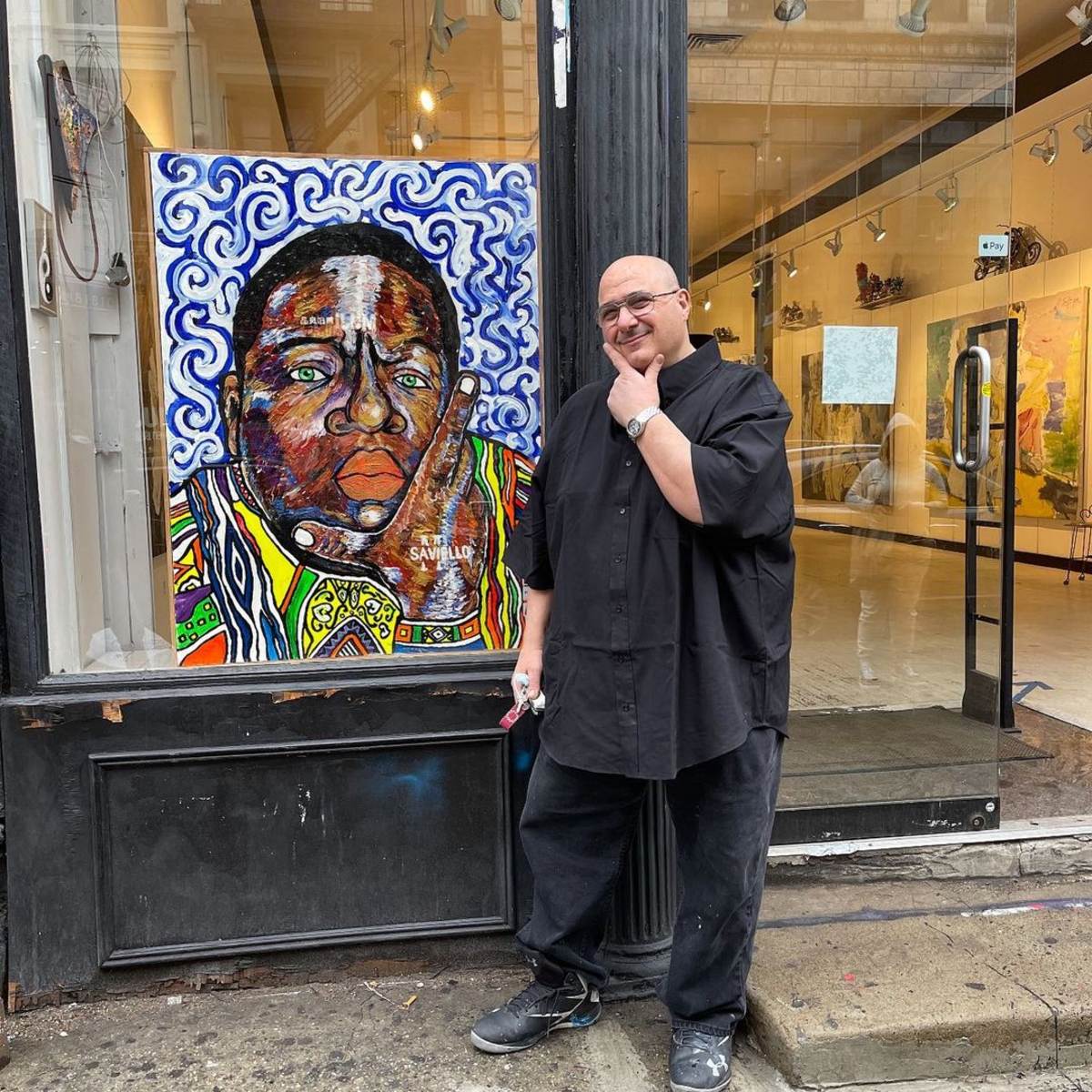 "I've known him since he was a little kid," Saviello says. "My art career is really thanks to him. He started the whole thing off."
That start was a 12-minute documentary short, shot by Heller, called Big Mike Takes Lunch. It affectionately profiles Saviello as he not only manages the bustling shop, but also squirrels away his scant free time to paint in the back. A slew of media interviews followed, as well as shows in Chelsea galleries and sales of his paintings, which begat more interviews and more attention. But then, Saviello and Astor Place aren't exactly strangers to the limelight.
Astor Place Hairstylists, opened in 1946, is something of a New York City institution, in part due to its diverse array of well-known clients like actors Adam Sandler, Vin Diesel, and Donald Glover (aka Childish Gambino), artists like Andy Warhol and Keith Haring, politicians including New York governors and mayors of New York, and rappers like LL Cool J, Mos Def, and Run DMC.
But all of that came to a jarring halt in March 2020 when, like so many businesses, Astor Place was shuttered by the pandemic. Suddenly, Saviello was home with his wife and adult daughter, both of whom were busy on Zoom calls, leaving Saviello a bit too much time to think.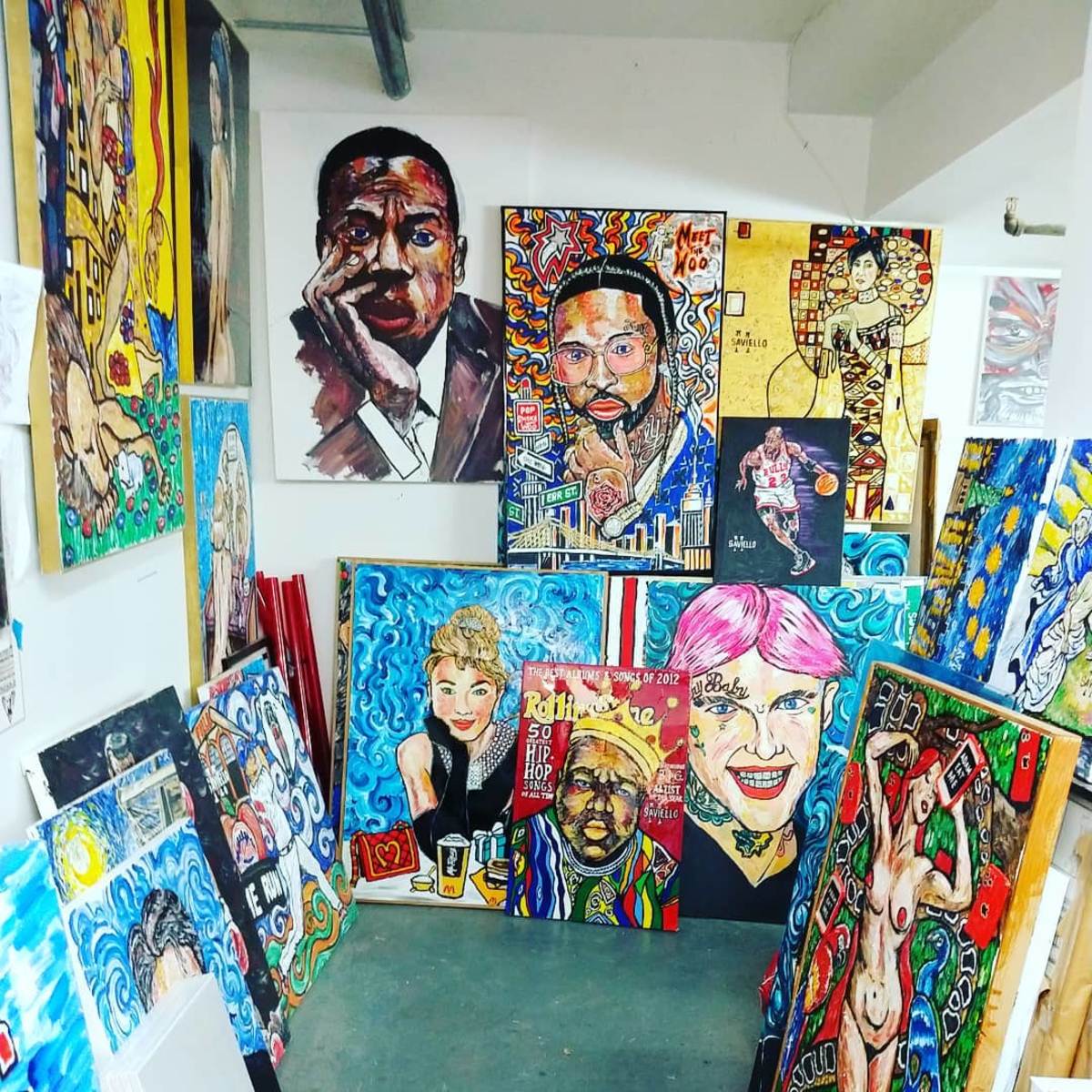 "What am I gonna do, I'm 60 years old," Saviello says. "My job skills are managing people, and everybody's closed—they don't need no managers," he adds with a wry laugh.
So, Saviello got to work painting. He also turned to technology in a way he hadn't before the pandemic. On Instagram, Saviello got busy making videos of his work and artistic process. He also worked with a forward-thinking gallery in Bayonne, New Jersey, to organize a Zoom show of his work.
To his surprise, Saviello was selling paintings even during the pandemic, while his home away from home, Astor Place Hairstylists, sat empty and dark.
By mid-June, Saviello and his barbers were back in the shop, though in fewer numbers, and business was slow. So slow that, by November 2020, the family that had owned Astor Place for generations had a terrible announcement.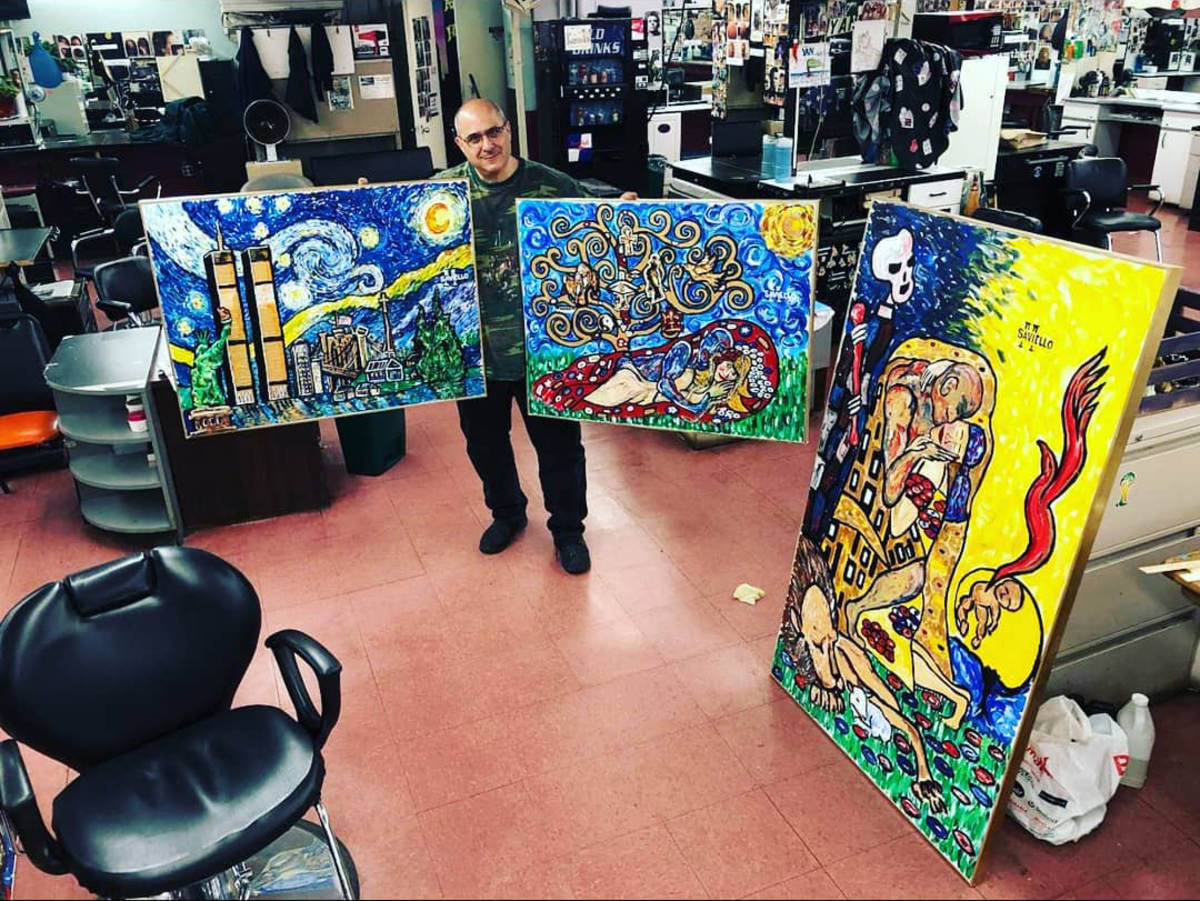 "Three weeks before Thanksgiving, the owners told us they were going to close forever. They kept telling us, 'We're closing, we're not doing it anymore. Go find somewhere else.'"
But where would they go?
"All of us been working there since the beginning," Saviello explained. "At the time, we had 60 or 70 barbers, and all of them been there 30-plus years. We were all young when we started working there, now we're in our 40s to our 70s. Everybody was kind of freaking out. You know, what're you gonna do? Y'ain't gonna go to another shop, all the other shops are closing left and right."
Saviello gathered courage from when he took a leap of faith and pivoted with his art career during the early part of the pandemic.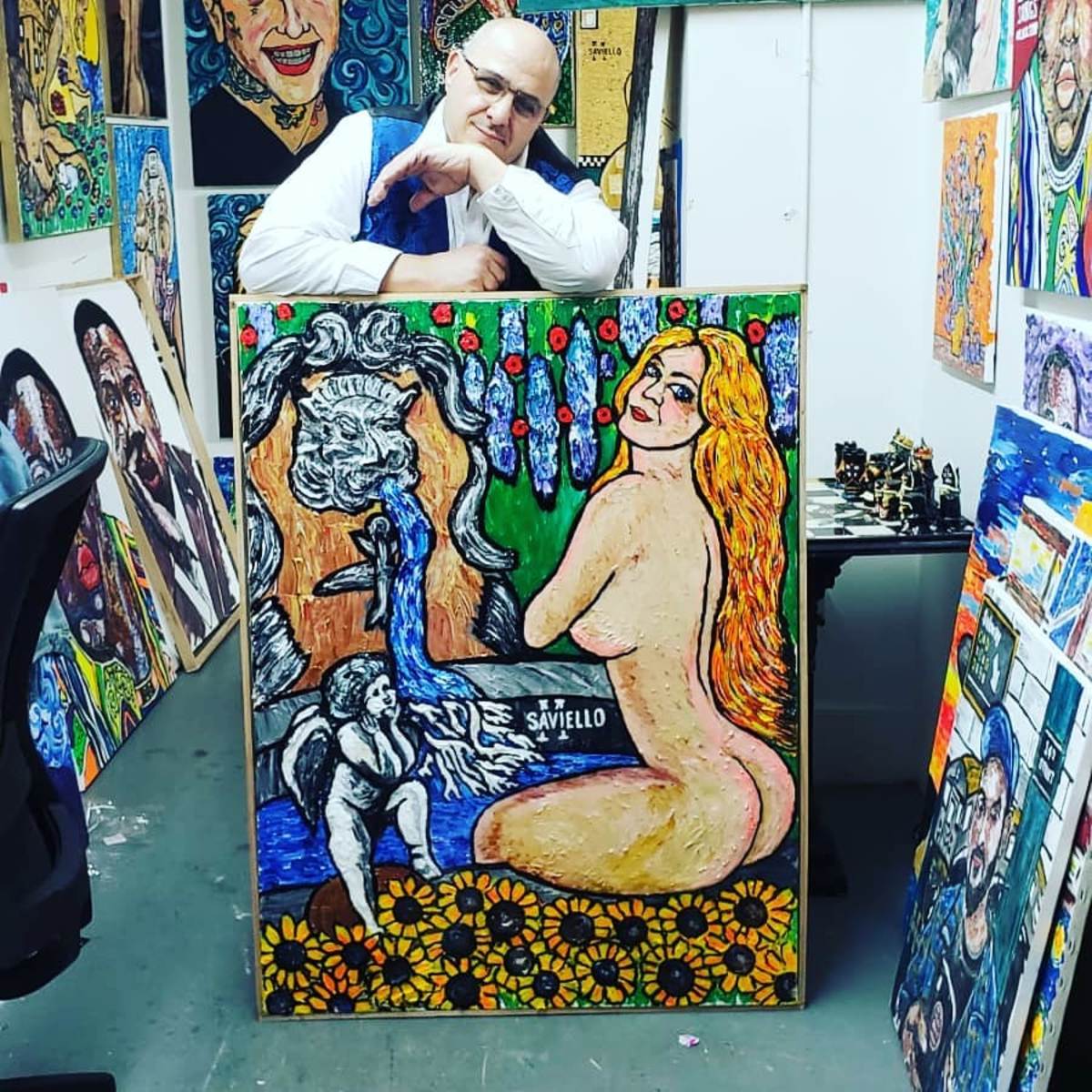 "I started making a bunch of phone calls," Saviello says. "I knew a couple people that were really always interested [in buying Astor Place]. Never in a million years could you have bought Astor Place, except for what happened [with the pandemic]. It was an opportunity."
With an investment group comprised of Astor barbers and clients, Saviello and his group bought the shop.
"I had so many ideas for the place," Saviello says. "It's fixing up like crazy from when we first took over."
Like with Saviello's art, Astor Place has harnessed the power of social media and some outside-the-box business ideas.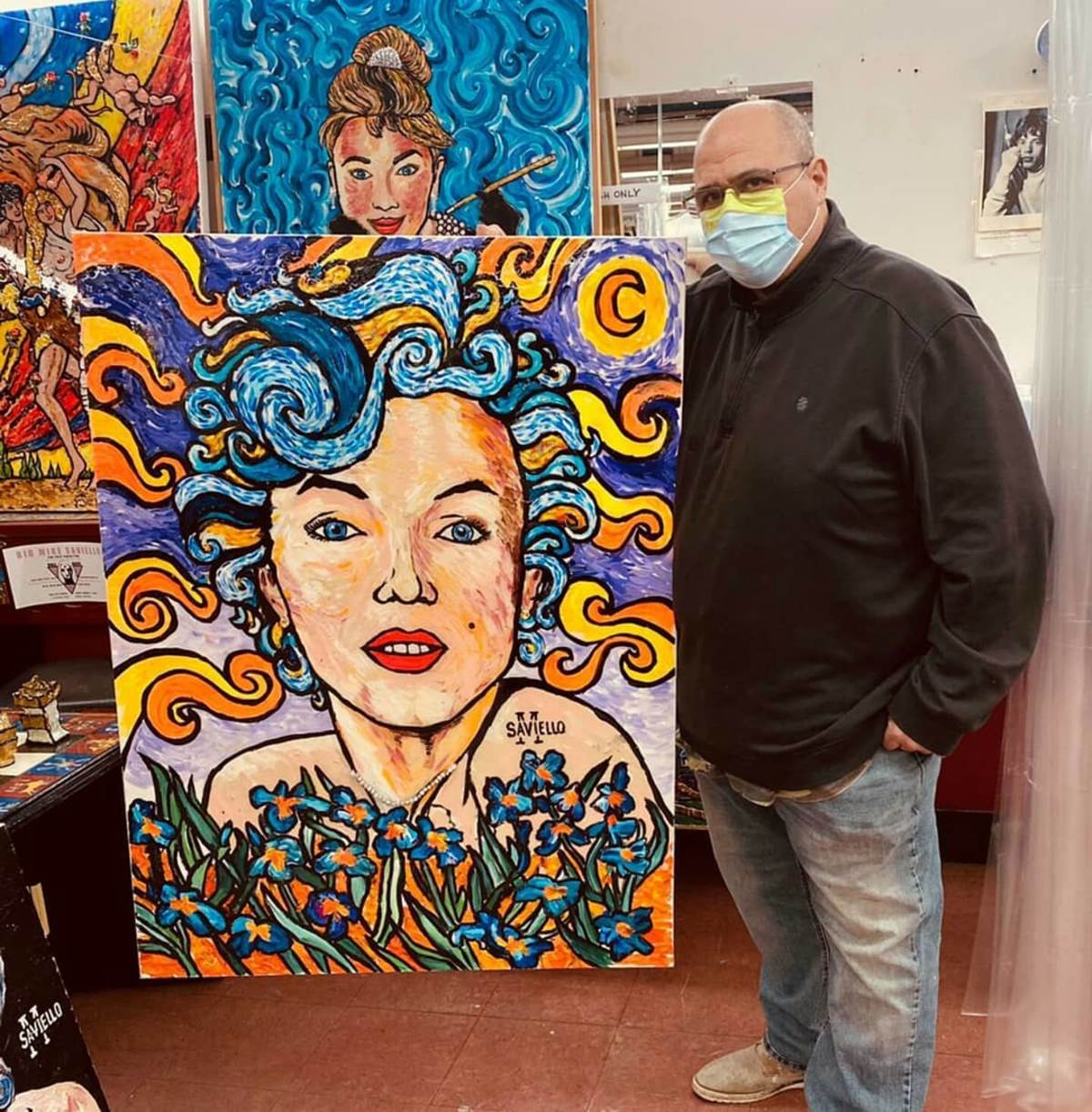 "They never did any social media. Nothing. We got our social media going, painted a mural, started podcasts. The back room I made a stage, people wanted to come sing karaoke. Before, they wouldn't let me put any of my art outside. They didn't mind me doing art in the back, but they didn't want nothing outside. Now I got all my stuff outside, people are going crazy, it's like a gallery."
Saviello has some advice for his fellow creatives and business owners alike.
"When I first started doing art, everybody had advice. Everybody criticized you," Saviello says. "In the end, no matter what, you gotta do what you have in your head. If you have a vision, just go through with it. Take a little advice, but don't lose the vision. Somebody would say, 'Don't do it that way,' and then I'd do it more the other way. I didn't listen. I did it more. Go crazy with it. When I started doing that, people started recognizing my work. 'That [painting's] a Saviello.' That makes me feel good, you know? Don't doubt yourself."
Today, at Astor Place and in New York City, Saviello says it's starting to feel like a new day.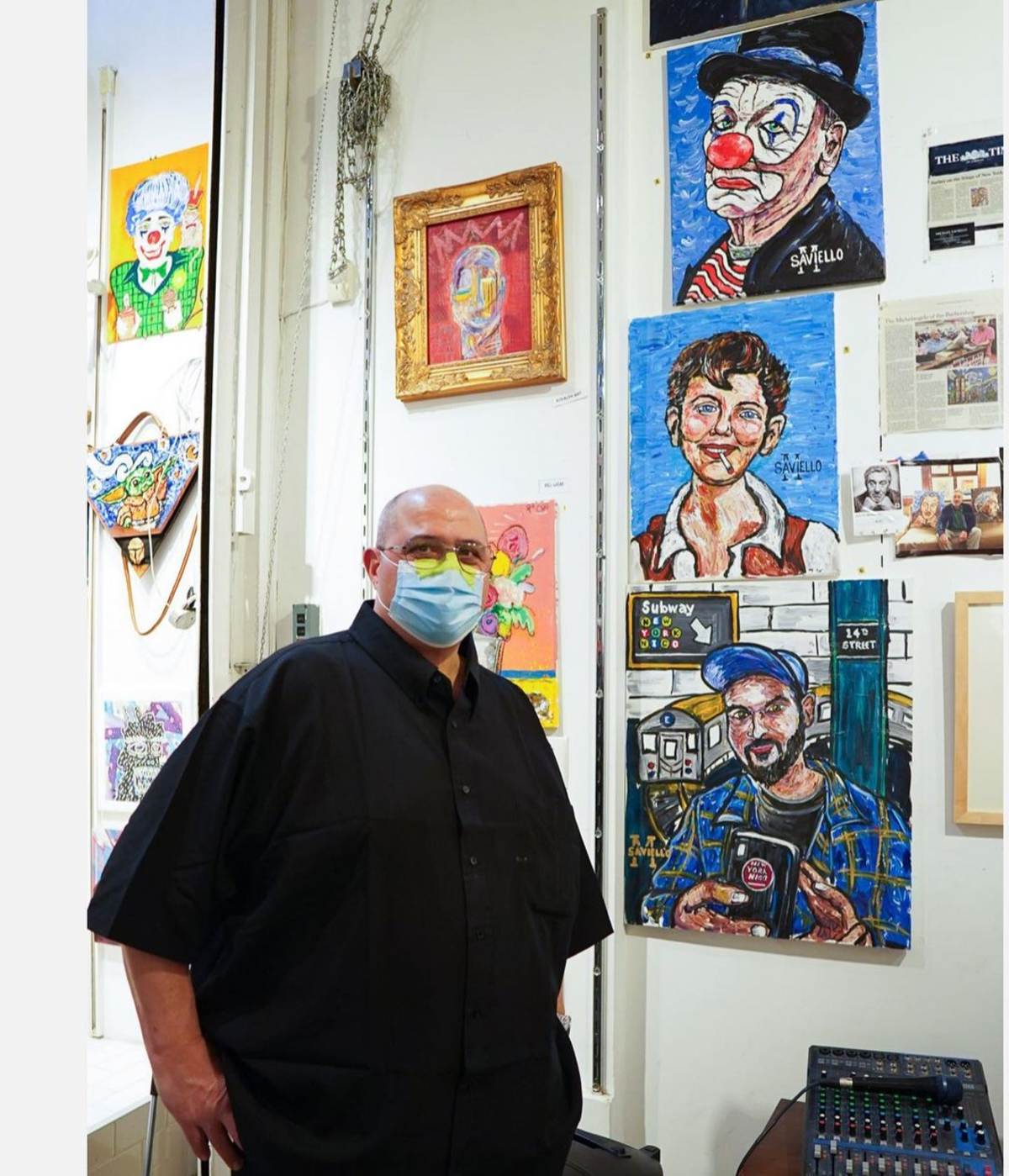 "We're coming out of the tunnel and into the brightness again. We see the people coming in, we see the city coming back."
As Saviello sees it, they'll be coming back with a fresh cut—and maybe even with a new painting on the wall.
We're coming out of the tunnel and into the brightness again. We see the people coming in, we see the city coming back.
Your Journey Matters
Bring us in. Tell us like it is. The creative community needs your voice and we'd
love to share it with the world. You never know who you might inspire.