Body Strong
Ashley Galvin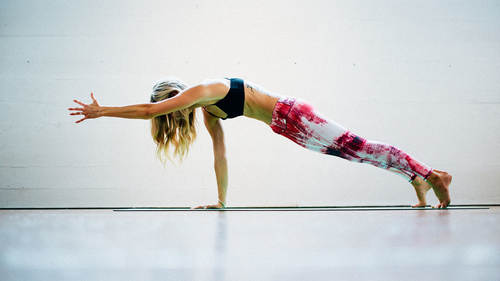 Body Strong
Ashley Galvin
Class Description
Skill level: Intermediate
Classes: 7
Time: 30-45 minutes
Cycle: 26 days
Are you looking for an intensive yoga experience that will help you dramatically strengthen and tone your entire body? Then BodyStrong is for you. This month-long course is filled with effective exercises, challenging movements, and lots of tips and techniques that will activate your body and leave you feeling great in your own skin. In this class, you will use yoga for muscle tone and increasing overall strength. You'll learn how to:
Strengthen and tone your whole body
Isolate and engage muscles in your arms, legs, abs and booty
Work to muscle exhaustion and continue through the burn so you get the most out of your workout
Ashley Galvin is a yoga instructor based in Manhattan Beach, California. She is known around the world for her strength and flexibility in her practice. Ashley teaches a strong and dynamic flow that will give you a deep understanding of the practice and cultivate body awareness. In these classes, Ashley will help you:
Focus on developing body awareness
Develop long and lean muscles you can be proud of
Tone your entire body
Workout Descriptions:
Day 1: Toned Core
Core work is key for a strong, toned body and proper alignment. In this lesson, you'll practice yoga to tone your stomach and fire up your entire core; the front abdominals, obliques, and your back body, which will set you up for success for the rest of your BodyStrong journey.
Day 2: Toned Legs
Toning your legs is about so much more than just strengthening. Today's class will be pretty quad-intensive, but you'll spend a lot of time on mobility as well, stretching and strengthening through dynamic movement to truly practice yoga poses to tone your legs.
Day 3: Toned Arms
Today you'll build heat and feel the burn as you move through rep after rep of plank, chaturanga, dolphin pose, and more. Get ready to ignite and tone your biceps, triceps, shoulders and back body. Practice these yoga poses to tone your arms and shape your upper body.
Day 4: Toned Booty
Through a variety of asana, squat and lunge variations and reps, you'll work your glute muscles in ways you never have before in today's lesson. Get ready for an energizing, booty-lifting challenge.
Day 5: Toned Body
As yogis, we work through a lot of "push" movements; chaturanga, downward facing dog, plank—but we lack a lot of the "pull" movements. Today, it's all about the pull. Step into full-body tone yoga and get fired up!
Day 6: Rest Day
Today is a rest day. Take a breather and let your muscles recover.
Day 7: Rest Day
Today is a rest day, which is crucial for your muscles to have the chance to grow.
Repeat for Programming
Day 8: Toned Core
Day 9: Toned Legs
Day 10: Toned Arms
Day 11: Toned Booty
Day 12: Toned Body
Day 13: Rest Day
Day 14: Rest Day
Day 15: Toned Core
Day 16: Toned Legs
Day 17: Toned Arms
Day 18: Toned Booty
Day 19: Toned Body
Day 20: Rest Day
Day 21: Rest Day
Day 22: Toned Core
Day 23: Toned Legs
Day 24: Toned Arms
Day 25: Toned Booty
Day 26: Toned Body
Ratings and Reviews
Fantastic class and teacher! This is a great routine to get into when working out from home has never been so trendy. This series absolutely pushed me to go further than I thought I could and luckily proved right. The results? Brighter mood, better sleep, fitter bod, more energy and overall feels like I accomplished something worthwhile! *Pro tips: 1) When Ashley mentions grabbing socks to make one of the moves harder, the ones for your hands do not need to be worn on your hands like gloves. 2) Do this series with an accountabilibuddy - for me, my fiancée - so when you mix up the step noted above and have wool socks up to your elbows ready to start the workout, someone can be there to laugh with you. 3) For the photographers, an old 5D MkII camera box was a perfect substitution for the needs of the yoga block used for some of the moves.
This is amazing. Definitely NOT a beginner class, but Ashley is very clear in her presentation. The pacing is steady and demanding, but I find my strength and stamina improving with every workout. I have to simplify lessons to accommodate weakened muscles after several years of ill health, but I do what I can, and it feels wonderful. I do think this should perhaps be upgraded to 'advanced' from current 'intermediate' level grade. Even Ashley gets a bit winded and occasionally shakey, and she is as fit and strong as anyone I've ever seen.
I have switched from my regular HIIT (high-intensity interval training ) to this workout. Recommend it if you've been working out for 3 -4 months or more and want to step up your fitness level.
Student Work