Canon® Lenses: The Complete Guide
Aperture: Equivalent Focal Length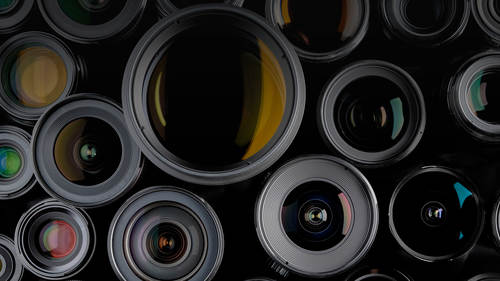 Canon® Lenses: The Complete Guide
Aperture: Equivalent Focal Length
Lesson Info
Aperture: Equivalent Focal Length
So equivalent aperture has something that is a terminology that came around. I did not learn about this in college. This is only come around, really, in the last five years or so, we talked about equivalent angle of view. At the beginning of this class, we have a full frame camera that has a fifty millimeter lands, which sees forty degrees on it. And in order to get that same angle of you were using a thirty five millimeter lens over here, does that mean that they are identical? No, it doesn't. It means they're equivalent, which means they're very close, there's, some aspects that are saying. But there are some aspects that are different. When we compare a fifty and a thirty five, are those the same lens? No. Do they have the same depth of field? No, they are different in those aspects will carry forward, no matter what sensor you are using them on. As an example if we're shooting with a fifty millimeter lands on a full frame sensor have one point for we're going to get this shallow de...
pth of field we put a thirty five on our crop frame sensor we're going to get shallow depth of field but the depth of field is not exactly the same because fifty millimeters exhibits a shallower depth of field because it's a longer focal length then does the thirty five millimeter lands and so they may see the same angle of you they may be able to sit and let in the same amount of light with the one point for aperture but they're not equivalent when it comes to depth of field and so if we were to stop the fifty millimeter down to f too we get just a little bit more depth of field the background is a little less blurry and these are equivalent apertures and so if you have a crop frame camera and you have a the lens that goes down to one point four well that's angle of view that's kind of a separate issue as faras one point for they let in the same amount of light yes, but the depth of field it's a little bit greater with the smaller crop name and a little bit less with large frame and so where this really comes into play is people who want super shallow depth of field. I want to focus on the face and have the background go way out of focus those folks tend to prefer working with full frame cameras because they enable us to use lenses that get even shallower depth of field and self there have been endless arguments in the forums in the chat rooms about comparing lenses well I have a crop frame camera and I have a portrait lens that is the same equivalent it's the same angle of you it's the same aperture and then somebody else who owns full frame would come in and they say you don't have the same lands it's a different depth of field and they would say but I have the same angle of you and I have the same light gathering ability but you don't have the same depth of field and they go back and forth fighting fighting fighting and there's three factors two of which are exactly the same the angle of you is the same the light gathering is the same one after or that one feature is different and that is the depth of field and it's one off it's not a huge deal but just don't get caught up in the arguments in the forums they're all sorts of thugs in there that'll beat you up for saying something okay so a three hundred millimeter lands is going to see seven degrees from side to side if you want that same angle of view on a crop friend camera you only needed two hundred millimeter let's sew these have an equivalent angle of you same angle of you they let in the same amount of light it's both five six but they're going to exhibit a slightly different depth of field so here's our example of our subject in focus in the background that is a little out of focus you'll see with the full frame camera ahh three hundred millimeter lands exhibits shallower depth the fields so are trees in the background are a little bit more blurry and at every aperture you go if you stop them both down to stop to f ade the full frame sensor has shallow word up the field at every equivalent aperture that you said it every identical aperture that you said it out and if you wanted to get to look fairly similar you would actually have to stop it down to f eight or so and so roughly there is a one stop difference in the depth of field that you were getting so if you have a crop frame camera you're always getting about one stop mohr depth of field with every lens that you're shooting at when you're comparing equivalent focal lengths and so it's one of these very subtle things that a lot of people liked beaching up on if you say it in slightly the wrong way and they're on their own place and so fifty millimeter versus a thirty five same angle of you because we have different sensors we talked about this earlier so the same am pitcher same low light ability they're both one point force both these photographers can work in the same low light environments they're going to get the same angle of you but because they're using different lenses they're going to have different depth of field same focal length you get the same depth of field but these are not the same folk away so you're going to get different depths of field you're going to get slightly more depth the field with the thirty five and slightly less step the field with the fifty in this particular example and so that's the equivalent aperture and the equivalent focal length that you've probably heard if you've been reading some articles about the crop frame sensor and it's because we're using different size sensors and we've always had this issue but it was more with thirty five millimeter and medium format and large format and less people had we're going from thirty five to medium format so it's become maura part of the dialogue these days because well, we have kind of a big dividing line and we have a lot of people on both sides of the line as to why we're talking about all this different terminology and it's a little bit hard to keep straight and if you're still a little confused I can understand that it is a little confusing go back through the material again and again and I can and it will eventually make sense I certainly hope and so little break point before we go on just to see if there's anything we need to address well I think first of all this is where my brain starts to be like ah what about teo and like okay, that is definitely one that I haven't had explained to me in that way before so thank you on dso just teo push that one home hamburgers had asked her age amber's with some votes so can you confirm that on crop sensors that the f stop of a lens is also multiplied by the crop factor so similar to what we're talking about? The example given is fifty five millimeter lens at one point eight on a one point six crop factor is that really the same as an eighty millimeter lens on f as an f two point eight would be on a full frame yes they are correct in that and so that's exactly what you were just explaining I wouldn't want to be careful because we're getting it's a very precise wording on yeah it's the equivalent look in depth of field but it's not the same light gathering ability because they still have their good light gathering ability I think in their example of a one point eight because they say it's the equivalent aperture of two point eight in the look of how much depth how much depth of field but as for us, like gathering ability, it's still the one point eight. And so, if a lens says one point. Eight that's. What? It's gathering until you hear otherwise.
Class Description
Working with interchangeable lenses can be both exciting and daunting to all levels of photographers. 
Canon
®
 Lenses: The Complete Guide with John Greengo will prepare you to select the right lens and get the most out of all of your lens investments.
John Greengo is the master of making complex photography concepts easy to understand and in this class, he'll bring all of your Canon® EOS DSLR lens options and operations into focus. You'll learn about: 
Focal length and aperture

Canon® zoom lenses

Which lens accessories to buy

Third-party lenses

Maintaining a lens system
John will cover the full range of 
Canon®
 lenses, from ultra-wide to super-telephoto, zooms to primes, fisheye to perspective control. You'll learn how to match the right lens to your needs and get insights on the best ways to use it.
Whether you are thinking about buying a new lens or just want to get the most out of what you already have, 
Canon®
 Lenses: The Complete Guide with John Greengo will help you out.