Order, Share, & Sell Your Magazine
Dan Milnor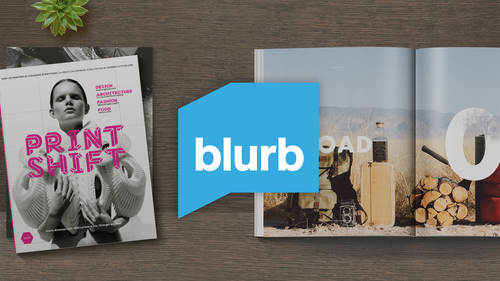 Order, Share, & Sell Your Magazine
Dan Milnor
Lesson Info
9. Order, Share, & Sell Your Magazine
Lesson Info
Order, Share, & Sell Your Magazine
and now we're going to go back and actually go to. I'm gonna go to my author page on the blurb website, and I want to show you something. So I'm here under my dashboard and I'm looking at my books and you'll notice the magazine. The first magazine that I made is here, and you're noticing it right here. And also, if I go over to another page, you'll notice that the final magazine that I made if I scroll down here, you'll notice that the final magazine, this one which is the 80 page version, is right here. And this is where I want to walk you through the back end of the publishing process. This is a really fun part of the equation. So when you upload your book to blur or your magazine in this case to blurb, you have to realize that the book is not automatically public and not being it won't be able to be seen by everyone in the world. The moment you upload the book, the book remains private or the magazine remains private, and you basically have a set of controls where you control the li...
fe and destiny of that publication and you have a lot of options. The first thing I want to walk you through is this is what we're looking at here we're looking at this exact magazine on the right is just a reminder of what it what it is I made in this case. It was an economy version of the magazine. It's a letter size 8.5 by 11. It was created with blurbs. Plug in for Adobe in design, and it tells me the date that I first originally made that publication on the left hand side, you're going to see to preview options. The first is a preview of the actual publication itself and how it would look to me if I just previewed the book itself or the magazine below. This is a bookstore preview. The bookstore preview shows what a customer will see if they were looking at your book in the bookstore. It's also a nice little thing to toggle back and forth to see the differences. Also here you'll notice that I can share this again. It's private, but I can share it on Twitter if I want to. On Facebook, I can also email. This is a link to people if they want to see what the publication is, I will typically do this a few times after I make a publication. There's always a few people that I want to get a second opinion from, and I will fire this off. I can also delete the publication, and a lot of people would kind of say to me why I just uploaded it. Why would I delete it? But trust me, I've done this a 1,000,000 times where I've had a second thought, or even if I've uploaded it but then didn't order it right away and a couple of days goes by and it's going to stay on the server for a couple of weeks before you ordered. If you if you let it try to live indefinitely without ordering, it'll get deleted from the server and you have to re upload. But sometimes I'll upload, and I don't necessarily print right that second. I'll sleep on it. I'll give it a day or so, and I'll let my mind work on what I created. What I want to use it for what the goal is. And sometimes I'll rethink something I've done and I'll know that I need to delete it and go back to the document, makes some changes and re go through the upload, preflight and all that again. It's a pretty, pretty straightforward, simple, simple thing, so it's not a complex process to delete. I can also download a pdf copy of the publication if I want. Maybe the most exciting button in the entire back end of the software is the order Mawr button you. Obviously, if your goal is to sell publications, it's great if people come on and buy things is very exciting when someone buys a publication, especially when it's someone you don't know. That buys a publication because, you know, if your mom by something, it's cool. But somebody on the other side of the world that relates to your work and buys it, I think it's, you know, maybe even a little bit cooler. And then the last button here that I want to walk you through is the sell my book option. And so if I click on the sell my book option, it takes me to the individual publication again tells me the name of the publication. All the basic guts, nuts and bolts the details and then also gives me a chance here. If I click on the book Details Tab, which is the first tab here on the left. It gives me the the option of editing all the information for this book. Now, as you can see, I'm lazy and I skimmed I'm not selling this book, so I didn't really have a ton of reasons to go in here and feel all this out. But if you are going to sell or make your book private, you owe it to yourself. To fill out as much of this information as you can in his much detail is humanly possible. I cannot tell you how important this is in trying to sell something because people are not just buying your publication. They're buying a little piece of you. They want to know as much about you as possible. And these were some of the things that can really help you get started by filling in these pages. Sell and distribute is the next tab, and what this is doing is saying, OK, do you actually want to sell this magazine through blurb direct cell? Or do you want to just keep it private and leave it where you have it. And I'm just right now. I'm gonna keep this private. But I can sell this on the blurred the website if I wanted to. And right here it's telling me my base cost is 12 99. And right now I have no profit set up. But if I hit this set up button, you'll see it right now. I have sell through blurb direct cell where I have do not distribute. It tells me the paper I'm using. It tells me the cover paper, my price, etcetera. And right here is a little profit button. So let's say it's 12 99 but I want to sell. I want to make $2 a copy. Make too dollars. When I click on that, it shows me. Okay, Now the sale prices 14. 99. I'm gonna make $2 every time I sell the magazine, which is pretty exciting if you're a big shot, that maybe you mark it up even more. Make some money from your magazines. The next tab is promote tab, and we all know living in the age of social media. One of the magical things about being a creative person today and making books and magazines that you have a direct connection to a global audience. Really. For the first time in history since the invention of the Internet and things like social media, it's pretty exciting. So on my promote tab, you'll notice that I still have mine. Is invite on Lee. I don't want to sell this magazine. It's just for my personal needs. But I also have the ability to share it via link Facebook, Twitter, Google plus Pinterest email, all the all the regular customers air here. I can also copy and share this link, and then I've also got the ability to create a preview. And this is an embed herbal visual preview, which I love. I can show all the pages of the magazine. I can show the 1st 15 pages of it, or I can create a custom preview and just show the pages that I want. Once I've created that preview, I can then embed it on places like Facebook and more importantly for me, I embedded on my own website and I have to say there's for visual people and people who are interested in printing and buying publications. Posting a link somewhere. It's fine, and it's a great start and its strategic. But posting something that's visual is a really a way to put the hooks and people they want to see a couple of spreads. I don't I don't know about you, but I'm on Twitter a lot and there's people that post on Twitter and they show little spreads of books and magazines, and I'm totally hooked on that stuff. I see a good spread or a good design technique, and I want to buy that publication and take it home. The last tab you're going to see here at the top is the book Metrics Tab. And because I don't have this publication for sale, it's not showing me all the books that I've sold. But this is a really nice way to track the activity on that particular publication behind the scenes. I used to do this all the time when I was making books for clients and I would go in to see how many books they bought, how many times they looked at it. I also checked out my profit if I was making any kind of money on the behind the scenes. All of these metrics are there for you to engage with all on the books, individual page on your dashboard, and it's a pretty, pretty exciting system again. I think the back end of the Blur platform is a lot like the plug in for in design, in the sense that it requires practice and patience and again test driving. You've got to test drive the software a couple of times. You've got to test drive the back end of the process. I think sometimes today, because we have access to all these amazing tools. We really get in a hurry and we want everything right now, and I'm equally as guilty of that. Is anyone out there? And then I think I do best when I just slow down a minute and I go through the process of this and again, I think talking about what we spoke about it beginning is just starting. Something is really the key. So in today's program, we talked about starting. We talked about the creative work in the world in general. We talked a lot about the plug in in the interface and then also the upload process in the back end of this. And I think, really, when you listen to this program and you learn the basic fundamentals of this of this program, you two are going to be able to engage with the bookmaking world. You're gonna learn about that community, and you're gonna realize how simple, easy and most importantly, entertaining it is to make your own publications. So stay patient, have fun, forget everything you know, enjoy the process and have fun with the blurred plug in for adobe in design.
Ratings and Reviews
This is one of the most interesting, informative, and accessible Creative Live classes I have yet seen in the five or six years I have been watching. Dan emphasizes the fun of the process and the importance of just getting started and being patient with one's progress. The aspect of this class that differs from so many "how to" courses is a clear way through production and distribution. I think many creators become stalled at the "how to begin" stage of real-world creativity, and Dan and Blurb provide an avenue through that sometimes hazy terrain.
Thank you Dan and Creative Live! What a brilliant guide. I feel capable of jumping straight back into inDesign and can't wait to start self-publishing zines! - tessalauren.com (Photographer)
Clear and concise. Good course! Doesn't hurt that the instructor looks like Rob Lowe. ;) Worthwhile for anybody interested in an easy way to self-publish a magazine. I've used Blurb before for other projects (books) and it is indeed an easy-to-use platform.
Student Work