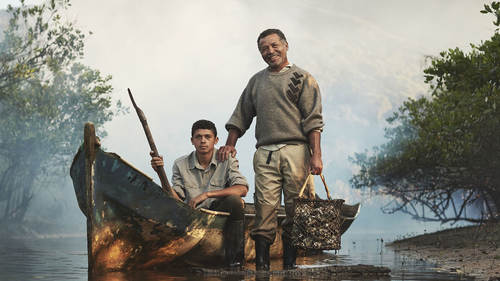 Lesson Info
1. Creating the Book
Lesson Info
Creating the Book
three years ago I was on Creative Live and I did a talk about my portfolio, and at that time it was a digital portfolio. And I said that a portfolio like isn't necessarily a physical book. It's just the way that you choose to display your work. So I mean, this isn't supposed to be a repetition of that class. In fact, it's entirely different because I have my actual, like, physically printed book here, and we also have a camera above us here, in which way can see, like how the actual spreads look. So I guess what I want to stress is the reason why I'm here with my printed book is because this is how I present my work to clients, friends, colleagues, and it's sort of a way just to condense everything that I've ever done to best represent my work as a photographer. And I guess today that we're gonna pretend that you're the person who I'm trying to win over with my work. But I see. So the purpose of our 90 minute segment today is to talk about this, you know, as a physical piece, but also ...
how it comes together in the editing process. Why I chose to display certain things the way that they are. So I suppose the first thing that I like to talk about is just it as an object. And we'll get into the other stuff after awesome just to set this up again, like me playing editor or what have you? Who would I be? Who would I be? The person that you're presenting to? Um, let's let's suppose that well, I mean, we're gonna stop and be talking about a lot of photography things, So really, you're the host of CREATIVELIVE, but yeah, you're just someone who I want to impress. Maybe we'll work together one day, but it's not about that. It's more like dating, right? Like you want to show your works like slowly. You don't want to be like, hire me, hire me. Hardly like that's not That's not the right vibe right dating. So we're on a portfolio date. All right, So tell us about the book, Okay, So yeah, so I'm kind of, ah, control freak, and I actually print all my own pages. In fact, there's a lot of third party printers that print, but it's enormously expensive to get someone to do. And I think about the entire process of photography from what lens have used. How did I processes from the raw file, if I might, in control of the final print than what's the point of me being such a control freak in the first place? So I don't make the book which holds it together, but I do print the individual pages. So I've actually brought some of that stuff to pretend this is like a cooking show where the where the stuff is, like, half made and then it's magically put together. So I'll show you what I actually do with this. Um, okay, so this is like a linen cover, Okay? It's made by a place here in New York called House of Portfolios. It's very clean and simple. Um, the color of it is a warm ash gray, which matches my website and actually the flow of the images inside this book also pretty much match my website the way it is. So it's supposed toe be like if I meet someone and I want to send in my link after they're like, Oh, that's the same guy, right? Because there's so many photographers you can become forgettable very easily. So the pages itself. I'm not endorsed by this company. But if someone's watching, please send me as much free stuff as you can for doing this. This is Ah, Ilford Galerie Prestige. Oh, doesn't matter. The main thing is the thickness of the paper 250 GSM. That means I can send this out endlessly, and the pages won't get ruffle. That's the thickness of the paper GSM semigloss duo. That's what I prefer to print on. It's not a matte paper. It's not a glossy paper. It's a semi gloss paper duo means that it's double sided. So as you turn the pages, you can print on both sides a lot of high end paper. They sell it as sheets, and that could be a bit problematic. If you're looking through a book and it's just like one image, one image, we can't really establish a good flow of that. So that's the paper that I print on, and it usually comes in sheets, but then I customize it specifically for the book, so okay, so basically I get the sheets and then we trim them down one inch. So here's all the trimmings that we did. OK, this is a cooking show. So we put that in the pot, Uh, so we trim it down one inch on. Then there's a one inch gutter. This will sit inside the book, and it will be held together with the whole punches. And I used to score, which is bending the page and hole punch needs myself. But now I just get 1/ like the same company who makes the book to do it, because it's like just a pain in the ass, honestly, and it's so cheap. So yeah, I have them do that. So I trim a ninja off There's an inch gutter, and what that leaves me with is something which is a four by three ratio. OK, because I shoot medium format photography 80% of the time, and I know that that's the aspect ratio of the overwhelming majority of my images. So I want the book to be consistent in shape. So since this is a before by three image, there's 1/2 inch white space, and that's handy for turning the pages right so you don't get fingerprints all over like on a website. We don't have to think about these things because it's just somebody's dirty mouse. But I have to send this out after a year. Two years. I might have to reprint stuff. Someone spill something on it. You know, you can't judge them because maybe their potential client in the future. But you like men were some gloves, right? So, yeah, we went to two years is a pretty good amount of time. Yeah, and some some photographers. They choose to use plastic sleeves to display their working because it's easier they just slide it in. But the problem is, is you know it's a barrier between your work. There's nasty reflections and even those you have tow replace. So I prefer printing like directly to the page again on a thick paper. In that way, it will preserve the book more in the future and like that could be a bit of a nightmare to print to. I will point your direction, toe one thing. Here, you see this little like ink splash. This is actually from feeding in the paper twice for a double sided page, and I can use this because this part is hidden in the book, but everything, like printing, is a nightmare. But in the end, it's worth it to have a book and, you know, flip through your own stuff. So that's what I wanted to show first with these actual pages size again is a three plus, which is 13 by 90. Yeah, all this stuff always confuses me When someone's like Prince, like 84 it's like we're in 2016. He just tell me how many centimeters or inches it is like, Come on. Or, like, put millimeters really like, Sorry, I'm not that gifted Teoh. Okay, but yeah, this is 13 by 19. We trim one inch, they become by 18 minus another inch. We can have the printing space for by three ratio. So maybe maybe I'm okay. All right. Uh, there, too. Oh, yeah, right. That's ugly. Okay, The other thing I wanted to show you was this is, ah, hardcover case that I had made from the same company House of Portfolios. And basically, I have to lug this thing around. If you calculate how much ink costs, how much each page costs, how much the book costs. It's like quite an investment like I have this thing insured because it gets mailed by post. So I also want the hard case. This one is personalized. Okay, them boss. My name. It's nice, has a straps like in feel professional beforehand through an interview. It's like my going toe work thing. And then it's an air case that could be sent around. And, you know, if I'm sending it far away, I'll put it inside of a box. But if it's if a messenger is taking it, they can just take this and it's a nice hard case.
Ratings and Reviews
Joey's work is amazing and this class is extremely informative but what I really appreciated the most is his humility. He has worked with so many people and on so many projects yet his humbleness shines thru it all. A great lesson for all of us. Thank you for this class.
Student Work