Add Depth and Texture to Icons
Jason Hoppe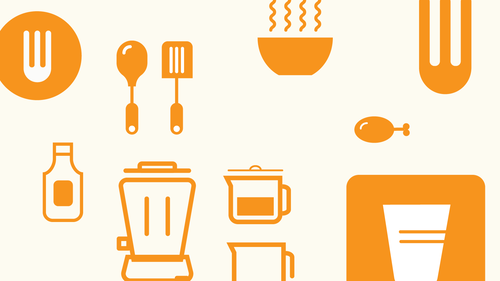 Add Depth and Texture to Icons
Jason Hoppe
Lesson Info
7. Add Depth and Texture to Icons
Lesson Info
Add Depth and Texture to Icons
So broccoli is going to start off with a whole bunch of circles and I'm gonna duplicate circles in many different ways so that you can create cauliflower is gonna work the same way, like so. And this is great to do foam or whatever you want. Teoh put a whole bunch of stuff together, merge them all together. So you get kind of this really cool, funky shape. I could then go in, and I could just take out those areas that I don't want. And so you've got broccoli, You got cauliflower, you've got steam. You've got a chef's hat right there. And then from this point, I could go in and I could just use my line tools and kind of draw and snap things to it. And with using the line tool each and every time. Unfortunately, you have to connect. So what you could do is you could make this a little easier on yourself. You could create an object like this, take the top off, go in and select just the points and move them, snap to them, and then select everything and join it all together and then to crea...
te broccoli stalks. You put in a couple lines here and I'm in a hot dog, the ends of the lines. And in this case, I may not want it to snap to my grid structure. They may want to do something like this and copy those looks kind of like a muffin as well. But you could do a very stylized broccoli, something like that. So it goes probably a narrower stock on there. But if you want any type of lumpy, bumpy kind of thing, that's great. If you want to add a little bit more dimension to this as well, you can also go in with one of your arcs and just draw a narc someplace like this. And in this case, I'm gonna rotate this and then I can throw it in, like right there kind of creates a really cool secondary effect in there as well. I can't attach it to anything because this is a completely closed shape. But this is simply a nice little arc to throw in and then have something come down off it. Ice cream, foam steam, chef's hat, broccoli, you name it, whatever it can be. Scissors, scissors were fun because scissors just start with ovals. So you got your oval handles. Snap to grid back on. But the stroke on the inside and with a set of scissors, the natural scissors right there. And then you need your little pointy angles. So if I go in and I start off here and I draw a line like so I can go in and I can hot dog the ends, But with scissors they're gonna be wider at one point and then the other one other end so I can use my with shape tool, my chicken skewer. Go on. I can pull those little bit wider, Teoh, create those ends right there like that. And then I could take right click. I could transform reflect this. But in the process of reflecting this, I'm also going to create a copy of it. And there I have my sisters right there. And of course, with every scissor you need a pivot. Because that's absolutely imperative because you wouldn't know what it waas if it wasn't that. So I do that when I fill it with white. I send these to the back right there. There's a pair of scissors. If you want the little scissors like you cut hair. Oh, my gosh. Use your little arc tool. Throw that in there. Park that zing. There's your old scissors with your little handle. Probably not in the right places. It I don't know. I don't know. Scissors that. Well, all I know is that they're fun to run with. Uh, So what was the other one? Uh, avocado, Avocado, Avocados. Pretty easy, Because what is it? Well, it's going to start off with just something round like this, and then the direct selection tool. I'm going, Teoh, pull up on the center point, Zoom in so I can see I'm gonna pull up on the center point because it looks kind of like an egg that we have to move this down a bit. I may want to bring the sides in a little bit because it's going to be just a little bit more rounded up here, So if I use my, um, curvature tool do I could probably plumped that out a little bit. That's not looking good. It all starts off with here. Watch this. Yeah, Looks kind of more like a surfboard right there. Okay, so I'm not digging that right there. But I think what we need to do is this is correct. So I'm gonna select that upper point. I'm gonna pull my little pull handles out. So I kind of rounds at a little bit more as well. Yeah, kind of. But then with an avocado, we also have, like, a little piece on top. So that could go on the outside, or we're gonna do the stroke on the inside. Here. It also has texture to it, so adding texture normally, what I do for texture is just little circles. And so I create a circle, snap it to it, and then create a nice little texture across here, like so copy all of this may be offset The texture a bit to kind of create something like that. Or if you want to do some type of dimensional texture to make it look like a little rind of some sort. This in, turn off my snap to grid and do very much the same thing that I did with my cheese grater for my potato grater. Put the two objects together, and then I do subtract the front and run out of memory. It is subtract the front that wasn't. Subtract the front that subtract the front. And this is a great way to kind of add these cool little shapes in here. Yes, they look like moons. But this gives you the ability to go ahead and create some cool textures and some random stuff like this so that you can then go in and create the texture on there as well. Maybe even take one of these and put it on the top of the object to make it look like you've got a little yeah, piece of the avocado sticking out the top. Yeah, I don't know that Look like an avocado doing the inside of an auto. Cobb Avocados. Ridiculously simple, because all you do is you take this. Copy this over here, turn my snap to grid on. And then, of course, you go ahead and you put your circle inside their fill it with black, and it's like that's the easy part, you know. So do you want an avocado in its shaller out of its shell? Who knows
Ratings and Reviews
I like Jason's teachingstyle. Nice to see that just using symple shapes and a few trucs can help you make icons.
I learned some nifty techniques! For example, how to easily change sharp corners to round ones, and how to subtract simple shapes from each other and use them as building blocks to create icons.
Student Work