Diving into Photoshop Filters
Liquify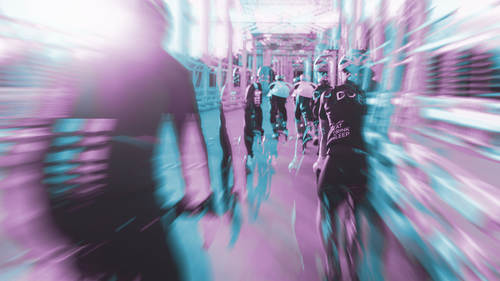 Diving into Photoshop Filters
Liquify
Lesson Info
Liquify
Okay, So we're gonna take our Hulkster guy here and liquefy is, um, a really useful tool. So against used a lot in retouching, um, to change people size. Ah, and it's usually de mode on women. So I thought I would just swim upstream and get a guy here, so we're gonna hold him out a little bit. So the liquefy filter can be found under the filter menu. It has its own category right here, liquefied. Have any of you not used liquefy ever at all? You've all used it, so you have somewhat familiar with it. So, um, in this workspace over here, we have all of our controls and settings and things on the right side. And over here, we have a bunch of different tools that we can use. Teoh, adjust the image. So in this case, I really grab this tool right here. This is the bloat tool. And when I zoom in, we can see a little better. Well, just like take these biceps and blow them up a little bit your pecs and you can change the pressure over here. And like the density of your brushed in the size, all ...
those types of things to kids. Control. How intense your changing the image Over here. Um, on, Let's see. Kind of just look all this up. What I also want to do is I'm gonna grab this one here. This allows me to shift things. So it's called the push left tool, and it allows me to click. And if I drag, um, oops, let's maybe have some pressure. Go in there. There we go. So if I increase the pressure to something that's actually making a difference, Um, and if I drag upwards with this brush, it's gonna drag things and push them to the left. So if I want to, like, widen this line of his shoulder, I can just drag to the right and you see how it's pushing things up and out. So we'll see what kind of difference we're making here. We're just like, widening his arms. It's so interesting. The difference what you do to men versus women, right? Women and feeling probably going the other direction. Okay. And now over here, what's cool about liquefies? Um, if I want to drag to get his shoulder going, I don't want to get his face involved in that. So what we can dio is paint, um, to freeze parts of his face. So we just don't accidentally include them in this and we'll go back over here and just kind of I'm still dragging to the right. If I drag to the left, it goes the other direction. So you've got to be careful. Obviously, you can get carried away with this pretty easily. And I'm not the world's greatest liquid fire, but it is fun. Okay, so let's turn the preview on and off. Oh, wow, That words really Well, okay, well, then we can click, OK, and then it's like, Oh, it's not wild. That just never gets old. It never gets old to me when I mean it's just it's quite dangerous. And I always feel guilty when I teach it because it's like, What are we doing? We're perpetuating all kinds of horrible body image problems, and now I'm implicit in it, but it's really fun, but try to use your powers for good, for good. Just forget So, um, but that's one thing you can do with liquefy. Another thing you can dio that's newer and liquefy is face liquid fication which you could have always done before. But you had to manually do it and liquefies one of those things where if you are not really experienced with that, you can just end up turning people into cartoons. So if I wanted Teoh, I don't know, like, increase his I size or whatever. You can do things like get the blow tool and kind of just blow them. But, you know, then you run into the problem of leg windies stop. And like, now he just a little like a cartoon and, like, that's the stuff that I dio. So let's reset that reset. Why are you not working? Uh, okay, well, there's also this tool called the reconstruct tool right here so you can melt things back to normal. Okay, So then Adobe added the ability to recognize faces. So when we click over here on the face tool on the left here we see the we get these lines around faces. So it's auto recognizing his face and facial features. So we have the ability to now come in here and, like, adjust his eyes. I just think this is kind of so bizarre, but like we can adjust his individualized like the left eye or the right I or I can link them together and then just increase both of them. And I guess the good thing is that it at least limits you. You can't go too far, but I think that's still too far. So I mean, I don't know. I feel weird when I'm like doing. I don't do this to people's faces, like, as a matter of just my normal operations. But, um, if you were doing fashion retouching, I guess for beauty, mascara product shots, you probably like live and breathe this. But it's not something that a part of my portrait business, but you can adjust the size, the height of the eyes, the with you can adjust the tilt. Um, even this is so funny the distance between them or not. I mean, it's kind of comical, um, and the nose to can lead, move noses around or just the width of nose is. But what I actually do find somewhat useful. But it's also hilarious. Is the smile so so funny? Oh my gosh. The first time I actually showed that you hear it created why I had a picture of my son, and it was the first time we ever put him on a bicycle and he was like not getting it yet. And so he's sitting and there's this picture with me and him and I'm like, OK, let's ride a bike and he's going. And so we brought it into footage, shopping way tried this and we all fell over laughing because it means mostly, totally fake smile, and it's just kind of funny.
Class Description
When it comes to Adobe® Photoshop® filters, there's more than meets the eye. Beyond cheap tricks and quick fixes, Khara Plicanic will show you the powerful manipulations, effects, and more that one can do when utilizing this tool. Discover new uses for filters you thought you knew, and several you likely overlooked.
Software Used: Adobe Photoshop CC 2017

Reviews
Khara is knowledgeable, creative and has a fun and easy to understand teaching style. This class goes over some of the default Photoshop filters and offers ideas about how to use them for creative effects. My favorite new thing I learned was about displacement maps, but I'm looking forward to trying more of these out.
Explore More Free Classes
THE
CREATOR

PASS
Enjoy the free classes? Get 2000+ more Classes and watch it anytime, anywhere.
Get The Pass