Synchronous vs Asynchronous
Ari Meisel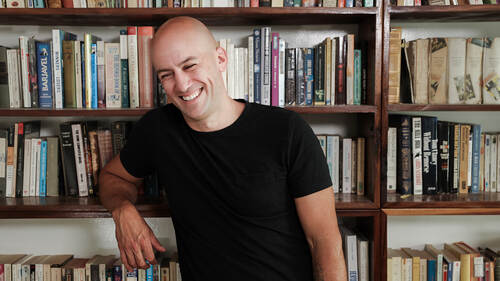 Synchronous vs Asynchronous
Ari Meisel
Lesson Info
7. Synchronous vs Asynchronous
All good things are managed with balance and healthy expectations, Ari shows you why communication is no different.
Lesson Info
Synchronous vs Asynchronous
Now we wanna look at asynchronous versus synchronous. And this is my favorite, asynchronous communication is the single most powerful tool in my productivity arsenal. And hopefully, it will be the same in yours. Now just to get some definitions outta the way here, right? Synchronous means that we're live, you're on a Zoom call. you're in person, you're in auditorium whatever it might be. I can talk, they can hear, they can respond. I can see all the shrugs and eye rolls maybe and smiles and everything and react at the same time, meetings basically are the synchronous types of communication. Asynchronous is the opposite. Asynchronous is what we're doing right now. You might be watching this video weeks, months maybe even years after I recorded it. Asynchronous communication means that I get to be in my home, recording this for you. And you get to be in your home halfway across the world. Maybe at the time that I'm recording this video, you haven't even started your business yet. It's ob...
viously not the right time for you but maybe months from now, you start this great business and you need the help that I'm talking about here. And that's when it can serve you best. It couldn't give you a more perfect example of how asynchronous communication works. When you allow people to communicate when and where is best for them and not just best, but most effective you get more effective results. Asynchronous communication is around us all the time. And a lot of people just don't see it that way. Email is an asynchronous communication tool. Texting is an asynchronous communication tool but how often do people text like this, send the text message and then they say, he's writing something. He stopped, right? Those few seconds of my attention that were just taken up by that, it's a problem. As I said before, the switching costs associated with getting interrupted is huge. The way that should have been is I should have written the message and put it back in my pocket. I had the thought that I wanted to get out. They can get it when they want and I'll come back to it when I want. Your communication tools are meant to be your tools for communicating with your world when you want. They are not meant to be an open doorway for anybody to walk through whenever they want your attention. And that is a very important mindset shift. Many people who have two or three screens on their computers now one screen is dedicated to email. Another one is dedicated to Slack. It's right there, smacking them in the face at all times, and that's not how it's supposed to work. And ultimately, that is actually not the most effective way. Well, that's somewhat obvious at this point but it's not even the fastest way for a lot of people going back and forth and immediately responding to people feels like it might be. But if you actually have time to process and think about something and give somebody the right answer, not just an answer, you actually do better for everybody involved. Now, asynchronous communication can take the form of writing, video and voice. I use a tool called Voxer, as I mentioned before. And again, the tool doesn't matter but Voxer is the one that I love. And I even do an asynchronous daily standup with my team. Some of you might not be familiar with that concept. A lot of companies have been doing this for a long time where they'll do a daily five 10 minutes standup, everybody sort of gathers around and they go through what the day looks like. It's a great concept, but it really doesn't work for a lot of teams because people operate on different schedules. Ultimately, we have the morning people and night people, right? But it goes so much further than that. The times that are best for you to do certain things are so specific and individualized to you. So the odds of you getting two people at 9:00 AM on a Monday for the daily standup that are in a good mood, it's kind of unlikely. So to try to do that with five, six, 10, 20 people is next to impossible. Now with an asynchronous daily standup, what I would do with my team of seven is a message would pop up and it would say, "Hey team, it's time to check in." This was seven in the morning. It's time to check in what are you working on today? And what is your biggest obstacle? And my team of seven in four different time zones would typically check in within about 20 or 30 minutes. Sometimes it might take four or five hours but every single day we were all checking in. We were hearing each other's voice, staying connected and identifying areas where somebody might be able to help because of an obstacle. So I want you to look at your communications now, this worksheet that I want you to do is a little bit different than the last two. We're not doing two boxes now. Now we're doing a Venn diagram because many types of communication may fall into both categories, right? Let's say financial updates, right? Maybe you get a daily email with the profits and loss for the day, every day, but then every week you have an in-person meeting with your CFO whatever it might be. So that could go in the middle, but we wanna have one side that is asynchronous and one side is synchronous, and this is not a list of what you want it to be or what you think it should be. This is what it is now. So how many types of communications are you having asynchronously and how many types are you having synchronously? And again, to clarify, if you have Slack on your screen all day long, and you're just going back and forth people all day, yeah that's an asynchronous platform, but you are not using it asynchronously. You're not using it at a time that is best for you and only at that time. So identify what it looks like right now. Now I can tell you for sort of an extreme example. I use Voxer, as I mentioned I actually use Voxer for about 99% of my communication at this point. I do very, very, very little synchronously. I might have one meeting a week that is actually scheduled on my calendar. And maybe that's a podcast interview. Maybe that's filming this course, but all of my other communication is done using Voxer asynchronously. I have gone so far as to do it as my main aim for coaching. So I do one on one private coaching with individuals all around the world, completely asynchronously. They never get a Zoom call with me. They never have an in person workshop. It is all done asynchronously. And what that means is that I can offer unlimited access to multiple people all around the world and spend about 20 minutes a day, doing the most effective form of coaching I've ever seen in my life. Additionally, it's how I do my sales calls. Anybody can go to voxerwithari.com see a very short YouTube video that explains what Voxer is and reach out to me on Voxer. If they don't want to, they're not gonna get to work with me because that's my platform that I use. I won't work in that way, synchronously because that would mean that I'd be missing soccer games or Taekwondo Championships. Now asynchronous communication is honestly a hard pill to swallow for some people. There are people that are just used to doing things synchronously. Granted the pandemic certainly changed a lot of this culture, but it was pretty common practice back in the day, especially if you were in an expensive business or a high ticket item kind of business where maybe you would fly halfway across the country, across the world business class just to sit down and take a client out dinner just to shake their hand when that could have all been done with a DocuSign online, right? And that's fine, that's the way it used to be. But so many of us have that ingrained in us that it's gotta be in person. If you're gonna have a coaching session or a therapy session, it's gotta be in person because nobody could nod on Voxer, obviously. If you're gonna break that mold you have to have a conversation with people about how they communicate best. And I can tell you, I have had people that I work with. I have people on my team that don't like Voxer, for example because they don't like voice. They prefer to read. Me personally, I am a very bad reader. I just get very distracted but audio, video stuff I can do really well. And on the topic of video a lot of people will wanna use something like Loom or some sort of Screencast to communicate information. The problem with video, in my opinion at least is they kind of have to watch the whole thing. It's a little bit difficult to do when you're mobile if you're watching on a small screen and somebody's like sharing their screen you have to zoom in, but for certain concepts and for certain teams, that might be the thing. If you're working in a video editing team maybe you have to do a Screencast and show people what you're actually working on. So what's important is not just to come out into this and say like, all right, guys, we're just using Voxer herein from now on. You really have to have that conversation make it that two way street and try to identify which method works best for both sides of the communication and how you can accommodate that in the best way. So let's talk about an example of where synchronous butts up against asynchronous and different communication styles create a real problem and sort of how we deal with that or how it was dealt with. In one of my previous companies I was running a virtual assistant service and I had a partner who I was very close with. We built the company up together and we worked really, really well together. And a lot of our communication was done asynchronously. Part of that was because I had a family. My partner was single, our timings for different things just worked differently but my partner really liked to be synchronous on a lot of things. He liked us to be working together in the same place simply because he wanted to be able to look up from his screen and say, I have this idea for something have us go back and forth on it and then go back to what he was doing. That wasn't great for me. I preferred to work asynchronously. However, I had to admit that some really good ideas came out of those interactions. Ultimately, what I had to do was we made it so that basically two days a week were this synchronous days and the rest of the time was asynchronous. And that worked out as a really good compromise because the friction that was coming from it was creating some very serious problems for us. But when we identified that that was a way to create a compromise. Now we knew that for example, Tuesdays Thursdays were the synchronous days were gonna be in person. You can interrupt me all day long if you want and we can go back and forth. Respecting that the other days were purely asynchronous. Don't call me at 11 o'clock at night with an idea. And he didn't, he was respectful of that idea. Don't send me 15 Slack messages in a row and go back and forth on things respect the asynchronous nature of the communication that we're gonna be using on those various days. So there is a way to compromise between them, but what most people do is they just don't communicate about it. They have the problems that arise and then the friction becomes insurmountable. So have those conversations and have them early and figure out not just what tools, not just when and where but really the style of communication that works best for the different parties in that communication paradigm.
Class Materials
Ari_Meisel_-_Effective_Communication_Bonus_Material.pdf
Ratings and Reviews
Student Work