Evernote for Mac
Natasha Vorompiova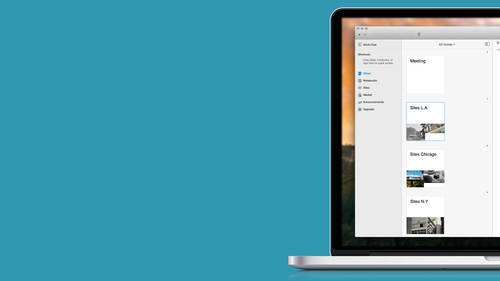 Evernote for Mac
Natasha Vorompiova
Class Description
Millions of products are marketed to small business owners promising increased productivity and improved project management, but small business owners don't need more tools – they need results. Learn how you can get more mileage out of the tool you already know and love in 
Evernote®
 for Mac with Natasha Vorompiova.
Natasha knows how to keep a person organized. She is the creator of Systematic Success 2.0 and founder of SystemsRock. In this class, she'll teach you tricks and techniques for turning your 
Evernote
 account into an active business management hub. 
You'll learn how to use 
Evernote
 to: 
Manage repetitive processes

Collaborate with contractors and keep track of clients 

Whip through tasks and projects

Tame information overload 

Manage your business systems
Don't waste any more time looking for new tools to manage your business – learn how to use 
Evernote
 to bring in new sales, finish projects, connect with industry influencers, and generate amazing new leads. 
Evernote
 for Mac with Natasha Vorompiova will teach you how to handle the day-to-day operations of your business in one central, easy-to-access location.
Don't use a Mac?
Check out Natasha's class Evernote for PC.
Class Materials
Bonus Video: Which Version of Evernote is right for me?
Ratings and Reviews
I loved this class. I learned so much about this powerful program. It put my business on a whole new level. Easy to follow and spot on. Worth every penny.
Wow! Natasha Vorompiova's Evernote for Mac course blew my mind! I've been using Evernote for years, but have always known I wasn't using it to its full potential. The tool is so open and unstructured, though, and I just couldn't wrap my head around how to use it more effectively. Natasha rolled back the curtain on HER very structured way of using the tool inside her own business, and exactly how to apply it to MY business. Her templates alone are more than worth the price of admission, plus I learned all kinds of tips that are already making my business so much more organized. She covers everything from task management and project management (and how to systematize with Evernote so you can bring in assistants EASILY) to customer relations management and more. If you use Evernote, you need this course!
Natasha shares some good ideas on how to set up systems for your business. While I do use Evernote for organizing my research and writing projects, I have instead applied her suggestions to what I currently use to manage my business -- Gmail, Gqueues, and Dropbox. I have been able to keep an empty inbox and never miss a task. Now I am working to set up and document for a VA to take over some of the tasks. The recommendations for how to do that are excellent.
Student Work