Family Photography: Creating a Successful Business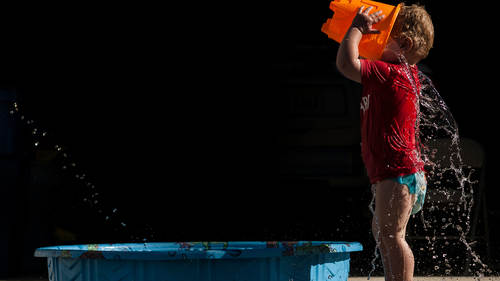 Family Photography: Creating a Successful Business
Lesson Info
Direct Marketing
All right. We're gonna talk about direct marketing and this is, in my opinion, is how you're gonna book sessions. In combination with everything that Marie just told you. This is where you put in the work, and it's your local market. You're gonna have to make a list of as many places as you can think of in your area where you see kids and parents. What do they do? Where do they go? How do they enjoy their time? How do they exercise? What do they do after school? What do they do for education, for art? You need to think about that. Gymnastics, music, parks and rec, art programs, swim classes, fundraisers, dance studios, soccer, baseball, basketball, day cares and preschools. These are all places you need to make contacts with. These are all places you need to be photographing for free. You need to go to these places and say, "Hey, "I'm a documentary family photographer. "I love your studio, "I love your "swim pool. "My kid takes dance classes at your studio." If you have children, this ...
is even easier. I think people that have kids, use your children to get work. If they are in soccer, baseball, basketball, I don't care what it is, you need to be photographing practices, really good photos of games. You need to be putting those photos in a private gallery. You not going to be making them worry about sharing them with anybody other than those other parents. You make photos of all of that, you put it in a private gallery, you let them all see it, and you are directing marketing to them. You are letting them experience your photographs. They didn't even know that they wanted to hire you until they saw your photos of their own children. Does that make sense? You need to be doing this regularly. You need to be connecting with all of these things, you need to be involved with on a regular basis. And things I'm not even thinking of. Because my kid's only a year and a half, but I was doing this in... I did something similar to this in the Outer Banks. Finding local networks that got me in connection with vacationers, right? Because they were my liaison to vacationers, now I've discovered how to do it in your local market, with not vacationers. You need to be doing this all of the time, regularly. And I don't care that you get paid to make pictures, you need to also being stuff for free. Yes. I've done a few of these, so, I've gone to our local studio. How do you approach the parents? Because, I went in a couple of times, just to take pictures of everybody, all the kids, but how do you let them know that it's not going to be for public and it's just going to be for them? So, you need to make a deal with the owner of the gymnastics studio. You need them on your side. The owner of the musics classes. You're doing a day in the life for the company, right? And then, they are going to be in charge of letting everyone know that this is just for them. All this is, is for the parents, right? And let them have the photos. You can make an agreement where some parents can have the option if the studio really likes one of the photos and wants to use it for advertising, then they can ask the parents if it's okay. But, this is what's gonna help propel you. So, you need to make a good relationship with, relationships again, with the owners or the people in charge of this and get them on your side, and then they'll deal with the parents. But, free photos for parents. They freaking love it, right? And then you can tell them, you are more than welcome to share it on social media, but you just have to credit me, because you got it for free, that's all, right? And then, they are your advertising. I think that also, referrals and having your clients share your photos is way more impactful than you doing it yourself. At least, that's been for me. Almost all of my business has come from Facebook, and now it's starting with Instagram, and it's mostly when my other clients share my work and they brag about me. I never share a slideshow online. Anyone ever noticed that? I never do, but my clients do. I never do. They have they have the permission to do it or not. I want it to organically come from them and not me. I don't want to push my photos, that many photos on people. Offer free coverage, and here's the idea. Free pictures equals the personal experience, the direct marketing. And then that's gonna make you new clients, right? Because again, we don't wanna keep using buzz words, because they don't understand buzz words, they just don't understand it. They haven't experienced it. So, I think the combination of all of this with what Marie has taught you is going to get you work. The other thing I want to remind you of, is that documentary family photography is not just in-home sessions or documentary portrait sessions, it's not just that. It's all of these: Bar and bat mitzvahs, funerals, weddings, family reunions, end of life, birthday parties, baptisms, quinceaneras, vacations, and so much more. I think you need to open your mind as to what activities and events you can shoot in a documentary way that still involves families. Does that make sense? Because I hear a lot, "Well, they just don't want me. "And they don't want me. Well, they don't have the money "for just like one day or half a day or even two hours." Well, they're saving for the bar and bat mitzvahs. I can tell you that. And, if you don't want to do weddings, that's fine, but birthday parties, I am blown away with the amount of money that parents spend on birthday parties. I feel really guilty. We didn't even do anything for my daughter. I didn't even have a cupcake for her. We were in Argentina, this is embarrassing. We were in Argentina, and the lady that worked at the desk at the hotel knew it was my daughter's birthday and made her a cake. But, we need to identify that people spend money for these things, right? The other things is to open up the idea to corporate day in the life sessions. Because they do have money, and this is where advertising is going. This is where they're spending their dollars. They don't want to spend it with stock photos anymore, and the whole, the world is realizing that emotional photographs, personal photographs, family photographs sell. So they're looking for people that are really good with documentary. I think the other reason why this is growing, this is just an idea, is as jobs, like secure jobs for photojournalists is dying, they're offering up their services to corporations, right? This would be my guess. That's the smart way to go. Because most newspapers don't have their budgets to have a regular staff photographer anymore, so you have a lot of them out there, photojournalists, who can do things like this, right? But, you can too. Just because your family... Your skill is documentary photography if your really practicing it, it's not just family. So, if you're worried about money and you make to money, all these other avenues for making money needs to be considered. Even it's small corporations, small businesses, even small businesses have budgets, decent budgets for their advertising every year. If you like your local companies, approach them and be like, "I just want to photograph "what you do for a day. "Do you have an advertising budget? "Let's work together. I'm interested." Because, if they love you they're gonna refer you to other businesses. So, say you do one a month or one every other month, it's gonna help supplement your shoots for now, to get your work out there. The more you network with your local community, the more people you have talking, and the more chances you have to continuously book work doing what you love. Okay. Here we go. What you deliver matters, in terms of your client. Because, this is how they're also going to promote you.
Class Description
Building a successful family portrait business takes more than capturing a good image. Not only do you need the tools to create family memories that your clients will love, but you also have to know how to set up a business that will make money and keep your clients and their referrals coming back. Award-winning photographer and international educator Kirsten Lewis returns to CreativeLive to teach all of this and more in the third class in her series on family storytelling photography.
In this class Kirsten will cover:
The psychology of photographing families and how to really "see" your subjects
How she collaborates with families and other creative professionals
How to stay present in the moment to capture authentic and timeless images
How to set up your business for success and sales
Kirsten will pull back the curtain to show you the nuts and bolts of her business and how she continues to be successful in this unique area of family photography.