Family Photography: Creating a Successful Business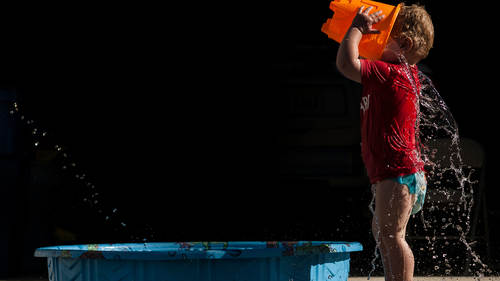 Family Photography: Creating a Successful Business
Lesson Info
Your Website
These are reasons people leave websites in general, not just photography websites. So I did a bunch of research about really why are people leaving. Why are you not getting people to cycle through? The number one reason is load time. You don't have time to wait. Quick, quick, quick, right? So this is a company I've started working with. Do you know them? JPEGmini? Uh, they're amazing, for those that don't know who they are. Look up JPEGmini. JPEGmini is this incredible machine, program, where you take all your photos, you stick them in there, and it resizes them, but not the size of the image, it just resizes the file size to about an 80th, it reduces it down like 80%. But you can still even print with it gone through JPEGmini and there's no change in the quality. And so it'll really speed up your load time of your pictures. It's something that I haven't even done yet that I need to do. It's something I have to do so remember, do as I say, not as I do. But you need, you definitely need...
to be using JPEGmini or some other program that reduces your file size for those photos that are loading. This is number two. Difficulty in the navigation and user use. I've looked at some of your websites. This is afflicting some of you. It needs to be clean and simple and really easy to find your photos. If they can't find your photos, they are going to go on to someone else. And just keep it simple. You do not need a fancy website. Your photos should speak for themselves. For me, when it comes to other genres of photography, I can understand why you need to add more personality, like personal personality to your brand and to the fancy things and icons that your site does, but in terms of documentary photography, you don't want that to distract away from your pictures. Your pictures are about emotion and you want your client, your potential clients or your viewers, to connect to that emotion and so one of the only ways they can do that is if they're not distracted. Content is uninteresting, which equals your photos are boring. So we all make boring photos. You've seen a ton of mine on my contact sheet and other photos I've shared where I'm like, this isn't good. This could be better. Only be showing your very best photos or they're gonna bring down the quality of your entire portfolio. Only show your best work. If your slideshows don't auto play, it should go on its own if you have multiple photos on the opening page. So also if it doesn't auto play that they know that it's scrolling, that they can click through, apparently people will leave. Don't just take it from me, take it from all these other researchers that say in general do not have music on your site. Another reason people leave is the site isn't responsive and so I told you about that before. And outdated plugins. Do not have a Flash site. That's very 1999. So upgrade and you should have an HTML site. The contact form is not easy to find. On your menu you shouldn't have contact under a menu option, it should just be contact me or information. It should just say contact because that's the word people are looking for. Should just say contact. Okay, so unfortunately Lori is not here. She got sick. But I wanna pull up her site for a second. Just a quick question on videos and music. Not necessarily music, but if you have a video that you've made promoting like, oh, here's my family enjoying these albums that we've made, et cetera, et cetera. I think you have one of a dad talking about how day in the life was not as bad as he thought. Is it lame to reshare that on social media, okay. Put it inside the site, don't put it on your homepage. No, share it. Okay. I think it's a better way to do it on Facebook is to share it on Facebook. For sure. If you make it something like evergreen, like I think you said, is that lame to reshare it constantly-- Timeless content? Yeah, okay. Yeah. So I talk a lot about what she's saying about people leaving because of crummy content. I'm talking not having I, I, I, and make your stories really compelling as well and you can put your pictures in there as well and then you can reshare and reshare and reshare. Okay, thank you. For the slideshows, how many seconds do you recommend in between the photos? Okay, so let me talk about that in a second, 'cause I have the slideshow slide so we'll talk about it in a second. I just wanna pull up, Lori makes beautiful photos and we go to her site. Okay, so this is how it opens. We have a contact sheet, that's good. We have an about me page, which is good. You always wanna have photos of yourself on your About Me page and your family. Okay, so we go to family and this is the only photo, family photo, she has on her entire website. That's it. That's all there is. And it's a great photo, but it's the only one and I try to click through and when I tried, it wouldn't even click through. So you have to make sure that it's user friendly. You have to have a portfolio. You should, inside your website, you need to have a portfolio because people are not gonna hire you if you don't have a portfolio. You should have a portfolio. But this is all it is. It's just a lot of words about the sessions and one picture and that's it. So Lori is doing herself a disservice because she does have a nice site, but she doesn't have any photos representing the work so she's not gonna book any work. And maybe she's new to family sessions, but you shouldn't have a website promoting this until you have work to show. 'Cause people aren't gonna take you seriously. They're gonna consider that you're new and they're not gonna hire you.
Class Description
Building a successful family portrait business takes more than capturing a good image. Not only do you need the tools to create family memories that your clients will love, but you also have to know how to set up a business that will make money and keep your clients and their referrals coming back. Award-winning photographer and international educator Kirsten Lewis returns to CreativeLive to teach all of this and more in the third class in her series on family storytelling photography.
In this class Kirsten will cover:
The psychology of photographing families and how to really "see" your subjects
How she collaborates with families and other creative professionals
How to stay present in the moment to capture authentic and timeless images
How to set up your business for success and sales
Kirsten will pull back the curtain to show you the nuts and bolts of her business and how she continues to be successful in this unique area of family photography.