FAST CLASS: Branding Strategies to Grow Your Business
Social Media That Reflects Your Brand
Jasmine Star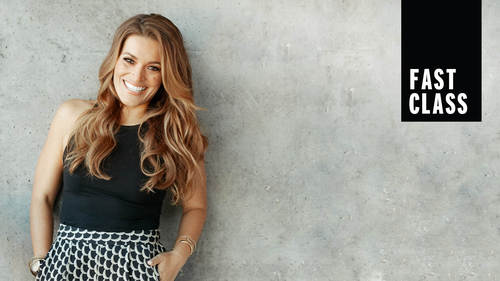 FAST CLASS: Branding Strategies to Grow Your Business
Jasmine Star
Get access to this class +2000 more taught by the world's top experts
24/7 access via desktop, mobile, or TV

New classes added every month

Download lessons for offline viewing

Exclusive content for subscribers
Lesson Info
9. Social Media That Reflects Your Brand
Lesson Info
Social Media That Reflects Your Brand
we're going to dig in to social media That reflects your brand. Now we're right. We're trucking. Ride along in time and I thought I gandered. I'm gonna pad this section a little bit because I'm gonna disseminate this information, and then I'm gonna see where we go from there because social media has a way of taking on its own road and path. Okay, So the thing I see on social media quite often is the same kind of pattern that I see when it comes to marketing, which is conversations that how to get more followers. I'm sure that there's a lot of, like advertisements how to get more Facebook pants, how to get more instagram followers. But I take a little bit of issue with that because I don't think that more followers is the answer. Why? Well, one. I want you to have more followers, but I just want to have more followers. I want to have more of the right kind of followers. The amount of followers does not matter as much as the type of followers that you are attracting. So having people who...
are excited having people who are engaged, having people who are just amped. To be engaged with your account is what you want, and I will tell you 1000 times over that your business will go farther with a smaller group of people who are highly engaged than having a massive amount of group of followers. Why? Because social media is turning heavily. Two algorithms. Basically an algorithm is just an equation to determine what people want to see more of. So, in a nutshell, version is you post something on Facebook, you post something out on instagram and within a certain designated amount of time. We don't know how much that time is. It's pretty secretive. They'll they'll get. They'll gauge how many likes comments shares you got, and they'll determine that importance and based on that importance, will show it to more people based on organic reach. So if you have 20,000 followers and you routinely get 20 likes and two comments, or if you have followers and you have 20 likes and two comments, all other things being equal, the person with the smaller following gets shown why engagement. It has been determined that that person is producing work, that more people should see therefore, it is advantageous for the social platforms to show people what people want to see more of. So gone are the days of chronological. I'm just gonna post anything and people will see it. Booth, those air gone. In fact, if you post something just for the sake of posting it and nobody interacts with it, it could be detrimental for your organic reach. It just is what it is. So you can't say I'm cool. My business is cool. I'm awesome. But we already established that we're not playing that game anymore. Okay, So I feel confident talking about social media. Not because I feel like I'm a guru, but simply because I use it and I use it quite often. I've worked hard to grow my platforms to hundreds of thousands of followers, and I don't focus on just one platform. I try to feel like where is my power point? But furthermore, where is my ideal client hanging out? And how can I navigate him or her back to To me? So I have used I feel confident saying that social media moving forward for small business entrepreneurs is going to be the best way to grow your business, you're gonna get the most bang for your for the smallest amount of money. This is technically the Wild West. I feel like so empowered because this is when this is the advent of TV commercials. We are carving the way we're out there yelling at people saying, You guys, this is where it is and people like I'm never moving away from radio. Well, we know what happens, right? This is where it is. And if you wanna have a solid ground with very little money, this is where you want to play. But it requires work. Now you're gonna get noticed, you're gonna scene, and these are things that we want. And I think if business owners have a social media message that doesn't match their brand, it's totally and completely detrimental. So So often we go back to like when I see businesses, um, talking about things that are polarizing or you can have you can perhaps be this warm and fuzzy, like unit baby socks. And that's what you sell your very ethereal messaging. And then you can go on social media and you could put I'm having the worst day if somebody calls me at one more time, I'm gonna flip them off. We see these types of social updates quite often, and you have to remember that you can have your personal social platforms and you can have your business social platforms If you are linking to your business social platforms from your website. I think it is the antithesis of what you want to do to build a tribe. If you're bipolar in your social media endeavors, that is no disrespect to people with mental disabilities. But it's very difficult to engage and have an understanding with a person who's on two different channels. So everything has to match across the board. So social media. Let's go back to how we started. We created the branding conversation, which is we want to help somebody. We want to empower somebody. We want to diminish fear. Now. I don't think every social post need to do that, but it must be balanced if it is all about you. You, you and you keep on saying I create value. No, your social, your social cues have to point that back to the value that create that you create. So I want to get something out in the open social media is, Ah, conversation, a real life conversation just happening on the Internet. And people think that because it's happening on the Internet that it's somehow not Israel. I'm here to tell you that social media conversations are riel. They are Israel, as riel will ever get. And it's like when you walk into a cocktail party. That's how I picture social media conversations. And so when you walk into a cocktail party, there's a good chance you immediately scanned the room to kind of feel like, OK, where am I going? What am I doing whom I hang out? But I should probably clarify, because if you're anything like me, what you'll do is you'll walk in. You scan the room, you quickly go over to grab a glass of wine, hang out by the fried food station, hide in a corner, talk yourself out of it. You got this? You got this. You can do this. You can approach people. It's not weird. You're okay. Yes, these are the conversations I have in my mind. And then you go and you approach people. If I were to walk into in the middle of the room or forgive me if one of you were to walk into. We're all hanging around. And what you said was Hey, guys, my products are awesome. I'm blessed by my products. I'm great. I'm creative by my products. I'm so fun. My products are in sale. I like long walks on the beach. Right. People would be like, What is going on with this person? This is so weird. And these are the conversations I see by and large happening every day on social media. You're walking into the cocktail party and again Hey, guys, my products on sale. You guys look at this new product. I just made products cyber Monday. This is the conversation. So then then you wonder. Why is nobody talking back to me? Why is nobody leaving comments on my posts? Why is nobody leaving questions? Well, when is the last time you heard of somebody tuning into a TV station? Toe watch commercials? It doesn't exist, right? So you have to offset your commercials by valuable information by entertaining information by resonating information. So versus walking into the cocktail party, talking about all the things you do and saying you're just such a cute little cookie. I believe that if you were to speak to a small group of people and you were to listen to what they were talking about and you were to talk to them about things they liked and you were to give great insight and you were to provide value based on the context in which they're having the conversation. Well, then people would talk back to you. It's a cocktail party, and this is precisely the same thing that happens on social media. You talk to a small group in a way they want to be spoken to by offering highly specialized feedback to the conversations they're already having You win.
Class Description
Are you frustrated because you feel invisible no matter how much work you do to grow your business? Are you willing to do the work but not sure which tactics will provide the best results?
Beyond taking risks, Jasmine Star, understands the challenge of thinking like a creative, being a manager, and dreaming like an entrepreneur, and she shows you how to balance those competing roles.
In this class, Jasmine coaches you (ideally the entrepreneur with two to three years of experience) to reach the next phase of your business. Get ready to feel excited again about your business and really start building momentum by learning:
Identification of your brand voice
Website, social media, and design alignment
Effective copy strategies
Basic principles of website design for optimal results
Too often the instinct to grow your business is to be like everyone else, but the truth is you need to stand out to be successful. Gain clarity, encouragement, and confidence in this class to increase sales, visibility, and exposure.