Evolve Your Product Line
Megan Auman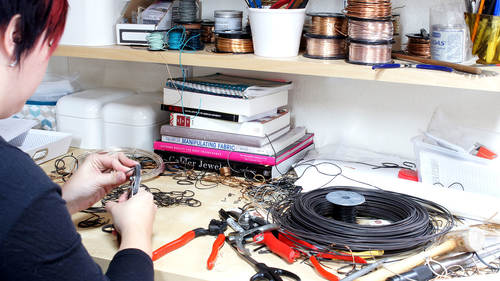 Evolve Your Product Line
Megan Auman
Lesson Info
26. Evolve Your Product Line
Gaps in your product line mean you are leaving money on the table. Identify those missed opportunities and fill them.
Lesson Info
Evolve Your Product Line
Hello everyone so today we are on lesson twenty evolve your product line and this is actually the start of session three our third and final session in this boot camp but we still got a couple of lessons to go so stick with us right? So we're going to now create your plan for business success we're gonna take everything we've learned were put into a working action plan so in session two we focused on testing the market, testing your products in the market by generating revenue quickly right? We made some money that is key that is the number one thing you could do for your business right make money but we also use this to learn about our products learned about our customers to learn about our business so we did this by examining funding methods so that you could take advantage of business opportunities I don't want anyone to not be able to grow their business because they don't have the cash at hand. We looked at some really simple and easy finding opportunities even if you only need a ...
couple hundred bucks a thousand bucks oftentimes that's all it takes us right to take that next step in our business and then we held a test market event or several ideally remember one at a time to bring in cash and get customer feedback and we evaluated your previous events to decide whether you should pivot or persevere now in session three we're going to create a plan for business success this is where we put it all together everything that we've been learning right we're going to take a look at that make a living number that you guys put together which I know it's scary for a lot of people were to create a plan to help you get there but first one to talk about evolving your product line this's our first lesson in session three and today's goal is that we want to identify the missed opportunities in your product line what needs to be there that isn't now in the last lesson we analyze your test market event to determine whether you should pivot or persevere you need to make big changes in your business or do you need to just kind of shift in a just right no matter what there's probably some gaps in your product line and gaps in your product line mean you're leaving money on the table people are drawn to your aesthetic they're drawn to your brand they're drawn to what you d'oh but if they don't find the product that fits them exactly they're gonna walk away especially if the price points we're talking about right you don't want to settle for close enough and chances are you're not giving your customers enough choices enough options we don't give them so money that we overwhelm them right but chances are there's something missing for them now remember, you can't make a living selling what you make if you aren't making something that people want to buy this is critical we have to make things that customers want, right? So successful product line blends a clear creative vision with an understanding of what the marketplace is looking for. We're not following every whim of the marketplace that's not how you build a successful brand a successful business right? We have to have the clear vision, but we also have to understand what it is our customers want and when you can put the two together that's what creates success in your business now something I hear all the time is but I'm a creative and I have a lot of ideas, right? I have so many things I want to do megan, can I just make the ball whatever I want whenever I feel like it, you can but not if you want to make a living selling what you make right, you can make whatever you want whenever you want that's not a business model it's not a business strategy, and chances are if you've been following that model it's part of the reason that you haven't found real success right? Because you're just doing whatever the heck you want whenever you feel like it, right? So I want to talk about five common creative traps when it comes to product development places where I see makers designers, artists creatives where I see them get stuck number one is not acknowledging the importance of product development how many of you when you sit down in your studio think today's all about product development or I'm in product development right now do you think that hey christine might a little you guys do some of you sorry too good that's the right attitude you have to think about it as a product even if you're making art right even if you're making a painting even if you're making a photograph if you're trying to get someone to buy it it's a product which means that your job is product development so that's what we have to think of it as they also make the mistake of trying to sell too many disparate products or lines at once right there's an old quote from a political advisor of bill clinton's that was if you say three things you say nothing right if you try to sell too many things nobody notices any of them right there's nothing distinctive there's something clear like what is this crazy person doing over here right and the same thing goes for not having a strong cohesive product aesthetic maybe your jeweler but you make a million different kinds of jewelry I got a little over here in a little of this and a little of this and this one's modern and this one's nature and this one's that is all time people are like well my stuff is modern and organic and geometric that's too many different things right? We wanna hone in and create a really strong and cohesive product aesthetic the other one is expanding toe other product categories before addressing gaps in the current product line I miss guilty of this is anyone right who lets make home to core let's make this let's make that and really there are things in my jewelry line that we're missing right? I wasn't serving my customers well enough with what I already had but I was distracted with other things now of course it's gonna look different for everyone, right? So in monica's business you guys are in the baby business so there's nothing wrong with having the diaper clutch having the nursing scarf because they all are essentials for mom to make her life easier even though technically they're two different categories they actually fulfill the same customer need that's not what I'm talking about here but I'm talking about this thing of like, well, I'm going to make a little jewelry today and maybe tomorrow I'm gonna be a photographer and then well let's make some ceramics right that'll be fun right? That's what happens is you haven't even flushed out the first line and you're trying to dive into something else and in the last mistake it's failing to adjust their product line to meet customer demand sometimes it just smacks me like in the head how blatantly obvious the gaps are and someone else's product line right now like oh yeah people keep asking me for that what why are you making it right? We're not talking about changing everything you d'oh right? You're always going to get weird suggestions yeah people probably like you should print school logo's on your nursing scarves right? You get stupid shit like that that doesn't fit the bill right? It doesn't fit the vision of your brand right that's not what we're talking about but if twelve people have come up to you and you're like, oh can you do it in red and then you're like, oh, you know actually read is a big color this season, your dumb not to do it in red, right? That's what we're talking about here, so failing to adjust the line of customers or maybe people are just saying, you know, I'm a bigger woman I need a bigger nursing scarf, right? That could be a big thing, right? Just adjusting a size is amazing to me how did he will don't do enough variation of size of things? And I designed a nearing making like five sizes because not everyone wants the same size hearing right? But I just know people so many people who are like I made this hearing why don't you make it smaller and bigger too and they're like all right there you just served to other customers that you weren't serving before right? So I want to re share this quote from eric reese from the lean startup companies that cannot bring themselves to pivot to a new direction on the basis of feedback from the marketplace king it's stuck in the land of the living dead neither growing her dying consuming resource is but not moving ahead see that with a lot of maker businesses right? You're funneling money into the business you keep making stuff that you keep making the same stuff and then wondering why no one buys it right take something different not so different that I feel like you're jumping is something crazy but a just adapt move on so let's talk about some product development strategies for escaping these traps but still keeping your creativity product development is a creative process it should feel creative and fun she's about channeling your creativity so that it better serves the marketplace so first off do one thing well first right one thing maybe be defined differently depending what you're doing but do one thing well first we're shallow and I were having this conversation we're shifting I want to do like this and this like focus on one but I can't focus on one right that is the key you say three things you say nothing right sir, first exercises that I want you to find the core of your product line. Because when I say focus on one thing, that's really what I mean, the core, it might not be one exact thing, but there should be something key that ties it together so your core could be one product that you do very, very well, and that just has some variations freshly picked is the master at this, right? We've talked about her a couple times now, susan peterson, they blew up with one product, the core of their business are these baby mox? They do different colors, they do different seasons, they've expanded, they've done some new things sense, right? But this is how they grew, and they grew by focusing on this and not trying to add other things too quickly. You could also have a core aesthetic that you apply over slightly broader range of products, right? So for me, it's not like I make one necklace and that's it right make a lot of different types of jewelry, but, you know, it's, meghan almond jewelry, right? There is a core shape. There's some court materials is very, very clear and defined. Now maybe we mentioned monica, you know, it may be that your core is that you're serving mom's you mean it may be the service point as opposed the actual product, right? So all the products in your line help mom look chic, but make her life easier, right? So you could add in another product and as long as it hit that core, that would still work. But if you were like, hey, you know what? We're gonna make baby hats tomorrow that's not your court, right? So even though it sort of related not related enough to really help drive you right, so what defines your product's? This is how we're going to find our core, right? What defines your products? What makes your product's different from what is already out there? I think, christine, you're a perfect example of that, right? There is a lot of scrapbooking stuff, but there's not a lot of really great design driven scrapbooking stuff, it has a very different static, so really that's your core right? That's the core element of what you're doing, what could you focus on that still gives you room for variation? I have been using the same shape in my work for ten years since I was in grad school, but I was like, don't you get bored? No fun, it is to always try to find a different variation of one shape that the huge creative challenge I don't think I'm any aboard for the rest of my life doing that because I'm always pushing myself to figure out what the next variation the next version the next iteration of that isthe but it's not like o j m and use this shape and tomorrow mean you stars and then I mean to use hearts and then I'm gonna use squares then he's no what can you focus on that gives you room for a variation? I also like this example of what could become your red soul you don't talk about red sole, right? Lobaton? You know flashes you're watching tv as a woman's running upstairs but if she's wearing a pair of low batons right you also most of the time like me think that woman cannot afford those shoes right? But that's a different problem, right? You know instantly what can be that signifier for you what's the red soul in your business what's that thing that instantly tells people yep that's the red scorpio right what's your I mean really literally here so close that what's your read soul right? So if you want to start with early experimentation you have a lot of ideas right? Creative I have so many ideas I'm making like four different product types right now then use the marketplace to guide you into the core of your product line we're talking about this with lisa you have this other brand you feel super passionate about it and it's your heart but the marketplace told you something a little different right that's where you have to go you don't dislike the product you're making right usedto love what you're making it's just different it's not quite where you thought you were going to be but that's the way that you make decisions if you've got a lot of ideas because you came up with that idea you came up with the bags that you're working on so something about that excited you and in the marketplace that you know what this is your focus for now all of this is for now right not saying you can't do something else you can't try something else we have to focus for now it's actually really hard I'm guilty of it too I'll tell you guys it's hard but it's really the key every time I lose focus my business suffers super honest with you whenever I get distracted that's when it suffers right whenever I focused back in on the corps that's when it does well I don't know how many times we have to learn that lesson probably a couple more in my lifetime but I'm gonna share with all of you now right? So when you're doing your test market event what products get the best response right? What are people responding? Tio and then how can you expand on the things that people are responding teo to form your core product line, right? How can you do that? So let's do a hot seat? He wants to talk about their product line a little bit in terms of the court. Good, you were actually the person I was thinking about calling on anyway, joy. So come on up here, that's a huge range, right? So let's, talk a little bit about the types of products that you guys have right now because you do have a pretty big rain to tell us what you've got. S so we work in just handle oven scars and being a jury, but for every scarf it's, just four of that one kind of doesn't come in any different colors or anything, and with the vita jury, each collection has maybe it could be arranged from six to twelve pieces in it, but those air, even individual and right, they don't have a lot of duplicates, right? So there's a lot of variation happening, and I think the bigger challenge is that you've got two very different product lines that truthfully needs to be marketed in very different ways, right? Because we've been talking about the scarves and kind of the stories behind them, but one of the stories that you're telling about the beaded jewelry um a good amount is that all the beets are from vintage collections from these estates for all these old in its beads some arby's that we've gone in paris flea market so it's kind of that all these bees air not what's out of the normal market, right? Fun collections, right? So they're all a little bit different, but at the same time aesthetically, visually there's not a lot of connection right between these two product lines and are they hitting the same ideal customer? You finding them with different people? That's the thing it's such a range that right probably wanted to have the same ideal cost customer. And so then my other question is, and I know you guys are kind of just the beginning stages right of selling but what's generating the revenue is one of those two things generating revenue more than the other. Mm mm, no, they're both still in the beginning. The beginning stages. Okay, so, you know, I think for you guys one of the things is probably focusing on one of those two areas. My gut says the weaving on ly because jewelry is a super competitive market and even though you guys know the specialness of the beads, that also requires a lot of explanation, so for you what I think is actually the better product development standpoint is to take your core as the weaving and the materials your choosing, because even though all of your scarves have that variation, they feel very cohesive. Don't look at your scarves and thank look whoa, these were made by twenty people, which is interesting because you guys actually have people working on the business, but you're very cohesive. But I think in this case, the core needs to be the weaving and the product, and then really for you, the expansion and the testing comes in with the different things that you could do with the weaving, because I'm not convinced as we talked about that, that might actually be the best fit, especially talking about this heirloom quality, you know, the time that goes into it, the sense all of these things there may be other product categories that make more sense, right? And, you know, we talked about baby blankets, we talked about bags, you know, typically, it seems like the price that people will spend on things for their home is higher than what they will spend on fashion there's, a small group of people who spend a lot of money on fashion and for them that airline quality is less important because, yes, you love the scarf, you want it. But next season, you're probably gonna get bored, and you're going to want another scarf, right? There's a lot of people who want to pick things for their home and keep him for a very long time, whether that's for the baby, whether that's for their own bed, whatever it is. So I think in your case, you have a pretty strong core, but it may be that you're not producing the products that are actually highlighting that cordiant's best ability think for you that's the thing, and you might keep the jewelry, but I wouldn't want to be your focus, and they think you're gonna have to pick one thing is your marketing strategy and really go there, and I think the leaving is your is your stronger area that feel good to you. Yeah, perfect, thank you. Anyone else want to talk about this idea of core? Catherine let's bring you up for a second? Yeah, because right now you have smile appear in one right now you have actually a pretty distinct corps in your product line, right? You've got that leather jewelry, but you do have a couple of hard shapes going on and that's sort of what you wanted to find because you have mentioned other product categories that you're interested in right now to talk about those well, eventually I wanted this is, like, a really long time, but eventually I want to go into clothing, okay? And then you no longer down the line more of a lifestyle brand. Okay, right? But you're not rushing into town, which is always good news, right? So what do you think is the core of the jewellery that you're making right now? What is it, like the kind of the core fundamental element of that line? Um, I think my core is mainly focused on my aesthetic. Okay, which is kind of like the bridging of the feminine and the tough okay aspects. Okay, interesting. And so I actually think for you, if that's your core, it might be able to come through stronger, even though you've got the leather to me that leather still reads fairly feminine because of the shapes you're using the color palette, the stitching and then the chain to me is also very feminine, right? It's a very feminine chain. So I would say, if that's your core, you could probably push that a little bit more. So maybe it's swapping out the chain for something. I mean, I'm obviously personally by it chunking change. Do you think that with a grain of salt, but flooding at the chains so that that feels a little more hard edge? Or maybe it's choosing different leather colors or even different shapes that feel a little bit more masculine so I think when I look at your line I don't think that I actually think it it reads much more towards feminine and really kind of hitting both of those points so that's kind of important to the aesthetic of the brand, I think you could push that a little bit further, I think it's a it's a really interesting core idea to play with right that gives you a little bit of room in the line this kind of edge between feminine masculine but I don't think you're quite hitting it yet awesome. All right, so that's what you can kind of do when you're thinking about the core of your business, right? Is it that aesthetic? Is it a specific products? You know, what is it that really drives you? Is it a process? But I think with joy it might really be about this process, but again, any time you're making process the core, you have to think about how that relates to the customer, right? So in your case it's not like, okay, guys, you should buy this because it's a weaving right? We know they're all those other elements as well, so but it could be the defining factor that really pulls everything together for you guys and it might take you a little while to settle on that too, you know, for me, I did think for a while that it was material I was like, yes, I work in steel like that's my court actually, I don't think it isthe right it's really about the shape this aesthetic, this idea of this kind of bold but easy to wear that forms the core of my line it's about so much more than just choosing a material. So you want to find that balance between that core that gives you some flexibility? All right, so the next thing is that you want to fill in gaps in your existing product line before you expand to other categories. So now I used to hear that you're not thinking about jumping into clothing tomorrow, right? You want to spend some time in that category that urine and that's really a mistake that a lot of people make right? Remember gaps in your product line mean, you're leaving money on the table? I told this story in a previous lesson, right? So I was doing a lot of retail shows, and for whatever reason, my line was just earrings and bracelets. I couldn't tell you why justin's, what happened right? And people would come up to me at the show and I was wearing stuff, but he had long hair hearings were hidden, bracelets were down here and they stare at my chest maybe, like, why aren't you wearing any jewelry? Like not always where I am, right? They were looking for necklaces. It was a huge gap in my product line. Now, it's, my best seller, right? And not only did I add one necklace, I had a huge variation, right? I wanted to hit people who are looking for something smaller and simpler smaller is a relative term in the mega nomine jewelry brand, smaller right up the really big statement pieces, so I saw that as an opportunity, and I didn't just try one thing right? Lots of different variation, and so you want to channel your creative energy into designing new products related to your current line, rather than expanding into completely new categories. When you're feeling that urge to be creative, think about what the variation is on the current line. First, make sure you're filling those gaps right now, there's nothing wrong with creative experimentation, right? You feel like doing something else today? You need that little break me, that little experimentation do it, but not everything needs to be for sale. We live in a world where this is really hard to fight, I can tell you my cautionary tale, because it happens to all of us, right? So we live now and call like the post at seaworld right? You make one thing that's cool and someone you know is like that's awesome you should sell that or probably you should sell that on etc right hear that all the time not everything should be for sale. A couple of years ago I decided to start painting again used to pay a lot in high school then I discovered jewelry I let it go that kind of a transition in my life I decided I wanted to paint again it's like well this is fun I need this outlet whatever but of course because we also live in a social era I kept putting pictures on instagram I was like, look what I'm doing today I'm so excited it's so great right? And then people were like, you should sell those like oh, maybe I should sell those right yeah baby and then people were like oh, you should tell prince I was like, well I don't want to sell prints right when I started talking to people I was like I should make fabric right like that be cool let's make some stuff now I know what some of you are thinking this stuff is really cool dragon like I like it it's fun right here's the thing never really made me any money so you can do these creative things right she just kept painting I should just done that for fun on the side whatever you said it was like I'm gonna enter into this whole other product category that I know nothing about I thought I did but I really didn't I was like oh let's get some digital digitally printed let's get some self sown let's try to sew it myself right don't know anything about this so you know what happened I wasted a lot of money it looks cool it looks really pretty right wasted a lot of money because I thought everything had to be for sale right I learned my lesson at least a little right got this new collection like let's channel the energy and something that feels related right this feels related to what I was doing before no one's like oh it's so weird that you're working with stones now it's like oh my god this is so amazing why did you do that before like it's so natural it's so great that's where you should channel your creativity right ok if you want to paint I did see you kept the same shape in your painting though I use that shape but don't think that you're going to start selling this whole their product product category for that quote you know ten years of really hard work will make you look like an overnight success ten years of really hard work is getting me somewhere says ground zero, right? It's like starting from scratch why when I have this thing that has momentum you can still dio all of the creative pursuits but they don't have to be a part of your business right? So now what I want you to dio because I want you to identify three to five key pieces that are missing from your product line what's missing what isn't serving here customer and it may not be different pieces I could see monica's brain working really hard here for you guys it might just be record the fabric types or something like that that's what it is for you right? I honestly think that you could mean there's there's more room for different fabrics on that on the diapers diapers for sure, right? Yeah. So it might not always be a whole new category right, but there are things that are missing you are missing out on those opportunities, right? So what feedback did you get during your test market events, right? What are you hearing from people? Even if you're not doing test market events, just talk to your friends, right? I was like, I'm going to make these giant rings and then I was talking to a friend of mine and I was sending her pictures because she wanted one every stone I center she's like these air huge oh yeah right not everyone wants giant rings some people want moderately giant rings right? So what feedback for you getting what are people asking for? Are you missing certain categories of product within your main line, right? You know, if you're making ceramics, you're like a mug a mug, a mug, a mug it's a whole lot of other things right as we talked about there's a whole lot of other things that a lot of other people aren't making right? So if you could find certain things that are not only missing from your product line but missing from a lot of other makers product lines as well, then you really start to hit on something right? Are you missing? Certain price points is a huge missed opportunity most people do not have enough range in their prices they're not serving enough price points maybe for you guys it's choosing some different types of fabric that lets you get a little bit of a different range, right? Maybe there's a version of the diaper clutch where the interior still has to be that great white little fabric maybe the exterior is a great leather or something right totally whole other price point whole other customer whole other category, right? So maybe can you go lower, but even better can you go higher, right? Yeah, you can try to add in lower, but I'm all about bringing the eighty s up right so there's this really fantastic book called eighty twenty sales and marketing and he talks about this principle of eighty twenty right like eighty percent of our sales come from twenty percent of our customers right? Usually eighty percent of our results come from twenty percent of our effort someone asked me things lisa, that was like how do you get everything done right? Because I only focus on the twenty percent of things that really actually have to get done right? I don't check e mail all day long, right? I focus on the activities that actually dr results in my business so I can put in just that specific effort and get a huge result out of it right? So in a twenty sales and marketing para marshall says eighty twenty says that twenty percent of people will spend four times the money twenty percent of your customers will spend four times what you're currently at a price point. It also says that four percent of people we'll spend sixteen times the money four percent of people we'll spend sixteen times the money so that means if you're selling things at one hundred dollars there are four percent of people actually buy something at sixteen hundred dollars right? You sold to a hundred people a year, you get four of them to spend sixteen hundred dollars how does that change the amount of money that's coming into your business right so he says memorize this it's one of the most powerful fax you could ever know about business if you can figure out what that higher dollar product is and connected with those people yes it's a smaller percentage but that's what drives the growth that's what drives the profit that's what brings that eighty s up and drive that bottom line and you can treat it like a design problem, right? It's something created that you khun dio right? So what could you design the cost four times your average product price right? What did you do that's four times more expensive than your average product price and what could you design that cost sixteen times your average product price right and that's different forever all right, christine what's your average product price may twenty okay, so what could you d'oh that sixteen times that right? What could you do it? Three hundred twenty dollars, right? Is it some kind of kit? Some kind of star thing? So there's a lot of options there, right? And it's nice if you're selling stuff a twenty dollars it's really nice it's only have a three hundred twenty dollars come in right that's nice. We like to see that right, so what could you design the costs four times your average product price? What did you design that costs sixteen times your average product price so I want to do a couple more hot seats because I want to talk about what might be missing from your product line and how you can expand especially in these different price point areas so who wants to jump up here? Everyone's scared try come on, back up here I'll do it let's go. All right, so what gaps do you see in your current product like you guys are very right now specifically at like one product, one price point, right? And even if we threw in the doorway it's still it's like two products to price points really cars there's only like two products because once on all con scar right, which is lower so but it's still not a huge range and not at all. So I was thinking with if we focus on the scarves I mean, if we focus yeah, just the scars portion of it then we could start adding baby blankets right? And then also doing personalized baby blanket where yeah, you have things want a ground for people so it's special to them because start getting two bags, which is a lower price point because they're easier to make. But then we also thought about making ballet bags where we customize those as well, so therefore ballerinas and or we make him for the moms where is made from their old ballet shoes laces and think so for you so there's a couple things, so one, I want to back up for a second you talked about, you know, the bags are less expensive because they're easier to make it right, but that doesn't necessarily mean that they should be less expensive, right? People spend more money on bags, then they do on scarves, right? Get the nod from there is because it's useful and you use it a lot, right? You use a bag a lot, so it may be that adding in bags doesn't actually get you a new price point. What it gets you is a better profit margin on which is really more important. Anyway, you guys may just not be operating in a super low price point, but I think thinking about those personalization and customization things is a really great way to add in a little bit of extra value, right? The other thing is you were talking about how can you even higher so you could do a baby blanket, right? And that's gonna get you a certain price point and that's really great. Can you just do a bigger blanket for your house, too? Right? Because that's a totally different price point as well and you're not, they're not gonna be inexpensive, they're going to be expensive, right? It's not something you wanna tell sell a ton of but if it's that four times or that sixteen times price point and you find a couple of people to buy that that's worth it because that kind of thing makes a big impact on your bottom line when you have those extra pieces so, you know, don't run out tomorrow and make forty giant blanket, but make one or two because somewhere there's a customer for that, even if that's a two thousand dollars three thousand dollar blanket, right? So they can't sustain that, so I think that personalization is the way to go, but I also think thinking about this bear again, those higher price points, you're not selling a ton, but I think it also then speaks that specialness and the airline quality factor that you guys were so perfect. All right, one other person who else wants to go all right, you're gonna be our product, people teo get all right. So now we adjusted your price is right, but what's the range that we're in now, I'm probably but it went well for earrings, probably more closer to one hundred, teo, sort of an upper two hundred, and then, um, what do you think of missing right now in your line, um, I would say different sizes, yes, um and I think different levels of simplicity, right? So one of the great things that you're doing with your product is that you're working in the units right that's a huge secret when it comes susan especially for jewelers doesn't work in every industry but for jewelers thinking in units is a great way to automatically expand your product line right? So if you got those pieces that are the stitch triangle so you can play with the size you can also play with less of them, right? So if you only have one, maybe one bigger element it's a little simpler you can get some impact, but it could keep the price point a little lower because there's less material unless labor right so in your case you may need to design down a little bit, but you could also design up right? So what if you start toe layer those pieces? How did they get fuller right? You start to stack the leather there's a lot of options there, just taking the units that you already have and playing with them I think from both ends of the spectrum, so for you I think there is some room for some lower price points, but I also think there's room for some very high price points as well. If you keep pushing that up, you may also decide that maybe there is a room for on upscaling materials to us you're already working with leather what happens if you're doing leather with gold or even gold filled as opposed to just leather with silver, right? Was there an audience for that? These are things that you won't know until you start to put them out on the market, but they're good ways to think about playing with getting those different price points, seeing if there are other customers and adjusting from there, right? Anything else you think you could do to maybe bringing that higher price point or vice versa? I think those are the main things and are you hitting all the categories? Are you doing bracelets? I haven't done of every slips yet, but it seems like those air less popular with, um, you know, they are, but they aren't it's everything is really cyclical, right? So we're still kind of in the aftermath of the armed party, so there's still a lot of people that are hanging on to that, and I also think there's no opportunity for you to do some why things do some narrow things. I actually think that while it won't be a huge money maker, a couple of bracelets could boost what you're doing right? So something to think about as well, just because a category isn't as popular doesn't mean you should completely ignore it because for every two people who want a necklace and for people who want hearings there is still one person who just really likes bracelets right? I'd like for me as a jeweler the only thing that I buy that I have made myself are bracelets right that's the only category that I shop because I can usually mix him up with my other pieces I can stack them on you know it's not that immediate like can't wear someone else's necklace people look at me like I was crazy right? But I could buy someone else's bracelet so just because it's the less popular doesn't mean that you shouldn't do it and who knows it might become popular for you you're working in a category leather where cuffs bracelets are really normal so I think people might look at you and say oh, she makes leather and be like oh but why don't you have a cuff don't you have a bracelet right? So I think that's definitely a category that you could get a cz well rings maybe not, but there might still be some fun opportunities there. You know, a great like square of leather that's sitting on top of a ring band could be really fun and you would also have that advantage of you can make fun big playful rings that aren't heavy that you, you know, put your coat on over top and you're not going to worry they'll just pop back into place so again it may not be your biggest category but I think there's some room for experimentation there as well. Okay, great awesome perfect someone else want a go some of your shells all right, so you have a couple of key items right now, right? What do you think is missing that's what I'm what we through again which what you have you have the kind of single piece on with the beaded with the beat it or on the court right? And then what else do you have? I have this cuff this is an impersonal one about but it's still you you can get it personalized right? Or I have one with a single tile and beats okay and what are you finding sells best is it arrange? Are you getting more of something or lessons? Nothing really a rouge okay, what I'm seeing that's missing for you is that the number of tiles is never really that variable, right? You think they're gonna single or you could get a cut that's all the way around right? And I think there's a big opportunity to think about okay, so you're buying a gift for mom and mom has three kids they want three tiles, right? So how do you design for that? I mean and even though you know the whole point in giving the gift to see cammy mom's favorite, you might be more mom's favorite if you actually put all three kids on their own. Don't totally flaunt it, right. So what can you design and do so that you hit those couple of different options, right? Yeah. Yes. So, whether it's, you know a bracelet that has certain amounts or it's necklace, I think that for you is the key is not is letting people define how many images they want. A really big missing point there. Andi, I also think for you to that might give you a little bit more room to spread your prices out. Maybe even more than we initially talked about. Because if there's one and there's harmony approximately on a bracelet ninety two a love, okay, nine to eleven. Right? So to me, it's? Like, if that has one and that is not to eleven and that's only double because that enough right should the should the bracelet maybe higher, you know, you start to kind of play around without that price point as well. So in your case, adding in those other options with the different amounts of tile isn't going to raise the final top price. But it may let you take that piece and slide it up the spectrum a little bit more. The other thing is for you, there may also be some value add in kind of other services. So can you figure out a way and you can ignore all of the city one. I'm just spit balling here, right? Could you figure out a way that, like I do, one of these were like, I help I helpyou research to, like, pull people from your family tree or something like that, right? Oh, yeah, right. So it becomes like a heritage bracelet or something that on dh, that one could be really high. Dollar writes it's got a lot of elements. You might not sell a lot. But again, when we're thinking about those higher pieces it's about finding those one or two people who want that, if you can sell it for a hundred dollars, right, that really helps your bottom line, right? You know, if you could even just a couple of those a year could make a big difference in the end of the day. And whether your profitable or not that's what I was thinking, how do I do the sixteen times? Right? I think that this really about what can you do? To help them you know maybe find pictures that they didn't know existed you know, I think you can actually go through now and like search old newspaper archives so you may be able to help them like dig back into their family tree it's you know it's a pretty high level service and it might not be exactly that but I think helping them find images that they previously thought had been lost or didn't even know they existed like you want to be mom's favorite yeah, you could put your picture and your siblings picture on it but like could you find a picture of her grandmother as a baby? Holy crap that's amazing right so that could be a service that as a lot of value in an extra price point to the product right great idea everything just like that at a link like there's those companies that have for different holiday you have like a different stages of life you kevin somehow you can add a new I think this is maybe a little bit different just cause you'd have to recon you'd have to really reconstruct what you were doing but you could make that a service right? So they can't just buy a winking at it but they could send it back to you and you could do that and then that becomes of service so for you some of the value add may not be in new designs but maybe in the service and then I think we talked a little bit I know you said you have some but again upscaling the materials right? So the silver chain option is there a gold chain options right? You're talking or gemstones, right? A higher dollar value be something like that right? There could be a lot of options there to bring that up, tio and you know, if you have things that people perceive is precious, sometimes the material costs is not that high but they can have a huge level of value, right? I used to do this hearing design back when I first started and it was a really simple like silver leaf shape and then I would buy a five dollar strand of freshwater pearls. I would put one on each hearing and I could bump the price by ten dollars and I got a lot out of that strand, right? Because people don't know what things cost right? And so there are definitely certain types of gemstones, certain types of things that people perceive as a higher value than just a typical seed bead, right? I think adding those in is an excellent way to bring that price up a swell so for you it's really it's about adding more variation and then making it easy on your website so they can see all those options right without having to have a back and forth go a spot on your site you know when they're looking at that initial page they cooked by now and it takes them to those options and they can do it really simply okay but I think kind of right upping and still keeping you know you have that kind of funky vibe that funky aesthetic like you're probably not gonna put pearls on let's be real I don't think that's your customer right but maybe it is maybe you try freshwater pearls you don't know right? I think that's part of this product development game is sitting down coming up with a lot of ideas and then getting them in front of customers to see which the ones they respond teo right? Yes more like a variation of shaped like an instagram shape a slew a squint instagram shape would actually really yeah I'm bound fire a circle like just some other variation on a shape so you're still keeping your same think that maybe the shape is just a little different for those people that don't have like a bigger arm just a little this shape is a little different so tell me about your son you say you're bound by that so what is that that you're putting them on? Is the bamford piles bambi, I'll write so but it doesn't mean that you couldn't find something else that serves that purpose and I think that actually the instagram shapes perfect right that's what everyone like I don't even shoot in rectangle mode in my file I just want to look for my phone like terry I don't even shoot in rectangle modi shoot everything in square in my phone now for them to get the picture right every picture every picture I shoot is a square I take pictures of my friend's daughter and even though it's my friend's daughter I'm never going to post it online my phone is just in square mode so I shoot it right and I sent it to her and now she's like all right just some mail the square pictures right so I think the square thing is another perfect example because it fits with how people are taking their photos the other thing that maybe you could do is if you can't find the square is there's an option to take two square ish pictures on one tile right so they can pick two pictures from their instagram that go on one tile would like a nice little dividing line between them because it's not perfect but it's closer to square if you add two rights that should be an interesting test in the meantime while you're looking to source something that's actually a square okay awesome awesome thank you thank you all right so that gives you guys a lot of ideas and how you could think about expanding and I think the other thing with this too is grab some piers, talk to other people you know, if you are cpt this class we have this great private facebook group popular products in there and say hey guys, you know what? I could use some feedback, right? What do you think is missing? What could I add? And again you're not gonna take every idea, but they might bark something in you that leads to something else that becomes your best selling product, right? So if you want to expand to other product lines, do so on lee on ly after the core product line is stable and profitable I mean stable and profitable for awhile, right? It's not like, oh, I made money this month tonight you make something else right? Really get everything secure, right? So the last thing that I want to talk about is planning for new designs or line extensions because you can't just make the same thing forever, right? Some point you're going to do something new should fit in with that core, right? But it should be something new. So how often should you release new products? And this is one of those where I can't give you a concrete answer like many of the things we're doing here, it all depends on you and your industry and your customers and all those great things, right? So do you need to release new products to coincide with specific buying seasons right? I'm on the trade shows or get heavy right in august I'm at a trade show I found that if I don't make something new, at least one of those shows a year my buyers like what's going on right there I was like what's new what's new and they buy what's new they mean what's new in jewelry, right? They don't care that I've been painting or making scarves right? They want to know what's new in jewelry, right? So do you have to design for that? And are there certain times of year where your audience might be more likely to spend or invest in new designs? Right? Are there times when they're feeling a little braver? Would their cash right or there's any more spending moves to the new designs are going to get more traction, right? Stephen think about things like that too set aside designed time and target really states put these things on your calendar now during one of our breaks, I was telling some people in our studio audience about when I launched the contra collection it was ten days from pretty much when I started making it and started promoting the launched when I did it, but that launch date had actually been on my calendar for months and I knew that I was going to do something with these stones and released them the first week of june I absolutely no idea what I was going to dio right but I had that on my calendar and I committed to it and the truth is that I kind of left it a little late you want a vacation of the enemy came back he looked at my calendar and I was like oh I said I'm going to do this release in two weeks and you know what I did that's the other piece right? You can't be like oh well I don't have time I was like well I got two weeks we better get on it right? But if you don't put it on your calendar it's really easy to put it off and put it off and put it off you want a plan for that? So are there certain times of year when you're more creatively productive I am away more creatively productive in the summer my brain shuts down when it's cold right? So on those long summer days I want to be in my studio I want to be designing stuff so I always plan on doing new products for the august gift show because I know that I'm super creatively productive right? I don't plan on new ones for the february show because in the winner I just want to curl up in a ball of fire and take a nap right? I know people who are the total opposite I know a woman who hates summer she's british right? So she's like I can't show you the sunshine forget it she's like it just makes me slow and sleepy right give her a great cool rainy day and she is in the studio cranking it out right so what time's air you more creatively productive design in those times and don't worry about it in the times when you're not right and are there certain time periods where you need to focus on other areas of the business rather than design? I have to be in new york the new york gift show in august right? So even though I would love to be in my studio in august it's not an option so that means I better mark out sometime in june sometime in july to be in there if I want to work when I'm out I creative peak right? You just have to also say you know what? I've got a lot of stuff going on in the business and it has to stop at some point I always end up with a ton of travel between shows and teaching in january february march I always say no to commitments in april people are like oh I have this retreat will you come note it's in april that is my studio time I cannot give it up because otherwise suddenly it's july and I haven't made anything new this year right block those things out in your calendar scheduled them in at the end of the day it's about your product right? So product development is super important you have to make time for it, right? I also sometimes like to block out a little bit of time for product development when I'm coming off of a show, we're coming off of an event because usually I'm inspired because I'd just seen where the gaps are. I know what people are asking for and for me, a lot of times those when I do my kind of smaller, creative pushes right, like, come out of a show and then designed twenty new hearing style, michael, we could do this this this and this nous, right? I've got that creative energy, so use the creative energy when you've got it right use the test market event system to test new collections and groups of design. I wanted to get the contra collection out there, so I would know if it was something that was viable when I got into my whole sale season. I wanted to know that before I got there, right? So use them to test things out now if you're evaluating whether to branch out into other product categories, right? If you're like, all right, I feel like I've hit the gaps, megan and I'm just burning to try something else you can maybe but you really want to do a strong evaluation for it first so first off and it and here's the deal I mean share a bunch of questions they all need to say yes right it all needs to work we're all so it's probably not gonna work for you so does it match your brands aesthetic? So this is an example of of line extension that freshly picked did were they added in these totes and these clutches now I can't speak for them I don't not know the success of this product but I'm guessing that since they haven't done a ton of this that it wasn't actually the best fit for them because it did hit their aesthetic absolutely was the same aesthetic it was the same material but here's the thing it didn't actually serve the same audience as their current products and that's the next thing right? So for them they thought you this baby thing our audiences moms they're going to buy these products right? But my guess is what they found is that they didn't buy as many of them because their moms want to buy stuff for the kids right that's what their moms are all about they recently did a line extension of children's clothing pressure that's gone over like gangbusters and I don't know this is all anecdotal but from what I observed I think it's doing pretty well right it's the same audience for the same buying reasons right? You could also think about a line extension if it serves an audience you are attracting but you aren't currently buying so in listening to interviews with susan from freshly picked one of her things with her marketing as she tries to hook moms when they're pregnant right before they've even had the kids that's when she wants to get them in but they're mocks on lee started from a certain age point right so they added these bringing home baby bundles is genius right? You're hooking a mom while she's pregnant you should have a product to sell her right off the bat right? So that might be a smarter way for life extension as well again do you have an audience that you're not serving what do they want what will they buy and then of course will it be profitable and sustainable? Is it really gonna work for you in the long term? Even guys my cautionary tale right it's not my business model it's just so far off of what I do right I would have had to do huge volume huge spend a ton of stuff to get manufactured don't be fooled by the fact that this has sold out I only made a couple of each one not a big deal right but not this was not sustainable for me in the long run it just wasn't gonna work it was good that I guess it was good that I tried it now I know that, but if I had sat down and thought about it a little longer, I probably would have realized that from the beginning so is it profitable and sustainable for you? So use the products swat analysis that we did in less than seven to plan new products and line extensions you're going to do something new go back to the beginning, right? What are the strengths? What are the weaknesses? What are the opportunities? What are the threats? And you can use that tool over and over again when you're thinking about those line extensions. So in the next lesson we're going to create a production strategy for your business now that we've kind of flushed out your product line let's talk about getting it made right because we're gonna have to make probably a lot more than you currently were innards had that make a living number right? We're going to be joined by a really special guest and manzano you may know her as an apple it's adorable baby products she's gonna be joining us to talk about how she went from being a one woman show too actually fully having a production staff right going be awesome but first let's look at our homework so I want you to identify three to five key pieces that are missing from your product line and then I want you to set a target date to design and launch thes using the ti m e system right, using the test market event system set a target date to launch these new things. Don't drip them into the market. Don't forget everything that we've talking about right, pick a couple of key products and then launched them with the bank, right? And I want you to create a schedule for upcoming designed time and product launches. Look at your calendar for the next six months. Figure out when you're most creatively productive, figure out when you can carve out time and add that in. And then I want you to share teaser on instagram of an upcoming product to resign right back to that ti m e system building buzz for the next launch, right, and it could be a minimum viable product could be the stone on your hand, right? Nothing actually complete. Put out that teaser on instagram and use our hashtag make love cell and I will see you guys in the next lesson.
Class Materials
Private Facebook Group Invite
MAL in Detail - Numbers Template
Editable Bootcamp Workbook in Pages Format
Editable Bootcamp Workbook in Doc Format
Cost Plus Pricing Elements Bonus Video
How to Talk About Your Products Bonus Video
Trade Show Traffic Flow Bonus Video
Visual Branding Basics Bonus Video
MAL in Detail - Excel Template
Ratings and Reviews
Love the shorter and longer format to this class. It keeps me interested and I don't have to schedule a whole day at once, during the free play. Well worth the money if you pay for the class too. Megan is amazing! She really knows business, marketing and has strategies which apply to all kinds of businesses. The work book is 150 pages long and breaks everything down into small bits and teaches you to really think about all aspects of your business. Where you were, are now and best of all where you want to be and how to get there. Highly recommend any of her classes. Thank you so much Megan and Creative Live for bringing us such wonderful content!
This course was totally awesome!!! I cannot express enough how fantastic Megan Auman is, what a great teacher she is, and am so thankful she offered it for FREE!!! Wow!!! It was exactly where I was at, stuck and frustrated. Exactly what I needed to begin to get my business off the ground. I am currently implementing all I have learned from her. Rebranding my self, rebuilding my website, new product shots, model shots, list building, etc., etc. I am still connected with the Facebook group, and that is awesome we have that connection to continue helping each other out and using each other as a sounding board. I plan on purchasing the course as soon as I can. I HIGHLY, HIGHLY recommend this course to anyone who is struggling to get their business off the ground and going!!!
Thank you Megan for this opportunity. I really liked the first classes. You indicated interesting directions to think about. Even though life verifies the rest it is still worth to become smarter. Great Work! Best regards from Poland. Ewa
Student Work