How to Make a Living Selling What You Make
Free Bonus: Student Interviews - Joy Jenkins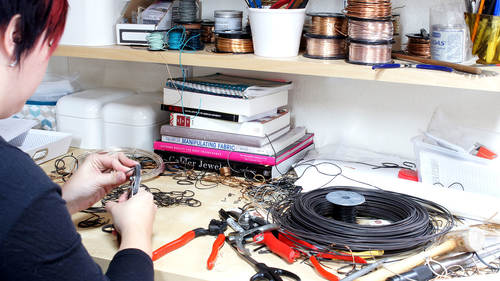 How to Make a Living Selling What You Make
Free Bonus: Student Interviews - Joy Jenkins
Lesson Info
Free Bonus: Student Interviews - Joy Jenkins
My name is joy jenkins, my businesses, renaissance heart's design studio. You can find me at renaissance heart stock, home, we make handwoven scarves and hand me the jewelry. The goal for business is to expand. We wantto go into shawls, baby blankets, even bags, and more than that, we want to be able to support our other creative outlets. One of our biggest challenge is at the moment right now is customers and finding out how to market ourselves and get our message out to the people who would enjoy and love to our stuff. One of the things we have done in our business that we're really proud of is we've never stopped producing. We keep making and designing the things that we love to, and we hope that other people will love it as well. One thing I am hoping to learn in this boot camp is what is the next step? What is an except to reaching people? What it's, the next step to making this business to succeed?
Class Description
"The Course is RICH in content and full of VALUE. I strongly believe this course is BETTER than 99% of the course out there." - Tajul Ghani (CreativeLive Student)
It's common for a crafter to get inspired and pour time and money into launching a creative business idea that they "just know" will be a hit only to discover that there isn't much of a market for the business they envisioned. But it doesn't have to be that way – there are specific actions you can take to ensure even the most creative endeavor makes money right away and doesn't flop.
How to Make a Living Selling What You Make is your complete guide to building a thriving handmade business. Megan Auman is a maker and educator who has built a multi-faceted business around her passion for great design. Her jewelry line is sold in stores across the US and in this bootcamp she'll teach you the recipe to her success. You'll learn how to:
Generate revenue from the beginning while balancing longer term growth 
Find the best and worst revenue streams for your products 
Set targets, create profitable pricing, and evaluate market demand 
Deepen your product line and build your brand 
Grow your email list and use social media for long-term growth 
Develop production strategies as you start creating more product 
This course includes a comprehensive workbook with exercises and activities designed to propel you through the lessons and position your business for sustainable success.
Megan will help you develop your business idea so you don't waste time and money on projects that don't pencil. She'll also share insights on what to do once your business is up and running. She'll coach you through best practices for hiring, outsourcing, and planning for the long haul. You'll walk away confident that you can develop and stick with a business plan that won't have you tied to a day job or pouring money into a project that doesn't pay. How to Make a Living Selling What You Make will set you up to earn a serious income by doing what you love.