Free Bonus: Student Interviews - Holly Tanner Straus
Megan Auman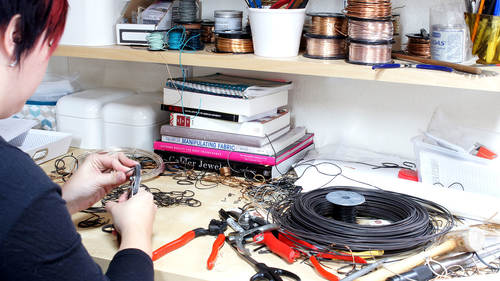 Free Bonus: Student Interviews - Holly Tanner Straus
Megan Auman
Lesson Info
36. Free Bonus: Student Interviews - Holly Tanner Straus
Lesson Info
Free Bonus: Student Interviews - Holly Tanner Straus
Hi, I'm may, miss holly tanner stroke. Um, me creative, live, regular and, um, I guess I am an embellish, sir, is the best thing and some of examples of what I make are embroidered bags, props, placements, furniture, re upholstering fireplaces, bathrooms. So I'm kind of a jack of all trades. My goal for this class was trying to figure out maybe to find the market of what for my skills because they're very broad, biggest challenge region not is really. The simplest thing is whether to go to find a kid trying to pigeonhole myself into one place, but stay true to all my liking. I'm proud of what I think all the things that I do because when I get to revisit them, I like I forgot that it was as good as it was, and I hope I can. I clean a lot from everything in the class and from my fellow classmates. They always have to seem to have a lot of really cool interests and inspiring for me.
Class Materials
Private Facebook Group Invite
MAL in Detail - Numbers Template
Editable Bootcamp Workbook in Pages Format
Editable Bootcamp Workbook in Doc Format
Cost Plus Pricing Elements Bonus Video
How to Talk About Your Products Bonus Video
Trade Show Traffic Flow Bonus Video
Visual Branding Basics Bonus Video
MAL in Detail - Excel Template
Ratings and Reviews
Love the shorter and longer format to this class. It keeps me interested and I don't have to schedule a whole day at once, during the free play. Well worth the money if you pay for the class too. Megan is amazing! She really knows business, marketing and has strategies which apply to all kinds of businesses. The work book is 150 pages long and breaks everything down into small bits and teaches you to really think about all aspects of your business. Where you were, are now and best of all where you want to be and how to get there. Highly recommend any of her classes. Thank you so much Megan and Creative Live for bringing us such wonderful content!
This course was totally awesome!!! I cannot express enough how fantastic Megan Auman is, what a great teacher she is, and am so thankful she offered it for FREE!!! Wow!!! It was exactly where I was at, stuck and frustrated. Exactly what I needed to begin to get my business off the ground. I am currently implementing all I have learned from her. Rebranding my self, rebuilding my website, new product shots, model shots, list building, etc., etc. I am still connected with the Facebook group, and that is awesome we have that connection to continue helping each other out and using each other as a sounding board. I plan on purchasing the course as soon as I can. I HIGHLY, HIGHLY recommend this course to anyone who is struggling to get their business off the ground and going!!!
Thank you Megan for this opportunity. I really liked the first classes. You indicated interesting directions to think about. Even though life verifies the rest it is still worth to become smarter. Great Work! Best regards from Poland. Ewa
Student Work