How to be Bold, Resilient & Better Than Ever
Tabatha Coffey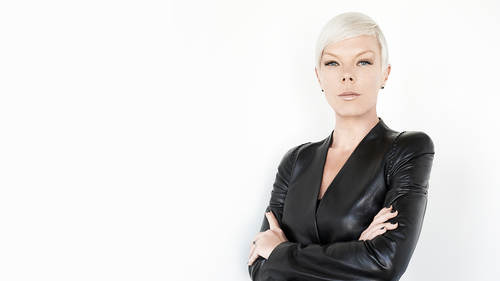 How to be Bold, Resilient & Better Than Ever
Tabatha Coffey
Class Description
We hear it all the time: In order to take charge of our lives and succeed, we've got to be bold, honest and authentic. We have to be our best self. But how do we do that? What's the secret formula for getting in touch with our true selves, understanding what we want out of life and ultimately making it happen?
Tabatha Coffey has the answers and wants to share them with the world. She's made a name for herself as a smart, savvy, straight shooter who isn't afraid to ruffle a few feathers in order to speak the truth. Not only has she built her own business empire of hair salons, popular television shows and best-selling books, but she's got the unique ability to help others in their quest for success.
Coffey will explore what it means to be honest with yourself and others, and the importance of understanding how we perceive ourselves as well as how everyone else sees us. She'll then help participants identify their goals, face their fears and build the resiliency needed to overcome adversity in our lives.
In this class, you'll learn how to:
Figure out who you really are and how you present yourself to the world.
Own your attitude and live it.
Identify your fears and what's holding you back.
Learn from your failures and mistakes.
Deal with adversity and unwanted change.
Build resilience so you're ready for life's unexpected challenges.
Avoid settling and always push forward.
Ratings and Reviews
Tabatha was a keynote speaker for our Fall Portrait Master's workshop. I was excited to listen to her talk, after watching her shows. She's honest, upfront, transparent and this course was amazing! I bought it for $29.00 but I would easily say it's worth the $89 dollar investment too! It's easy to follow, full of great inspiration, and moving your forward in your business, your life and in general. She's fabulous! I have watch this more than once, and her Keynote talk as well. Since listening to this I purchased her books (one audio) and she's in my ear frequently. LOVE her! I would have loved to have participated in her class. This isn't just for hairstylists either - it's for anyone who's looking to overcome what holds you back, how to move forward and move to a thriving successful empowered business.
I had the pleasure and honour of participating in this class in person. Like all of you, I have enjoyed watching Tabatha for the last 10 years on television. We have all witnessed her steer and assist people in finding the direction and inner strength they needed to address their lives in a direct, honest, straight forward approach. This course gives you a small glimpse behind the curtain into what empowers, drives and has shaped this remarkable woman. It takes great strength, confidence and incredible courage to take a negative brand label like "bitch" and turn it into a symbol of pride and power. I was proud to join her on this introspective journey where she shares her life experiences and lessons to help each and every person find their inner power and silence their fears.
I was lucky enough to be in the studio audience for this class (and then shocked when I was pulled up to be asked questions about my narrative!). This class was WAY beyond what I had expected. I knew it would be amazing because Tabatha is such a wonderful and effective mentor, but it was life-altering. She digs deep into self-awareness in an accessible way. She has innovative insight into teaching personal transformation and her honesty and vulnerability made this class better than any self-help book I've ever read or workshop I've attended. What a gift she gives to us all! Give yourself the most self-loving present you can and invest in this class! It's worth SO much more!
Student Work