Challenge #4: High-Key Portraits (w/ DIY Softbox!)
Lindsay Adler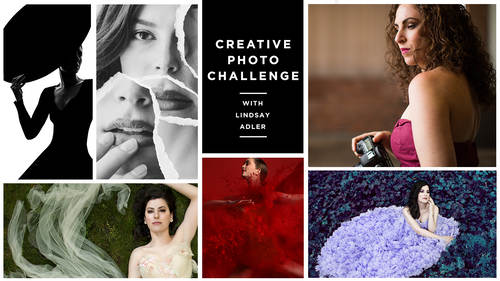 Challenge #4: High-Key Portraits (w/ DIY Softbox!)
Lindsay Adler
Lesson Info
4. Challenge #4: High-Key Portraits (w/ DIY Softbox!)
Lesson Info
Challenge #4: High-Key Portraits (w/ DIY Softbox!)
everybody. I'm Lindsay other, and this creative photo challenge is to create a do it yourself soft box. Soft boxes are beautiful, soft, glowing light, but they don't have to be expensive. In fact, you can use very common household items like a shower curtain or a bedsheet to create that same beautiful and flattering light source. For this challenge, I'm actually going to create to do it yourself soft boxes. So I have beautifully glowing light. So I've got my shower curtain as the main light and the behind my subject. I have a beautiful, pure white background that will actually wrap around her, and in this case it is an inexpensive bedsheet to turn these into soft boxes, all I need is any light source, from a speed light to an inexpensive studio strobe. It really doesn't matter, and each one of these are behind are soft boxes. When it hits these pieces of material, it becomes soft and glowing exactly like a soft box. So the settings that I have here the same that I usually use in the st...
udio, which is right around 1 200 of a second to get rid of ambient light F 11 and I s 0 100 So these are the settings I often use in the studio. Beautiful. Right? There's great. Okay, um, I'm gonna try one street onto me, rial long neck just like that. I'm just getting your head and shoulders and chin down just a bit. Reach into the light. A little can. Now don't have you just pop up that left knee. Uh, and I'm gonna have you put your left arm on your neither. And you're gonna look over your shoulder at me and that back arm You're gonna pop it up so I can see it just like that. Beautiful. And then crank your head back. This way. Beautiful. Look your head this way. Beautiful. I see. Can we do the exact same facing the other way? Beautiful. I agree. And look up in out this direction. Great. Lower that back arm even lower onto your thigh and bring in just a little bit. Great. And bend it just a little bit right there. Perfect. So shoulder up. Just play around with that just for second and look at me. Do the coy over the shoulder. Beautiful. Bend that for arm perfect. Beautiful all right, so that's exactly what I was looking for. Beautiful, glowing high key to match my subject. Now it's your turn to share your do it yourself soft box images. You can join our Facebook group, and you can use the HASHTAG creative photo challenge. And if you like to receive these challenges direct to your inbox, check out creativelive dot com ford slash CPC
Ratings and Reviews
I am so much more willing to participate this challenge, tho' i don't have the materials and studio equipment. I only have a tripod, a camera, a softbox, a flash and a reflector but it ain't gonna stop me. I'm eager to learn new things, I love creative live, I love Lindsay, and I LOVE Photography! So thank you all for this free class! keep inspiring us!
I loved it, I highly recommend this class. It's super informative and Lindsay is a superb Photographer and teacher. Thanks for sharing
Very fast class full of great ideas! My only question is how did she edit the silhouette to look like that at the end? I recommend this class if you're looking for some fun inspiration!
Student Work