Mobile Photography: Day for Night Effect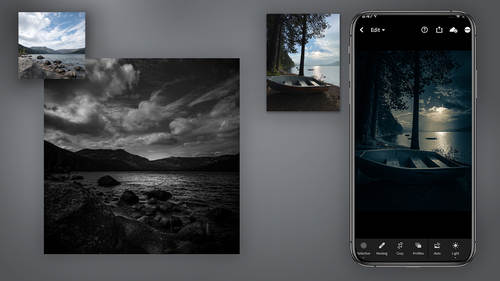 Mobile Photography: Day for Night Effect
Class Description
AFTER THIS CLASS YOU'LL BE ABLE TO:
Utilize Lightroom Mobile to create dramatic, dark evening looks.
Dive deep into the Selective Edit module in Lightroom to control highlights, shadows, texture, clarity and create cool lighting effects.
Look at different 3rd party apps to add lighting and weather elements to better enhance your images.
ABOUT LISA'S CLASS:
Dramatic nighttime shots can be a challenge to pull off with current mobile photography. In this course you will discover clear methods for making fantastic evening shots using Lightroom Mobile premium and a variety of other 3rd party apps.
WHO THIS CLASS IS FOR:
Intermediate users who already have a basic understanding of Lightroom, Lightroom Mobile.
Portrait, Editorial, Landscape and travel photographers taking advantage of the expediency of mobile editing, while looking to create sophisticated imagery.
Anyone who doesn't want to shoot at night, but would still like to create night photography.
SOFTWARE USED:
Lightroom Mobile v6 premium
Lens Distort app
ABOUT YOUR INSTRUCTOR:
Lisa Carney is a high end retoucher who has spent over two decades working with the most dynamic players in the print, motion picture, and television industries.
Besides being a regular presenter at the Adobe MAX conference, her teaching roster runs the gamut from beginners to professional retouchers, and includes universities, design studios, movie studios, corporations, and private students.
Lisa has worked with all major movie studios and many television networks including Disney, Buena Vista, Paramount, 20th Century Fox, Fox Searchlight, Sony, Universal, Newline, Columbia, MGM, ABC Television, ESPN, TNT, CNN, CBS, CW, Warner Brothers and Sony.
Advertising credits include Burger King, Baskin-Robbins, Lowes, Jordana Cosmetics, Strategic Perceptions, Mattel, Chrysler, Mercedes, Mazda and Best Buy.
Explore More Free Classes
THE
CREATOR

PASS
Enjoy the free classes? Get 2000+ more Classes and watch it anytime, anywhere.
Get The Pass