Day 7: Meditation & Rest Day
Koya Webb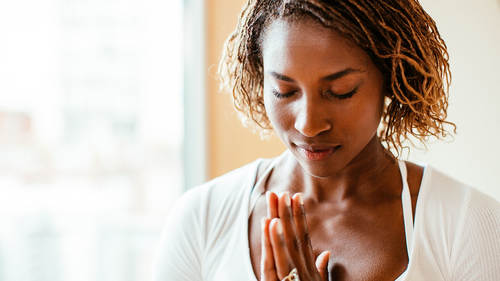 Day 7: Meditation & Rest Day
Koya Webb
Lesson Info
9. Day 7: Meditation & Rest Day
Lesson Info
Day 7: Meditation & Rest Day
Hi. I'm Korea Web and welcome to your meditation. All you need is a block if you want something to sit on. But you don't have to have anything if you don't want it. And all right, let's get started with your rest day or your meditation this day. It's probably one of the most important days of your plan because this is the day you will cover. This is the day you really get centered on. Why are you here? Why are you even doing yoga? Why are you in the world? Why do you work where you work? Where you in the relationships you're in? Well, today is the day that not Onley. Your body has a chance to heal. But you also get to dial in on some of the things in your life and making sure you're on the right path so you can sit just like this and a comfortable seated position. If you're really tired, you can go ahead and lay down, um, and put a blanket under you or whatever you need. But I'm gonna go ahead and sit on this block. If you are sitting on a block, displace it in a comfortable position f...
or every person. This is different for me. I like to put it all the way up under until I can feel it touching my heel. Um, there are also tons of meditation cushions out there, or you can roll up a blanket or pillow whatever makes you feel good. But usually a little elevation is better for your knees, so that feels really good. And then just come until comfortable seated position. We're just going to do a couple loosening exercises first to bring your shoulders to your years, and they're relaxed them down again. Inhale shoulders here years and relax and down creates circles. Inhale and exhale as you go back down and around, inhale shoulders forward and exhale back down and around. Create this movement as you're breathing and relax your shoulders down and slowly close your eyes. Even do a couple I exercises. Look over to the right and the left and the left and the right and start creating zigzags with your eyes left right, right left going to the top in all the way to the bottom, looking all the way up and looking all the way down, looking down into the left and then down into the right, up to the left and up to the right. No create big circles. Eyes were closed, big circles with your eyeballs and then go counterclockwise circles with their eyes and slowly blink your eyes open. So that's a really great thing to do. Have you been looking at your phone? A lot are looking at the computer. A lot really helps relieve the tension in your eyes. Even placing the pads of your hands against your eyes is going to really help you relieve some stress intention in your eyes. And since my hand oh my face, you can go ahead and give yourself a self massage has come to your temples and just massage around in circles, inhaling and exhaling as you move, coming to the front of your forehead and slowly working your way back slowly coming down your jawline where we're talking, we're eating a lot. This can get very tight and come all the way down and to your neck and your shoulders. Just pull forward on your shoulder. You left shoulder and their right shoulder just to release intention can take one hand across and pulled down so really. We're distraction ing the skin in your body to just tap it to relief. So pulling tours and then squeeze your shoulders again. Pull on the top of your shoulders and then squeeze all the way down your arms. Just giving your body a little love all the way down your forearms. Enter your hand over and give your hand a little massage. All of those flows chatter. Rhonda's planks. You probably have a lot of tension in your hands of solely. Massage your hands all the way out through the fingertips and the opposite side we'll so much tension in her hands and our arms. It's really important, at least every other day, to give yourself a self massage, going all the way up your forearms, really digging in deep along that bone using. I like using the back of my thumb to really dig in because the forearms could get really tight and same thing. Other side can also use the front of your fingertips. Whatever feels best to you just really digging in there that space between your forearm in the muscle and relax. Sit down and I blink. Your eyes closed. Take a big in half and excel. Gonna work on different breathing exercises that I like, and one is in Helling holding the breath and then exhaling, We're going to do it together. Inhale for 12 34 Hold the breath for why? To three for and then slowly exhale one to three and four. We'll do that again. Your eyes to be closed in here home and solely excel in hell whole and slowly exhale last time in him home and excel A Relax, slowly blink your eyes open so hopefully you already feel a lot calmer. And now we're gonna work on just a little cleansing breath. So I'm also call it Fire Breath. It's what you exhale and also bring your abdomen and at the same time goes like this can also create a small hissing sound with your lips. That sounds like this so you could really hear the force of your breath going out and pulling in, in and in on your abdomen. Not only does this clear and cleanse your blood, but also relieves stress, and it works on your chance pairs of dominance so that pulling in motion of your abdominal wall. So let's do a couple of arrests here and there. Relax. Take a big inhale and exhale. We're gonna do that one more time. You can place your hand. I'm your abdominal. Or you could just relax your hands on your knees and exhale. Relax, Nathan. I know you felt that. And what that does, it is clear is your energy cleans your energy. It feels great. And now we can start a meditation. Slowly close your eyes and exhale lawyer chance. Here. Chest. Bring your neck to the left and the right and the right and the and relax your head center. Take a moment to listens here. Breath to let the sensation of peace flow from your head, your shoulders through your abdomen and out through your leg. Feel your body up with positivity presence, awareness and love. Allow any negative thinking patterns to float across your brain and exit, not holding onto anything that doesn't serve. You feel how good it feels to be free to be present and make that commitment to yourself right now to be present daily to take care of yourself daily, to breathe, to move, to connect. I feel that connection is your sitting here. Take a big and how and exhale again big and how and excel feel the essence of love. Enter your body like a white leg. Let it enter the top of your skull and flow through your neck, your shoulders, your arms and your leg. Let that energy flow through you as you feel the energy in your entire body. Feel the gratitude for these gifts that you now have a strength, the flexibility of peace and inhale all the goodness. And so the exhale Slowly shift your weight forward in here and exhale. Relax your weight back. Start to become aware to feel to breathe and slowly blink your eyes open. So if that was your first time meditating Congratulations. And if you're used to meditating, I hope that was fun for you. Um, we're gonna do, Ah, a little thing that I like to do When I finish my meditations We just bring your arms to your side You're gonna live one arm up in over and solely. Relax, sit down, kind of the other arm of been over and slowly relax. Sit down your bring your right arm in front of your chest and your left arm in front of your chest and give yourself a big hug because you did an amazing job. Congratulations on finishing another week. This week you took time to take care of yourself every single day. If you make time for yourself, you have plenty of energy for everything else you want to do in life. Every person, every job, every experience. Just don't forget to take care of you. Take care of others and take care of the planet. Remember, it starts with you every morning. Right here with me. So thank you so much for joining me. Bring your hands, Teoh. Third eye for clarity of thought. Bring your hands to your lips The clarity of speech, and bring your hands to your heart for clarity of action. Now, Mr
Ratings and Reviews
As someone who is an absolute beginner to Yoga I really appreciate Koya showing all the ways the poses can be modified. Thanks CL for this!
Student Work