Camera Operation
John Greengo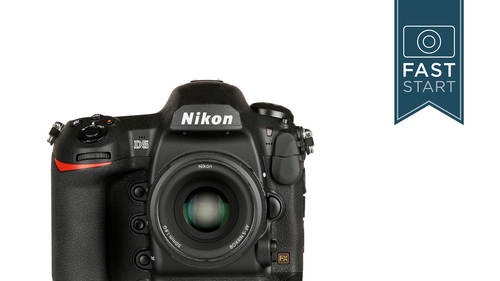 Camera Operation
John Greengo
Lesson Info
34. Camera Operation
Lesson Info
Camera Operation
Let's get into our final section which is camera operation. In here let's talk about ... Okay, now that we've figured out all the details, let's put this all together. So what's important? Well, when I go out, I wanna make sure I got my batteries charged, I got my memory cards formatted, installed in the camera, I got my image quality set the way I need to for whatever it is that I'm shooting, and I wanna make sure that there's anything else that I've played with and adjusted. That it's set the way I want to in the menu, and if I'm going like on a big trip, like I'm going to Cuba this fall, I've got my photo tour going to Cuba, and before I leave Seattle, I wanna make sure my image sensor is clean. Because I know when I'm in Cuba, they don't have any places that I could turn my camera in to have it professionally cleaned. I wanna have that set and cleaned, ready before I go. So make sure those things are ready before there's anything big that you're gonna shoot. Now, dozens of controls...
, dozens and dozens of menu items in here. Here are the things that you're really gonna use. For controlling the exposure, you're gonna be using the mode button, your shutter speed and aperture dial's on the back of the camera, and that ISO button. You got your drive button on the dial on the back, which we can of course use the shortcut button on the back. We're gonna be changing white balance from time to time. And then for focusing, we've got our focusing button on the side for focusing mode and our focusing area. And so, these are the really important controls on the camera. So let's look at how we would set these controls for different types of photography. Alright, let's start with just some super simple photography. And when I say super simple, I'm talking about handing the camera to your kids, or your spouse, or your neighbor, or your friend, and you've said, "Hey, would you take "my Nikon D5, be real careful," "and take some pictures for me?" Here's how I would set the camera up. I'd put the camera in the program mode, so they don't need to worry about shutter speeds and apertures. I would put the auto setting for ISO. I don't normally like that, but in this case I'm trying to leave it as simple as possible. Make sure that exposure compensation is set to zero. I'm gonna put white balance on auto. I'm gonna leave the focus mode on single, AFS, so that it focuses on one subject and stops. The AF area mode I'm gonna leave it in auto, and that's where it's using the entire 153 points, and it's just kinda looking for the biggest, most notable thing in the foreground to focus on. And then, I'll leave the release mode on single, I certainly don't wanna leave it on high speed with somebody who doesn't know how to really operate this camera. I don't wanna go through all those photos. And so, this is a super super just point and shoot mode with this camera. But that is definitely not how I see this camera being used much of the time. If you wanna do some landscape photography, depth of field is generally a pretty big issue in many of those cases because you're trying to get a lot in focus. You're often working from a tripod with slower shutter speeds in these cases as well. I prefer to have manual exposure so I can be very precise about my shutter speeds and apertures, and ISOs. For ISO, you're gonna definitely want the lowest ISO. That's where you're gonna get the cleanest information off the sensor. If you want a lot of depth of field, you're gonna be in the ranges of 11, or 16, or maybe 22. When you're at 11, 16, and 22, you're not letting in as much light. You're often needing a longer shutter speed. The shutter speed will depend on the amount of light that you have out there. Good chance that you might have something slower, like 1/30th of a second, which is why landscape photographers are often working with tripods. White balance, probably fine with auto white balance, unless you see a problem where you can adjust it from there. Focusing mode, because your subject is not moving, you wanna be in the single-shot mode, AF-S. The AF-Area mode, you wanna be very precise about where you are focusing, and so a single point that you might move around would be a good option on that. With the release mode, you do have a number of options. You could choose single, where the camera just fires one photo at a time. This also might be a good time to employ the self-timer, and/or the mirror up option so that you don't get those vibrations from that mirror bouncing up and causing slight vibrations in the frame. And so, that's how I would set it up in landscape photography. And this, once again, is part of the .PDF that comes with the class, and so if you want to have a little cheat sheet in your bag, this is part of that .PDF. For doing portrait photography, we are wanting faster shutter speeds to make sure that we stop the action of our subjects, and we are often wanting shallower depth of field. In these cases, if I have a chance to set up a little bit, I prefer to be in manual, so I can get everything set exactly the same, and get consistent results. And so, in this case, I'll probably be setting my aperture first. Because I like that shallow depth of field, I'll wanna make sure that I have 125th of a second or faster to stop my subject's movement, and then I'll try to use the lowest ISO possible. If I can get away with 100, I will use it. We're not using exposure compensation because we are in the main... For white balance, I'm usually fine with auto, and with focusing my subjects, if they're not moving towards or away from me, AF-S for single focusing. And then, I wanna be very precise in the focusing, so I'm gonna focus on their eye using that single box. And for the release mode, I could use one of the continuous modes, but single mode usually works fine most of the time. So that is portrait photography. Next up, let's do what this camera's really designed for, and that is action photography. Sports, wildlife, and much much more. If I have the opportunity, I prefer to be in manual so that my results are consistent. Aperture priority would be a second good call in this case as well. This is where you wanna make sure that you are getting shutter speeds fast enough to stop the action, if you are indeed trying to stop the action. And so, I will often set a shutter speed of 500th of a second or faster, depending on the type of movement that I'm photographing. You're often gonna be using lenses or needing lenses that have wider apertures. And so, if you have those lenses that go down to 2.8, they are of great benefit here. You obviously wanna have the lowest ISO possible, but this is often where you need a little bit higher ISO, often starting at 400 and going up from there. Auto white balance is good for most of the time, change if necessary. One of the most important changes is in the focus mode, where we change it to the continuous focusing mode. Remember, this is that button over on the left-hand side of the camera, kinda as you reach around, there's the button for that. And then, in the AF-area mode, this really depends on how you shoot, the style, and what you shoot, but I think a good general purpose setting for many types of action photography is the 25-point area. It's not too small, it's not too big, it's just about the right size for many situations. But there are several other choices depending on your needs and what you're shooting. Finally, the release mode, of course. This is where we're gonna wanna have access to our 12 frames a second on the camera. It's possible that you may wanna use the continuous low, depending on the situation, but probably gonna be in the high setting. Alright, let's finish this off with what I call basic photography which is, "Eh, I dunno what my next shot's gonna be," "but I wanna be ready for anything" "that might come along." In this case, I do like a little bit of automation, and so, I'm gonna take aperture priority because that leaves you a lot of control, and I like to leave my aperture kind of open with a little bit of depth of field, so 5.6 might be a good spot in there. I'll be paying attention to the shutter speed, making sure that it's appropriate for handholding the camera or my subject that may or may not be moving. In general, I leave my ISO at 100, and I change it as necessary. So, if I'm going to a marketplace, I might bump it up to 800. If I walk out at night, I might be at 3200, but in general, I leave it set at 100. Make sure your exposure compensation is set to zero, unless you are consciously wanting to change that for exposure reasons. I'm pretty good with that auto white balance. And, for focusing mode, most subjects are not moving around a lot, so I choose single. Some people like continuous, with back button focusing, that's another good option, I think. The AF-Area mode, I prefer to leave it in single, but I think the group one with five points might be a good option as well. And, with the release mode, I'm fine in the single mode. Some people like the continuous low speed modes. There's definitely lot's of options in there. And so, all of these are just kind of starter points, and I know you're gonna wanna adjust from there, and I always like tweaking things differently, but I think this is a good place to get ya a good starting point going from there. So, if you've been paying attention from the beginning, congratulations, I think you are now an expert on the D5 because we have gone through pretty much everything there is on this camera.
Class Materials
Nikon® D5 Recommended Settings
Nkon® D5 Fast Start Class Slides
Ratings and Reviews
As usual, John Greengo has provided me with a wealth of information, this time to decide on my next Nikon camera purchase. John has a talent for explaining technical aspects in a simply to understand, yet intelligent, language. I feel very lucky to be able to tap into the knowledge of such experts and thank the day I found out about Creative Live. Unfortunately I had to miss a little part of the live broadcast due to international time differences. I will definitely be watching the class again and again (there's so much content). Thanks John and Creative Live. Looking forward to my next class.
Already set the Fn3 button for Voice Memo - easy peasy thanks to this and so many other "buried" ( in the manual ) treasures. Notwithstanding three years with the D4 and one year with the D5, I am substantially more familiar and comfortable with the available tools / features of this amazing camera, Nikon's D5. Thank you, John, for the relaxed, easy-to-follow yet informative, professional instruction - well done!
John Greengo does a fantastic job of going over all the great features of this camera. Yes, there is a lot of information, but the format of the class enabled me to drive right into the features I needed for an upcoming shoot. I am new to Creative Live but this class is showing me the fantastic value of this platform. Happy Shooting!
Student Work