ISO Sensitivity Settings
John Greengo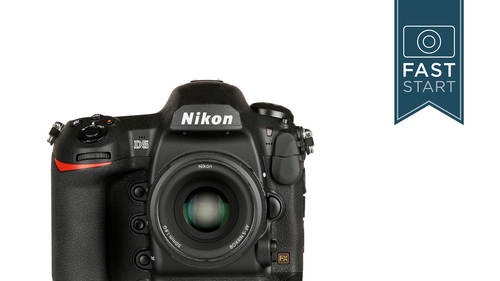 ISO Sensitivity Settings
John Greengo
Lesson Info
21. ISO Sensitivity Settings
Lesson Info
ISO Sensitivity Settings
Next step is our ISO sensitivity settings and this is where we head into a sub menu which has a whole bunch of little settings to get into ourselves. So, first off, we get to set our ISO here. So 100 up to 1000. We have the low settings which are actually in third stops. And then we have the various high settings as well that most of us are not going to venture into that territory. Next up, we have the auto ISO control. First control is fairly simple whether we want this turned on or off. I know a lot of you on this camera are gonna leave it turned off most of the time, but if you turn it on, it's gonna allow us to get in and make some of these other changes. The first control over auto ISO is what is the maximum ISO that you want the camera to go to? And if you remember, the ISO test from earlier on, 6400, still looked pretty clean. 12800, still pretty good as well. And so that's where you may want to have your auto ISO kind of top out depending on your needs. Next up is maximum sensi...
tivity when you have a flash attached and you are using the flash. You can set a different number for that. You know you're gonna have more lights, so you may be setting a different ISO because you know that your lighting situation is different in that case. You can also set the minimum shutter speed. So if you know that you can't handhold the camera at anything below a 60th of a second, you would set it to a 60th and your camera will never go below a 60th of a second and will then compensate with ISO. Now, there is an interesting option here and that is at the very top of the list where it says auto and there's a little arrow there. And we can go in and we control where it automatically wants to set it. So auto ISO becomes very, very smart and interesting in the way it works. So let me kind of run you through it. So imagine we have our cameras in aperture priority at ap 5.6. Why? Because I need an example and that's a good place to go to. Next up, the shutter speed, where aperture priority so the camera is gonna figure out the shutter speed for us. And the camera is in auto ISO so it's gonna figure out the ISO for us. So where is it gonna go? Well, let's just imagine, you know, we're out there in a basic day. And it's at a 60th of a second. And then it gets brighter and brighter and brighter. Well, the camera is gonna use faster and faster shutter speeds. The ISO is as low as it goes. And so to control the light, it uses a faster shutter speed. Alright, now, it gets a little bit darker. What happens? Well, it changes the shutter speed down to a slower shutter speed, but there's a floor that you set in either a particular number or an auto setting. And this is where it will get a little interesting is because now when it gets darker, rather than changing shutter speeds, it starts changing the ISO. And so you can have that maxed out at a particular number of as I said before. And as it gets brighter, it'll change the ISO until it gets to its ISO setting at 100. And then as it gets brighter again, it's gonna go ahead and change those shutter speeds. And the question is, where do you want that switch off point to be? Do you want it to be at exactly a particular number that is a handholdable number? But we all know those handholdable numbers that 60th of a second, which is a good general number, is gonna depend on the lens. If we have a 14 millimeter lens, we can probably handhold it down at a 30th, perhaps a 15th of a second. If we're working with a 500 millimeter lens, we probably need something in the 500 of a second. And so, with the minimum shutter speed, if you look at that auto setting, you're gonna be able to go in and tweak the auto control line. So with a case like a 60 millimeter lens, if you have this indicator set in the middle, it's gonna give you a 60th of a second. If you know you can handhold lower than that, you can have it go down to a 30th or 15th as its breakpoint. One stop or two stops slower than the reciprocal of the lens itself. And so with the 500 millimeter lens, it will generally wanna choose 500 but you can choose minus one which would give you or minus 2 which would give you 125. And so in this case, setting it in the middle is a pretty good smart choice for most people. If you're really good at handholding it, you can have it over to the slower side by one or two notches depending on how good you are at holding your camera steady. So a lot of fine tune controls which is really nice for auto ISO.
Class Materials
Nikon® D5 Recommended Settings
Nkon® D5 Fast Start Class Slides
Ratings and Reviews
As usual, John Greengo has provided me with a wealth of information, this time to decide on my next Nikon camera purchase. John has a talent for explaining technical aspects in a simply to understand, yet intelligent, language. I feel very lucky to be able to tap into the knowledge of such experts and thank the day I found out about Creative Live. Unfortunately I had to miss a little part of the live broadcast due to international time differences. I will definitely be watching the class again and again (there's so much content). Thanks John and Creative Live. Looking forward to my next class.
Already set the Fn3 button for Voice Memo - easy peasy thanks to this and so many other "buried" ( in the manual ) treasures. Notwithstanding three years with the D4 and one year with the D5, I am substantially more familiar and comfortable with the available tools / features of this amazing camera, Nikon's D5. Thank you, John, for the relaxed, easy-to-follow yet informative, professional instruction - well done!
John Greengo does a fantastic job of going over all the great features of this camera. Yes, there is a lot of information, but the format of the class enabled me to drive right into the features I needed for an upcoming shoot. I am new to Creative Live but this class is showing me the fantastic value of this platform. Happy Shooting!
Student Work