Retouch Menu
John Greengo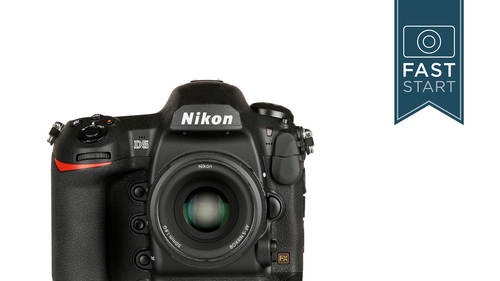 Retouch Menu
John Greengo
Lesson Info
33. Retouch Menu
Lesson Info
Retouch Menu
All right, our final tab menu in here is one that we're not going to be spending much time on. This is the Retouch menu. I affectionately call this Photoshop in the camera, and this is, if you want to take a photo that you've already taken, and you wanna tweak with it. You can do that in here. It's going to be much, much better if you do it on your computer, but you can do it in here if you need to. So, there's a whole bunch of things that you can do in here. One thing that is kind of nice is that you can change raw images into JPEG, and so if you're shooting raw 'cause you're a serious photographer, and somebody says, "Oh, could I get a JPEG copy of that?" and you don't have your computer available for doing that, you can just make a JPEG on that memory card and then you can transfer that over to their computer. So, you can do that in-camera, which is a nice option. But, there are all these other options we're not going to go into, we're not going to spend the time on how to correct y...
our images in-camera, but it can be done. You can do some little editing of your movies, for instance. If you press the record button, and every time you press the record button, it moves the camera a little bit, you could go in and you could clip out that first one or two seconds of all of your video clips, if necessary. Finally, we get to My Menu, and this is where you get to add items and you get to rank items as far as how much you use them. So, what you want to do is you want to choose My Menu here, and I'm going to do a little demo here just to show you what this looks like, and how to choose some things. So, let's go ahead and open up the menu. We're going to go down to My Menu, and we're going to go over to Add items, and so let's go back and let's go into the Photo Shooting Menu and find something that we would want to control. Let's see, maybe Role played by card in Slot 2, and ... I will hit OK. I was going to the right, I was pressing the center, it's not doing it. I've got to press OK. So, now it's in there. Okay, so that's good. Let's add another item. Let's go down ... Image quality, yeah, I change image quality all the time. Okay, so I'm going to hit OK, so that's in there now. Okay. Now I can move it up and down. Let's say I want Image quality down below, I can move that. We'll rank a little bit here in a moment. Let's add one more item here, and let's go to the Movie Shooting and let's choose Movie quality and hit OK, and OK. So now, I have three items in here. I can rank these items, and now I think, actually, Image quality, that's what I probably do most, so I'm going to move that first and I'm going to take Movie quality, I'm going to select that and I'm going to move it down so it's on the third, on the bottom, and now I'm going to hit OK. So now, when I hit the Menu button, it immediately comes to My Menu, and I can change those three items. Now, I can keep adding many, many more items. I'm not going to bother with it now, but the items that you change the most, you can add in there and set that up so that when you press the Menu, make sure down here, under Choose tab, it goes to My Menu, right there. So, when you press Menu, it doesn't go back to the camera settings. It goes to My Menu, things that you use on a regular basis. That way, you have the least amount of button pressing on the camera possible. So, I always like to get cameras customized as much as I can, and boy, there are a lot of things to customize in this camera, as you can see.
Class Materials
Nikon® D5 Recommended Settings
Nkon® D5 Fast Start Class Slides
Ratings and Reviews
As usual, John Greengo has provided me with a wealth of information, this time to decide on my next Nikon camera purchase. John has a talent for explaining technical aspects in a simply to understand, yet intelligent, language. I feel very lucky to be able to tap into the knowledge of such experts and thank the day I found out about Creative Live. Unfortunately I had to miss a little part of the live broadcast due to international time differences. I will definitely be watching the class again and again (there's so much content). Thanks John and Creative Live. Looking forward to my next class.
Already set the Fn3 button for Voice Memo - easy peasy thanks to this and so many other "buried" ( in the manual ) treasures. Notwithstanding three years with the D4 and one year with the D5, I am substantially more familiar and comfortable with the available tools / features of this amazing camera, Nikon's D5. Thank you, John, for the relaxed, easy-to-follow yet informative, professional instruction - well done!
John Greengo does a fantastic job of going over all the great features of this camera. Yes, there is a lot of information, but the format of the class enabled me to drive right into the features I needed for an upcoming shoot. I am new to Creative Live but this class is showing me the fantastic value of this platform. Happy Shooting!
Student Work