Olympus OM-D E-M1 Mark II Fast Start
Backside: Focus Area and Controls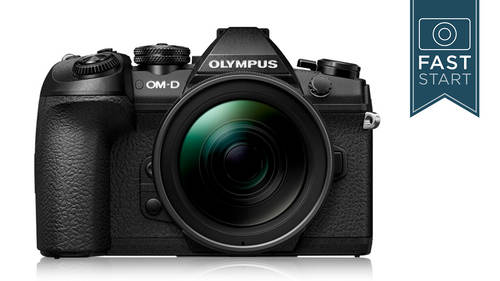 Olympus OM-D E-M1 Mark II Fast Start
Backside: Focus Area and Controls
Lesson Info
Backside: Focus Area and Controls
Alright, on the back shoulder of the camera is the Function 2 button. Actually, (gasps) typo. First typo in the class, folks. This is supposed to be function number one. It is a function button, and it is in control of changing the focusing area. So let's talk a little but more closely about the focusing area. We saw this a little bit before, but there is 121 hybrid contrast and phase detection points on this camera, which is a big upgrade from the previous camera. So if you want to activate the system, first off, you're gonna press that focusing area button. You can move the focusing point by moving it left and right, and then if you want, you can turn the front dial to change the target size from all to one to five to nine of them. And then you also have the option of facial detection. And so you can turn on face detection, or turn it off, you can have it detect the eye, the right eye, or the left eye. So let's go ahead and get my camera out here, turned on and show you how this is g...
oing to work. And so, to activate the system, we press the button in the back of the camera, right now we have a single point, so I can simply move the focusing point around. And in fact, if I just press left and right, it just automatically moves the sensor left and right. And so, by moving that, I've kind of already entered the mode here. And so now, over on the left, you'll see a couple of little arrow indicators, which means you can manually go in and activate that particular feature. So if I turn the front dial, I can change it to the five point system, nine, I'm gonna see if I can make this image darker, so that we can see what's going on screen a little bit more clearly. Turn off some of this information. And so now, we can see more clearly as I change the front dial from one to five to nine to all the focusing points. And so, if you do select one or a group of them, you can go left, and it wraps around, and you can go up, and it wraps around, and so you can go through all the walls and just get right back to wherever you want. Now if you turn the back dial, that turns on the facial recognition. I'm not gonna do a demo of this, but it can pick up faces. Now, it might get a little confused if you have multiple faces, but it will look for a general face, it'll turn, not use it. It'll look for the eyes, and focus on the eyes, rather than the nose or something else. It'll look for the right eye or look for the left eye if you want it to be very, very specific. And so some people like the face detection, and if you are working with a single person, I think it works quite well. If you're working with a group of people, it doesn't always know where you want it to focus. And so I prefer just using a single point of focus, so I'm gonna turn off the eye, and just go down to a single point of focus right there so I can be very precise. I will go ahead and get my exposure back up, and so then, if I have a subject to focus on, let's just set this here, little bit in the foreground. And so it's very quick about focusing, and you can see that it's incredibly quick, and so you can move focusing point, and we could also use the touch screen as well. As we saw before. So that's pretty simple on the focusing, we'll see some more customization when we get into the menu system on it. But changing the size and style of it is quite easy. Alright, and that is the function one button. Next up is the info button, we saw this a moment ago, in use on the viewfinder. You can have two different customized modes of viewing, whether it's through the viewfinder or through the LCD on the back of the camera. Choosing which options of histogram, highlight shadow, and level gage, you'll be able to do this when we get into the custom menu under the live view info setting. So you can see as much or as little as you want to see at any given time. The arrow pad on the back of the camera is normally used for moving what's known as the AF target, the focusing boxes, around, as we just saw. If you don't move the focusing target around, or if you want to access different features of the camera more quickly, you can turn it into what's called the direct function button. In this case, the focus area and exposure will be left and going up, and then the right and the down is customizable. To start with, they give you flash options and drive options, but on a lot of other digital cameras, these types of buttons automatically control a particular function. But for right now, it's just controlling your focusing area, which I think is a really good system, because being able to change the focusing point is a very, very common thing that photographers want to do. And those other options are available in other button areas. But Olympus is making no assumptions here. You get to customize the camera exactly the way that you want. Or you can turn it off completely. So if you just bump that with your nose, or your finger, and it's just causing problems, you can turn it off. And all of that is done in the custom menu of course. Next up. The OK button, which is used for confirming a lot of the features as we go through the camera. We'll also activate what is known as the super control panel. Which is what a lot of other companies call their quick menu. This is a shortcut to features that are also in the menu system, but that you might want to get to on a more quick and regular basis. The top and bottom is gonna show you some general shooting information, not gonna go through this, this is pretty obvious. But then we're gonna start diving into a lot of the features. Some of which we've already talked about, because they already have buttons and dials that control them. So, if you want to control the camera from the back of the camera, you can't see the top of it, for instance, that's another good time I would access the super control panel. So you can dive in and set the ISOs. We already did that, if you recall, there was a button on the camera that did that directly, and so we're not worried about that right here, but you can access it here.
Class Description
AFTER THIS CLASS YOU'LL BE ABLE TO:
Adjust your camera's exposure
Take sharp photos with a solid understanding of the autofocus system
Use the camera's advanced modes, like High Res and focus stacking
Customize your camera's controls
Easily find different options in the complex menu system
Uncover the camera's hidden features
ABOUT JOHN'S CLASS:
The Olympus OM-D E-M1 Mark II is one of the best lightweight Micro Four Thirds cameras on the market -- but the menu system is one of the most confusing and the camera's advanced tools can be hard to decipher solo. Ditch the instruction manual and maximize the potential of the E-M1 Mark II by learning from expert photographer John Greengo.
The Fast Start class covers the camera's controls, features, menu system and more. From basics like taking your first picture to advanced topics, by the end of this class, you'll be able to expertly use the E-M1 Mark II's many features. Learn how to use the advanced features like the High Res mode and in-camera focus stacking and find shortcuts for the most frequently used settings.
Customize your camera to your shooting style by setting custom controls and settings. Walk through the different options and learn John's recommendations for each setting. Finally, set up a pre-shot checklist and learn how to adapt the camera to different types of images.
WHO THIS CLASS IS FOR:
Photographers just picking up the E-M1 Mark II for the first time
Self-taught photographers that want to see what they're missing
Photographers considering purchasing the E-M1 Mark II
MATERIALS USED: Olympus OM-D E-M1 Mark II
ABOUT YOUR INSTRUCTOR:
John Greengo is a travel and landscape photographer with more than 30 years of experience. When he's not traveling and shooting, his straightforward teaching style helps new photographers learn the basics and become better acquainted with their gear. He's taught dozens of Fast Start classes on different interchangeable lens camera systems, including the Olympus OM-D E-M5 Mark II, the E-M10 Mark II, and Olympus PEN F along with cameras from Nikon, Canon, Sony, and Panasonic.
Reviews
This is exactly what I was looking for - I really feel like I'm not able to control my camera, rather than the camera controlling me! :) I really learned a great deal - some of it was a great review, some of it was crucial information that will (hopefully) make me a better photographer. Thanks for a great class, John!!
Great and very informative class.... John has done a fabulous job explaining all the simple and intricate details of the very sophisticated EM1 II. Thank you !!!
This is a great course on learning about the OM-D E-M1 Mark II. I have watched it many times to get to were I know it by memory the best I can. I like to go over it as much as possible because there is a lot to learn. I do wish that John would do an updated version since now it is up to Firmware 3.1. It is like a whole new camera with the new settings.