Mode Dial: Manual Exposure
John Greengo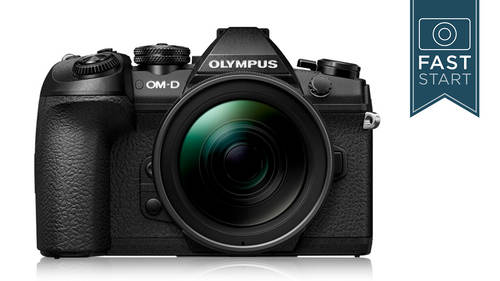 Mode Dial: Manual Exposure
John Greengo
Lesson Info
6. Mode Dial: Manual Exposure
Full manual control allows you to carry out for creative vision consistently with the Olympus OM-D E-M1 Mark II. Dive into manual exposure settings, including bulb and live time, in this lesson.
Lesson Info
Mode Dial: Manual Exposure
Alright, next up, Full Manual. Alright, I like this one. This is where you get full control, and I like Full Manual for a couple of reasons. The first reason is for tricky lighting situations that are not of normal brightness. Metering systems can get misguided when there's either bright objects or larger areas of dark areas, and so for tricky lighting, I like manual exposure. And also consistent results. If I am shooting something that is under even lighting, you might say, it's not changing, and I wanna get proper results from all of my photos, no matter how I compose them. I'm gonna wanna choose manual exposure. And so it's good for any time you are shooting a large series of photos and you want even exposures out of them. So the shutter speeds that you can move between 1/8000 of a second and 60 seconds in this camera. Nice full range on that, but you can actually go down to something called BULB. BULB stands for long time exposure, and what happens here is that when you press down ...
on the shutter, it's gonna open the shutter. Press down on the shutter release, it opens the shutter, and it stays open as long as your finger is on that. So we can just wait as long as we want doing a night-time exposure. And then when you said, Okay, that's enough time, then you take your finger and release it, and it closes the shutter right then and there. Now this camera has another version of this called LIVE TIME, which is also a long time exposure, which is kind of the same thing, but it's easier on the fingers. Alright, so the way it works is you press it once to start it. And then you can release it. And that just, kind of, turns it on. And then you can, kind of, wait around for whenever you need to stop the exposure, and then you press it once again. And that closes the shutter. Now because pressing the shutter might actually move the camera, this is a good time to have one of those cable releases. And we'll talk about that little bit later on. There is also something called Live Composite. I'm gonna show you some examples of this later on, but it's actually doing a long exposure, but it's turning on and off the sensor and doing a composite of your images. And it's a great technique for anyone who likes to do a lot of nighttime photography. Not gonna go in and explain it all, right now, but it's just another version of a long time exposure that works very well. Now, 1/8000 of a second, I have told you, is the top the shutter speed, and that's been a small, white lie at this point, I'm gonna consider it. The actual top shutter speed is 1/32000 of a second, and that is with the electronic shutter that we are gonna talk about. There are two versions of the electronic shutter. There is what is called the Anti-Shock, which is the diamond symbol that you will see on a regular basis. And that is an electronic first shutter and a mechanical second shutter. And then there is the Silent, the heart mode, for full electronic shutter. And so we'll be talking more about those as we get into the class. So BULB or TIME Exposure. In Rome, 30 seconds wasn't enough time. I wanted more traffic to be going through the intersection, and so I needed to keep it open for about two minutes. And so that's a good time for using BULB or TIME Exposure. Those are almost exclusively going to be nighttime type photos, at least in most situations. Live Composite, this is an example. And so what Live Composite does is it shoots a series of shorter shutter speeds, and it combines them, trying to be smart about how to add up the light. So in the case on the left, where I just shot it for 60 seconds, the lights of the freeway just completely blew out because they were just so much brighter than everything else. And then it held those back under the Live Composites. And so if you do nighttime photography, I can't say which one is going to be best, but I can say, work with both to see which works best in the conditions that you are shooting. And so it's a neat way. It's a new piece of technology that we have not had to deal with. And so it's using, kind of, its own smart algorithm on how to combine these images, so it's a little bit less manual control than just doing a straight exposure, but it can certainly help out in some situations where you have extraordinarily bright lights that won't handle as long of exposure as you would prefer under most situations. Alright, so let's take a look at how we would control this camera manually to get a proper exposure. So, first off, I'm gonna have the camera in Manual on the top of the camera. You will notice in the back or in the viewfinder, you will have shutter speeds and apertures in green, and so we can change our shutter speeds in the back of the camera. Let's just say we wanna do 1/30 of a second in here, and we can notice over here on the right that my exposure indicator says that I am one stop over-exposed. So I'm gonna go to the front dial, and I'm gonna change this 'til it says F8, and then when I take my photo, I have a perfectly evenly exposed image there. And so we can see that's our final photo. And so you'll see the same information in the viewfinder. If you're not seeing this information, there is an Info button here, and you can turn that information on and off, depending on whether you wanna see it, and we'll talk more about other things that the Info. button does later in the class. But for the most, right now, you can either be looking at the number or the visual graphic, as to whether you are under-exposed and over-exposed. And just remember, all you kids, it doesn't have to be at zero. It really depends on the photo. Some photos are brighter, and some photos are a little bit darker. But very easy to set, good information there. Next up, we have C1, C2, and C3, and these are custom modes for people who shoot something on a regular basis that has a lot of button and menu changes to get to where they wanna go. Good example would be a landscape photographer who also likes to shoot birds in flight. Well, where are you gonna find birds in flight? Out in nature, in landscape areas. And so there's a very different set-up when it comes to the focusing system and the shutter speeds and the apertures that you might have. And so what would you do is you would set the camera up the way you want it to work, menus, shutter speeds, apertures, mode dial, everything that you want. And then you would dive into the menu system, under Shooting Menu number one, under Custom Modes, and you would assign those settings to either C1, C2, or C3. And you can do this with all three, and then you can quickly jump back and forth between C1, 2, and 3, and you might have dozens of changes that are different between each one of those modes. And that way, you can go back and forth much, much, much more quickly. And so if you do anything on a regular basis that requires a number of setting changes, take a look and dive in there and start customizing your camera. And that's gonna be a big theme about today's class is customizing you camera 'cause there is perhaps no camera on the market that is more customizable than this camera, with the menu systems, the dials, and the buttons on the camera that we're gonna be getting into. And so that is just the first tip of the iceberg on the way that we can customize things. Yes, we have a question. Excuse me. Quick question. Excellent. Somebody made a comment about the shutter speed. Does it go faster than 1/8000 of a second? Yes, it goes up to 1/32000 of a second. Okay. But everything above an 1/8000 of a second is an electronic shutter, which has implications, and there's a slide for that. And so we will get more into that. Cool, thanks for clarifying. Okay, so more on the customizing of the camera. So in many of the different modes, like Manual and Program and so forth, if you don't like the way the dials work, some people are irritated by the smallest things in life, like, you know, you turn the dial it doesn't, I don't like the direction that it goes. If you don't like that direction, you can change the direction. And so if you don't like, well, I don't like the fact that it does shutter speed on the back and exposure compensation on the front. Well, you can switch that. And so all of the dial functions can be changed if you go into the custom menu under the Button/Dial/Lever, Dial Function, and you can go in and you can tweak with those. I'm sorry, I'm not gonna go in and tweak it, right now. I'm not gonna tweak it in every imaginable way. We would be here forever. But I encourage you to go in there and change this. And to be honest with you, the dial direction is totally messed up in this camera. It is in most cameras. I think it's a Japanese thing. Because when the exposure indicator is going this direction, you turn the dial this direction, and I always get confused. And so I do recommend changing the dial direction. But feel free to change whatever else you want in the camera. Figure out how you like to use it and then customize it to your needs. We'll talk more about that in the upcoming Menu section.
Class Materials
Olympus EM1II Recommended Settings
Ratings and Reviews
This is exactly what I was looking for - I really feel like I'm not able to control my camera, rather than the camera controlling me! :) I really learned a great deal - some of it was a great review, some of it was crucial information that will (hopefully) make me a better photographer. Thanks for a great class, John!!
Great and very informative class.... John has done a fabulous job explaining all the simple and intricate details of the very sophisticated EM1 II. Thank you !!!
This is a great course on learning about the OM-D E-M1 Mark II. I have watched it many times to get to were I know it by memory the best I can. I like to go over it as much as possible because there is a lot to learn. I do wish that John would do an updated version since now it is up to Firmware 3.1. It is like a whole new camera with the new settings.
Student Work